Get a delicious and easy-to-follow recipe for churros and chocolate sauce, plus helpful tips and answers to frequently asked questions
The best churro I have ever had was in 2004 in Disneyland. Oh man, it was delicious. Sure it was $5 bucks but I still remember it and 8 years later I am blogging about it. Since Disneyland is no where in my foreseeable future, I had to take things into my own hands, well, kitchen and fry me up so churros! This easy recipe is dangerous because you are bringing addicting churros into your home and with chocolate sauce…good idea or bad idea?
Cook Eat Delicious Rating: Good idea if you have self control! I don't but they were still delicious. All the ingredients you need are probably in your kitchen right now. The house fills with the wonderful aroma of fried sweet dough, yum! I love chocolate sauce on its own but dipping churros in it is the frosting on the cake. Leave a comment and let me know the best churro you have ever had!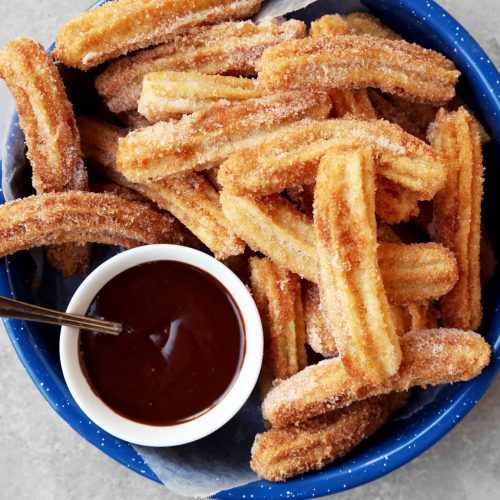 Churros And Chocolate Sauce
Have you ever wanted to make churros and chocolate sauce from the comfort of your own home? If so, you're in luck! In this blog post, we'll provide you with a decadent recipe for churros and chocolate sauce.
Ingredients
½

cup

sugar

3

tsp

cinnamon

1

stick of butter

1

cup

water

1

tsp

salt

1

cup

flour

3

eggs

Vegetable Oil for frying

½

cup

chocolate

milk or dark or both

1

cup

heavy cream
Instructions
Mix sugar and cinnamon in a shallow bowl and set aside.

In a saucepan, melt butter, water, 2 tablespoons sugar, and salt.

Bring mixture to a boil then reduce heat to low.

Add flour and stir with a spatula until a ball forms.

Remove from heat and mix in eggs one at a time until well combined.

Place mixture in a ziplock bag and cut off the corner to thickness you would like for your churros.

Add oil to a deep frying pot or skillet, two inches deep, to 350 degrees F.

Meanwhile, place chocolate in a bowl and pour over the hot heavy cream.

Let sit for 1-2 minutes then whisk until smooth.

Pipe dough into hot oil, 2-4 inches long, using a spoon or knife to cut end of dough.

Fry churros for 6 minutes and place on paper towels take off excess oil.

Quickly toss in cinnamon sugar and serve immediately with chocolate sauce.
Notes
In Conclusion, Making Churros And Chocolate Sauce Together Is A Match Made In Heaven. With The Right Ingredients, A Step-By-Step Guide To Making Them, Helpful Tips To Get The Perfect Texture Each Time, And All Your Questions Answered About How To Make The Tastiest Chocolate Sauce To Accompany Your Churros, You Are Sure To Have An Amazing Treat That Everyone Will Love. So, Why Not Give It A Try And Make Some Delicious Churros With Chocolate Sauce Today!
Nutrition
Serving:
1
serving
Calories:
96
kcal
Carbohydrates:
11
g
Protein:
2
g
Fat:
5
g
Saturated Fat:
3
g
Polyunsaturated Fat:
0.3
g
Monounsaturated Fat:
2
g
Trans Fat:
0.003
g
Cholesterol:
32
mg
Sodium:
109
mg
Potassium:
34
mg
Fiber:
0.5
g
Sugar:
6
g
Vitamin A:
177
IU
Vitamin C:
0.1
mg
Calcium:
14
mg
Iron:
0.5
mg
Helpful Tips For Getting The Perfect Texture Every Time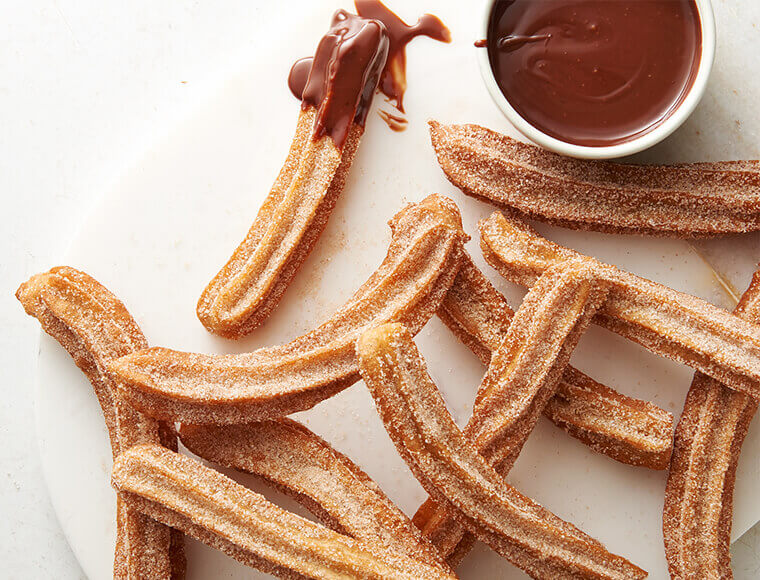 Churros are a classic Mexican dessert that are sure to satisfy any sweet tooth. If you're looking to make the perfect churros every time, follow these helpful tips.
First, it's important to choose the right type of flour for making churros. Wheat flour is the most common type, but there are also flours made from other grains such as corn or rice that can be used in place of wheat flour. The key is to use a flour that's compatible with your recipe – if your recipe calls for wheat flour, use wheat flour.
Once you've chosen your flour, it's important to temper the chocolate sauce before adding it to the churros dough. This will help to create a smooth and creamy sauce that has the correct consistency and texture every time. It's also important to keep the churros dough cool before frying them so that they maintain their shape and texture throughout frying.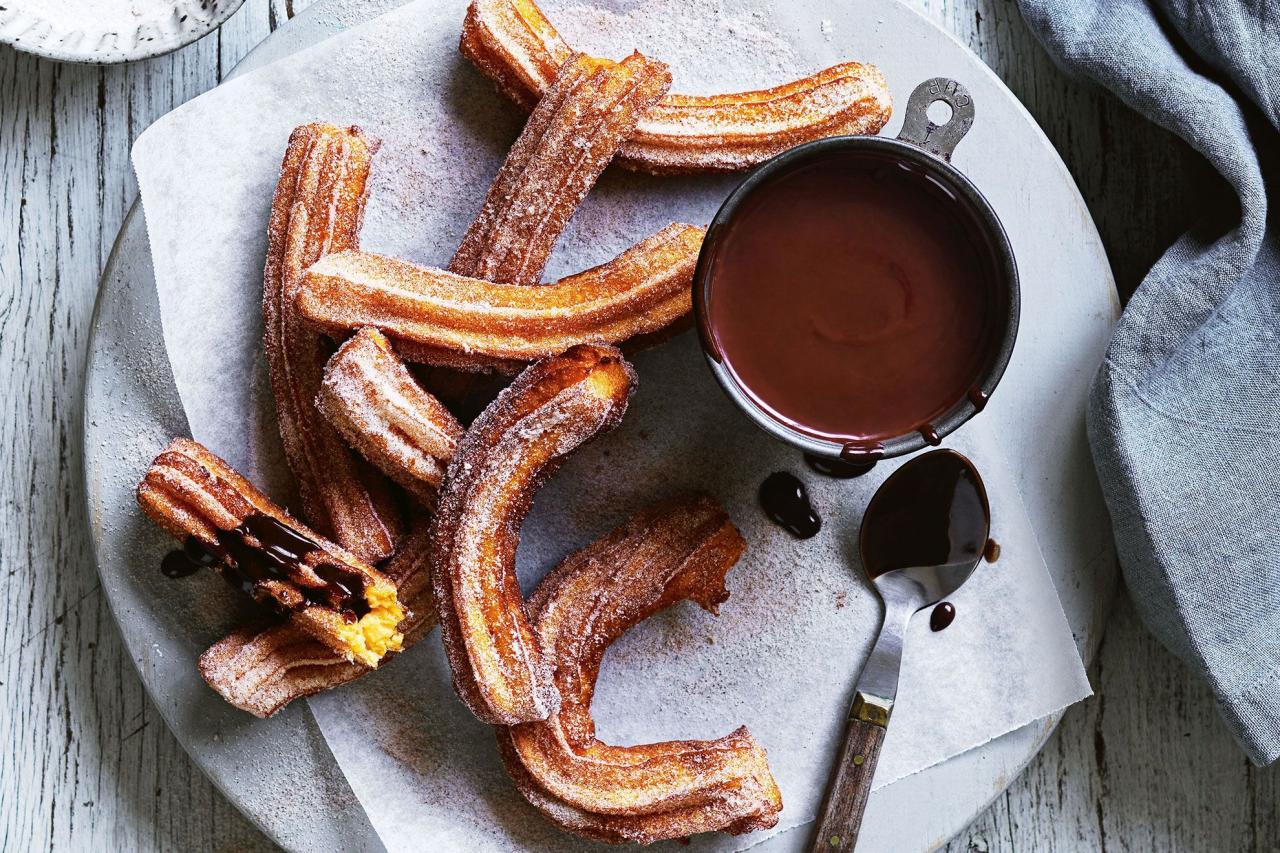 Toppings are an essential part of any good churro meal, and there are endless possibilities when it comes to what you can put on top of your churros. Some popular choices include strawberry jam, whipped cream, ice cream, or even chocolate sauce! Be creative and experiment with different toppings until you find something that tastes great on your particular batch of churros.
Are you feeling adventurous? Try dipping your churros into some delicious chocolate sauce instead of traditional dipping sauces like ketchup or mustard!
If you're looking for ideas on how best to fry your chursos without ruining them, be sure read our guide on how best to fry churros without burning them! And finally, don't forget about keeping them warm once they're done – heat up some hot milk or coffee before serving so that everyone can enjoy their delicious treat at its best!
FAQs About Making The Tastiest Chocolate Sauce To Accompany Your Churros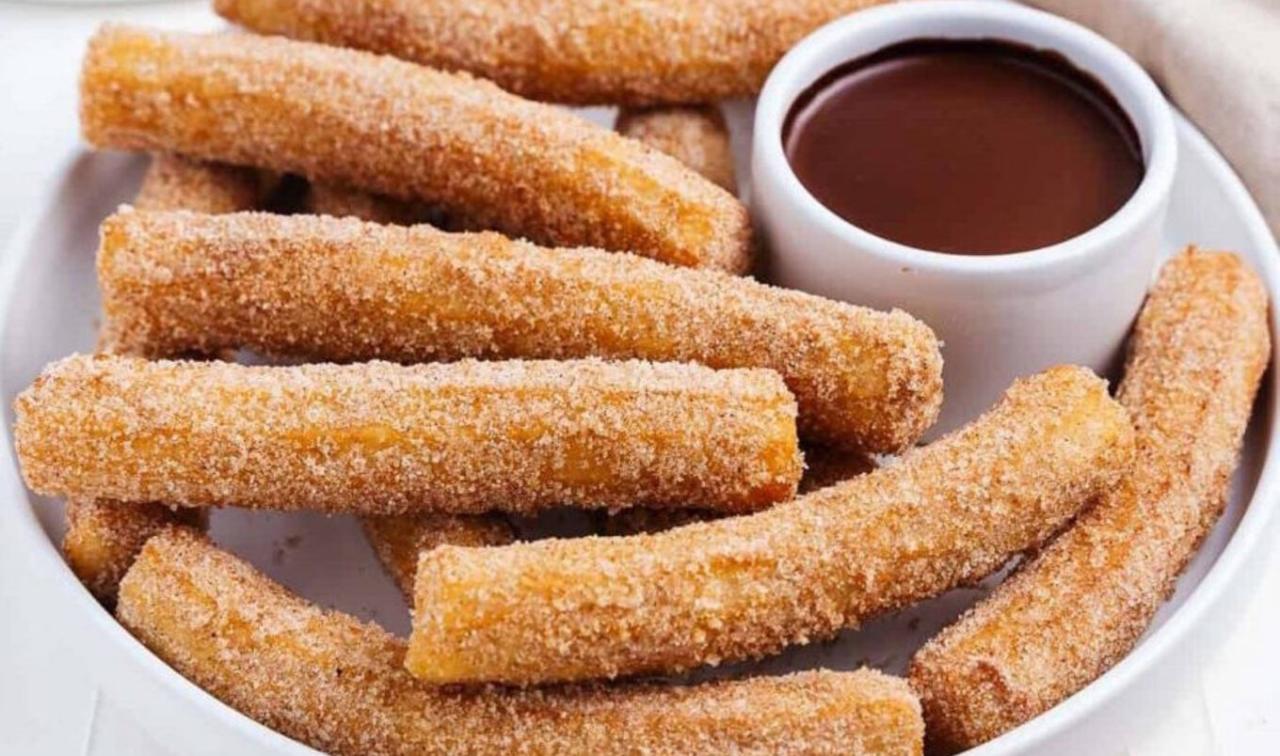 If you love chocolate, then you'll love this recipe for churros and chocolate sauce. This dish is simple to make and pairs perfectly with the sweet and crunchy churros. We've compiled a list of FAQs that should help make your preparation a little easier.
Is cocoa powder the only ingredient that needs to be considered when making chocolate sauce?
No, there are other ingredients that can be added to create a richer flavor, such as sugar or milk. Try different combinations to find what you like best!
How do I thin out my homemade chocolate sauce?
You can either use a blender or an immersion blender to blend the ingredients until they are smooth. If you prefer a thicker consistency, you can add more liquid (such as milk) to thin it out.
Should I use dark or semi sweet chocolate for a richer flavor?
Both types of chocolate work well in this recipe, so experiment until you find the flavor profile that you like best. Dark chocolate has a stronger flavor and semi sweet Chocolate has less of an intense bitterness. Both flavors are delicious!
What is the best way to melt chocolate for my sauce?
You can either microwave or heat up some water in the microwave before adding the melted chocolate. Be sure not to overheat it or it will become bitter tasting! Alternatively, you can melt the chocolate on the stovetop using low heat if desired.
Are churros and Chocolate Sauce gluten free?
Yes, these treats are gluten free as long as they are made without wheat flour. Some people also avoid dairy products when eating gluten free, but this recipe does not contain any dairy products so it should be safe for most people who follow a gluten free diet. You can use any type of churro recipe for this dish- traditional doughnuts covered in cinnamon sugar or fruit flavored churros would both be delicious!