Serve up something special with this delicious banana split recipe; learn all the tips and tricks to creating the perfect split and get ready to impress your friends!
After Lemons and Apples, Bananas place third in 'My favorite dessert fruit' category. Bananas are great in bread, pudding, cream pie, and of course split with ice cream. This is what I crave on a warm evening at home. While strolling through an amusement park or even when I pass a Dairy Queen. There are so many opinions and varieties of what constitutes as a Banana Split. But when it comes to my Banana Split, I like to keep it simple.
Cook Eat Delicious Rating: Anyone can make a banana split with this easy recipe and the results will definitely be Delicious!
Banana Split
If you're looking for a delicious and unique way to elevate your dessert game, then look no further than a classic banana split recipe. This timeless treat is sure to be a hit with friends and family, and we're here to make sure you know all the tips and tricks to make the perfect split.
Ingredients
1

Banana

split lengthwise

2

scoops

Vanilla Ice Cream

5

Strawberries

sliced

Chocolate & Caramel Sauce
Instructions
Dress up yours with some crushed pineapple, chopped pecans, and even whipped cream.

You can have a scoop of chocolate ice cream and even strawberry ice cream as well.
Notes
Making a banana split is an art. With the right ingredients, you can make a delicious and beautiful dessert that everyone will love. With pre-sliced bananas, your favorite ice cream flavors, and some of the best toppings around, you can create a stunning split that is truly Instagram-worthy. And with our tips and tricks for serving it up in style, you are sure to get plenty of compliments! So why not give it a try? Get creative and have fun making your own version of the classic banana split today!
Nutrition
Serving:
1
serving
Calories:
397
kcal
Carbohydrates:
63
g
Protein:
6
g
Fat:
15
g
Saturated Fat:
9
g
Polyunsaturated Fat:
1
g
Monounsaturated Fat:
4
g
Cholesterol:
58
mg
Sodium:
107
mg
Potassium:
777
mg
Fiber:
5
g
Sugar:
45
g
Vitamin A:
638
IU
Vitamin C:
46
mg
Calcium:
184
mg
Iron:
1
mg
The Best Bananas For A Banana Split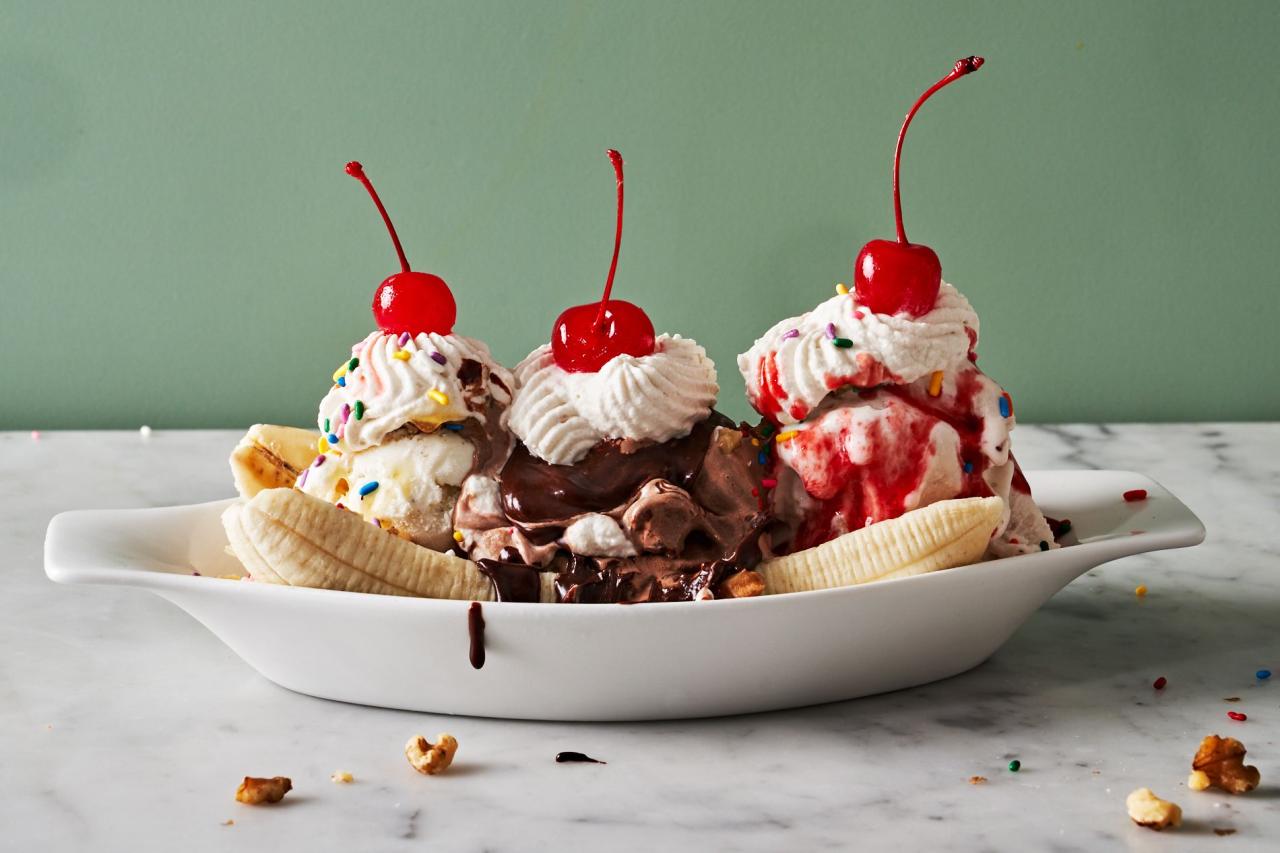 Bananas are perfect for a banana split, and there are many different types of bananas that can be used in this iconic dessert. Whether you're looking for a sweet and creamy treat or something with a little more flavor, bananas are the perfect ingredient. In this section, we'll explore the different types of bananas that are great for banana splits, as well as some recommended garnishes and variations to try. We'll also provide helpful tips on how to make the perfect banana split every time. Enjoy!
When it comes to banana splits, there are many different types of bananas that can be used. Some people prefer the sweet taste of mashed bananas while others prefer the savory taste of diced bananas. Regardless of your preference, there is a banana split recipe out there for you.
Here are four different types of banana splits that you can try:.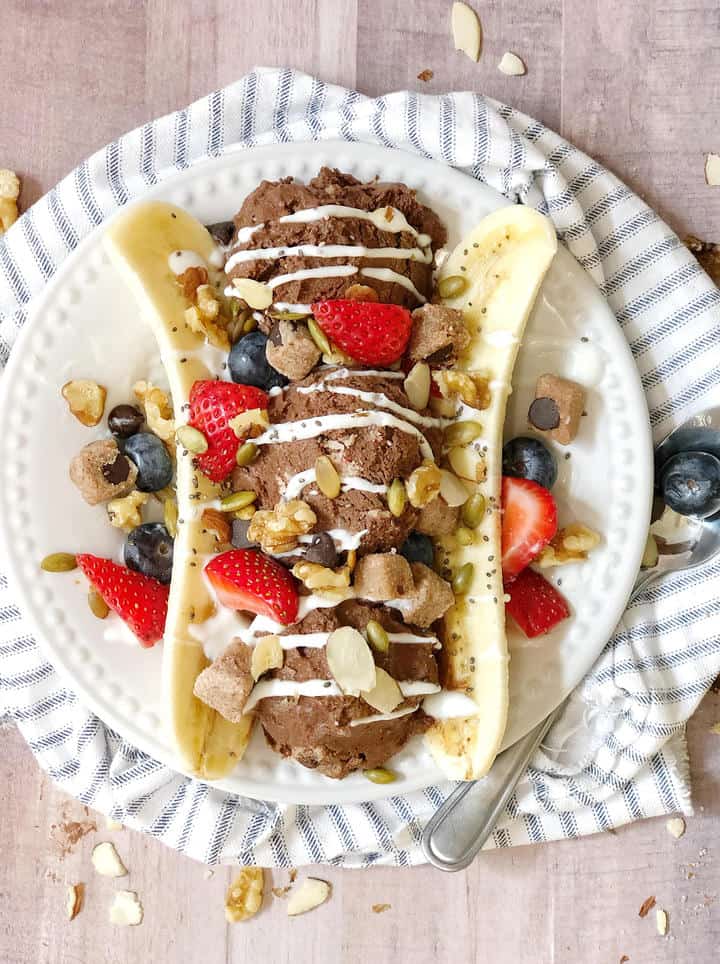 1) The Classic Banana Split: This classic dish features mashed bananas layered between two slices of bread with creamy ice cream on top. To make this dish even more delicious, try using different types of cheese such as cheddar or mozzarella cheese instead of traditional cream cheese.
2) The Blueberry Banana Split: For a fruity twist on the classic banana split, add diced blueberries to your mixture instead of regular strawberries or raspberries. This variation is also great fun to prepare – just be sure to have enough blueberries so that they don't get lost in all the other ingredients!
3) The Peanut Butter Banana Split: This delicious treat features sliced bananas layered between two pieces of bread with peanut butter sauce in between them. For an extra layer of flavor, drizzle some honey or maple syrup over top before serving up your masterpiece!
4) The Triple Threat Banana Split: This unique dish combines three flavors – vanilla ice cream, caramel sauce, and chocolate chips – into one bite-sized goodness! To make this dish even more special, try adding chopped nuts or mini chocolate chips on top before serving up your masterpiece!
No matter which type of banana split you choose to prepare (or whether you choose to prepare any at all!), be sure to include some delicious garnishes like whipped cream or strawberries and/or raspberries. These optional extras will really finish off your dessert meal in style! Finally, don't forget about tips and tricks for preparing a perfect banana split every time – after all, it's one dish that everyone loves to eat!
Essential Toppings For The Perfect Split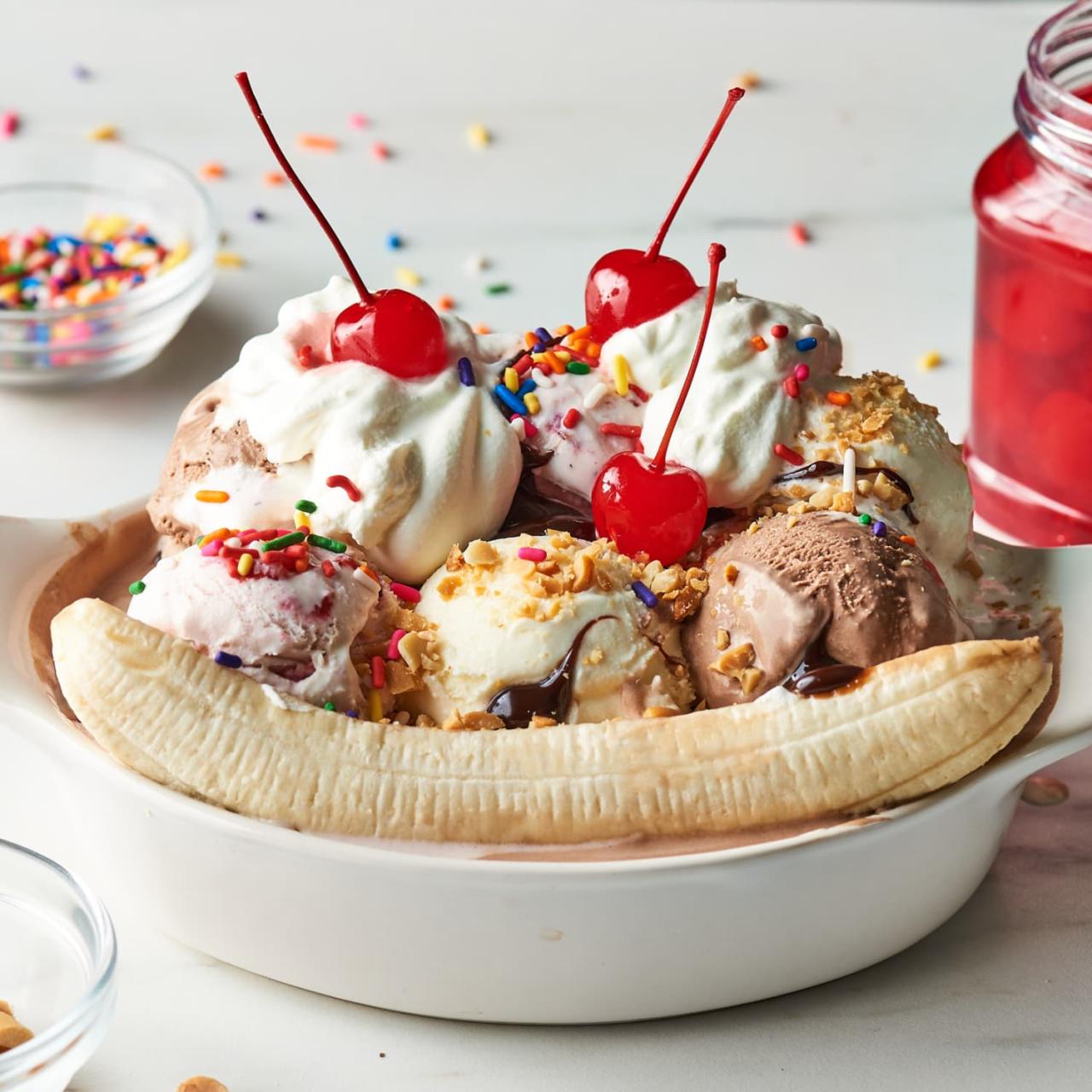 Everybody loves a good banana split, and there's no better way to show your love than with a delicious recipe. Whether you're cooking for one or twenty, banana splits are the perfect dessert. In this section, we'll outline the basics of making a great banana split and provide some essential toppings that will elevate your dish to perfection.
First, let's talk about why banana splits are the perfect dessert. They're simple yet complex, sweet but savory, and they can be enjoyed by everyone in your family. Plus, they're easy to make – all you need is some ripe fruit and ice cream!
Now that we've covered the basics of making a banana split, let's get into the nitty-gritty of toppings. A great banana split needs both sweet and savory elements to balance each other out. Some of the most essential toppings for a great presentation include whipped cream (or coconut whip), sliced bananas, nuts (pecans or almonds are ideal), chocolate sauce or melted chocolate chips, and sprinkles. For added flavor and texture, choose fruits like mangoes or strawberries instead of canned fruit juices or fruity syrups.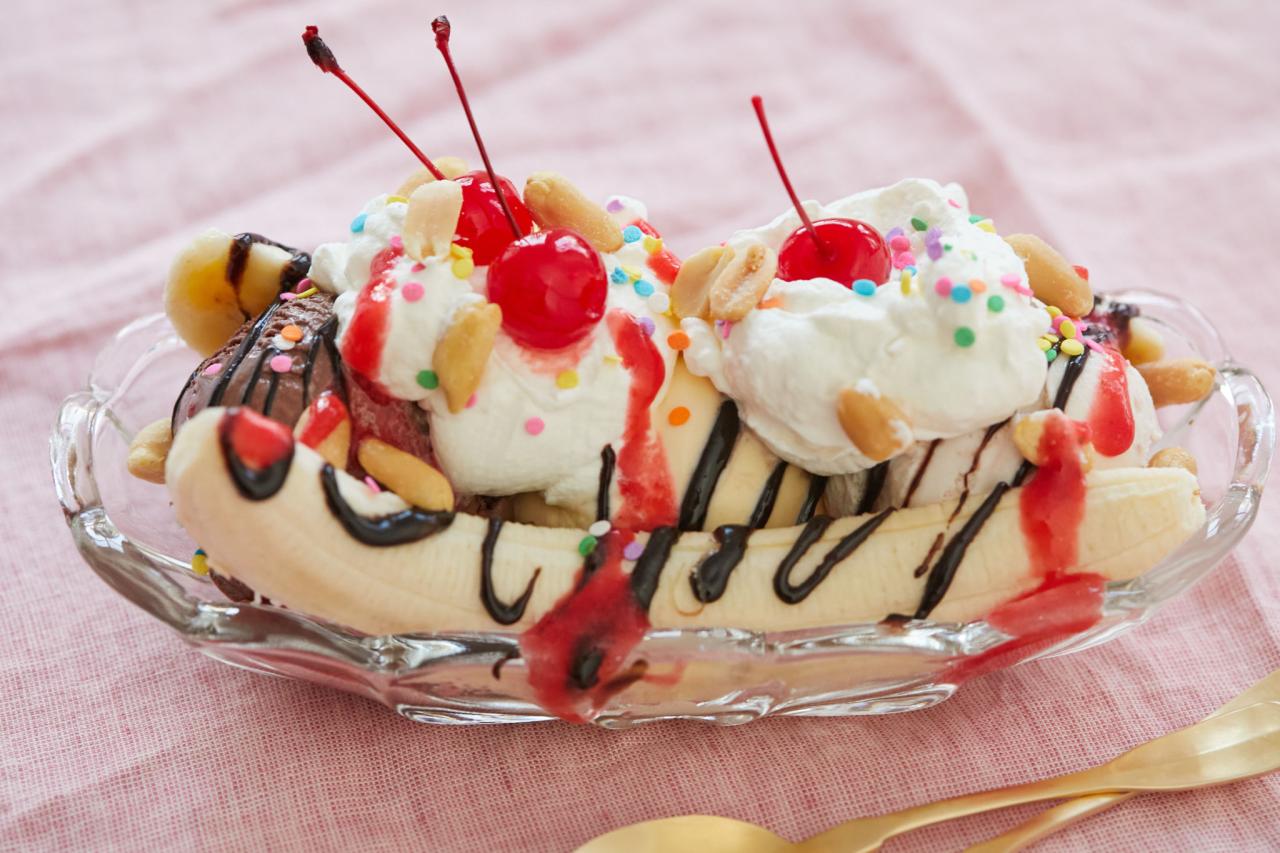 If you're feeling creative (or simply want to mix things up a bit), try using different types of ice cream in your Banana Split Recipe – like Vanilla Bean Ice Cream with Bananas & Walnuts or Brownies & Whipped Cream topped with Chocolate Sauce. Or go all out with an incredible Piña Colada Split Recipe made with Pineapple Ice Cream & Mango Chunks! Finally, don't forget about extra ingredients like whipped cream wafers or maraschino cherries – they really make a dish stand out!
So there you have it – our ultimate guide to creating the perfect Banana Split Recipe! Assemble it at home for friends and family tonight – they won't be disappointed!
Tips & Tricks To Serve Your Sweet Treats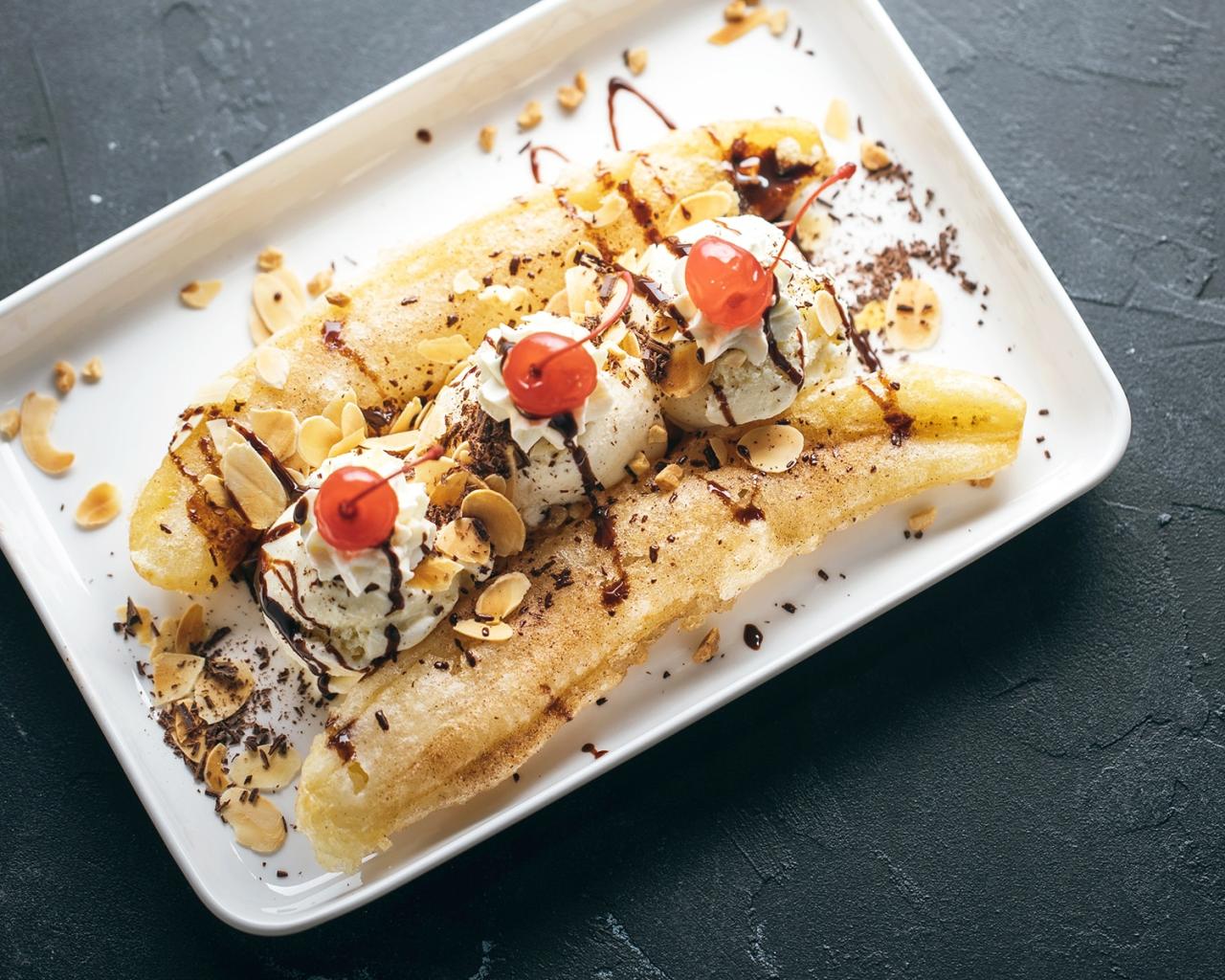 Whether you're planning a simple banana split or trying out a more creative dessert, following these tips will help you serve them up perfectly.
Choosing ripe bananas is the first step, and there are a few tricks to know in order to get them just right.
Next, make sure to have all the tools you need – including ice cream toppings, whipped cream, and chocolate sauce – to create the perfect banana split.
Finally, we'll give you some ideas for creative toppings and how to make your desserts look their best.
From there, it's just a matter of storing your leftovers properly and serving them up with an eye-catching presentation.
We hope that our tips help elevate your dessert game!
FAQs About Making The Perfect Banana Split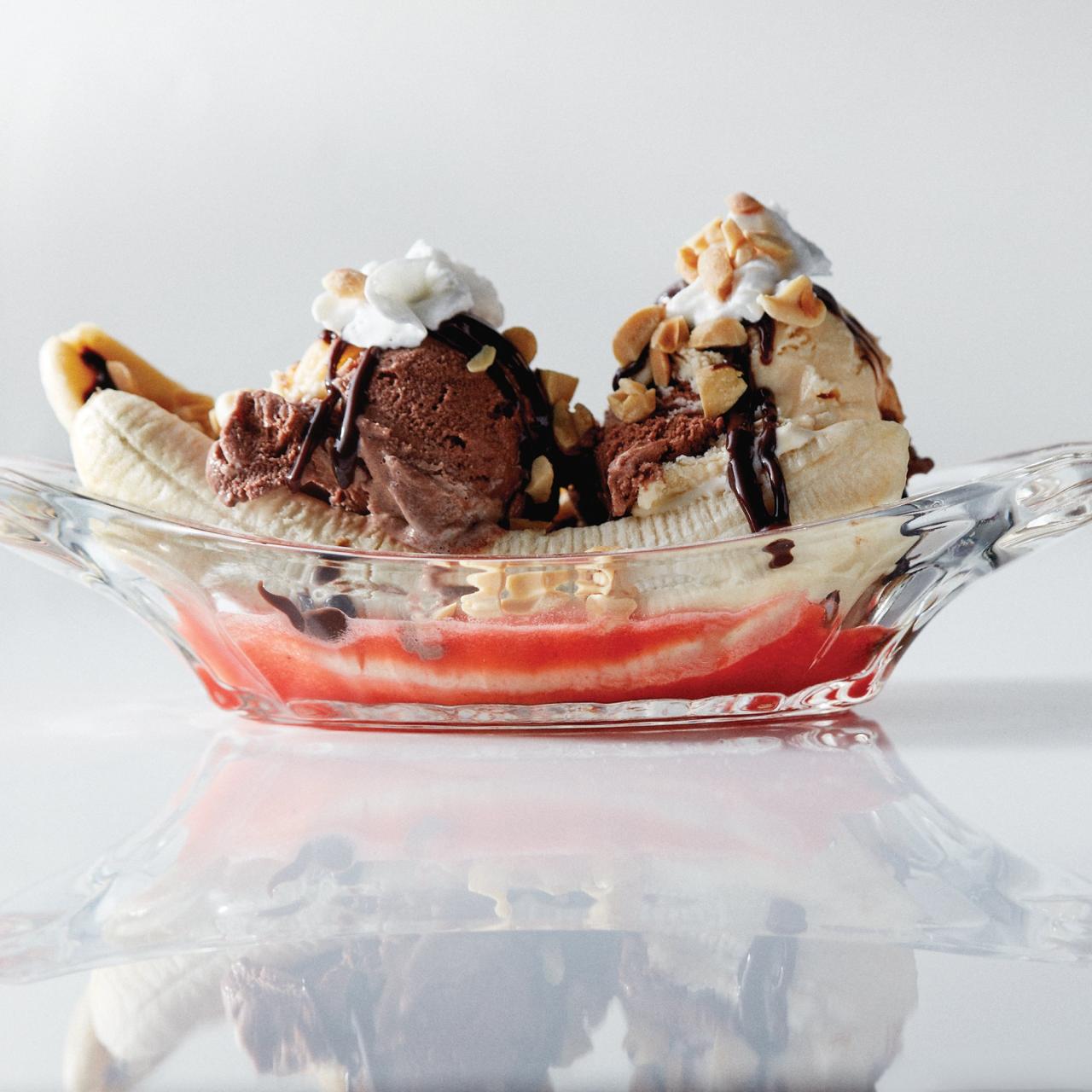 1. What is the best way to split a banana?
There are a few different ways to split a banana, but the best way is to cut it down the middle with a sharp knife. You can also use a banana slicer if you have one. Once you have split the banana, you can add your toppings of choice. Some popular toppings include chocolate sauce, strawberry jam, and whipped cream. You can also get creative and add other toppings like nuts, sprinkles, or marshmallows.
2. What is the best way to peel a banana?
The best way to peel a banana is to hold it in your hand and gently push the peel down with your thumb. The peel should come off easily, revealing the delicious fruit inside.
3. What is the best way to add toppings to a banana split?
The best way to add toppings to a banana split is to start with a layer of whipped cream, followed by a layer of your favorite toppings. Be sure to evenly distribute the toppings so that each bite is just as delicious as the last.