Fish and chips is a classic dish that has been around for centuries and is still a beloved meal today. If you are looking for an easy and delicious meal to whip up in no time, then look no further than classic fish and chips. In this blog post, we will provide you with a classic fish and chips recipe, as well as some tips and tricks to make sure your fish and chips come out perfectly every time. We will also provide you with some frequently asked questions about making fish and chips, as well as some serving suggestions and even a healthy spin on the classic recipe. By the end of this post, you will be ready to make the perfect fish and chips.
When I went to London with my Sister, the one thing that I really wanted to do was eat fish & chips in a pub. It was the ultimate tourist experience. We found a little place on the street. It was actually underground which added to the experience. Our fish & chips were the best I have ever had or maybe I was just really hungry as it was the first thing we had eaten all day! Traditional Brit Fish & Chips are served with mushy peas. Peas mushed and seasoned. Most include some baking soda for an interesting almost bitter taste. I didn't care for them so they are excluded from my Classic Fish & Chips.
Cook eat Delicious Rating: Yummy! Nothing ever goes wrong with fried food! The batter is very thick but holds up well on the fish. I used halibut and it was so nice and fluffy. The fries are delicious. Crispy on the outside and soft inside. You can change up the seasoning with whatever you would like and even cut them into wedges. You may want some experience frying food so as not to overdo cook the fish. I will definitely cook this easy recipe again!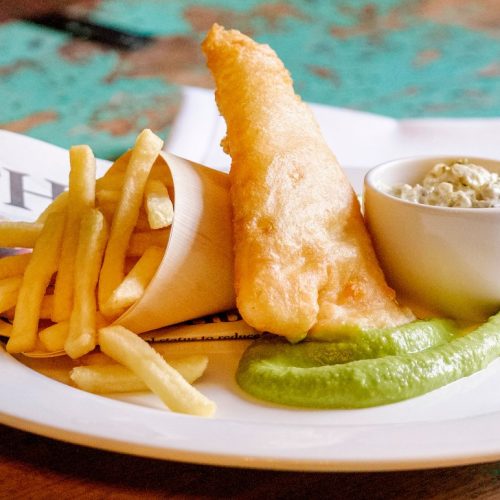 Classic Fish And Chips
Fish and chips are a classic British meal that everyone loves. They're easy to make and they taste amazing. In this section, we'll outline the steps for a delicious classic fish and chip recipe.
Ingredients
4

potatoes

cut into strips and peeled if desired

2

tsp

olive oil

2

tsp

garlic powder

3

tsp

ground black pepper

1

cup

flour

1

tsp

baking powder

1

tsp

salt

1

cup

milk

1

egg

4

cups

vegetable oil for frying

6

white fish fillets

cod, halibut, or tilapia
Instructions
Place potatoes in a medium bowl of cold water.

Let soak up to 15 minutes and slice.

Toss potato slices in a bowl with olive oil, garlic powder, and 2 tsp of black pepper.

Place on a cookie sheet and sprinkle with sea salt or kosher salt.

Bake at 400 degrees F. until nice and crisp.

In a separate medium mixing bowl, mix together flour, baking powder, salt, and 1 tsp pepper.

Stir in the milk and egg until the mixture is smooth.

Let mixture cool in refrigerator for 20 minutes.

Preheat the vegetable oil in a large pot/skillet.

Dredge the fish in the batter, one piece at a time, and place in the hot oil.

Fry until the fish is golden brown.

Drain well on paper towels.
Notes
Making traditional fish and chips is a great way to enjoy a classic British dish. With the right ingredients, preparation instructions, serving suggestions, and tips and tricks for making it perfect every time, you can make delicious fish and chips that your family and friends will love. If you're looking for something healthier than the classic recipe, there are plenty of alternatives to try! So, why not give it a go? Get creative in the kitchen with this tasty dish - who knows what delicious results you might find!
Nutrition
Serving:
1
serving
Calories:
401
kcal
Carbohydrates:
44
g
Protein:
42
g
Fat:
7
g
Saturated Fat:
2
g
Polyunsaturated Fat:
1
g
Monounsaturated Fat:
2
g
Trans Fat:
0.003
g
Cholesterol:
117
mg
Sodium:
582
mg
Potassium:
1230
mg
Fiber:
4
g
Sugar:
3
g
Vitamin A:
114
IU
Vitamin C:
28
mg
Calcium:
136
mg
Iron:
3
mg
Tips For The Perfect Fish And Chips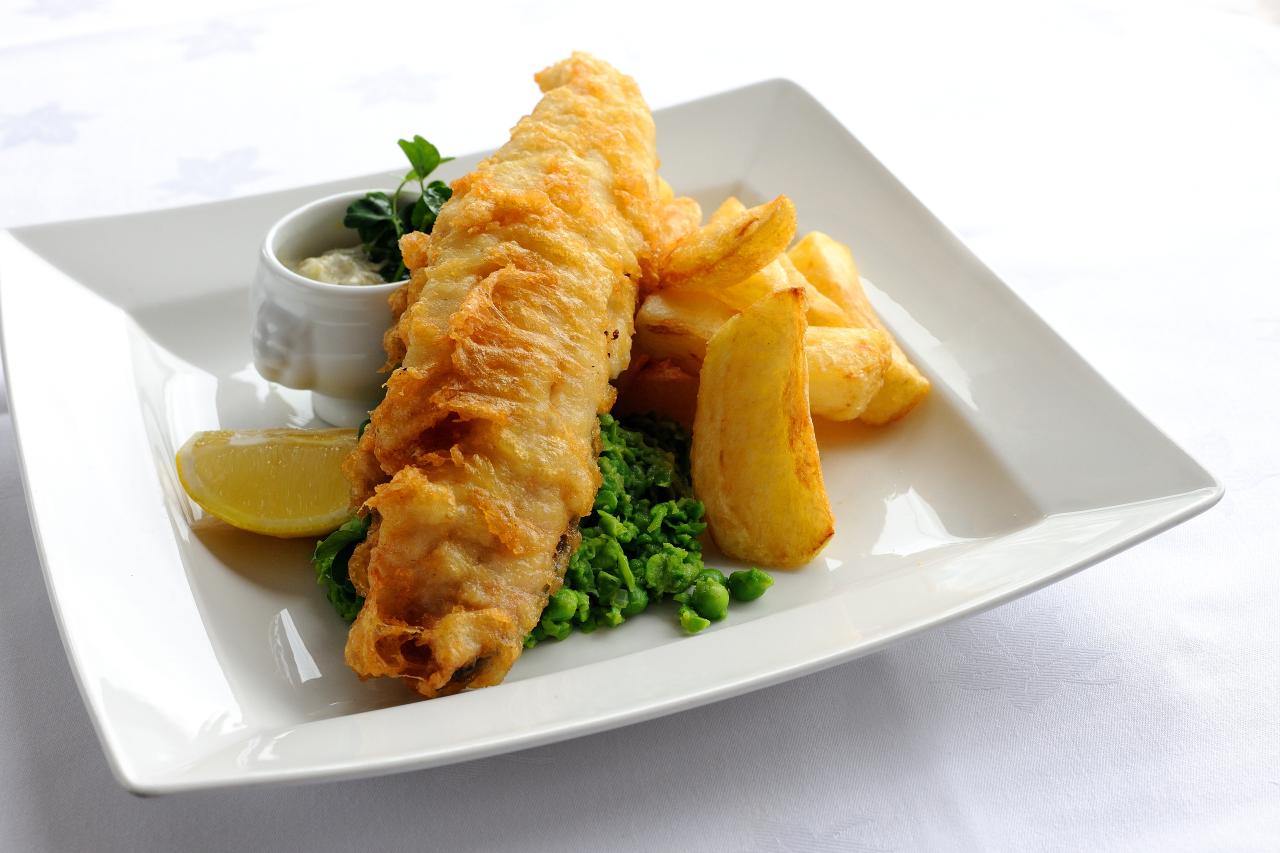 When it comes to the perfect fish and chips, there are a few key things that you need to keep in mind.
For starters, make sure that you're using high quality, fresh and flaky white fish. This will ensure that your dish tastes great and is not greasy or oily.
Furthermore, make sure the fish is large enough so that each portion is generous.
Finally, choose a good cut of potatoes for your chips – something that is not too thick or too thin. Allow these chips to rest in cold water before cooking them so they are nice and crispy when they come out of the fryer.
Once the fish has been fried up nicely, it's time to season it with salt and pepper before serving it up with malt vinegar, lemon wedges and tartar sauce. Enjoy your perfect meal while sipping on a cold beer!
FAQs On Making Fish And Chips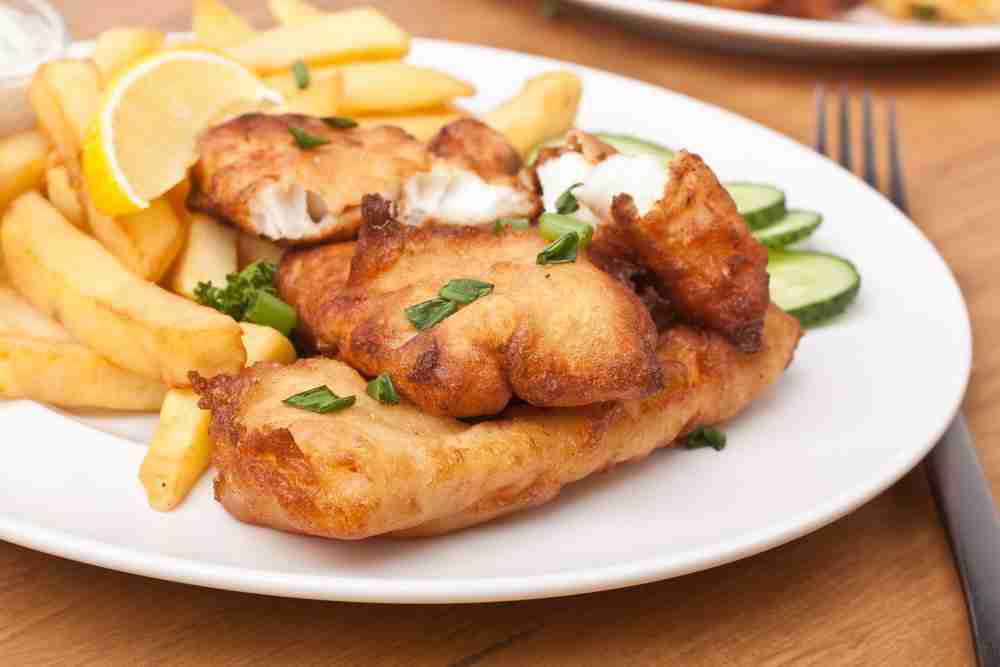 Are you a fan of fish and chips? Do you love the crispy, fried goodness of this classic dish? If so, you're not alone! Fish and chips are a popular choice for a quick and easy meal, and they're perfect for feeding a crowd.
If you're thinking about making fish and chips at home, you might have some questions. Here are some of the most frequently asked questions about making fish and chips, along with some helpful tips and advice.
What type of fish should I use?
When it comes to choosing a type of fish for your fish and chips, there are a few different options. Cod, haddock, and tilapia are all good choices. You can also use salmon, but it will be more expensive.
What kind of batter should I use?
There are a few different types of batter you can use for your fish and chips. A beer batter is a popular option, or you can use a tempura batter. If you're looking for a healthier option, you can use a whole wheat flour batter.
How do I cook the fish?
The best way to cook the fish is to deep fry it. This will give it a crispy coating and ensure that it's cooked all the way through. You can also pan fry the fish, but it won't be quite as crispy.
Should I use fresh or frozen fish?
If you can, it's best to use fresh fish. Frozen fish can be used, but it won't be as good as fresh. If you do use frozen fish, make sure to thaw it completely before cooking.
What are the best potatoes for chips?
There are a few different types of potatoes you can use for your chips. Russet potatoes are a good option, or you can use Yukon Gold potatoes. For a healthier option, you can use sweet potatoes.
What is the best way to cook the chips?
The best way to cook the chips is to deep fry them. This will give them a crispy coating and ensure that they're cooked all the way through. You can also bake the chips, but they won't be quite as crispy.
I hope these tips have been helpful! Happy cooking!
Serving Suggestions With The Classic Recipe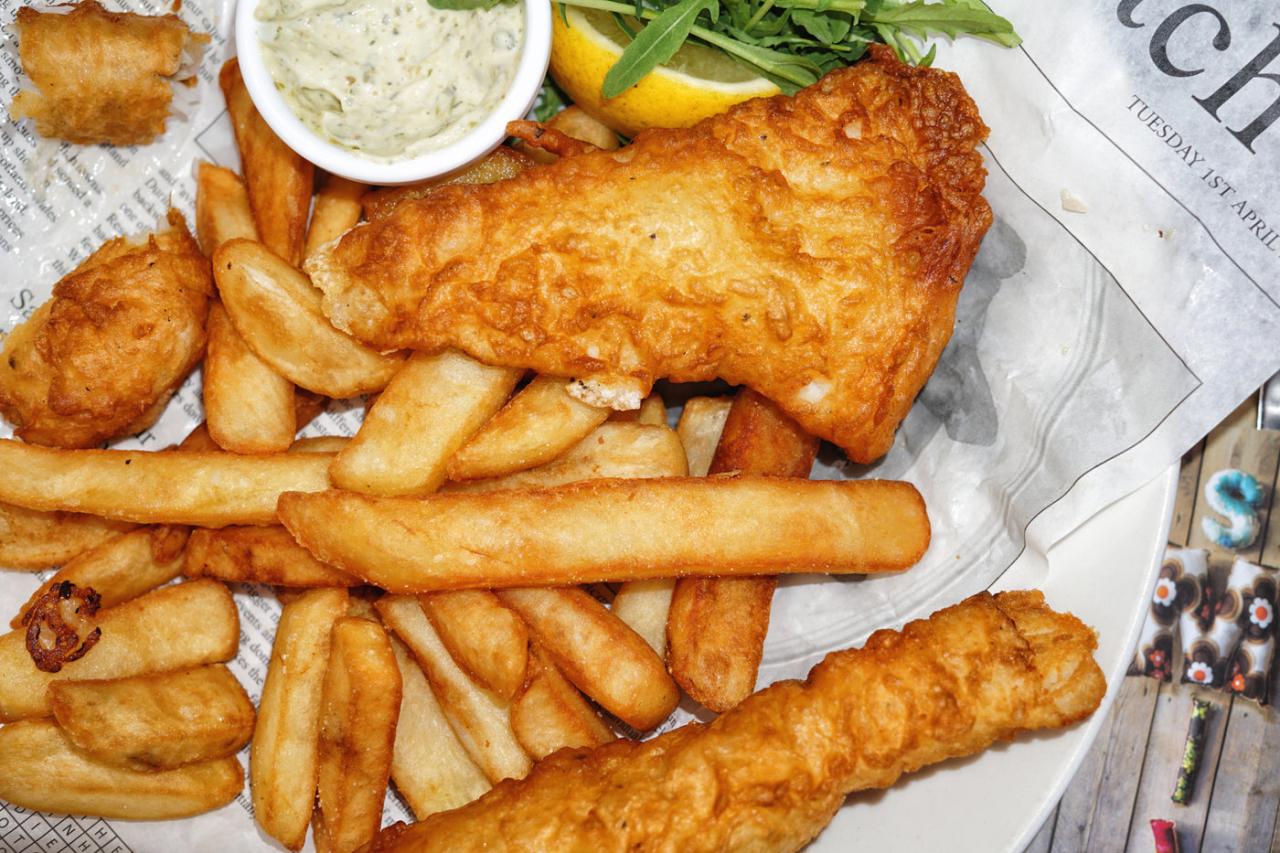 There are many ways to enjoy the classic recipe. It can be served as is, with a simple side dish, or as part of a more elaborate meal. It is also versatile enough to be enjoyed for breakfast, lunch, or dinner.
For breakfast, try serving it with a side of fresh fruit or yogurt. For lunch or dinner, pair it with a salad or veggie dish. If you're looking for a more decadent meal, top the classic recipe with grilled chicken or shrimp. No matter how you enjoy it, the classic recipe is sure to please.