Growing up we always had a dinner dish that we would call Goulash. It was made with macaroni noodles, ground beef, corn, and some sort of red pasta sauce. I loved it and still do. After I got married and would cook it up my husband always asked why it was called Goulash. I never knew so I finally googled goulash and found all sorts of varieties of the dish. I learned that Goulash really originates in Hungary and is a little, if not a lot, different than anything I ever ate called goulash. So I wanted to try to cook a Hungarian Goulash.
This is a pretty easy recipe to make as it is slow cooked in a pot allowing all the flavors to meld nicely. I served it on fettuccine noodles since I couldn't find any egg noodles and they were just fine! This is not a true Hungarian Goulash recipe but my own version with what I had on hand in the kitchen!
Cook Eat Delicious Rating: Interesting to say the least. I liked it but not my favorite meal. The paprika is a nice taste in the dish and you can thicken the sauce with more cornstarch depending on what you prefer. I don't think I am a chunk beef eater, I love beef and steak just not chunks of beef…so maybe I wasn't leaning towards this recipe. My DH loved it and said it was a nice alternative to any other meat red sauce on pasta. What about you, like or not like?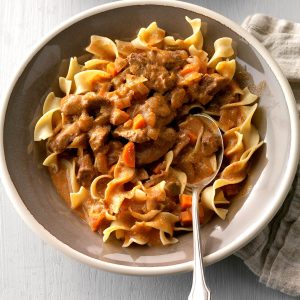 Loose Hungarian Goulash
Hungarian goulash is a delicious and hearty stew that has been enjoyed in Hungary for centuries. If you're looking for a way to make the perfect, loose Hungarian goulash, then look no further.
Ingredients
2

pounds

beef stew meat

(such as chuck), trimmed and cubed

1.5

tbsp

Paprika

1

tbsp

Cayenne Pepper

2

tsp

Parsley

½

tsp

salt

2

tsp

pepper

1

tsp

Worcestershire sauce

3

Garlic cloves

chopped

2

onions

chopped

2

cups

Tomatoes

Diced ,canned

2

cups

Beef Broth

3

Bay leaves

1

tbsp

Cornstarch
Instructions
In a large heavy pot season beef with paprika, cayenne, parsley, salt, and pepper.

Add worcestershire sauce, cloves, onions, tomatoes, broth, and bay leaves.

Bring to a boil.

Reduce heat to low, cover and cook for 4 hours.

Throw out bay leaves.

Add 1 tsp of hot broth to cornstarch and combine.

Add cornstarch mixture to stew and continue to stir until thickened.

Serve over egg or fettuccine noodles.
Notes
Serve over egg or fettuccine noodles and with a side salad.
Hungarian goulash is a delicious and comforting dish that can be enjoyed for any occasion. With the right cut of beef, flavorful ingredients, and simple steps to follow, you can make an authentic Hungarian goulash in no time. Remember to choose a cut of beef with the right amount of fat, simmer your stew until it is thick and savory, and do not forget to serve it with side dishes or desserts for a complete meal. Try making this traditional Hungarian dish today for a delicious dinner that your family will love!
Nutrition
Serving:
4
serving
Calories:
258
kcal
Carbohydrates:
9
g
Protein:
36
g
Fat:
8
g
Saturated Fat:
3
g
Polyunsaturated Fat:
1
g
Monounsaturated Fat:
3
g
Cholesterol:
94
mg
Sodium:
595
mg
Potassium:
810
mg
Fiber:
2
g
Sugar:
3
g
Vitamin A:
1634
IU
Vitamin C:
11
mg
Calcium:
60
mg
Iron:
4
mg
What Makes Hungarian Goulash So Special?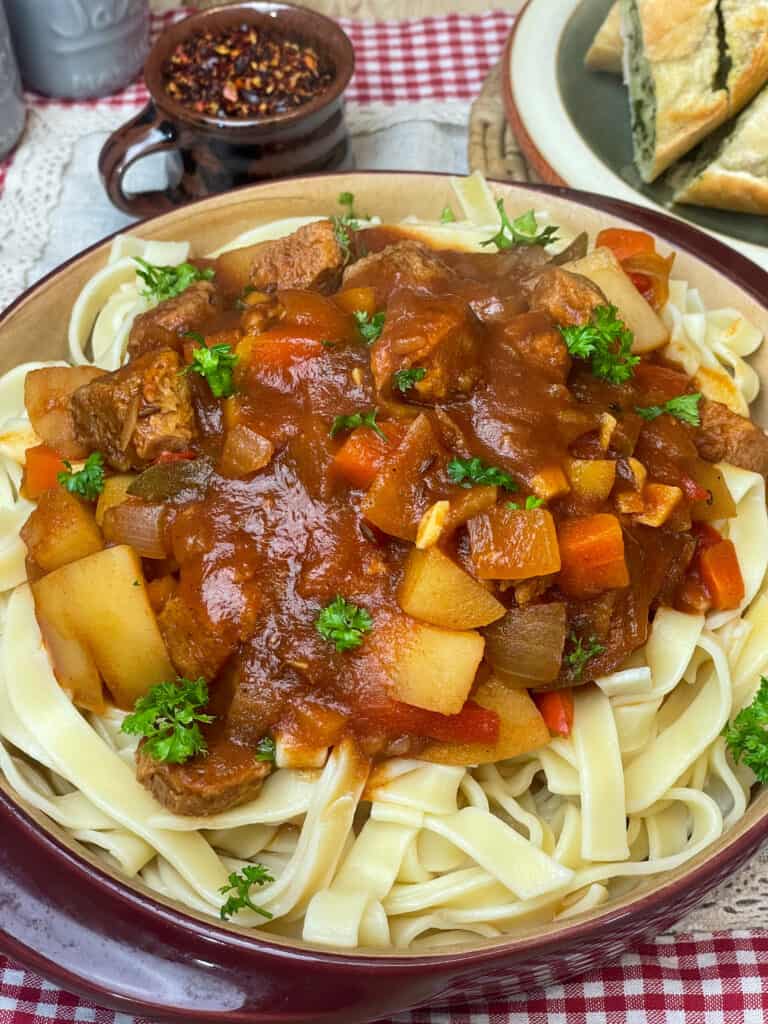 Hungarian goulash is a classic dish that has been enjoyed by people all over the world for centuries. It's a delicious and hearty meal that can be enjoyed as an entrée or side dish. Below, we'll outline the ingredients and steps necessary to preparing a perfect loose Hungarian goulash.
To make a perfect loose Hungarian goulash, you will need authentic ingredients that are not available in most grocery stores. You will also need to cook the goulash on low heat so that it achieves the right consistency and flavor. Be sure to follow the cooking time and temperature listed below to ensure that your dish is cooked perfectly every time.
Finally, we'll give you some tips on how to enhance the traditional goulash taste and serve it in creative ways that will please your guests. We hope that this guide has helped you learn about and prepare for one of the world's most delicious dishes!
Choose The Right Cut Of Beef For Maximum Flavor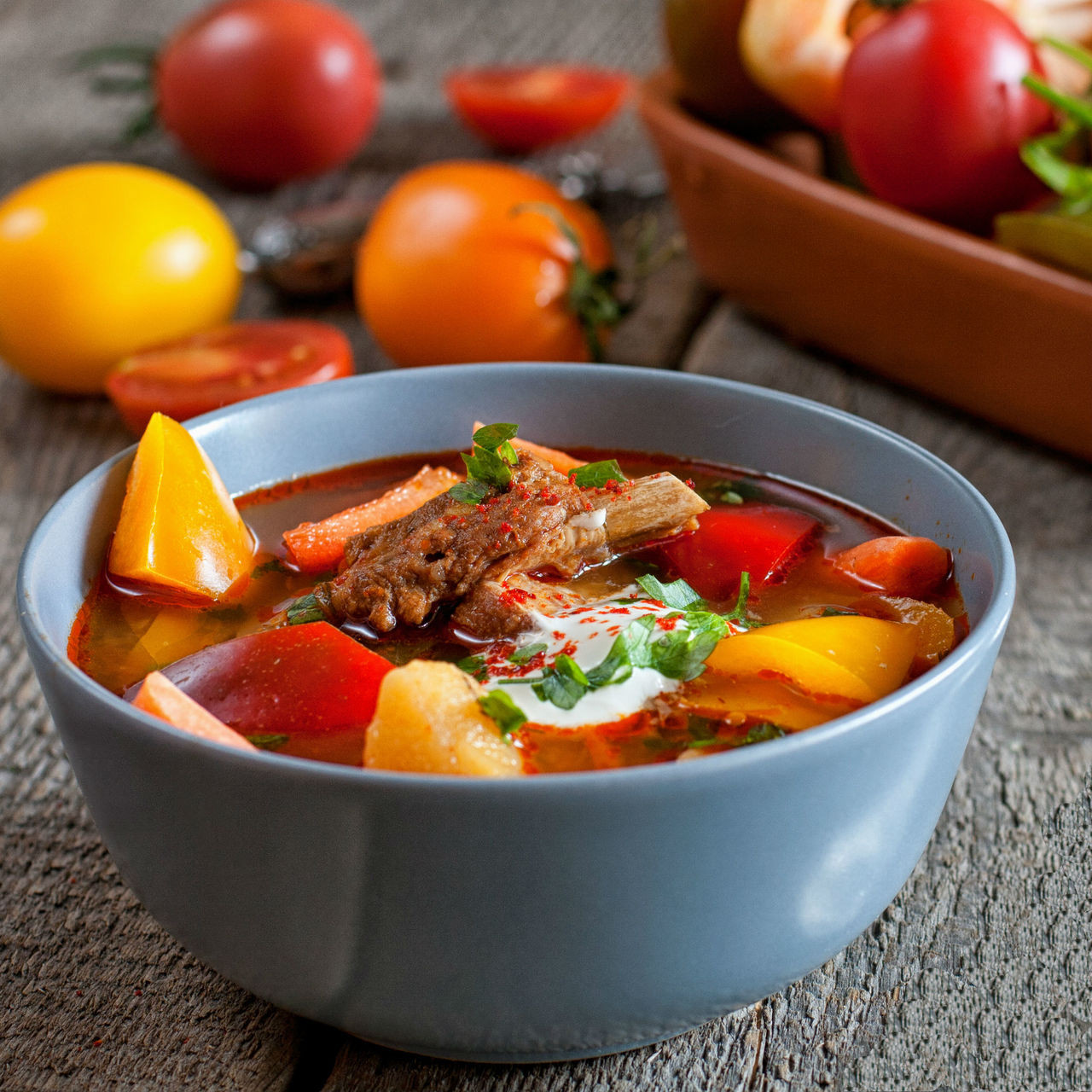 If you're looking for a hearty, comforting meal that will wow your guests, look no further than Hungarian Goulash. Made with beef, onion, and garlic, this dish is perfect for those cold winter days. However, before you can enjoy a bowl of goulash to your heart's content, you first need to choose the right cut of beef.
There are many different types of Hungarian Goulash – each requiring a different cut of beef in order to achieve the desired flavor and texture. For example, conventional Hungarian Goulash typically calls for a cut of beef called sirloin. This type of meat is marbled which means that it contains small amounts of fat throughout its muscle tissue. This makes it particularly flavorful and moist when cooked properly.
In addition to sirloin, other great cuts include flank steak or skirt steak. Both of these cuts are relatively thin and have less fat than sirloin – making them ideal for those who want a more lean goulash without sacrificing flavor or moisture. Finally, if you're looking for something with even more flavor and aroma than regular goulash can provide, consider using rib eye or top round steak instead!
Once you've chosen the perfect cut of beef for your recipe, it's time to get started on the actual cooking process. To tenderize the meat quickly and evenly without causing it to turn into mushy mushyness (gross), try using one of our favorite methods: pounding it with a mallet or flipping it over several times with tongs during cooking. Be sure to add just enough oil or butter so that the meat doesn't stick to the pan – too much oil will create an unpleasant burnt taste in your goulash while too little will leave it dry and bland tasting. Lastly, don't forget about key ingredients like onion and garlic – they play an essential role in creating that delicious Hungarian flavor profile!
And if you happen to make some amazing leftovers tomorrow night? Don't worry – we've got you covered there too! Store them in an airtight container in the fridge for up to four days (or freeze them for up to two months) – perfect for when that sudden craving strikes throughout the week!
The Authentic Ingredients For A Traditional Goulash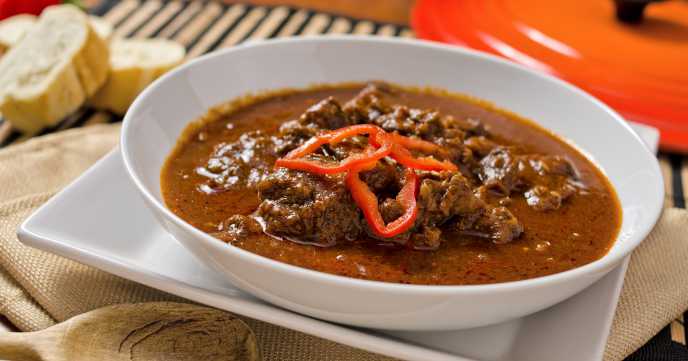 When it comes to making a perfect loose Hungarian goulash, there are a few key ingredients that you need to pay attention to.
First and foremost, make sure that you choose the right cut of meat. This will determine the flavor and texture of your dish, so be sure to choose something that is going to be flavorful and tender.
Secondly, use an authentic mix of Hungarian dried spices to really bring out the flavors in your dish. These spices include onions, garlic, bell peppers, carrots, and tomatoes.
Finally, know when to add other ingredients like tomatoes and paprika – these two ingredients are essential for bringing out the flavor in your meat.
Once you have chosen your ingredients and selected the right cut of meat, it's time to start cooking. Sautéing onions is key in bringing out their flavor and adding moisture to the dish. Once those are sautéed up nicely, add in your potatoes and bell peppers. Try not to overcook these vegetables or they will become mushy; instead aim for them to be just tender enough so that they retain their color but don't fall apart. When everything is cooked through but still a little bit pink inside (about 10-15 minutes), it's time to add in garlic cloves and paprika powder for a little extra zing!
Finish off your authentic traditional goulash by ladling on a dollop of sour cream before serving up warm platesful!
Simple Steps For Making Hungarian Goulash
When it comes to making Hungarian goulash, there are a few key steps that you need to take into account in order to achieve the perfect dish. First, make sure that you select the right ingredients. For example, you'll need beef, onions, green bell peppers, garlic cloves, tomatoes, and a variety of different spices. Next, be sure to cook your meat and vegetables properly before adding them to your goulash pot. Finally, pay attention to the balance of sweet and savory flavors when preparing your dish. By understanding these key tips, you'll be able to create a delicious and creamy Hungarian goulash that will satisfy all of your taste buds.
Here are some additional tips for making a perfect loose Hungarian goulash:.
– Preheat your oven before cooking your meat or vegetables. This will help ensure that everything cooks evenly and quickly.
– Use a variety of different types of paprika when seasoning your goulash. This will help to add different levels of flavor and spice while still keeping everything within the proper balance.
– Slow roast your meat before adding it to the pot for extra flavor and tenderness. This step is important in order for the flavors of the meat to meld together properly with those from the vegetables and spices.
– Make sure that you enjoy every bite of your masterpiece! Taking these simple steps can result in an amazing homemade Hungarian goulash that everyone in your household will love!