Get ready to satisfy your cravings with this easy-to-follow recipe guide on how to make fried chicken with rice and beans – click now for all the tips, tricks, and health benefits!
Hands down the best fried chicken I have ever eaten was in Puerto Limon, Costa Rica. OMGoodness! Crunchy, juicy, and finger licking good. No wonder people in the Caribbean are so happy, they have some of the best food! In the downtown of Puerto Limon there is a little restaurant called Roxy's. Serving typical Caribbean cuisine, the locals form a long line outside to get in for lunch. That is what attracted us. Out of many options, I chose the fried chicken, rice & beans, fried plantain, and a cool Fresca. About $7 bucks for the plate and well worth every bite.
Besides it being the best fried chicken, the rice & beans also are noteworthy. Not dry or over cooked. Neither was the coconut overwhelming. A perfect accompaniment to the chicken. Although I cannot master the exact dish, here are some pretty good easy recipes to follow:
Costa-Rican Fried Chicken with Rice and Beans
Fried chicken with rice and beans is a classic comfort food dish that is sure to satisfy your taste buds. It is a tasty meal that can be enjoyed as a main course or as a side dish.
Ingredients
Fried Chicken:
3

eggs

⅓

cup

water

1

cup

hot sauce

2

cups

flour

2

tbsp

pepper

2

tbsp

garlic powder

1

tbsp

salt

2½

lbs

chicken pieces

Oil for frying
Caribbean Rice & Beans:
1

can

red kidney beans

drained

1

can

coconut milk

2

cups

rice

1

small

onion

chopped

1

clove

garlic

chopped

1

bay leaf

¼

tsp

thyme

dried

1

tbsp

oil
Instructions
For the chicken: Heat oil to 350 F in a deep pot.

Do not fill pot with more than ½ full of oil.

Beat eggs with the water and add hot sauce to mixture.

Put flour in a separate bowl.

Season chicken with the pepper, garlic powder, and salt.

Dip chicken pieces in the egg mixture then coat well with the flour.

Fry the chicken in the oil until brown and crispy.

Dark meat will cook for about 13 minutes and white meat 9 minutes.

For the Rice & Beans: Add beans, coconut milk, and 3 cups of water in a large pot.

Bring to boil and add the onion, garlic, thyme, bay leaf, and oil.

Add the rice when it is all at a boil and stir for two minutes.

Reduce heat to medium-low and cover.

Cook for 30 minutes or until rice is tender and cooked through.
Notes
Fried chicken with rice and beans is a delicious and nutritious meal that is easy to make at home. It offers a variety of health benefits, including protein, vitamins, minerals, and fiber. This dish will provide you with the energy you need to get through your day while also keeping you full for longer periods of time. By following the step-by-step recipe guide, you can easily make this delicious dish in your own kitchen. So, why not give it a try today? You won't regret it!
Nutrition
Serving:
4
servings
Calories:
1361
kcal
Carbohydrates:
147
g
Protein:
62
g
Fat:
58
g
Saturated Fat:
28
g
Polyunsaturated Fat:
9
g
Monounsaturated Fat:
17
g
Trans Fat:
0.2
g
Cholesterol:
267
mg
Sodium:
3536
mg
Potassium:
1249
mg
Fiber:
9
g
Sugar:
2
g
Vitamin A:
570
IU
Vitamin C:
51
mg
Calcium:
139
mg
Iron:
12
mg
Serving Tips For Fried Chicken With Rice And Beans
First, prepare your chicken by marinating it in a traditional technique with herbs and spices. This will help to flavor the chicken and give it extra texture. Afterward, it's time to get frying! Heat up your oil in a skillet until it's hot before adding your chicken. Be sure to cook the chicken until it is evenly browned and crispy – this should take about eight minutes per side. Once the chicken is cooked, serve it immediately with freshly prepared rice and beans for an amazing meal experience!
Toppings are essential for any fried dish, so don't forget to add them during cooking! Some great choices for toppings include ranch dressing or honey mustard sauce. For an extra touch of flavor, try serving your fried chicken alongside some sides like steamed broccoli or mashed potatoes. Finally, be sure to put together a beautiful presentation by serving your fried chicken on bed of fresh greens like spinach or lettuces. Safe cooking tips when making fried chicken are also included in this blog post so that you can enjoy every delicious bite without worry!
Health Benefits Of The Fried Chicken Dish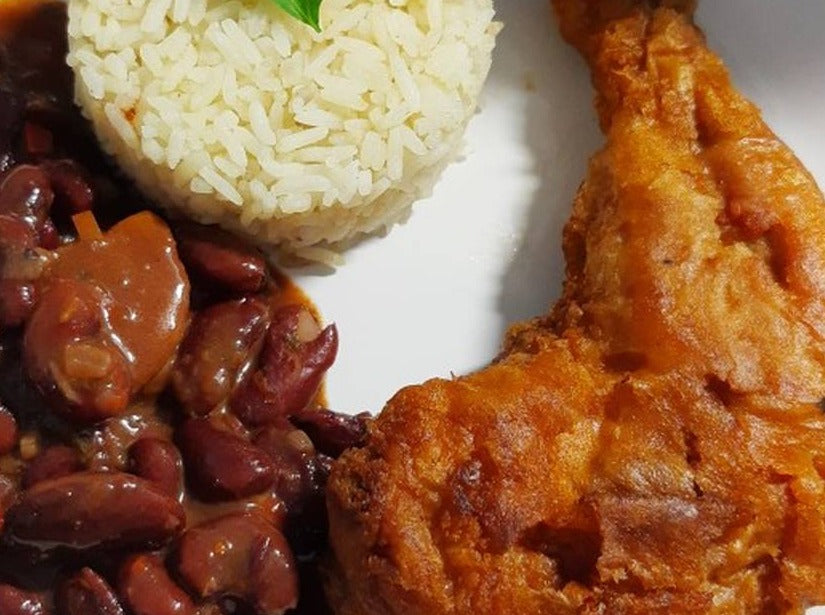 There's no doubt that fried chicken is one of the most classic and beloved dishes in the world. It's easy to make, it's delicious, and it provides a lot of health benefits. Fried chicken is a great meal to combine high protein ingredients with healthy carbohydrates for a balanced diet. Not only does this dish provide all of the essential nutrients your body needs, but it also has cost saving ingredients that you can easily find and use at your local store.
Fried chicken is lower in fat than other types of fried meals, which makes it a healthy option for those looking to reduce their calorie intake. In addition, fried chicken provides additional vitamins and minerals due to the inclusion of rice and beans. This makes fried chicken an excellent choice when trying to get more vitamins and minerals in your diet. Fried chicken is also an excellent source of energy for long term endurance activities, making it perfect for athletes or anyone who wants an extra boost during workouts or long days at work.
If you're looking for a versatile meal that can be combined with a variety of side dishes,fried chicken should definitely be on your list! It's easy to prepare, tastes amazing, and provides plenty of nutritional value – making it the perfect dish for any occasion!
FAQs about the Fried Chicken With Rice And Beans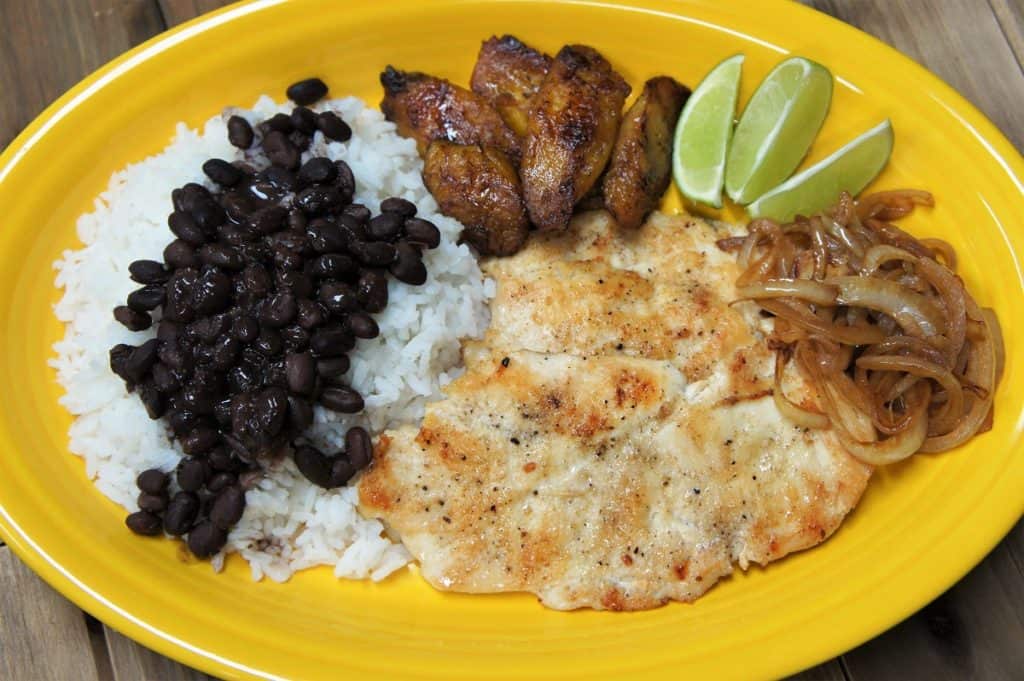 Fried chicken with rice and beans is a popular dish in many parts of the world. Here are some frequently asked questions about this dish:
1. What is the origin of fried chicken with rice and beans?
There is no one definitive answer to this question. The dish is believed to have originated in the Caribbean, and it is thought that the first fried chicken with rice and beans recipe was created in Jamaica.
2. What are the key ingredients in fried chicken with rice and beans?
The key ingredients in this dish are, of course, chicken, rice and beans. The chicken is usually marinated in a spice blend before being fried, and the rice is usually cooked with aromatic spices.
3. How is fried chicken with rice and beans typically served?
This dish is typically served as a main course, with the chicken, rice and beans being served together on a plate. It is often garnished with fresh herbs or salsa.
4. What are some common variations of fried chicken with rice and beans?
There are many variations of this dish, depending on the region where it is being prepared. In some parts of the world, the rice may be replaced with other starchy vegetables, such as plantains or yams. In other parts of the world, the beans may be replaced with lentils or chickpeas.
5. Is fried chicken with rice and beans a healthy dish?
This dish can be considered healthy, as it is relatively low in fat and calories. However, it is important to note that the nutritional value will vary depending on the ingredients used and how the dish is prepared.