It is a good thing to try new foods. You are able to experience new taste buds going off in your mouth and it really can help broaden your palate sensors. I made a new friend in Costa Rica a few months ago, she is from Eritrea. She brought a lot of spices from home to have during her stay here. One dish she would often cook is a spicy Eritrean Chicken dish. It is loaded with flavor and spices that aren't as familiar to me as others are. After she left, she gave me a bag of Eritrean Spice, deep red in color and a mixture of many different spices. I did my best to recreate her East African meal, this is what I came up with!
Cook Eat Delicious Rating: I don't know if this makes any sense and I hope it doesn't sound horribly horrible (not my intention at all) but as this was cooking it super smelled Africany (*not a word). It also tasted like it was from Africa so I was feeling pretty good like I nailed it! But it was really the mix of spices that I had, nothing on my part. The combination of tomatoes with the boiled down onions is really something to taste up against the spiciness and depth of the Eritrean spices. Really flavorful and a very delicious easy recipe & meal!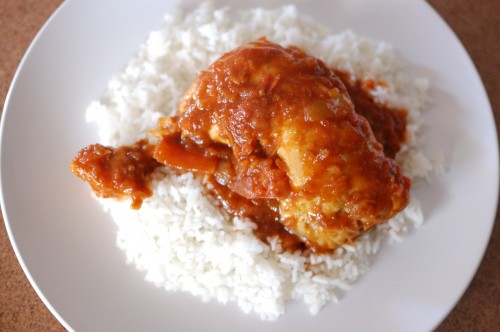 Eritrean Chicken
Do you love chicken dishes? If so, you'll want to check out the best Eritrean chicken dishes. Eritrean cuisine is known for its unique and flavorful dishes, and the chicken dishes it offers are no exception. From Doro Wat, the national dish of Eritrea, to Kitcha Firfir, a traditional breakfast or lunch, to Zigni, a spicy tomato stew, these dishes will tantalize your taste buds and leave you wanting more. We'll also look at some dishes to accompany the Eritrean chicken dishes, such as the Michelese-style roast chicken with herbed butter and garlic sauce. So, get ready to explore the wonderful world of Eritrean chicken dishes.
Ingredients
1

small

yellow onion

diced

1

small

purple onion

diced

1

cup

water

2

tbsp

butter

1

tbsp

tumeric

6

Tbsp

Eritrean Spice

2

large

tomatoes

chopped

½

cup

tomato sauce

4

garlic cloves

minced

2

chicken legs

2

chicken thighs
Instructions
Cook onions in ½ water for 10 minutes over medium heat, in a pot with lid on.

Add the butter and tumeric to pot and stir until well combined.

Add in the Eritrean Spice and combine well.

Add in ½ cup water with the tomatoes and tomato sauce.

Bring to a boil and turn to a simmer.

Cook sauce for 20 minutes.

Stir in the garlic and add the chicken.

Cook with the lid on for 30 minutes or until chicken falls off the bone.
Notes
Eritrea is a small country with a big appetite! Its diverse cuisine is full of flavorful dishes, from the national dish Doro Wat to the classic breakfast or lunch Kitcha Firfir. Zigni, Tibsi, and Michelese-style Roast Chicken are just some of the delicious ways to enjoy Eritrean chicken dishes. Whether you're looking for something spicy or something sweet, Eritrea has it all. So why not try your hand at an Eritrean dish today? You won't regret it!
Nutrition
Serving:
2
servings
Calories:
728
kcal
Carbohydrates:
24
g
Protein:
44
g
Fat:
52
g
Saturated Fat:
18
g
Polyunsaturated Fat:
9
g
Monounsaturated Fat:
19
g
Trans Fat:
1
g
Cholesterol:
261
mg
Sodium:
597
mg
Potassium:
1354
mg
Fiber:
6
g
Sugar:
11
g
Vitamin A:
2340
IU
Vitamin C:
39
mg
Calcium:
92
mg
Iron:
4
mg
FAQS about the Eritrean Chicken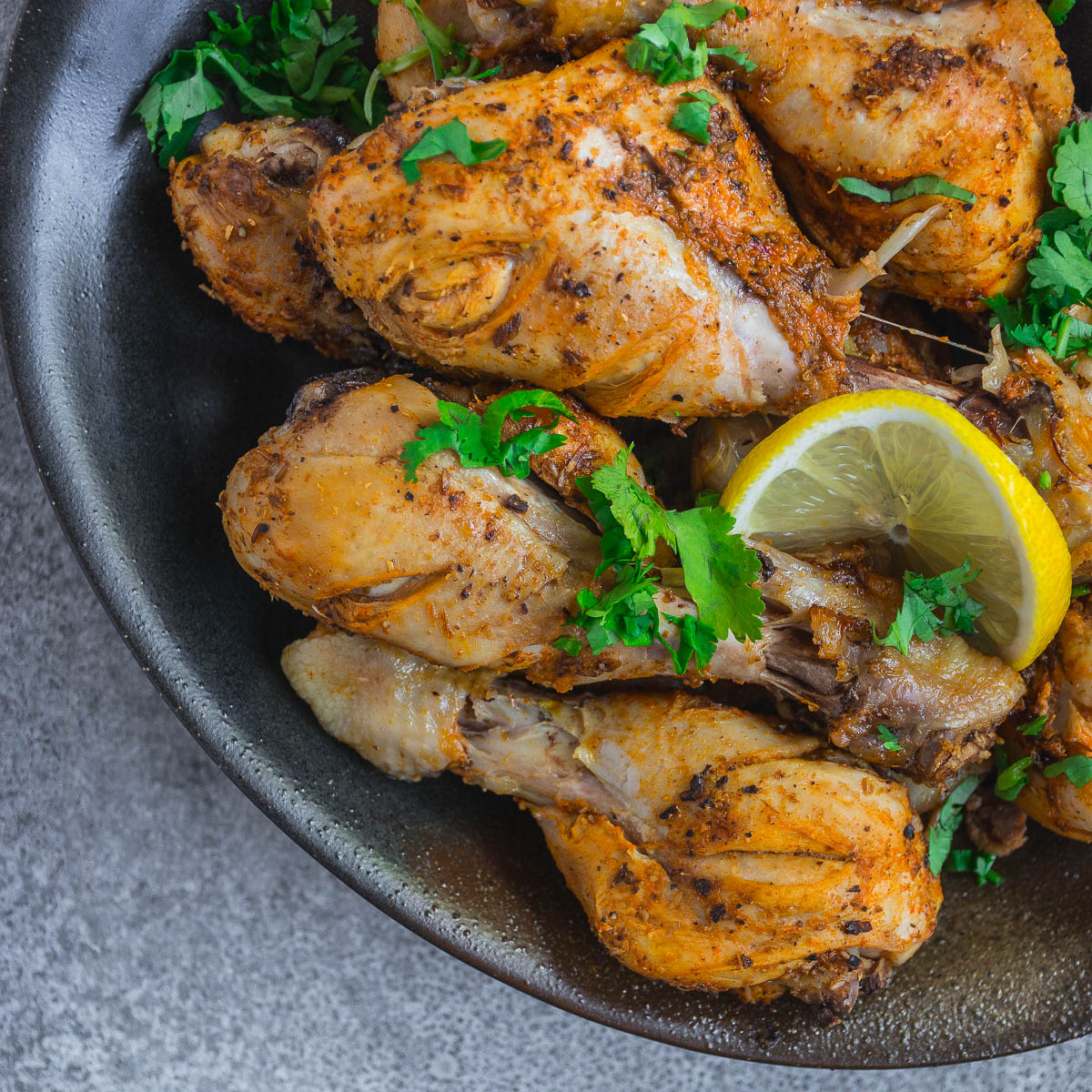 1. What is the Eritrean Chicken?
The Eritrean Chicken is a unique chicken breed that is native to the Eritrea region in Africa. The chicken is known for its unusual appearance, with its long neck and legs. The chicken is also known for its unique flavor, which is said to be similar to the taste of game birds.
2. How is the Eritrean Chicken prepared?
The Eritrean Chicken is typically prepared by roasting it over an open fire. This cooking method helps to bring out the chicken's unique flavor. The chicken is often served with a variety of vegetables and spices.
3. What are the benefits of eating the Eritrean Chicken?
The Eritrean Chicken is a healthy option as it is a lean protein source. The chicken is also a good source of several vitamins and minerals, including iron and zinc. Eating the Eritrean Chicken can also help to boost your immune system.