Make the most delicious, refreshing lemon bars with our easy-to-follow recipe and tips – try it now and start baking!
It's my 100th Recipe on CookEatDelicious.Com! Yay! To celebrate, stay tuned for the 100th recipe giveaway coming soon!
How appropriate that my 100th recipe is a lemon recipe. Although apple desserts are my favorite, I have been having a love affair with lemon sweets for awhile now. I know I need to just choose but I can't, I love them both!
Since I don't get lemons as often as I would like living in Costa Rica, when I do I go lemon dessert crazy. Lemon bars are always one of the first things to be baked up. I usually eat the whole pan during the course of the day. And then I have regrets the next day, not for eating a whole pan of lemon bars but that I didn't make another pan for the next day!
Delicious Rating: This easy recipe is up there for one of the best lemon bars I have had. It is lighter than most and a little bit on the sweet side. I think the added lemon glaze gives it the extra sweetness. I don't particularly like the extra sweet so next time I would leave it out. The crust is nice and buttery with the tartness from the lemon and then the sweet glaze…totally refreshing. My DH loved them, saying that they were the best and perfectly balanced in flavor.
How do you like your lemon bars? More sweet or more tart?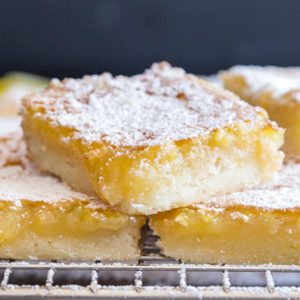 Lemon Bars
Everyone loves a good lemon bars recipe. What if we told you that you could make the most delicious, refreshing lemon bars with just a few simple ingredients and a few easy steps?
Ingredients
Crust
2

cups

all-purpose flour

½

cup

powdered sugar

2

stick butter

softened

1

tbsp

lemon zest
Filling
4

eggs

2

cups

sugar

¼

cup

flour

1

tsp.

baking powder

¼

cup

fresh lemon juice

1

tbsp

lemon zest
Glaze
1

cup

powdered sugar

2

tbsp

lemon juice or more until you reach the right consistency
Instructions
Preheat oven to 350 F.

Beat butter, powdered sugar, flour, and lemon zest in a large bowl.

Spread mixture in the bottom of a 13×9 inch pan.

Bake for 20 minutes.

Whisk beat eggs in a large bowl for 4 minutes.

Add in sugar, flour, baking powder and combine well.

Mix in lemon juice and lemon zest.

Pour over warm crust and return to the oven.

Bake for an additional 30 minutes.

Allow to cool completely.

Make glaze by combining powdered sugar and lemon juice until smooth spreadable glaze.

Glaze cool bars and serve.
Notes
Making your own lemon bars is a great way to satisfy your sweet tooth without spending a fortune. With the right ingredients, instructions, and tips, you can make delicious and refreshing lemon bars at home. By following the steps outlined in this article, you will be able to make the perfect lemon bar recipe every time!
Nutrition
Serving:
1
serving
Calories:
129
kcal
Carbohydrates:
28
g
Protein:
2
g
Fat:
1
g
Saturated Fat:
0.3
g
Polyunsaturated Fat:
0.2
g
Monounsaturated Fat:
0.3
g
Trans Fat:
0.02
g
Cholesterol:
27
mg
Sodium:
33
mg
Potassium:
27
mg
Fiber:
0.4
g
Sugar:
19
g
Vitamin A:
40
IU
Vitamin C:
2
mg
Calcium:
19
mg
Iron:
1
mg
Tricks To Make The Best Lemon Bars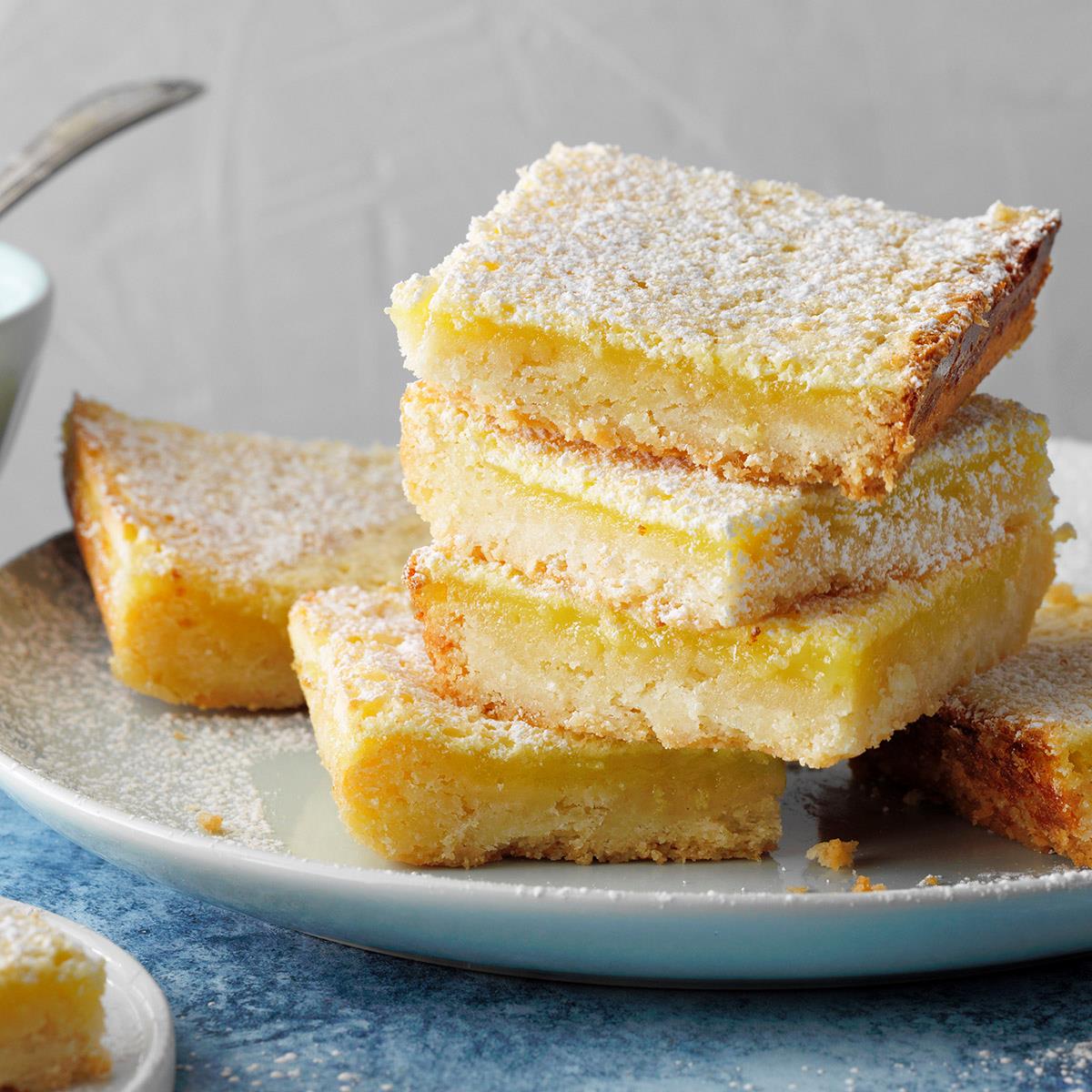 Lemon bars are a classic dessert that everyone loves, and there's a good reason for that. They're easy to make, they're delicious, and they're refreshing. In this section, we will walk you through the easiest Lemon Bar recipe ever.
First, preheat your oven to 350 degrees Fahrenheit. Next, prepare the crust by combining melted butter, sugar and flour in a bowl. Once combined, mix the crust together until it's evenly coated. Then place the crust on a baking sheet and bake for 10-12 minutes or until golden brown. Allow the crust to cool before proceeding with the recipe.
Meanwhile, in another bowl, whisk together eggs, sugar and lemon zest until everything is fully combined. Once the crust has cooled completely down (about 30 minutes), pour the lemon filling mixture over it and spread out evenly. Bake for another 20-25 minutes or until set in the center. Allow lemon bars to cool completely before serving them up! To make things even more delicious, add a glaze of lime juice (juice from 2-3 limes), sugar and water to intensify flavor profiles as desired!
Tips To Serve And Store Your Lemon Bars Recipe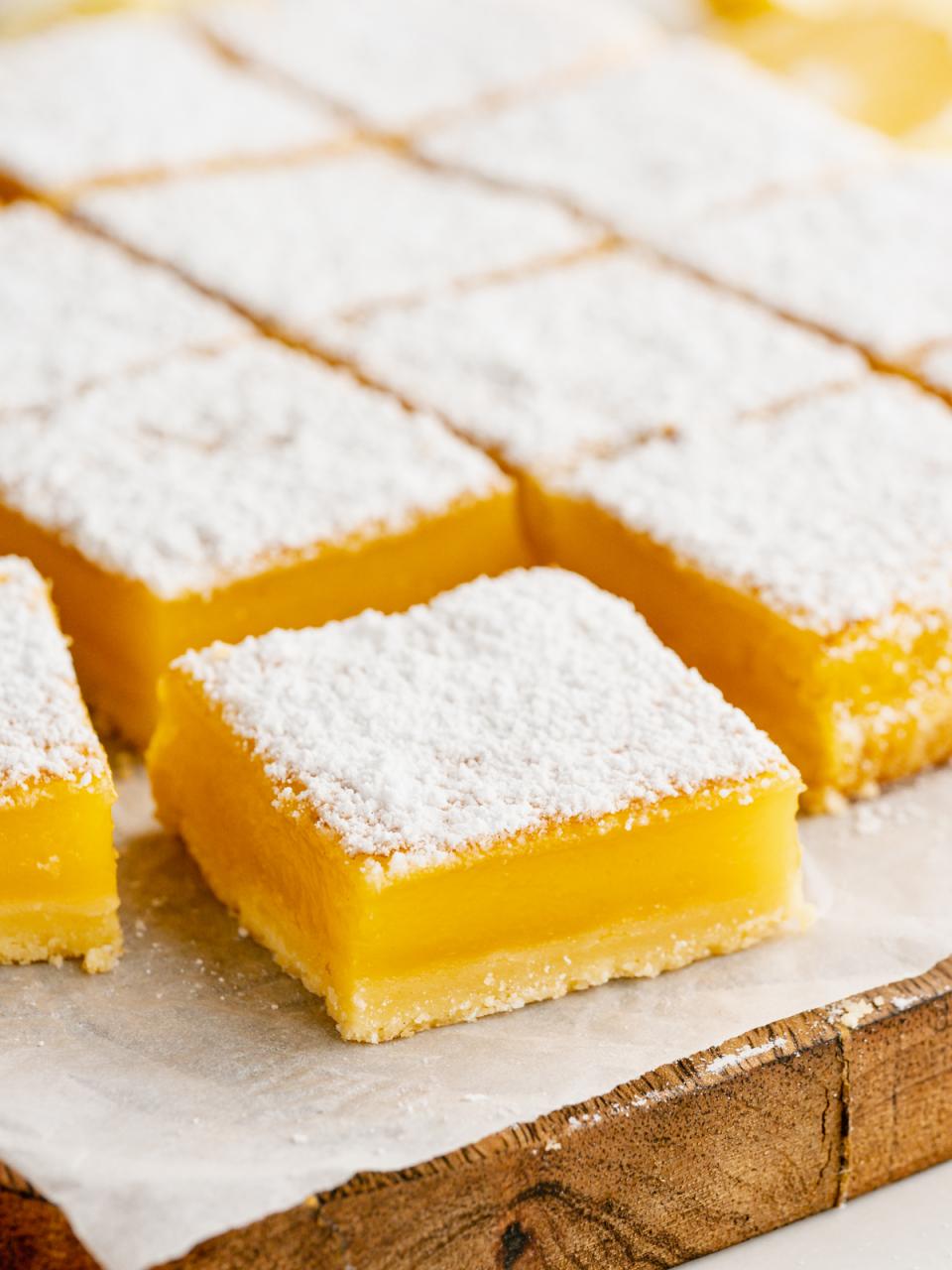 There's nothing like a great lemon bar, and this easy recipe will make sure that your bars are delicious and elegant. Follow these tips to make the best lemon bars ever.
First, measure all the ingredients accurately – including the flour, butter, and sugar. This will ensure that your bars come out perfectly every time. Second, select lemons with thick and fragrant skin for the richest flavor. These lemons will give your bars their signature citrus flavor. Finally, cut the bars into small squares for easy serving. This way, everyone can enjoy a delicious lemon bar at home!
Keep the excess lemon bar in an airtight container in the refrigerator for later use – it makes a great snack or dessert! Finally, top each square with a sprinkle of powdered sugar and a mint leaf for an extra touch of elegance. Reheat the bars in a 350°F oven for a few minutes before serving to keep them warm and fresh tasting.