Get ready for fall with this easy-to-follow recipe for an Apple Pie with Crumb Topping – bake it to perfection and enjoy the perfect fall dessert!
Um…drool?! Like seriously, I don't know if I should say anything about this perfect apple pie with crumb topping. This is an easy recipe when you are craving apple pie, which is usually almost every other day for me. I usually like a lattice top to get that double crust (I love pie crust) but every now and then I need a good crumb topping. It adds extra sweet and crunch and yumminess that I sometimes just eat all by itself…before it is even baked!
Okay, enough about my horrible greediness for sweets.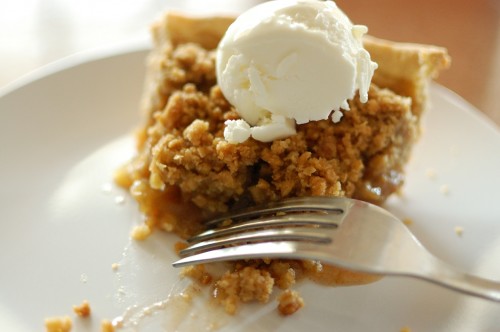 CookEatDelicious Rating: Bake this tonight, you won't regret it! I put the crumble on the pie when it first goes in the oven not halfway through. It gets a nice crispy crumble that I love. Also, be sure not to go over with the butter. I find that is the mistake with crumbles that are too soft or break up easily and get lost int the pie. You can use this topping for an apple crisp for greatness as well. Let me know in the comments if you prefer an extra top pie crust or a crumb topping!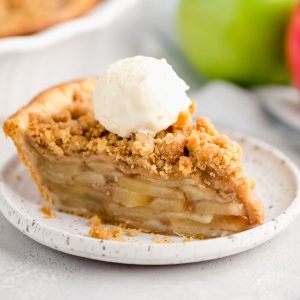 Apple Pie with Crumb Topping
With the leaves turning and the days getting shorter, it's time to start thinking about the perfect fall dessert. An apple pie with crumb topping is the perfect way to end a cozy evening by the fire. And the best part? Making an apple pie with crumb topping is surprisingly easy.
Ingredients
Crust:
1¼

cups

flour

1

stick of unsalted butter

cold and cut into little cubes

½

tsp

salt

1½

tsp

sugar

3

tbsp

ice water
Filling:
6

green medium apples

peeled and thinly slice

⅔

cup

white sugar

2

tbsp

flour

1

tsp

cinnamon

½

tsp

nutmeg

¼

tsp

salt

Juice from half a lemon
Crumb Topping:
1

cup

Flour

1

tsp

Cinnamon

1

cup

Brown Sugar

1

cup

Oats

1

tsp

Lemon Zest

½

cup

Butter

softened
Instructions
Make crust:
Add 1 cup flour, butter, salt, and sugar in a food processor and pulse until it looks like a crumbly mixture.

Add in 1 tbsp of ice water, pulsing after each addition, until mixture can be pinched and held together.

Place dough on a clean surface and gently work into a round disk, don't over knead.

Wrap in saran wrap and refrigerate for at least 1 hour.
Filling:
Cut up apples and place in a bowl along with the sugar, 2 tbsp flour, cinnamon, nutmeg, salt, and lemon juice.

Mix well to coat the apples and let sit.
Crumb Topping:
Combine all 6 ingredients until nicely crumbly.

Heat oven to 425 degrees F.

Take out pie crust and allow to come to room temperature in 5 minutes or so.

Roll out into a 12 inch circle on a floured surface, adding flour as necessary to avoid sticking.

Place in a 9 inch pie pan and gently press evenly on the sides

Add apples and ½ to ¾ cups of excess juice to pie pan.

Cover with crumb topping.

Use a pie crust ring or foil to cover the crust for the first 40 minutes of baking.

Bake for 55 minutes and allow to cool for at least 2 hours before cutting into and serving.
Notes
Making an apple pie with crumb topping is a great way to show you care. It is a simple yet delicious dessert that can be enjoyed by everyone. With the right ingredients, techniques, and equipment, anyone can make this classic dessert at home! So, gather your ingredients and roll up your sleeves; it is time to get baking! Enjoy the sweet aroma of homemade apple pie with crumb topping wafting through your kitchen. Bon Appétit!
Nutrition
Serving:
8
slices
Calories:
520
kcal
Carbohydrates:
99
g
Protein:
6
g
Fat:
13
g
Saturated Fat:
8
g
Polyunsaturated Fat:
1
g
Monounsaturated Fat:
3
g
Trans Fat:
0.5
g
Cholesterol:
31
mg
Sodium:
320
mg
Potassium:
266
mg
Fiber:
6
g
Sugar:
59
g
Vitamin A:
433
IU
Vitamin C:
7
mg
Calcium:
51
mg
Iron:
3
mg
How to make Apple Crumb Pie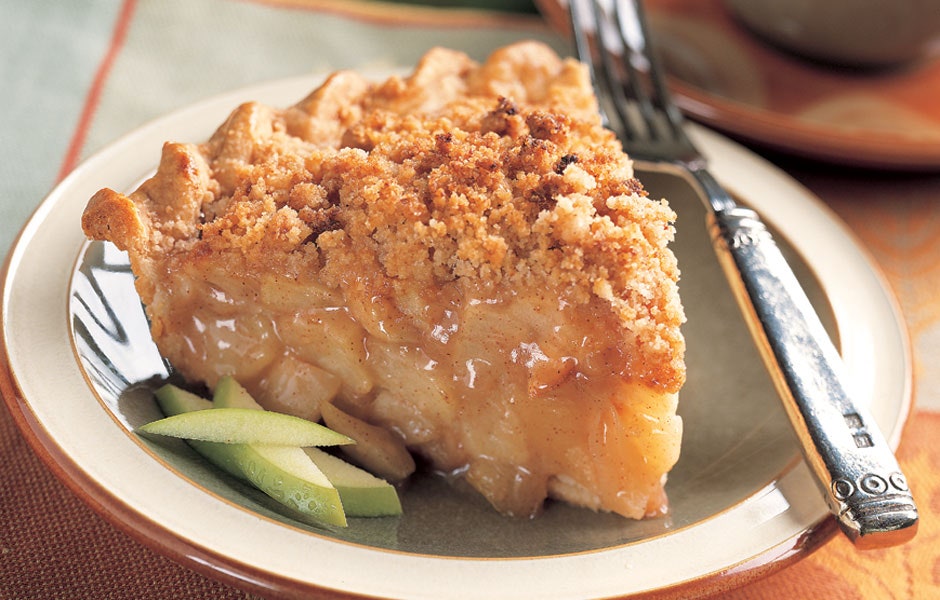 Ingredients You'll Need
When it comes to making the crust for an apple pie, there are two main types: pastry and bread. Pastry crusts are generally denser than bread crusts, which makes them ideal for pies that need to be packed with filling. However, pastry crusts can be harder to make – so if you're not experienced in making pastry dough, we recommend opting for a bread version instead.
When it comes to making the flaky and flavorful crumb topping, there are several options available. Some people prefer to simply brush butter on top of the dough before baking it – but this can result in a greasy pie. Another popular option is to use graham crackers as the crumbs – but many people find these toppings too heavy or dense. We recommend using something like pre-made puff pastry or even ladyfingers as the perfect crumb topping for this recipe.
Finally, when choosing apples for this recipe, we recommend using Granny Smith apples because they are tart but still sweet enough to taste delicious in pies. Other favorites include Honeycrisp apples or Braeburn apples because they have a moderate level of sweetness and flavor without being too overpowering or fruity tasting. As long as you select apples that will work well with this recipe, you'll be able to enjoy an amazing apple pie on Thanksgiving day or any other fall occasion!
Making The Pie Crust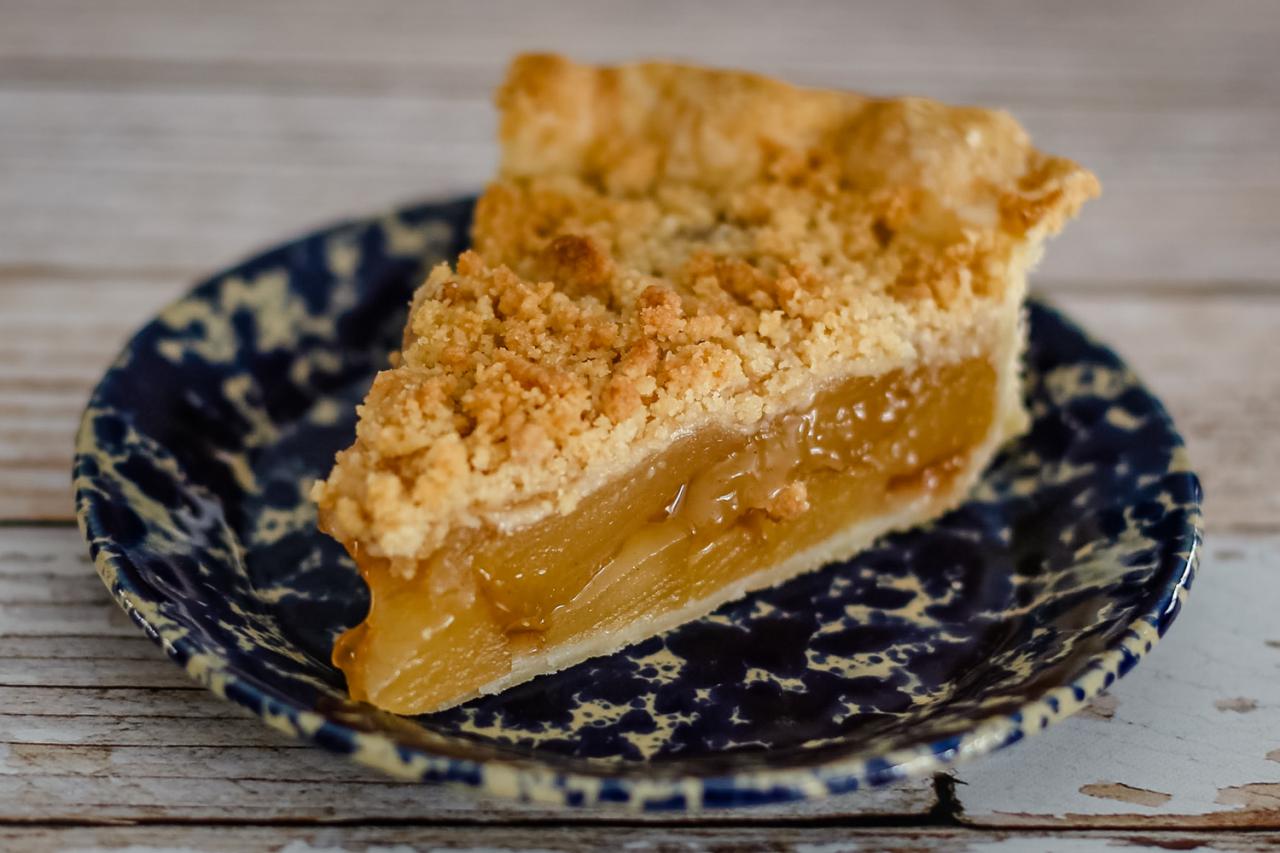 There are several ways to make a pie crust, but the most basic method is to mix together flour, salt, and fat (usually butter or shortening), and then add water until the dough comes together. The dough should be just moist enough to hold together, but not too wet or sticky.
Once the dough is mixed, it needs to be rolled out into a flat circle. The easiest way to do this is to place the dough between two pieces of plastic wrap or wax paper and then use a rolling pin to roll it out. Once the dough is rolled out, it can be placed in a pie dish and trimmed to fit.
Making a perfect pie crust takes practice, so don't be discouraged if your first attempt is less than perfect. Just keep trying and you'll get the hang of it in no time!
Putting Together The Apple Filling
To make the apple filling, you will need about 8-10 cups of peeled and sliced apples. We recommend using sweetest apples possible for this recipe – those that are both tart and sweet. If you want to add a little bit of sweetness to your pie, feel free to use sugar or honey in place of the sugar in the filling recipe.
The best way to cook the apples is by baking them in a preheated oven at 375 degrees Fahrenheit. Be sure to use a pan that is large enough so that all of the apples can fit without touching each other. Once they are cooked through, take them out and let them cool slightly before adding them to your pie crust.
To make the perfect crumb topping, we recommend using either quick oats or graham crackers. Simply mix together about 1/2 cup of oats or graham crackers with 2 tablespoons of melted butter or margarine before spreading it over the top of your pie crust. Make sure that you let it cool completely before serving so that it sets up properly.
Finally, we highly recommend refrigerating your crust before baking so that it will be easier to slice and serve later on. This will also help ensure that your pie arrives at room temperature perfectly when you're ready to eat it! And lastly, don't forget – store your finished apple pie in an airtight container so that it stays fresh for days on end!
Making The Crumb Topping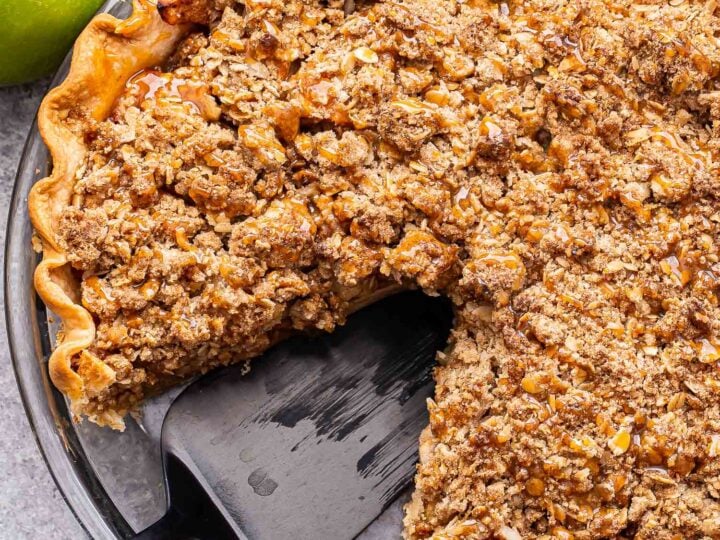 First, we will prepare the breadcrumbs by mixing together about two cups of breadcrumbs with a little bit of salt and pepper. Next, we will heat up the butter in a large pan over medium heat. Once melted, we will add in the breadcrumbs and stir until everything is well combined. We want the mixture to be sandy in texture so that it can easily be spread on top of our pies later on.
Next, it's time to make our dough for the topping. To do this, we first mix together three cups of flour with one cup of sugar and one teaspoon of salt. We then add in enough cold water to make a soft dough – not too sticky or wet. We can either roll it out or put it in a food processor to blitz until it's smooth and uniform.
Once our dough is ready, it's time to slice up some apples into thin pieces and caramelize them with sugar syrup (a combination of water and sugar). This process will create a sweet brown color that accents perfectly against our golden crusty topping!
After assembling our pie with the crumb topping on top (and optionally additional fruit), we'll bake it in a preheated oven for about 45 minutes until golden brown and bubbly throughout! Serve warm or chilled – there's nothing like enjoying an autumnal dessert straight from your oven!
Baking Your Pie To Perfection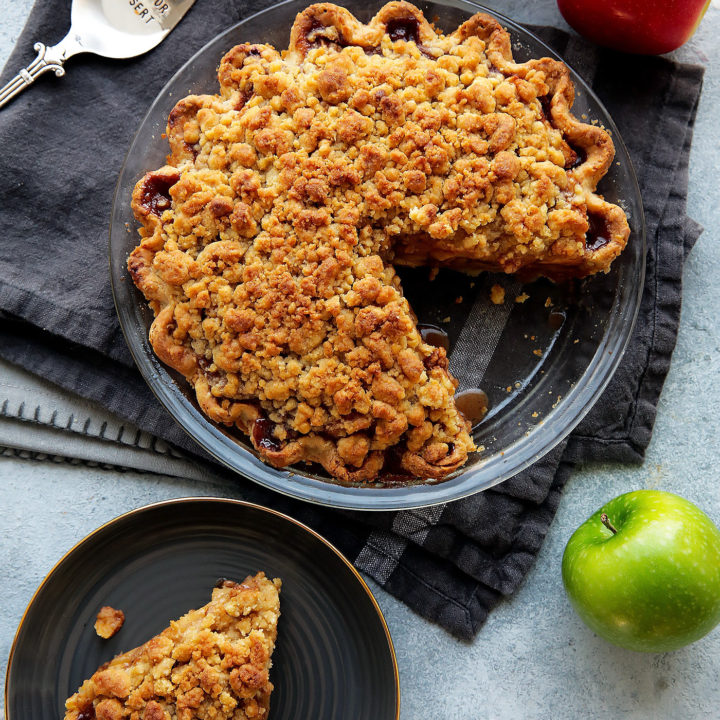 To select the best apples for your recipe, look for tart apples that are firm but not too tough. Choose Granny Smith, Honeycrisp, or Golden Delicious apples for their flavor and texture. Be sure to cut them into thin slices so that they cook evenly in the oven.
To make the perfect crust, start by mixing together two cups of all-purpose flour, one teaspoon of salt, three tablespoons of cold butter or margarine, and two cups of ice water. Mix until everything is well combined and the dough is crumbly. Place the dough on a floured surface and press it into a disk about 1 inch thick. Use a sharp knife to score the top of the dough in several places – this will help prevent it from puffing up while baking.
Next, prepare your topping by mixing together one cup of sugar dissolved in two tablespoons of water and one tablespoon cornstarch mixed with enough additional water to make a slurry (about half a cup). The mixture should be wet but not soupy – if it's too wet, add more ice water until you reach the desired consistency. Pour the topping over the crust and spread it out evenly using your hands or an offset spatula. Refrigerate for at least an hour before baking so that it can firms up slightly and be easier to handle.
Bake your pie at 375 degrees Fahrenheit for forty minutes or until golden brown on top and set in the center. Allow your pie to cool completely before serving – this will help ensure that it stays fresh longer. For storage advice, keep pies covered in plastic wrap at room temperature or refrigerate them overnight before serving.
Enjoy Your Delicious Apple Pie With Crumb Topping!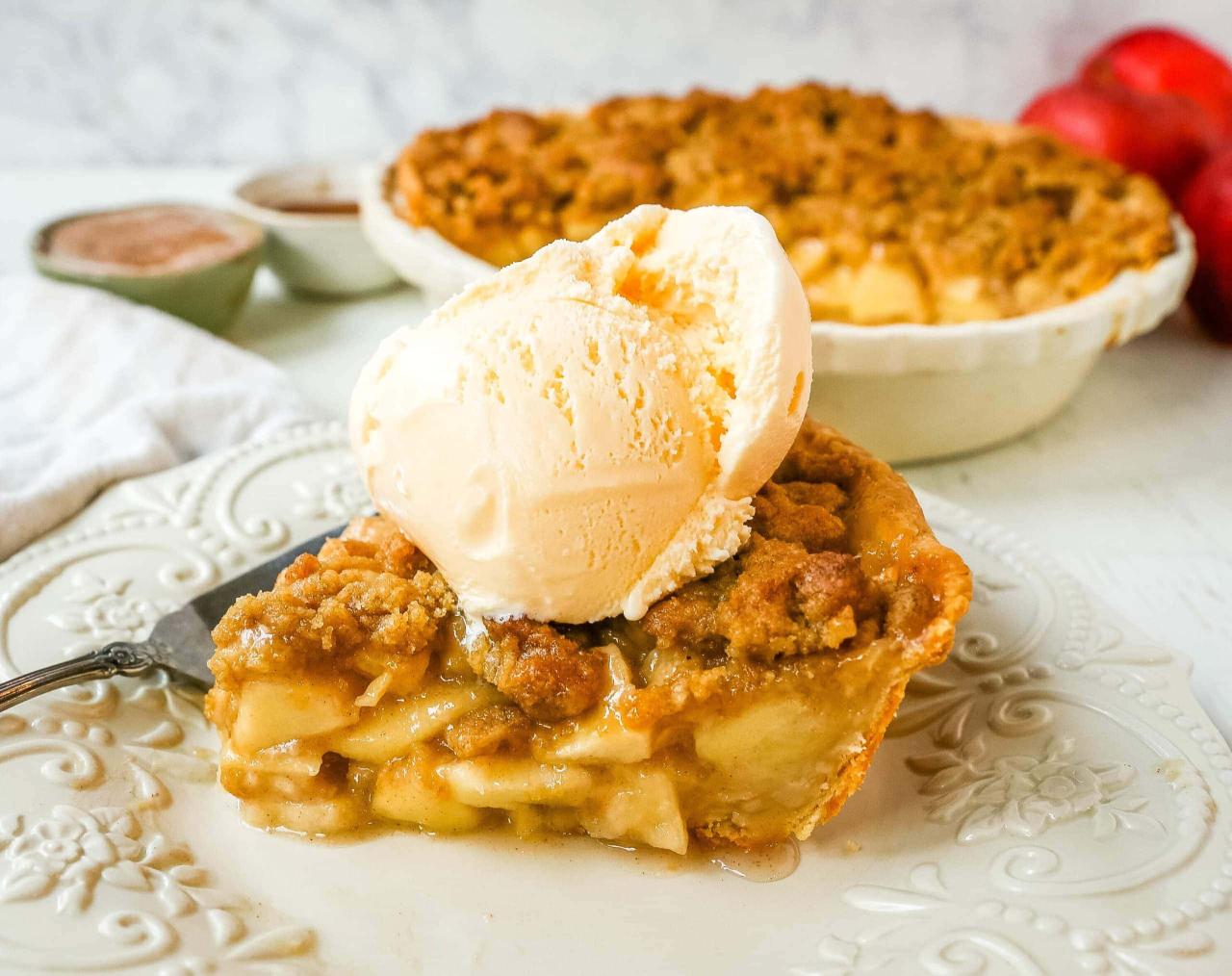 To start, choose your apples carefully. Make sure that you use apples that are firm and have a nice color – Reds, yellows, and greens are all great options for a fall pie. Next, preheat your oven to 375 degrees Fahrenheit before lining a 9 inch pie dish with parchment paper.
Next step is to make the crust: mix together 2 cups of flour, 1/2 teaspoon salt, 1/4 teaspoon cinnamon powder, and 1/4 teaspoon nutmeg powder in an bowl before adding 6 tablespoons of chilled butter or Margarine. Cut in the butter until it resembles small peas before making into small pieces and mixing well with your hands. Pour mixture evenly into prepared pan and press down firmly until crust forms. Bake for 10 minutes before allowing to cool completely on wire rack.
Now it's time to prepare the filling: chop 2 cups of peeled and cubed Granny Smith apples into small pieces before adding 2 tablespoons sugar and 1 tablespoon cornstarch to mixture along with 1 cup water or apple cider vinegar (for tart pies). Bring mixture to boil over medium heat before reducing heat and simmering for 15 minutes while stirring occasionally until thickened. Pour filling into cooled crust shell and top off with crumb topping as desired before serving cold!