Get ready for fall with this easy-to-follow recipe for an Apple Pie with Crumb Topping – bake it to perfection and enjoy the perfect fall dessert!
Um…drool?! Like seriously, I don't know if I should say anything about this perfect apple pie with crumb topping. This is an easy recipe when you are craving apple pie, which is usually almost every other day for me. I usually like a lattice top to get that double crust (I love pie crust) but every now and then I need a good crumb topping. It adds extra sweet and crunch and yumminess that I sometimes just eat all by itself…before it is even baked!
Okay, enough about my horrible greediness for sweets.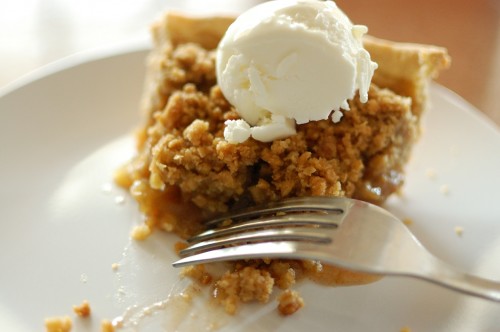 CookEatDelicious Rating: Bake this tonight, you won't regret it! I put the crumble on the pie when it first goes in the oven not halfway through. It gets a nice crispy crumble that I love. Also, be sure not to go over with the butter. I find that is the mistake with crumbles that are too soft or break up easily and get lost int the pie. You can use this topping for an apple crisp for greatness as well. Let me know in the comments if you prefer an extra top pie crust or a crumb topping!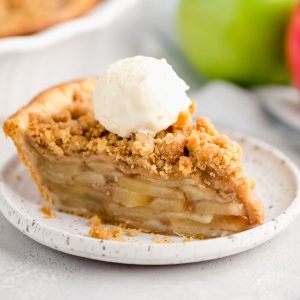 Apple Pie with Crumb Topping
With the leaves turning and the days getting shorter, it's time to start thinking about the perfect fall dessert. An apple pie with crumb topping is the perfect way to end a cozy evening by the fire. And the best part? Making an apple pie with crumb topping is surprisingly easy.
Ingredients
Crust:
1¼

cups

flour

1

stick of unsalted butter

cold and cut into little cubes

½

tsp

salt

1½

tsp

sugar

3

tbsp

ice water
Filling:
6

green medium apples

peeled and thinly slice

⅔

cup

white sugar

2

tbsp

flour

1

tsp

cinnamon

½

tsp

nutmeg

¼

tsp

salt

Juice from half a lemon
Crumb Topping:
1

cup

Flour

1

tsp

Cinnamon

1

cup

Brown Sugar

1

cup

Oats

1

tsp

Lemon Zest

½

cup

Butter

softened
Instructions
Make crust:
Add 1 cup flour, butter, salt, and sugar in a food processor and pulse until it looks like a crumbly mixture.

Add in 1 tbsp of ice water, pulsing after each addition, until mixture can be pinched and held together.

Place dough on a clean surface and gently work into a round disk, don't over knead.

Wrap in saran wrap and refrigerate for at least 1 hour.
Filling:
Cut up apples and place in a bowl along with the sugar, 2 tbsp flour, cinnamon, nutmeg, salt, and lemon juice.

Mix well to coat the apples and let sit.
Crumb Topping:
Combine all 6 ingredients until nicely crumbly.

Heat oven to 425 degrees F.

Take out pie crust and allow to come to room temperature in 5 minutes or so.

Roll out into a 12 inch circle on a floured surface, adding flour as necessary to avoid sticking.

Place in a 9 inch pie pan and gently press evenly on the sides

Add apples and ½ to ¾ cups of excess juice to pie pan.

Cover with crumb topping.

Use a pie crust ring or foil to cover the crust for the first 40 minutes of baking.

Bake for 55 minutes and allow to cool for at least 2 hours before cutting into and serving.
Notes
Making an apple pie with crumb topping is a great way to show you care. It is a simple yet delicious dessert that can be enjoyed by everyone. With the right ingredients, techniques, and equipment, anyone can make this classic dessert at home! So, gather your ingredients and roll up your sleeves; it is time to get baking! Enjoy the sweet aroma of homemade apple pie with crumb topping wafting through your kitchen. Bon Appétit!
Nutrition
Serving:
8
slices
Calories:
520
kcal
Carbohydrates:
99
g
Protein:
6
g
Fat:
13
g
Saturated Fat:
8
g
Polyunsaturated Fat:
1
g
Monounsaturated Fat:
3
g
Trans Fat:
0.5
g
Cholesterol:
31
mg
Sodium:
320
mg
Potassium:
266
mg
Fiber:
6
g
Sugar:
59
g
Vitamin A:
433
IU
Vitamin C:
7
mg
Calcium:
51
mg
Iron:
3
mg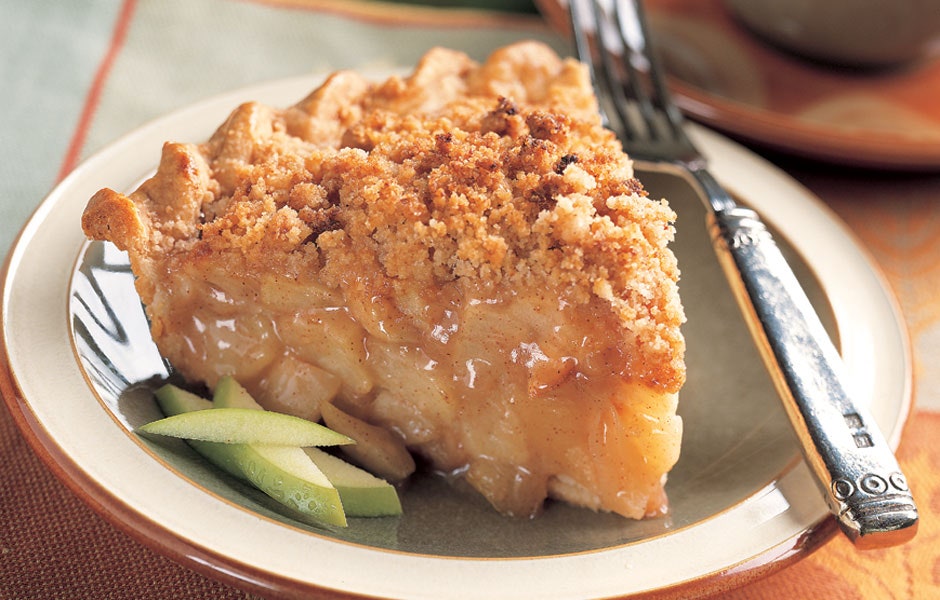 Cooking Tips for the Perfect Pie
Alright, my fellow pie aficionados, let's roll up our sleeves and get into the nitty-gritty of crafting the most scrumptious Apple Pie with Crumb Topping you've ever tasted. I'm talking about the kind of pie that makes your guests go "Wow, what's your secret?" So, here are some insider tips to elevate your pie game.
First things first, let's talk crust. The foundation of any good apple pie is a flaky, buttery crust. My secret? Keep everything cold – the butter, the water, even the flour if your kitchen's warm. This ensures those little pockets of fat stay solid, which will steam up in the oven to create that irresistible flakiness we all crave.
Now, onto the apples. The variety of apples you choose can make or break your pie. I like to use a mix of Granny Smith for that tartness and Honeycrisp for sweetness and texture. But feel free to experiment with other types like Golden Delicious or Braeburn. Just remember, you want apples that hold their shape and don't turn to mush when baked.
As for slicing those apples, consistency is key. Aim for slices that are the same thickness so they cook evenly. No one wants a bite of undercooked apple in their slice of pie!
Let's chat about seasoning. Cinnamon is a given, but have you tried adding a pinch of nutmeg or allspice? These spices can add a depth of flavor that complements the apples beautifully. And don't forget a little lemon zest; it brightens the whole filling and gives it that little zing.
When assembling your pie, layer those apple slices tightly. You want to pack them in to avoid big gaps that can cause your pie to collapse after baking. And before you add that crumb topping, sprinkle a little bit of flour over the apples to help thicken the juices.
Speaking of the crumb topping, let's circle back to that crucial tip: cold butter is a must. But also, don't overwork the mixture. You're looking for a crumbly texture, not dough. Use your fingertips to rub the butter into the dry ingredients until it resembles coarse breadcrumbs. And hey, a little brown sugar in that crumb topping won't hurt – it'll caramelize beautifully and give you a lovely, sweet crunch.
Lastly, don't rush the baking process. Apple Pie with Crumb Topping needs time for the flavors to meld and the apples to soften. Bake it until the top is golden and the filling is bubbling. Trust me, your patience will be rewarded.
And there you have it, my top tips for an Apple Pie with Crumb Topping that's sure to steal the show. Now, go forth and bake your heart out!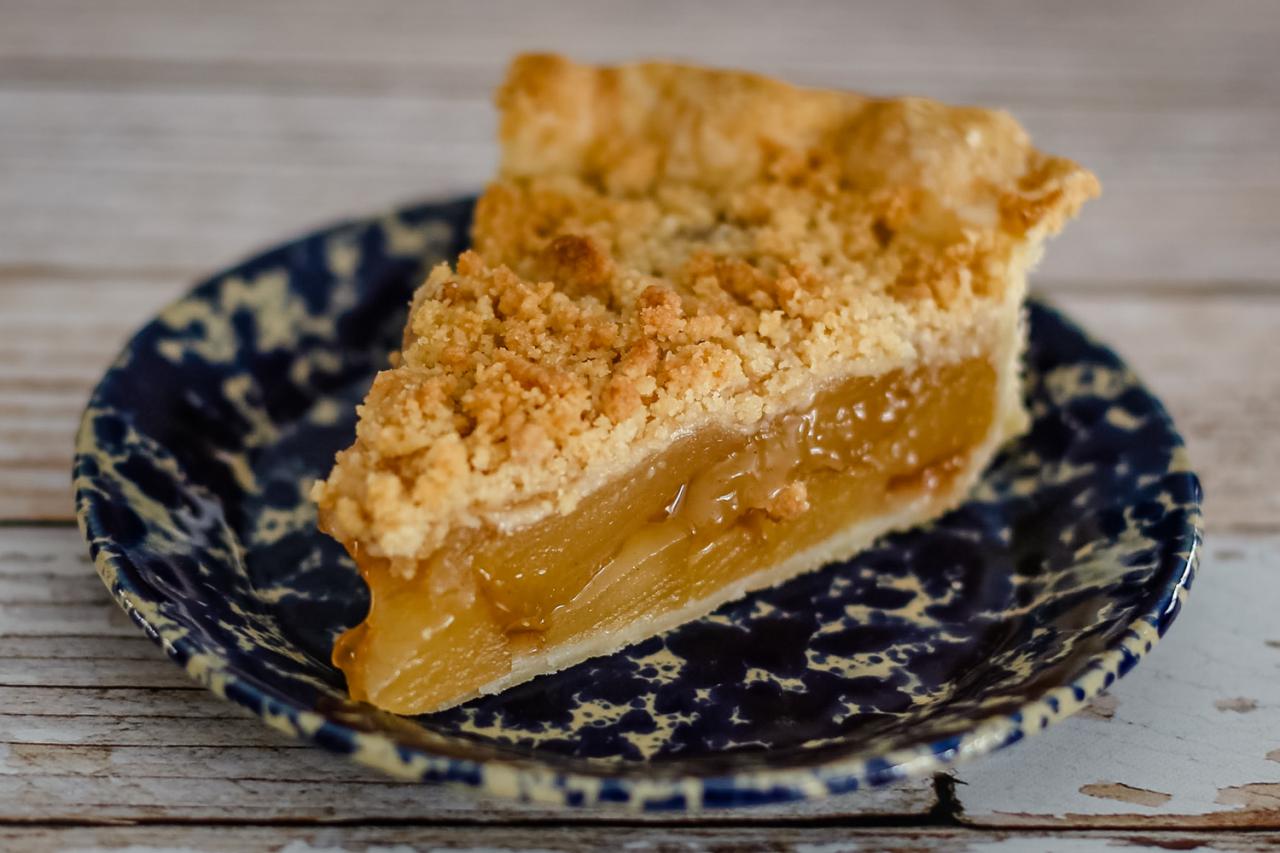 FAQs About Your Apple Pie
Ah, the art of pie-making – it's filled with as many questions as there are apple varieties! Let's tackle some of those burning (hopefully not literally!) questions you might have about creating that show-stopping Apple Pie with Crumb Topping.
Q: How do I keep the crumb topping from burning? A: Great question! As mentioned, if you see that your crumb topping is getting a bit too tan for comfort, don't panic. Just grab a sheet of aluminum foil and gently cover the top of the pie. This little pie hat will shield your crumbs from the heat while allowing the rest of the pie to continue baking to perfection.
Q: What's the best way to ensure my apple filling isn't too runny? A: Nobody wants a soggy pie, right? The trick here is to toss your apple slices with a mixture of sugar, spices, and a thickener like flour or cornstarch before they hit the crust. The thickener will work its magic, turning those precious apple juices into a luscious, thick filling as it bakes.
Q: Can I make my Apple Pie with Crumb Topping ahead of time? A: Absolutely! You can prepare your pie and refrigerate it before baking. Just be sure to let it come to room temperature before popping it into the oven. If you've already baked it, no worries – apple pie keeps well at room temperature for a day or two, and it can be reheated in the oven for that just-baked taste.
Q: How do I store leftovers? A: If by some miracle you have leftovers, you can cover the pie with plastic wrap or aluminum foil and store it in the fridge. It'll keep for a few days, but let's be honest, it probably won't last that long once everyone gets a taste!
Q: My crust is browning too quickly, what can I do? A: Just like with the crumb topping, if your crust edges are getting too dark, you can protect them with a pie crust shield. If you don't have one, no problem! A ring of aluminum foil will do the job just fine. Wrap it around the edge of the crust, and voilà – you're in business.
Remember, making an Apple Pie with Crumb Topping is as much about the journey as it is about the destination. So enjoy the process, learn from each experience, and don't be afraid to ask more questions. Happy baking, friends!
Serving Suggestions to Impress
When it comes to serving your Apple Pie with Crumb Topping, the possibilities are as endless as they are delicious. Sure, a classic slice with a scoop of vanilla ice cream is the traditional route – and for good reason. The cold creaminess of the ice cream melting into the warm, spiced apples is a match made in dessert heaven.
But why stop there? Let's get those creative juices flowing and turn that pie into a masterpiece that'll have your guests begging for seconds (and your secret!).
A La Mode Variations: Venture beyond vanilla and try pairing your pie with cinnamon or caramel ice cream. Each spoonful will be like a cozy autumn dance in your mouth.
Caramel Drizzle: Speaking of caramel, a generous drizzle over your slice adds a gooey sweetness that complements the crumb topping's texture. It's like wrapping your pie in a caramel hug.
Whipped Cream Wonders: A dollop of whipped cream is always a welcome addition, but why not spice it up? Add a sprinkle of cinnamon or nutmeg to your cream before whipping for an extra flavor kick.
Cheese, Please: If you're feeling adventurous, serve your Apple Pie with Crumb Topping with a slice of sharp cheddar cheese. It may sound unusual, but the combination of sweet and savory will surprise and delight your taste buds.
Nutty Flair: Scatter some chopped pecans or Granola Bars Chocolate Chips Walnuts on top for a nutty crunch that adds another layer of texture and flavor to each bite.
Warm and Toasty: For a cozy twist, briefly broil your pie slice before serving to crisp up the crumb topping even more. Just keep a close eye on it – nobody likes a charred crumb!
Beverage Pairings: Don't forget about the drinks! A hot cup of coffee or a glass of cold apple cider are the perfect companions to your pie. They help cut through the sweetness and cleanse the palate between indulgent bites.
Remember, when it comes to serving your Apple Pie with Crumb Topping, there's no right or wrong way – only your way. So go ahead, experiment with these suggestions or create your own signature style. After all, the best part of baking is sharing it with others and seeing them enjoy every last crumb. Happy baking and even happier serving!