There is nothing like the warm melted cheese & pasta. It truly is a comfort food at best. The last time I made Mac and Cheese it didn't turn out quite right. There were a lot of factors going against me: I was cooking a full turkey dinner with no help and was way behind, I used a crock pot, and I didn't have a recipe…It was not a hit at all. So about a year later I decided to try it again, this time using a combination of white cheeses and ditching the crock pot.
Delicious Rating: Cooking was easy enough for anybody to follow, no complicated steps at all in this easy delicious recipe. Eating was okay. I say this because maybe I like the traditional Mac & Cheese…even loving the Kraft box now & then! The combo of Gruyere, Brie, and white cheddar seemed to rich. Also the addition of thyme was very strong for my liking. If I made it again I would omit the thyme and replace the White Cheddar with a regular sharp orange cheddar cheese. Overall, I doubt I would try this recipe again. I got all excited about eating warm Mac & Cheese on the couch for nothing! Try it for yourself and let me know what you think.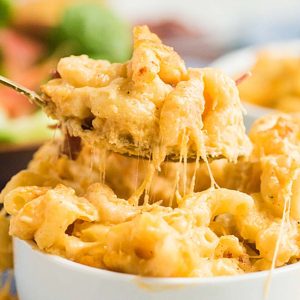 Mac and Cheese
Are you in the mood for some cheesy mac and cheese? Well, you're in luck, because we've got a collection of the cheesiest mac and cheese recipes that you'll love. From creamy to spicy, these recipes will have your taste buds singing. So what are you waiting for? Start cooking up some of these delicious dishes today!
Ingredients
1½

cups

coarsely grated Gruyre cheese

1½

cups

coarsely grated White cheddar cheese

1½

cups

rindless Brie

diced

5

tbsps

butter

divided

¼

cup

all purpose flour

2

tsps

thyme leaves

chopped fresh

¾

tsps

nutmeg

4

cups

whole milk

1¾

cups

breadcrumbs

fresh

1

pound

macaroni

8

teaspoons

whipping cream

if making 1 day ahead
Instructions
Preheat oven to 375°F.

Boil Pasta and set aside.

Mix all cheeses together.

Set aside 1 cup for topping; cover and chill.

Start your Roux: Melt 4 tablespoons of the butter in large saucepan over medium heat.

Add flour and stir quickly with a whisk until mixture turns golden brown, about 4 minutes.

Add thyme and nutmeg.

Gradually whisk in milk.

Simmer until thickened and smooth, stirring often, about 4 minutes.

Add cheeses from large bowl.

Stir until melted and smooth.

Melt the last tablespoon butter in a heavy large skillet over medium-high heat.

Add breadcrumbs; toss.

Stir until golden, about 2 minutes.

Transfer to plate.

Pour cheese sauce over pasta and toss in a large bowl.

Pour into large baking dish and sprinkle the remaining cheese on top.

Cover with foil and bake 15 minutes.

Uncover and add the breadcrumbs to the top.

Bake pasta until beginning to bubble and the top is golden-about 20 minutes.

Serve warm.
Notes
There you have it, six delicious recipes for mac and cheese lovers everywhere. Now get in the kitchen and start cooking up some cheesy goodness!
Nutrition
Serving:
1
serving
Calories:
588
kcal
Carbohydrates:
56
g
Protein:
25
g
Fat:
30
g
Saturated Fat:
17
g
Polyunsaturated Fat:
2
g
Monounsaturated Fat:
7
g
Trans Fat:
0.2
g
Cholesterol:
87
mg
Sodium:
582
mg
Potassium:
355
mg
Fiber:
2
g
Sugar:
7
g
Vitamin A:
879
IU
Vitamin C:
1
mg
Calcium:
450
mg
Iron:
2
mg
Tips for making Mac And Cheese
If you're looking for the perfect mac and cheese recipe, you've come to the right place. Our tips will help you make the best mac and cheese ever.
First, start with a good quality cheese. We recommend using a sharp cheddar cheese for the best flavor. Next, be sure to cook the pasta al dente according to the package directions. This will ensure that your mac and cheese is nice and creamy.
Once the pasta is cooked, it's time to make the cheese sauce. Begin by melting some butter in a saucepan over low heat. Then, add in the flour and whisk until the mixture is smooth. Next, slowly add in the milk, whisking continually until the sauce has thickened. Finally, add in the shredded cheese and whisk until it is fully incorporated.
At this point, you can add the pasta to the saucepan and stir until it is evenly coated. Serve immediately and enjoy!
FAQs about Mac And Cheese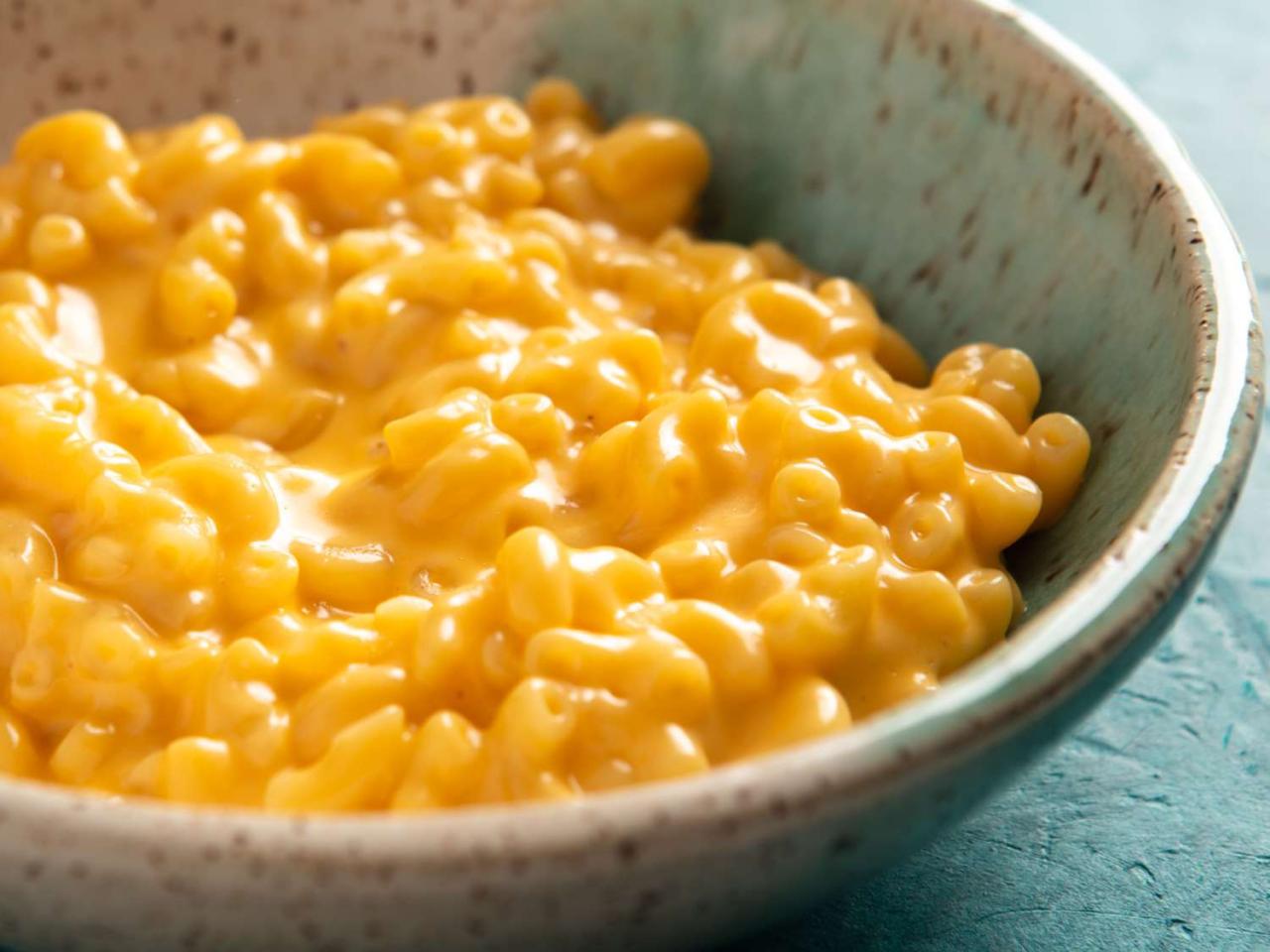 Mac and cheese is one of the most popular comfort foods around, and it's easy to see why. This dish is simple to make and can be tailored to your individual taste. Plus, who doesn't love a good helping of cheesy goodness?
If you're new to making mac and cheese, you may have some questions about the process. Here are some of the most frequently asked questions about this classic dish:
What kind of cheese should I use?
There are many different types of cheese that can be used in mac and cheese, so it really depends on your personal preference. Some of the most popular options include cheddar, mozzarella, and Parmesan. You can use one type of cheese or a combination of several – it's up to you!
What kind of pasta should I use?
Again, this is a matter of personal preference. Some people prefer to use elbow macaroni, while others prefer shells or even penne. The type of pasta you use is really up to you. Just make sure to cook it according to the package directions before adding it to the cheese sauce.
How do I make the cheese sauce?
There are many different ways to make a cheese sauce, but one of the simplest is to start with a roux. To make a roux, you will need to melt butter in a saucepan over low heat. Once the butter has melted, add an equal amount of flour and whisk to combine. Then, slowly add milk to the mixture, whisking continually until the sauce has thickened. Finally, add your shredded cheese and whisk until smooth.
What are some other ingredients I can add to my mac and cheese?
There are endless possibilities when it comes to adding additional ingredients to your mac and cheese. Some people like to add bacon, diced tomatoes, or even green peas. Get creative and experiment with different ingredients until you find a combination that you love!