Looking for a delicious and easy-to-follow recipe for classic lemon bars? Look no further than our post – it outlines all the ingredients and steps necessary for perfect bars every time.
Lemons aren't very common in my part of Mexico. Limes, sure. But Lemons, well, when they do roll around I literally want to buy them all because I can't be too sure when they will be back. I can't resist anything lemon. From a Lemon Drop to Lemon Curd (eating it with a spoon) I love Lemons! I was craving strong lemon flavor with just the right touch of sweetness to it. What better than Lemon Bars. They are the perfect combo of Tart & Sweet, Soft & Crunchy. Mmmmhhhh…Just thinking about them makes me want to run to the store and bake a pan of these bad boys!
Delicious Rating: Home Cook is required for baking these Lemon Bars. Although it is a semi-easy recipe, you are dealing with dough for the crust and it can't be overworked nor over floured. So a little cooking/baking experience is needed. As for the recipe overall, it is simple and doesn't require many ingredients. They turned out just like I imagined. The perfect Lemon dessert (I will say this about any lemon dessert I make btw). Let them fully cool before cutting & eating. Of course I tried them right out of the oven and it did burn. Letting them cool allows the filling to fully set for clean cuts and good eats. The dusting with powdered sugar is a must for the finishing taste, so don't leave it out! Overall, I will definitely make them again. These Lemon Bars are COOK EAT DELICIOUS but there are two things I will change for next time. First, I will make the lemon zest finer. It seemed to rise to the top of the filling and make a layer a 'zest' which at certain bites was a bit overpowering. Second, I will have to share it within the first two days. After day 2 the crust begins to get mushy and they don't taste as great as when they are fresh. Those are minor changes that you can incorporate when baking these up.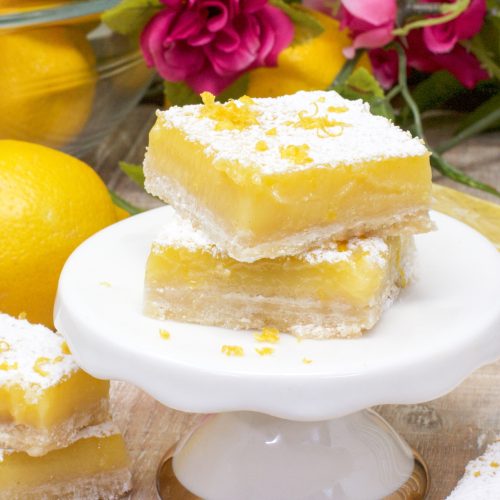 Classic Lemon Bars
Lemon bars are a classic dessert that everyone loves. And if you're looking for a delicious and easy recipe, look no further than our lemon bars recipe. In this post, we'll outline the ingredients and steps necessary to make these delicious bars. We even provide a step-by-step tutorial that will guide you through the entire process. So whether you're a beginner or a seasoned baker, our lemon bars recipe is sure to please. Bon appetit!
Ingredients
For the crust:
2

sticks butter

softened

½

cup

granulated sugar

2

cups

flour

⅛

teaspoon

kosher salt
For the filling:
6

extra-large eggs at room temperature

3

cups

granulated sugar

2

tablespoons

grated lemon zest from 4-6 lemons

1

cup

freshly squeezed lemon juice

1

cup

flour

Confectioners' sugar for dusting
Instructions
Preheat the oven to 350 degrees F.

For the crust, cream the butter and sugar until light with an electric mixer.
Butter & Sugar…my favorite combination!
Combine the flour and salt and, with the mixer on low, add to the butter until just mixed.

Gather dough into a ball on a well floured surface.
Make sure to make the ridge on the crust so that the lemon filling bakes in the mold just right.
Flatten the dough with floured hands and press it into a 9 by 13 by 2-inch baking sheet, building up a ½-inch edge on all sides.

Chill.

After the crust has chilled for at least 30 minutes, bake the crust for 15 to 20 minutes, until very lightly browned.

Let cool on a wire rack.

Leave the oven on.

For the filling, whisk together the eggs, sugar, lemon zest, lemon juice, and flour.

Pour over the crust and bake for 30 to 35 minutes.

Let cool to room temperature.

When the filling is set, cut into triangles or squares and dust with confectioners sugar.
Notes
Pizza is one of the most beloved foods in the world, and for good reason. It's delicious, customizable, and relatively easy to make. Whether you're making a quick weeknight dinner or hosting a party, pizza is always a hit.
Nutrition
Serving:
1
serving
Calories:
185
kcal
Carbohydrates:
41
g
Protein:
3
g
Fat:
1
g
Saturated Fat:
0.4
g
Polyunsaturated Fat:
0.3
g
Monounsaturated Fat:
0.4
g
Trans Fat:
0.02
g
Cholesterol:
41
mg
Sodium:
29
mg
Potassium:
32
mg
Fiber:
0.4
g
Sugar:
29
g
Vitamin A:
59
IU
Calcium:
9
mg
Iron:
1
mg
Topping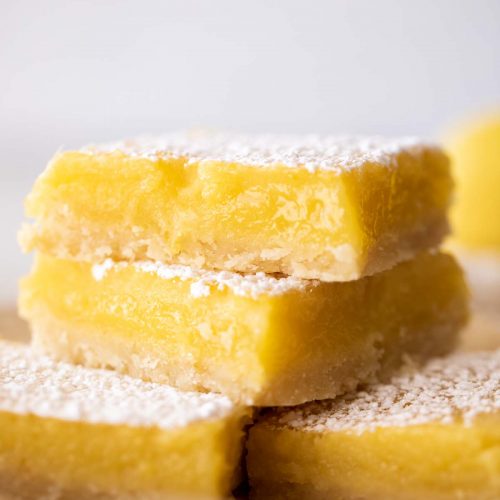 No matter what you're serving up, topping it off with the perfect dish is the finishing touch. In this section, we will take a look at some of the most popular and delicious toppings that you can use in your recipes. From lemons to sugar, each ingredient plays a vital role in creating a delicious dessert-classic lemon bars recipe.
Topping is the key to any dish and can make or break it. In this recipe, we'll be using shortbread as our base and topping it with frosting and lemon curd. Shortbread is a type of cookie that can be used as a crumble topping or as a base for other toppings. By using shortbread as our base, we are able to create an intricate crumble that will add flavor and sweetness to our dessert bars. Sugar is also an important ingredient in many toppings, especially frostings. By adding sugar to our frosting, we are able to create a sweet and creamy consistency that will perfectly balance out the tartness of the lemon curd.
Cupcakes are one of America's favorite desserts – there's just something about them that makes them so special! In this recipe, we'll be using cupcakes as our main ingredient and topping them with three different types of frosting: classic vanilla frosting, chocolate ganache frosting, and raspberry cream cheese frosting. Each type of frosting has its own unique flavor profile that will complement the cupcake perfectly. Finally, Lemon Bars are one of those desserts that just begs for cupcake tops! Whether you choose classic vanilla or chocolate ganache for your cupcake top layer – each icing will bring out the flavors in these delicious bars!
FAQs about the Lemon Bars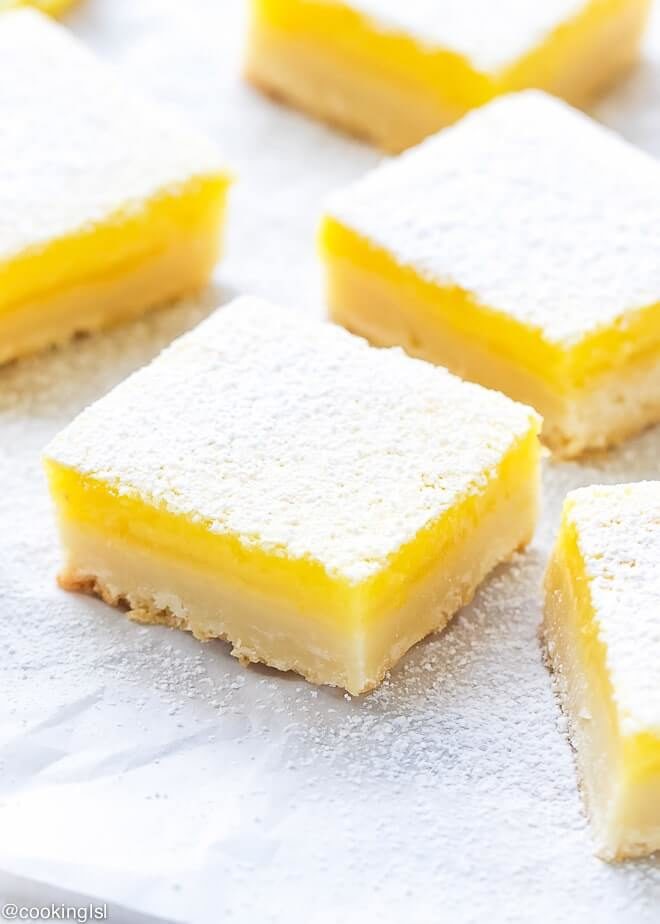 What are the Lemon Bars?
The Lemon Bars are a type of dessert bar that is made with a lemon flavored custard filling and a shortbread crust. They are typically served with a dusting of powdered sugar on top.
How do you make Lemon Bars?
Lemon Bars are made by first preparing the shortbread crust. This is done by mixing together flour, sugar, and butter until it forms a crumbly mixture. The crust is then pressed into the bottom of a baking pan and baked until golden brown.
Once the crust is baked, the lemon filling is prepared. This is done by mixing together eggs, sugar, lemon juice, and lemon zest. The filling is then poured over the crust and baked until set.
Once the Lemon Bars are out of the oven, they are typically dusted with powdered sugar. Sometimes, they may also be served with a dollop of whipped cream or a scoop of ice cream.
Tips for making the Lemon Bars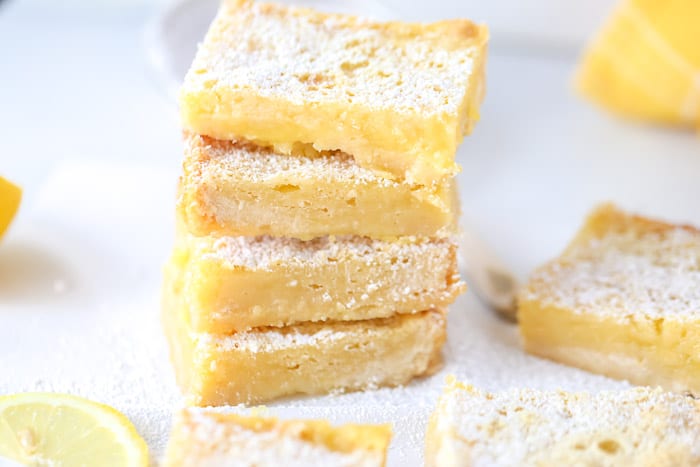 Lemon bars are a delicious and refreshing treat, perfect for any occasion. Here are some tips for making the perfect lemon bars:
1. Use fresh lemons for the best flavor.
2. Be sure to zest the lemons before juicing them.
3. Use a good quality butter for the crust.
4. Bake the lemon bars until the filling is set and the crust is golden brown.
5. Let the lemon bars cool completely before cutting into them.
6. Serve the lemon bars with a dusting of powdered sugar.