I like to make soups. I like to make soups out of leftover veggies and pantry items. I like to throw my leftover veggies and pantry items in a crock pot and cook all day until dinner.
I had half a bag of lentils, a cabbage head, one bell pepper, one carrot, and some celery…soup anyone?
Delicious Rating: Any crock-pot meal is a super easy recipe. Cook Eat Delicious love to start the crock-pot in the morning for dinner to be ready around dinner time or start the crock pot before I go to bed. It is such a nice feeling to wake up to the smell of something wonderful! This soup is full of healthy stuff. Add more if you would like!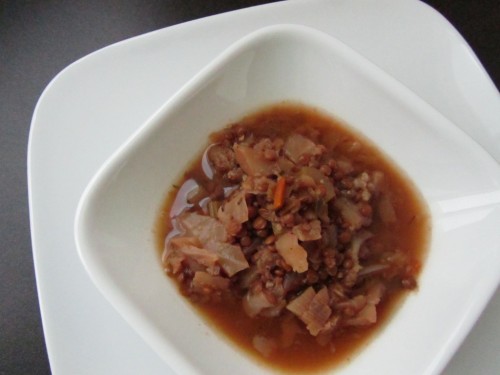 Lentil Cabbage Soup
Lentil cabbage soup is a hearty and warming soup that is perfect for cold winter days. The recipe is easy to follow and requires only a few simple ingredients. Plus, the instructions are easy to read and the serving suggestions are perfect for any occasion. If you're looking for a delicious and nutritious soup that will warm you up on a cold winter day, lentil cabbage soup is the perfect recipe for you.
Ingredients
1

carrot

julienned

3

celery stalks

chopped

5

green onions

chopped

1

green bell pepper

2

cup

vegetable broth

½

large head cabbage

roughly chopped

2

cups

lentils

rinsed

2

tsp

sugar

1

tsp

oregano

1

tsp

parsley

2

tsp

hot sauce

1

tsp

black pepper
Instructions
Add all ingredients to slow cooker.

Fill slow cooker halfway full with water.

Cook on high until cabbage has cooked down in volume and add in more water or broth as necessary.

Cook for an additional 2-4 hours.

Season with salt.

Serve hot.
Notes
This concludes our blog on vegan shepherd's pie. We hope you enjoyed learning about this delicious and nutritious dish. If you're interested in trying it for yourself, be sure to check out our recipe. And if you have any questions or suggestions, please feel free to leave a comment below. Thanks for reading!
Nutrition
Serving:
1
big slow cooker full
Calories:
1604
kcal
Carbohydrates:
290
g
Protein:
108
g
Fat:
5
g
Saturated Fat:
1
g
Polyunsaturated Fat:
2
g
Monounsaturated Fat:
1
g
Sodium:
2262
mg
Potassium:
5103
mg
Fiber:
135
g
Sugar:
42
g
Vitamin A:
12945
IU
Vitamin C:
300
mg
Calcium:
518
mg
Iron:
34
mg
Serving Suggestions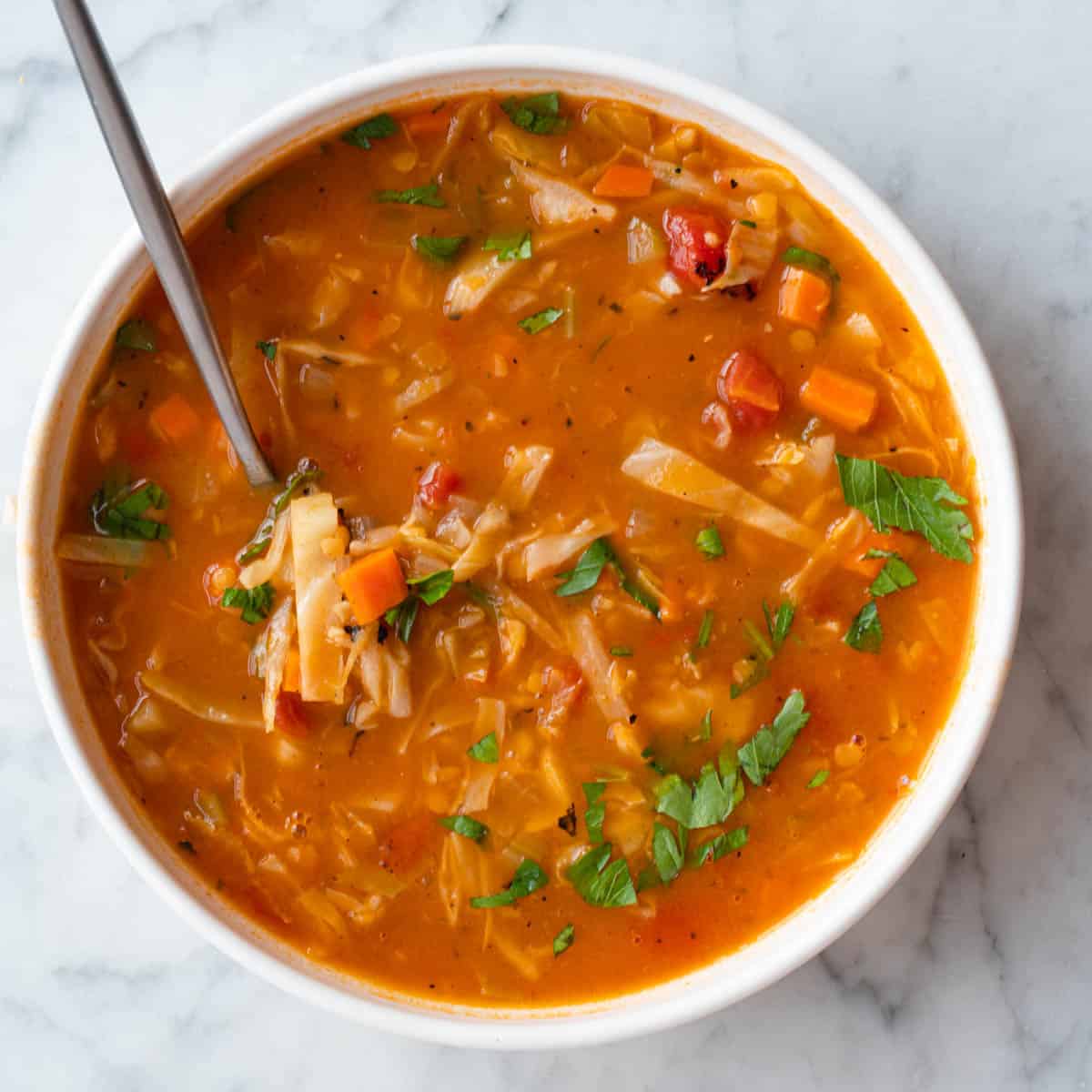 If you're looking for an easy, hearty, and flavoursome soup recipe, look no further than lentil cabbage soup. This soup is perfect for those cold winter days when you just don't feel like cooking anything else. Plus, it's a great way to use up any leftover vegetables or meat that you have on hand. Here are some suggestions for how to best enjoy this delicious soup:.
If you're looking for a simple way to enjoy this soup, serve it with a side of bread. This will give you the sustenance that you need while enjoying the delicious flavors of the soup. Alternatively, if you want something more substantial than bread, try serving lentil cabbage soup over rice or even with crackers as a fun and easy appetizer option. Last but not least, if you're serving lentil cabbage soup as a main dish – make sure to add plenty of toppings such as sour cream, cheese, or bacon!
FAQs about Lentil Cabbage Soup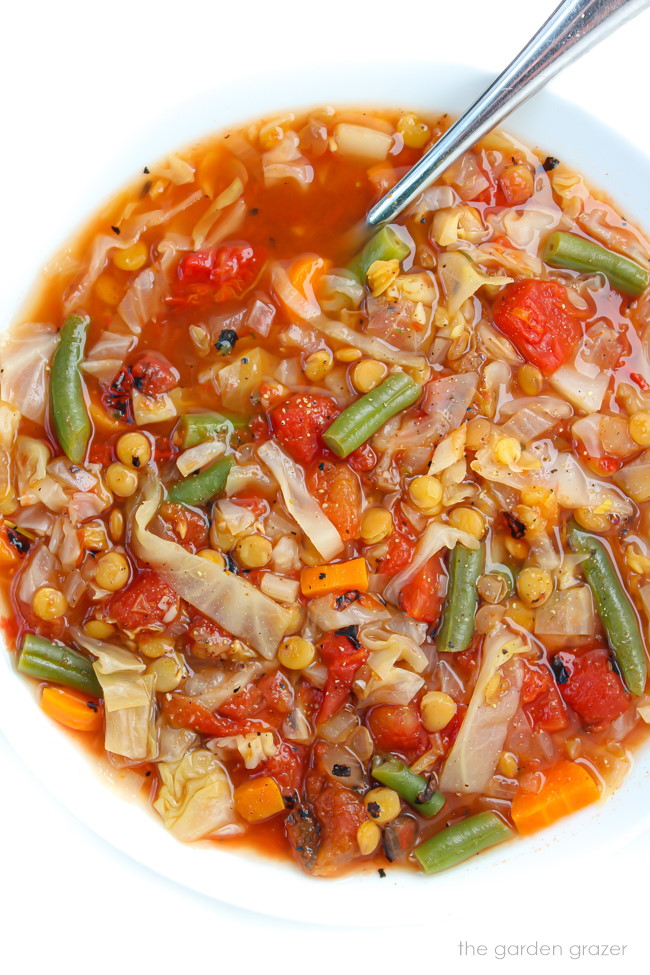 1. What is Lentil Cabbage Soup?
Lentil cabbage soup is a hearty and nutritious soup made with lentils, cabbage, and a variety of other vegetables. It is a perfect meal for a cold winter day.
2. What are the benefits of Lentil Cabbage Soup?
Lentil cabbage soup is a very healthy and nutritious soup. It is a good source of protein, fiber, and a variety of vitamins and minerals. It is also low in calories and fat.
3. How do you make Lentil Cabbage Soup?
There are many different recipes for lentil cabbage soup, but all of them are fairly easy to make. The basic ingredients are lentils, cabbage, and a variety of other vegetables. Some recipes also include meat, but this is not necessary.
4. What are some tips for making Lentil Cabbage Soup?
Some tips for making lentil cabbage soup include using fresh or frozen vegetables, cooking the lentils thoroughly, and adding seasoning to taste.