Get the perfect oatmeal raisin bars recipe that is easy to follow and yields delicious results every time!)
CookEatDelicious.Com love to try new desserts. Sometimes we are invited over to a friend's house and I have to come up with something quick and hopefully good to make. I love to bake desserts for other people. They seem to think that it must have taken hours to cook just because it was baked! Even for the most simplest dessert. This recipe for Oatmeal Raisin Bars is no exception. All the ingredients are always stocked in my pantry and cooking/baking them up was a snap. But because they turn out so delicious, friends cannot believe that they are so simple to make.
They are super addicting too so be careful!
Delicious Rating: This is the perfect easy recipe for when you don't have time to go to the store but need a dessert asap. Most everything is kept in the pantry anyways so there is no need to buy anything. These bars are delicious and super easy to cook. I didn't know how the peach would taste but it was a wonderful addition. Feel free to switch it up with perhaps apricot. Use vegan margarine to make this dessert recipe completely vegan friendly.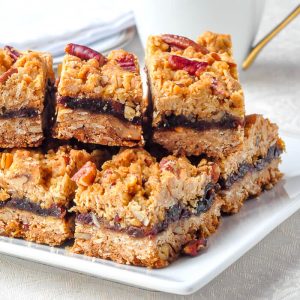 Oatmeal Raisin Bars
If you're looking for the perfect oatmeal raisin bars recipe, look no further than ours! These bars are sweet and savory, and they're perfect for any time of day. And best of all, they're easy to make – just follow our simple instructions.
Ingredients
2

cups

quick oatmeal

1

cup

flour

1

cup

brown sugar

2

tsp

baking powder

2

tsp

cinnamon

1

tsp

salt

1

stick of butter

softened

½

cup

peanut butter

10

ounces

peach preserve or jam

½

cup

raisins

chopped

½

cup

pecans

chopped
Instructions
Preheat oven to 375 degrees F.

Lightly grease a 9×13 baking pan.

Add oats, flour, sugar, baking powder, cinnamon, and salt into blender and blend until all is combined.
Use a blender or food processor.
Pour into a bowl and add in butter and peanut butter.

Stir until crumbly.

Add 3 cups of the mixture to baking dish and press it down evenly with hands.

With a fork, stir peach preserves in a bowl until smooth.

Spread over cookie base, leaving ¼ inch edge.

Add raisins and pecans to remaining crumb mixture and sprinkle over preserves, pressing down gently.

Bake for 30 minutes.

Cool for 15 minutes or more until firm and able to hold its shape.

Cut into 24 bars.
Notes
Thanks for reading! I hope this blog was helpful in teaching you how to cook a delicious and healthy meal. If you have any questions or would like to see more recipes, please let me know. Bon appetit!
Nutrition
Serving:
1
serving
Calories:
134
kcal
Carbohydrates:
22
g
Protein:
3
g
Fat:
5
g
Saturated Fat:
1
g
Polyunsaturated Fat:
1
g
Monounsaturated Fat:
2
g
Trans Fat:
0.001
g
Cholesterol:
0.1
mg
Sodium:
159
mg
Potassium:
106
mg
Fiber:
2
g
Sugar:
10
g
Vitamin A:
3
IU
Vitamin C:
0.2
mg
Calcium:
38
mg
Iron:
1
mg
Frequently Asked Questions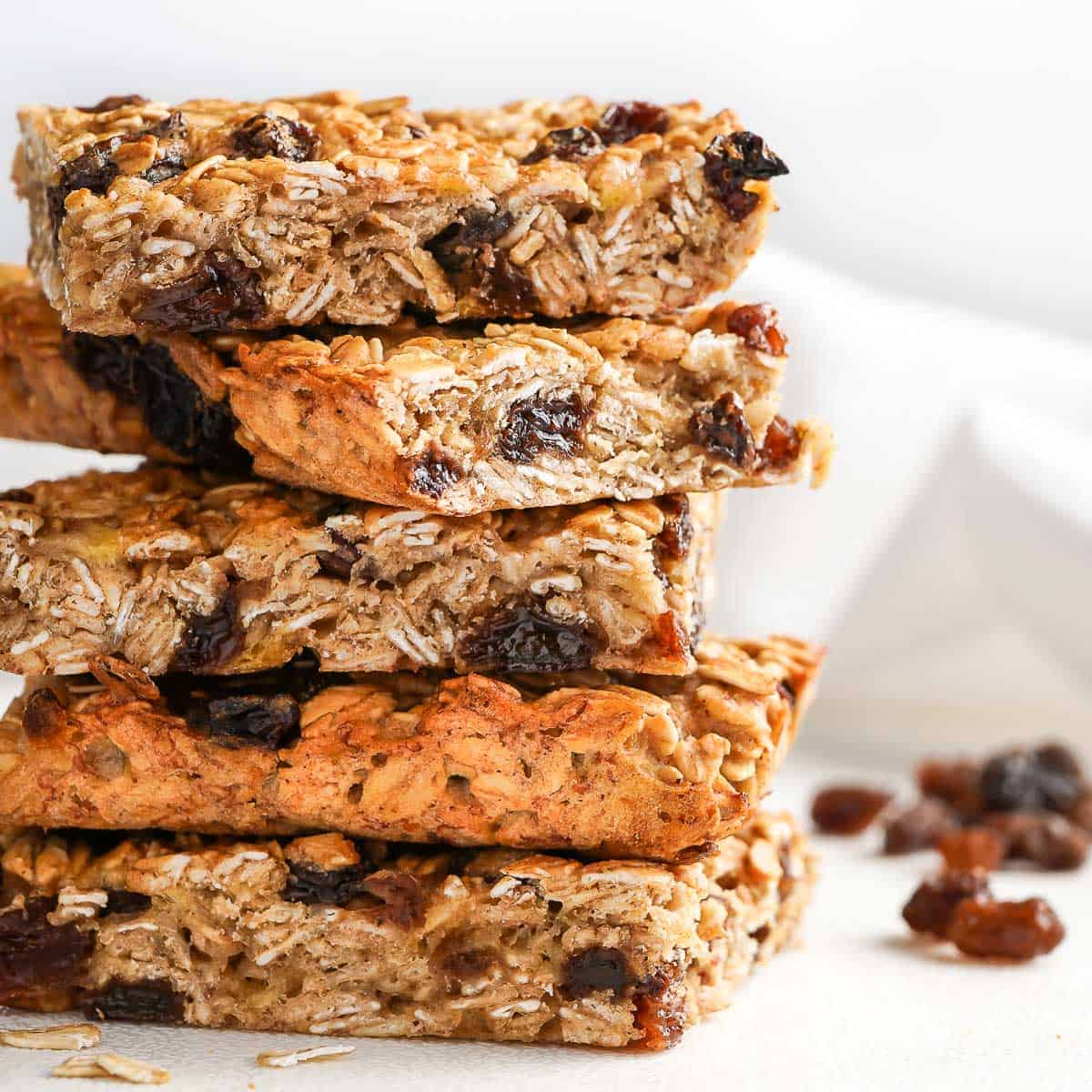 Are you looking for a delicious and convenient snack that's also healthy? Look no further than oatmeal bars! These delicious bars are made with whole grain oats, dried fruit, and spices, and they are a great way to satisfy your sweet tooth while staying on track with your diet. Here are some of the most frequently asked questions about oatmeal bars.
– What are the benefits of oatmeal?
Oatmeal is a whole grain and a good source of fiber. It can help you feel full and may help to lower cholesterol. Additionally, oatmeal is a great breakfast option – it's high in protein and fiber, so you'll stay energized all morning long.
– What is the best way to make oatmeal bars?
There are many ways to make oatmeal bars – some people prefer them straight from the oven while others like them chilled or even frozen. The best way to make them depends on your own preferences and preferences of your guests.
– What is the difference between oatham raisin bars and other types ofbars?
The main difference between oatham raisin bars and other types ofbars is that oats are the main ingredient in raisin bar recipes rather than sugar or chocolate chips. Oats are also more filling because they contain more carbohydrates than other grains, such as wheat or rice. This makes them a healthier choice overall since they'll hold up better during prolonged periods of hunger (like when you're traveling).
– How can I make my ownoatham raisinbars?
It's easy to make your ownoatham raisinbars at home with just a few simple ingredients! All you need is oats, dried fruit (such as cranberries, apricots, figs), cinnamon, nutmeg, baking powder, salt, butter (or margarine), sugar or honey (to taste), eggs whites (for an extra boost in sweetness), and milk if desired. You can even experiment with different flavors by adding different extracts or spices to the batter before baking!
Tips for making Oatmeal Raisin Bars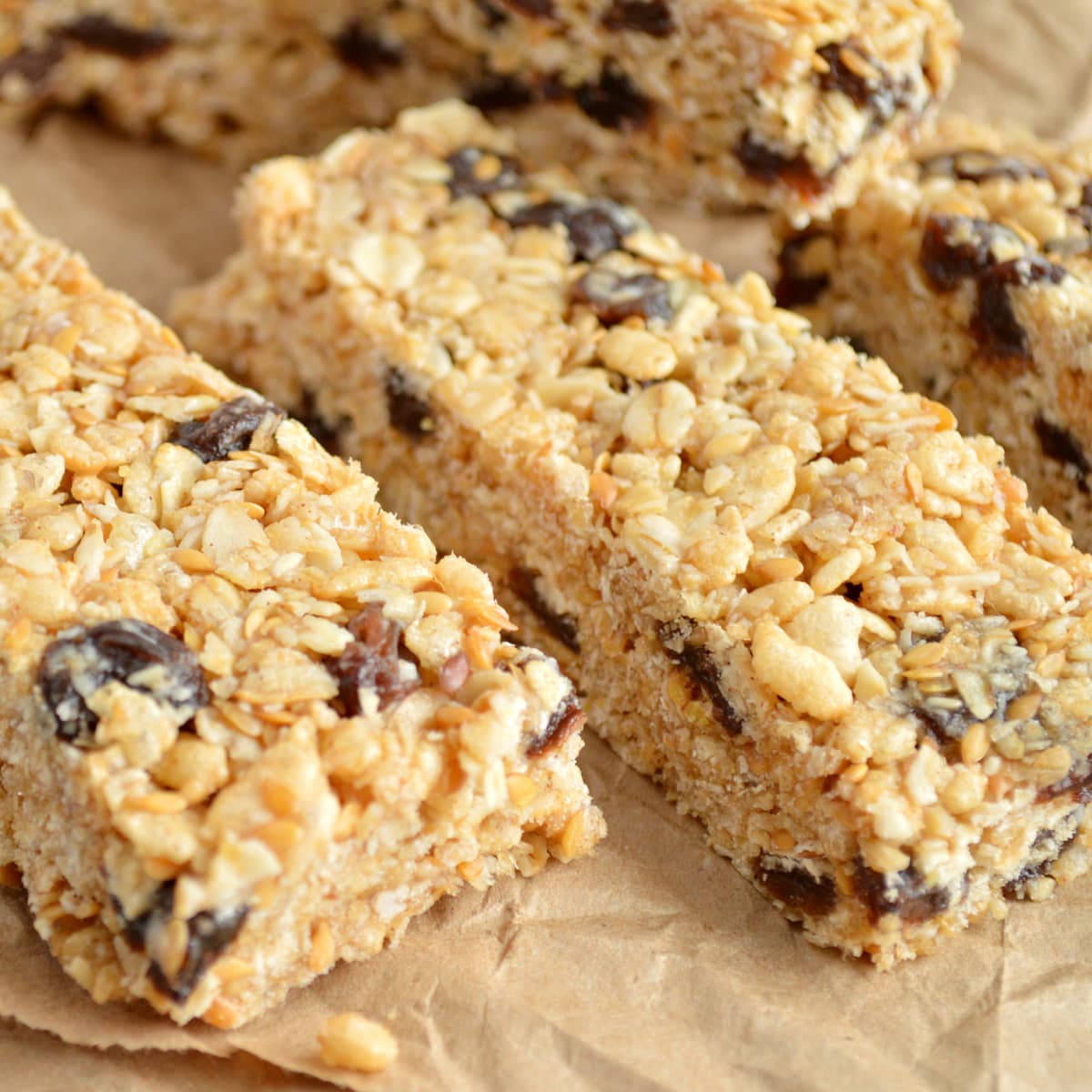 Oatmeal raisin bars are a delicious and healthy snack option. Here are a few tips for making them:
– Use old-fashioned oats for the best texture.
– Soak the raisins in hot water for a few minutes before adding them to the batter. This will plump them up and make them more flavorful.
– Use a light hand when adding the spices. You don't want to overpower the delicate flavor of the raisins.
– Bake the bars until they are golden brown and slightly firm to the touch. This will ensure they are moist and chewy.
Follow these tips and you'll be sure to create delicious and healthy oatmeal raisin bars that everyone will love!