Get the perfect, fluffy homemade brownies every time with this easy recipe and tutorial
My DH has never been a huge fan of desserts. The only thing he really loves are brownies. A brownie sundae to be exact. No matter what restaurant we are at, if they have a brownie sundae he is going to order it. After a while we started making the box brownies and going crazy over brownie sundaes at home.
One day I realized, "I can probably make these homemade and they will taste a lot better." So I started my quest to create the perfect homemade brownies. This easy brownie recipe doesn't call for butter but uses oil instead. That is frowned on by some but it made for a better brownie for my palate. Let me know what you think.
Delicious Rating: Chocolatey, chewy, delicious. This is the perfect homemade brownie recipe. They aren't cakey but chewy, like brownies should be. Cook Eat Delicious dress up the brownies with caramel & chocolate sauce. Top with vanilla ice cream and additional pecans…need I say more?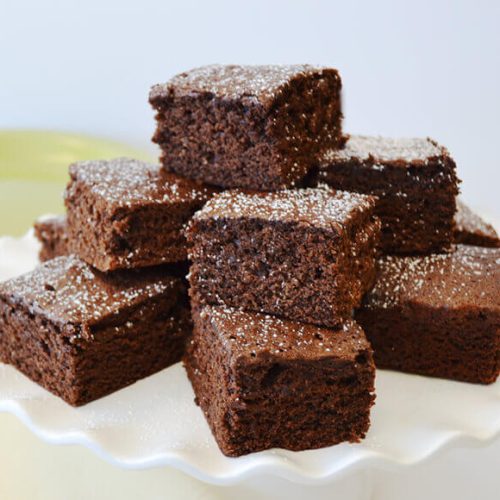 Fluffy Homemade Brownies
Making Perfect Homemade Brownies Is A Skill That Takes Time And Practice. But With This Easy Brownie Recipe, You Can Finally Create Delicious, Fluffy Brownies That Everyone Will Love.
Ingredients
½

cup

vegetable oil

1

cup

white sugar

I used powdered because I was out of granulated

1

tsp

vanilla extract

2

eggs

½

cup

flour

½

cup

cocoa powder

1

tsp

baking powder

½

tsp

salt

½

cup

pecans

chopped
Instructions
Preheat oven to 350 degrees F.

Lightly oil an 8×8 baking dish.
This is a small recipe for and 8×8 pan. Double it or triple for a 9×13.
In a large bowl combine oil, sugar, and vanilla.

Stir in eggs.

Add in flour, cocoa powder, baking powder, and salt.
Brownie mix doesn't have to be super mixed. Don't over mix the batter, just combine well.
Stir until all is well combined.

Add in pecans.

Pour into baking dish and bake for 25 minutes.

Cool and serve warm.
Notes
Serve with vanilla ice cream.
If you have followed the steps above, you should now have a delicious chocolate cake! Be sure to enjoy it with some friends or family, and you can even add some frosting on top. Thanks for reading, and happy baking!
Nutrition
Serving:
1
serving
Calories:
635
kcal
Carbohydrates:
70
g
Protein:
8
g
Fat:
40
g
Saturated Fat:
7
g
Polyunsaturated Fat:
19
g
Monounsaturated Fat:
13
g
Trans Fat:
0.2
g
Cholesterol:
82
mg
Sodium:
431
mg
Potassium:
264
mg
Fiber:
6
g
Sugar:
51
g
Vitamin A:
126
IU
Vitamin C:
0.1
mg
Calcium:
97
mg
Iron:
3
mg
The best ways to store and serve homemade brownies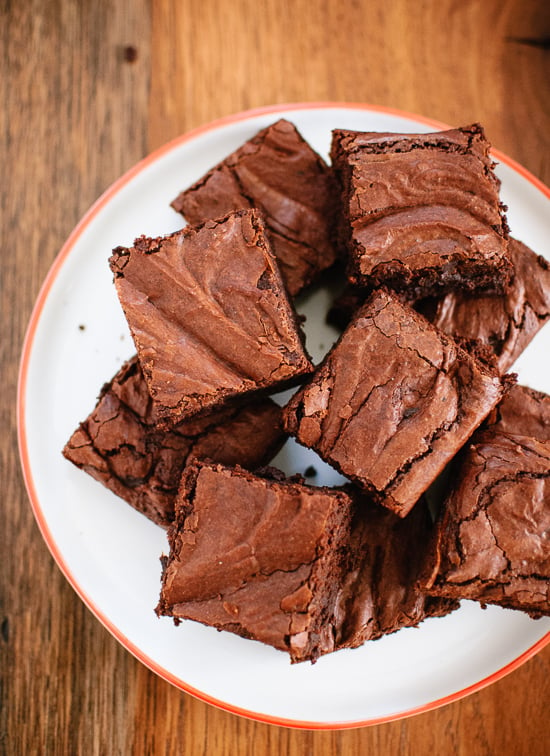 There are a few things to keep in mind when storing and serving homemade brownies.
First, brownies are best stored in an airtight container at room temperature. If you are storing them for more than a few days, you can store them in the fridge.
When serving, brownies can be served at room temperature or warmed up in the microwave for a few seconds.
If you are serving them to a large group, you can cut them into squares and serve them on a platter.
Tips for making the perfect brownies every time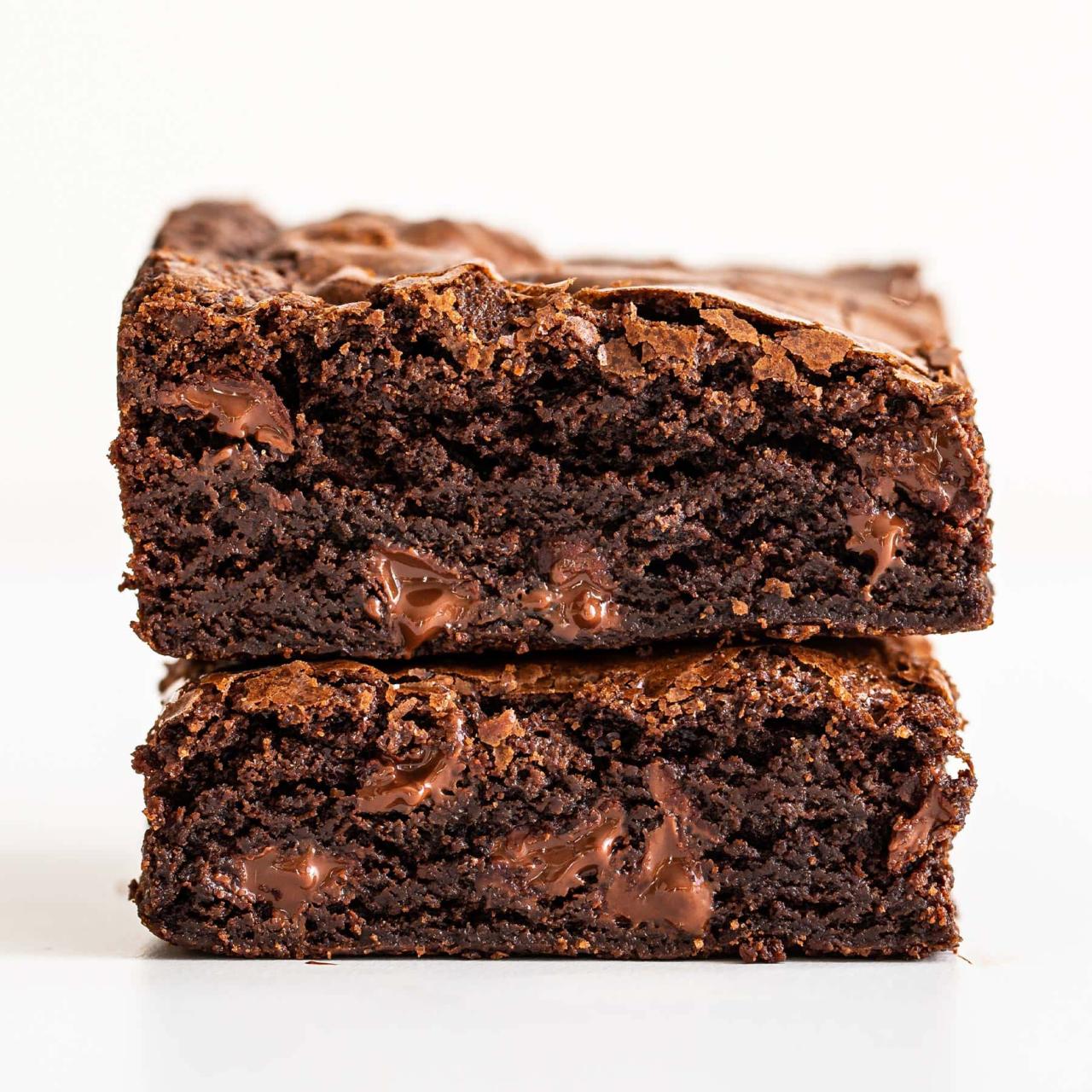 There are few things as delicious as a warm, gooey brownie straight from the oven. And while brownies may seem like a simple dessert, there is an art to making the perfect batch. Here are a few tips to help you create brownies that are both delicious and beautiful:
1. Choose the right chocolate. When it comes to brownies, quality chocolate is key. Be sure to choose a chocolate that you love the taste of, as it will be the main flavor in your brownies.
2. Melt the chocolate slowly. Chocolate can easily burn, so be sure to melt it slowly over low heat. Stir frequently to ensure even melting.
3. Add the butter to the chocolate. Once the chocolate is melted, add the butter and stir until combined. The butter will help to create a smooth, rich texture.
4. Stir in the sugar. Add the sugar to the chocolate mixture and stir until combined. Brown sugar will create a richer flavor, while white sugar will result in a lighter taste.
5. Add the eggs. Stir in the eggs, one at a time, until combined. Be sure not to over-beat the mixture at this point, as this will result in tough brownies.
6. Stir in the flour. Add the flour to the mixture and stir until combined. For a lighter texture, use a sifter to add the flour to the mixture.
7. Pour the mixture into a prepared pan. Grease and flour an 8×8 inch baking pan, then pour the brownie mixture into the pan. Be sure to spread the mixture evenly.
8. Bake the brownies. Bake the brownies at 350 degrees Fahrenheit for 25-30 minutes, or until a toothpick inserted into the center comes out clean.
9. Allow the brownies to cool. Once the brownies are out of the oven, allow them to cool completely before cutting into them. This will help to prevent them from falling apart.
10. Cut and serve. Once the brownies are cooled, cut them into squares and enjoy!
FAQs about brownies answered by experts in the field
If you're a brownie lover, you probably have a few questions about these delicious little squares. Here are some answers to FAQs about brownies, courtesy of experts in the field.
How are brownies made?
Brownies are typically made with chocolate, butter, sugar, eggs, and flour. The ingredients are combined and baked in a pan, resulting in a delicious, chocolatey treat.
What is the difference between a brownie and a chocolate cake?
The main difference between a brownie and a chocolate cake is the texture. Brownies are denser and fudgier than chocolate cake, which is light and fluffy.
Why are brownies so addicting?
There is no one answer to this question, as everyone has different taste preferences. However, many people find brownies addicting because they are so rich and chocolatey. The combination of sweet and savory flavors is hard to resist!
What is the best way to eat a brownie?
There is no wrong way to eat a brownie, but many people prefer to eat them warm, with a scoop of ice cream on top.