Peanuts are a tricky thing for me. I love Peanut Butter & Jam sandwiches. I love Peanut Butter Cookies. But when peanuts enter into the savory realm, I am not too sure about it.
For that reason I have never been fond of Pad Thai. Who wants noodles with peanuts? My DH. So since I have been on this Vegan kick, I decided to cook up some Vegan Pad Thai. Maybe this time I would enjoy it?
Delicious Rating: Nope, I didn't enjoy it. The rating is strictly mine, as my DH thoroughly enjoyed this Pad Thai. Of course he did mention that it was different from his usually Thai restaurant fare but it was delicious at home! I had to laugh at that one. This isn't an easy delicious recipe, it seemed like a lot of work went into making this dish so I doubt I will make this again. Let me know where you like your favorite Pad Thai dish!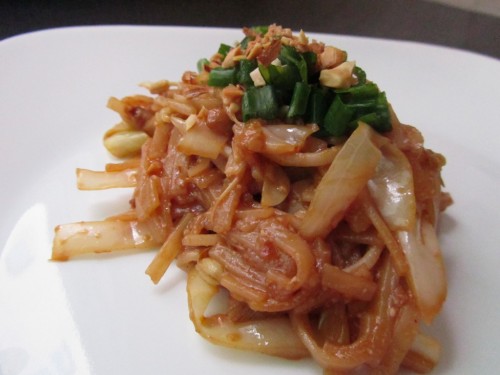 Vegan Pad Thai
Pad Thai is a popular Thai dish that is usually made with chicken or shrimp. However, many people enjoy vegan versions of this dish as well. In this vegan pad thai recipe, we'll show you how to make a delicious and hearty vegan version of this popular dish.
Ingredients
8

ounces

Pad Thai rice noodles

4

garlic cloves

minced

4

shallots

minced

2

cups

cabbage

roughly sliced

1

cup

silken tofu

2

cups

bean sprouts

2

green onions

sliced and divided between onion & green stalk

¼

cup

peanuts

finely chopped

4

tbsp

oil

Lime wedges

more peanuts, & Cilantro for garnish
Sauce:
1

tbsp

tamarind paste

¼

cup

water

4

tbsp

soy sauce

1

tbsp

sriracha hot sauce

3

tbsp

brown sugar
Instructions
Soak noodles in a pot of boiling hot water that has been taken off the heat.
I almost forgot I had noodles sitting in the pot! Good thing I remembered or I would be left with a mushy mess.
Soak for up to 10 minutes or until cooked but still firm.

Rinse with cold water, drain, and set aside.

Combine all ingredients for sauce in a bowl and stir until all is combined and dissolved.

Get all your veggies ready for cooking.

Heat 2 tbsp of oil in wok over medium-high heat.

Stir fry garlic and shallots for 1 minute.

Add in cabbage and green onions (not the green stalk) and cook for an additional 2 minutes.

Push mixture aside in wok and at in 1 tbsp of oil.

Allow to heat and scramble in silken tofu.

Push aside and add in last tbsp of oil.

Add in noodles and half the sauce.
It is a good idea to have all your ingredients ready because once this recipe starts you need to be cooking and can't stop to chop up something or what have you.
Toss and stir-fry for 2 minutes.

Add in bean sprouts, green onion stalks, peanuts, and remaining sauce.

Cook for an additional 3 minutes tossing regularly.

Season to taste with either additional sugar or soy sauce.

Serve immediately with cilantro, lime, and additional peanuts as garnish.
Notes
This is a great recipe for a quick and easy meal. The substitutions and variations make it a versatile dish that can be tailored to your liking. Be sure to try it out and let us know how it turns out!
Nutrition
Serving:
1
serving
Calories:
518
kcal
Carbohydrates:
73
g
Protein:
12
g
Fat:
21
g
Saturated Fat:
2
g
Polyunsaturated Fat:
7
g
Monounsaturated Fat:
11
g
Trans Fat:
0.1
g
Sodium:
1218
mg
Potassium:
520
mg
Fiber:
5
g
Sugar:
17
g
Vitamin A:
113
IU
Vitamin C:
26
mg
Calcium:
93
mg
Iron:
3
mg
Tips for making vegan Pad Thai recipe that everyone will love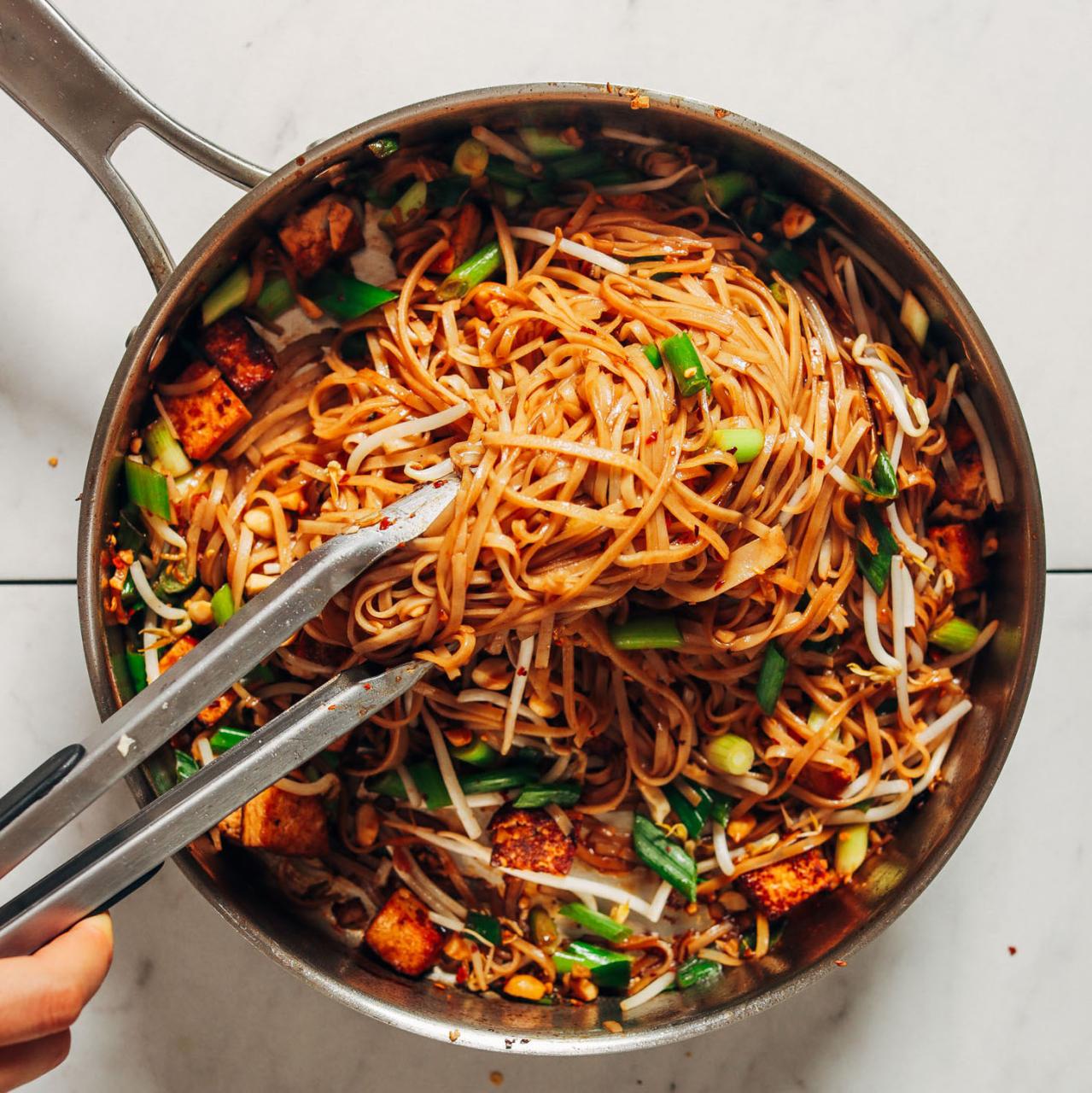 If you're looking for a delicious vegan Pad Thai recipe that everyone will love, you've come to the right place! Here are some tips to make sure your Pad Thai is perfect:
1. Choose the right noodles. For traditional Pad Thai, you'll need to use rice noodles. But if you're looking for a healthier option, you can use bean thread noodles or glass noodles.
2. Make sure your noodles are cooked properly. They should be soft, but not mushy.
3. The sauce is key! Be sure to use a good quality sauce, and don't be afraid to add a little extra if you like it spicy.
4. Pad Thai is typically served with a lime wedge and peanuts. But if you want to make it even more special, you can top it with cilantro, green onions, and bean sprouts.
5. Finally, don't forget the protein! tofu is a classic vegan option, but you could also use tempeh or seitan.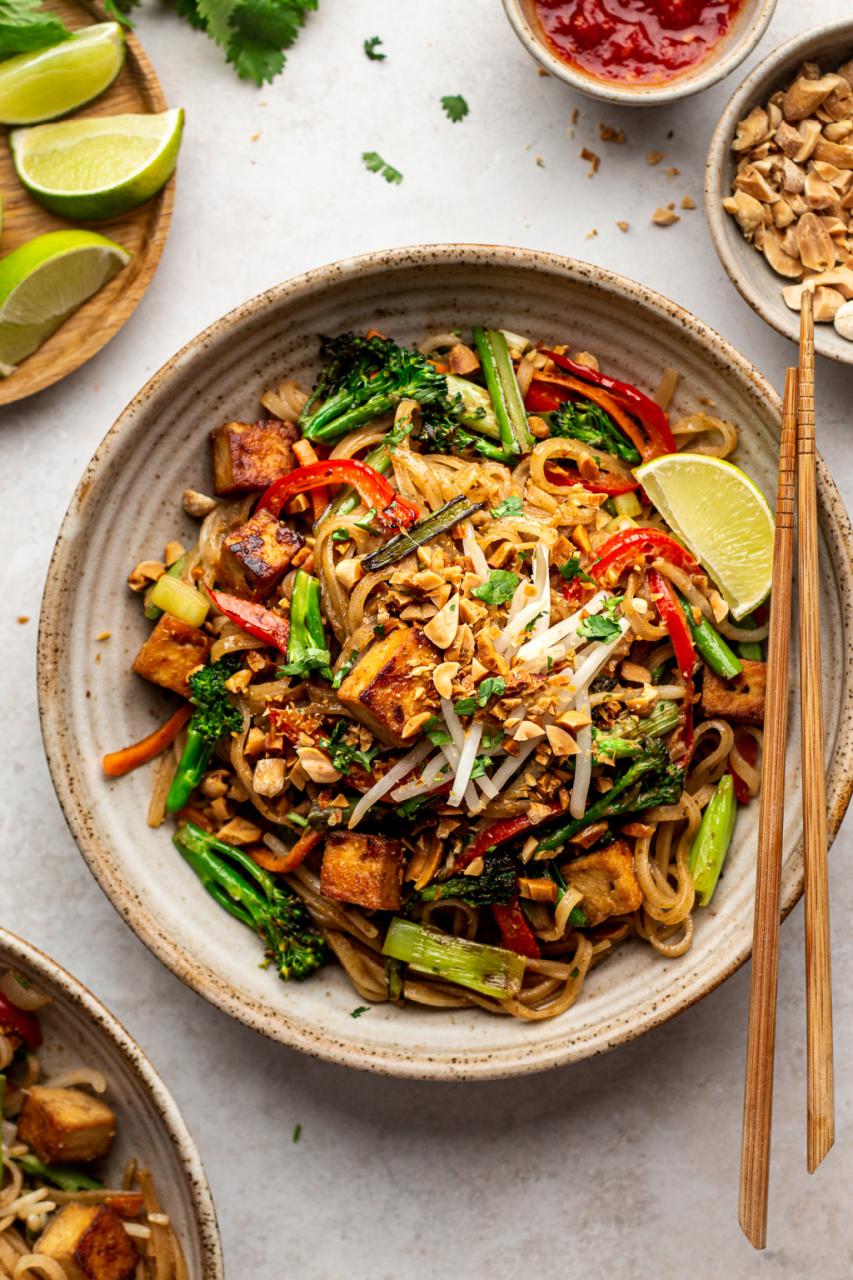 With these tips in mind, you're sure to make a Pad Thai that everyone will love!