When we were living in Texas there was an unbelievably delicious Indian restaurant. And although I am not a buffet frequenter, we would frequent their lunch buffet often. Indian food is something I miss eating a lot! Over the last couple of months I have been trying to cook a lot of different international fare, especially vegan. So why not cook up some Indian food? I decided to make one of my favorite Indian curry dishes, Tofu Vindaloo and Rice. I veganized it up with some fried tofu to make an absolutely delicious dish.
Delicious Rating: If you don't like the lingering smell of Indian food in your house, I suggest you open up windows and close the bedroom doors before cooking this easy delicious recipe. Once you get that done and cook this Vindaloo recipe you will be happy you did. The flavors meld together so well. But it wasn't until the next day that it tasted even more amazing than when it first cooked. This is definitely a keeper and will be a regular dinner in my home.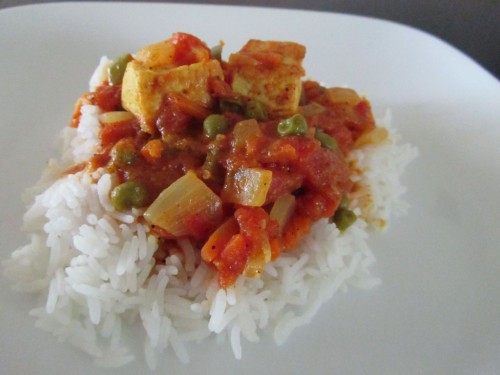 Tofu Vindaloo and Rice
Tofu Vindaloo is a classic Indian dish made from tofu and rice. It is a popular dish often enjoyed at restaurants and homes alike. In this blog post, we are providing you with a recipe for Tofu Vindaloo and rice. We will also provide you with history and information about the dish, along with tips on how to make the perfect Tofu Vindaloo and rice dish.
Ingredients
6

garlic cloves

minced

3

tbsp

ginger

minced

1

tsp

cardamom

1

tsp

coriander

1

tsp

cumin

1

tsp

mustard powder

1

tsp

cayenne

1

tsp

cinnamon

1

tsp

turmeric

4

tbsp

olive oil

1

pack of tofu

diced

Salt & Pepper to taste

1

onion

chopped

2

carrots

julienned

1

green bell pepper

diced

1

can

14.5 oz diced tomatoes w/juice

½

cup

peas

1½

cup

water

Basmati Rice

cooked
Instructions
In a blender, blend first 9 ingredients and 2 tbsp of olive oil until smooth.
Start your rice first so that it will be done at the same time.
In a large pan, heat 1 tbsp of olive oil over medium heat.

Add tofu and cook until all sides are golden brown.
Now I love fried tofu. If you get it brown enough and nice and crispy, OMGoodness! I want to devour the whole bowl. The salt and pepper just send it over the edge.
Season with salt & pepper.

Place in a bowl and set aside.

Heat last tbsp of olive oil over medium heat in the same pan.

Add onion and carrot, cover and cook for 5 minutes.

Add in bell pepper and cover and cook for an additional 5 minutes.

Add in blended paste and cook for 1 minute.
You won't believe how good this smells until you cook it. The spices just dance in the air.
Stir in tomatoes and their juice, peas, and water.

Bring to a boil.

Reduce heat to low and season with salt and pepper to taste.

Cover and simmer for 10 minutes.

Add in tofu and cook uncovered for an additional 10 minutes.

Serve hot over rice.
Notes
Tofu Vindaloo is a delicious, hearty dish that is perfect for a winter meal. The history of this dish is interesting, and the recipe is easy to follow. With a few tips, you can make the perfect Tofu Vindaloo. Serve it with rice and enjoy!
Nutrition
Serving:
1
bowl
Calories:
275
kcal
Carbohydrates:
16
g
Protein:
11
g
Fat:
19
g
Saturated Fat:
3
g
Polyunsaturated Fat:
4
g
Monounsaturated Fat:
12
g
Sodium:
36
mg
Potassium:
323
mg
Fiber:
5
g
Sugar:
5
g
Vitamin A:
5561
IU
Vitamin C:
37
mg
Calcium:
178
mg
Iron:
3
mg
Tips for making Tofu Vindaloo and Rice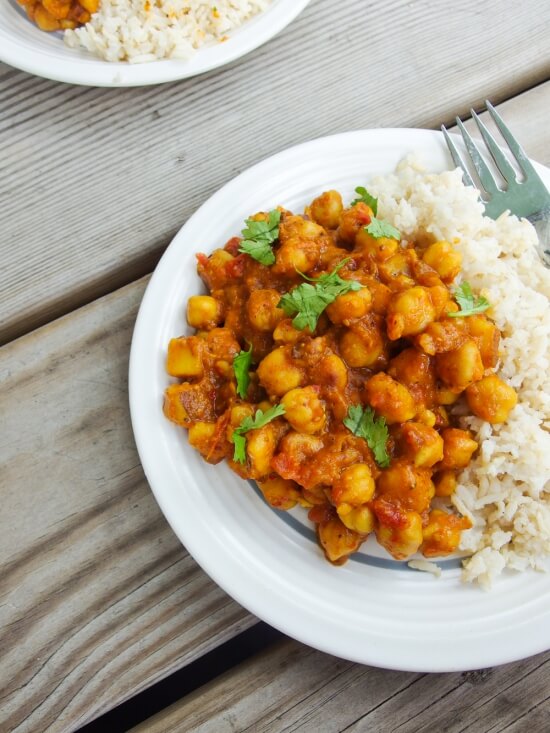 If you're in the mood for a hearty, Indian-inspired meal, look no further than tofu vindaloo and rice. This dish is packed with flavor, thanks to the vindaloo sauce, and it's sure to fill you up. Plus, it's relatively easy to make. Here are a few tips to help you get the most out of your meal:
1. Start by marinating the tofu in the vindaloo sauce. This will help to infuse it with flavor and make it more tender.
2. When cooking the rice, be sure to use a good quality Basmati rice. This will ensure that the rice is fluffy and light.
3. If you want to add some extra vegetables to the dish, consider stir-frying them with the tofu. This will add even more flavor and nutrition to the meal.
4. Finally, be sure to garnish the dish with fresh cilantro before serving. This will brighten up the flavors and make it even more delicious.
Serving Suggestions For Tofu Vindaloo
Tofu Vindaloo is a vegan dish from India that is made with tofu, potatoes, and vindaloo sauce. The sauce is a spicy curry sauce that is unique to India. This dish can be served with rice or naan bread as a main course, or it can be used as an appetizer or side dish. Tofu Vindaloo is also dairy- free and gluten- free, making it a great choice for those with dietary restrictions.
So why not give this amazing vegan dish a try? You won't regret it!
FAQs About Tofu Vindaloo
tofu vindaloo is a dish from India that is made from tofu and spices. It is typically served over rice, but can also be enjoyed as a side dish. If you're curious about this delicious and unique dish, read on for answers to some of the most common questions about tofu vindaloo.
Where does tofu vindaloo come from?
Tofu vindaloo is typically made in the Indian state of Maharashtra, where it originated many years ago. However, it has since become popular all over the world and can be found in many different restaurants.
How do I make tofu vindaloo?
Making tofu vindaloo is quite easy – all you need are some key ingredients and a stovetop. First, soak your rice in water for several hours before cooking it according to package instructions. Once the rice has cooked, add your prepared spices to the pot and let everything come to a boil together. Then, add your drained and rinsed tofu cubes to the pot and let them cook until they are soft – about 10 minutes should do the trick! Finally, serve everything over steamed rice and enjoy!
What are the benefits of tofu vindaloo?
There are many benefits to enjoying this delicious dish – not least of which is that it's vegan friendly! Tofu has a variety of health benefits including being high in protein and iron, so eating it as part of a meal can be beneficial overall. Additionally, consuming soy products is linked with reduced risks for heart disease and certain types of cancer. So if you're looking for an interesting vegetarian option that's healthy enough for meat-eaters to try out too, give tofu vindaloo a try!
Are there any precautions I need to take when making tofu vindaloo?
While there are no major precautions that you need to take when making this recipe, there are some general guidelines that you should follow in order to make sure that your meal turns out perfectly every time. For example, make sure that your spices are fresh and properly measured; avoid overcooking or burning your ingredients; don't use store-bought sauces or gravies;and last but not least – enjoy responsibly! What are some common mistakes people make when making tofu vindaloo? Here are five common mistakes that people often make while cooking this dish: not soaking their rice adequately; using too much oil or ghee; adding salt at the wrong time; overcooking or burning their vegetables; adding too much water or broth.