Looking for a delicious and healthy salmon recipe? Look no further than this herb and lemon salmon recipe! Quick, easy, and packed with flavor, this recipe is sure to be a new favorite.
One of my many diets included in my yo-yo dieting (another story, another blog) was a baked salmon diet. Everyday Cook Eat Delicious would eat baked salmon. By itself, on bread, with rice, in salad, atop pasta. I never once got tired of it. I would literally just bake a salmon fillet and that would be that. Rarely would I add any spices or sauce to the salmon, I love the taste of salmon on its own. However, my DH hated it. Baked salmon is so boring to him, even if it is marinated or covered in the best possible herbs and sauces. Well, it has been awhile since my baked salmon diet but I decided to give it another try and use some lemons since they were in town.
Delicious Rating: Delicious! Baked salmon is an easy dinner recipe that can go with grains, veggies, or whatever you please. The basil in this recipe combines so well with the lemon and parsley, total yum factor. What did my DH think you ask? Well, he said it was good…and then said, "I just don't like baked salmon." Okay, I guess it isn't for everybody. What about you?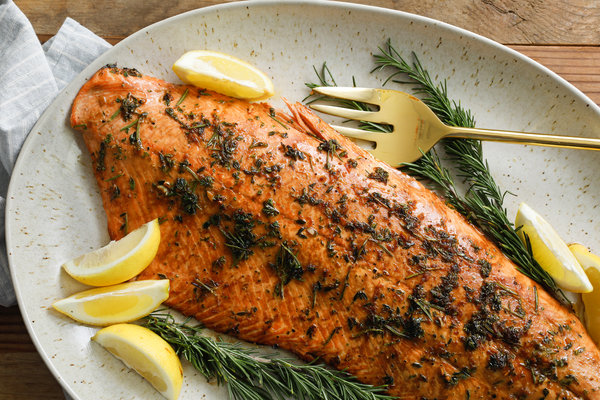 Herb and Lemon Salmon
Salmon is one of the most popular types of fish on the planet, and for good reason. It's a healthy, protein-rich food that's easy to cook and tastes great. In this recipe, we're going to show you how to cook herb and lemon salmon using a quick and easy recipe.
Ingredients
2

Garlic cloves

minced

1

tsp

Salt

1

tsp

black Pepper

2

tsp

dried Basil

2

tbsp

fresh Parsley

chopped

1

tbsp

lemon juice

3

tbsp

Olive Oil

3

tbsp

Butter

melted

1

large salmon fillet

1

lemon

thinly sliced
Instructions
Preheat oven to 350 F.

Mix garlic, salt, pepper, and basil into a bowl.

Add in parsley, lemon juice, olive oil, and butter and spread onto salmon fillet.

Place lemon slices on top and bake for 35-45 minutes or until salmon is easily flaked with a fork.
Notes
Serve with salad or rice
Herb and lemon salmon is a delicious, healthy dish that is perfect for a summer meal. With only a few simple ingredients, it is easy to make and can be on the table in less than 30 minutes. This recipe is versatile and can be adapted to your own taste, so don't be afraid to experiment. When grilling salmon, always use fresh herbs and lemon for the best flavor. And remember, the key to perfectly cooked salmon is to not overcook it.
Nutrition
Serving:
1
serving
Calories:
162
kcal
Carbohydrates:
3
g
Protein:
6
g
Fat:
15
g
Saturated Fat:
5
g
Polyunsaturated Fat:
2
g
Monounsaturated Fat:
7
g
Trans Fat:
0.2
g
Cholesterol:
31
mg
Sodium:
447
mg
Potassium:
193
mg
Fiber:
1
g
Sugar:
1
g
Vitamin A:
307
IU
Vitamin C:
13
mg
Calcium:
23
mg
Iron:
1
mg
Tips & Tricks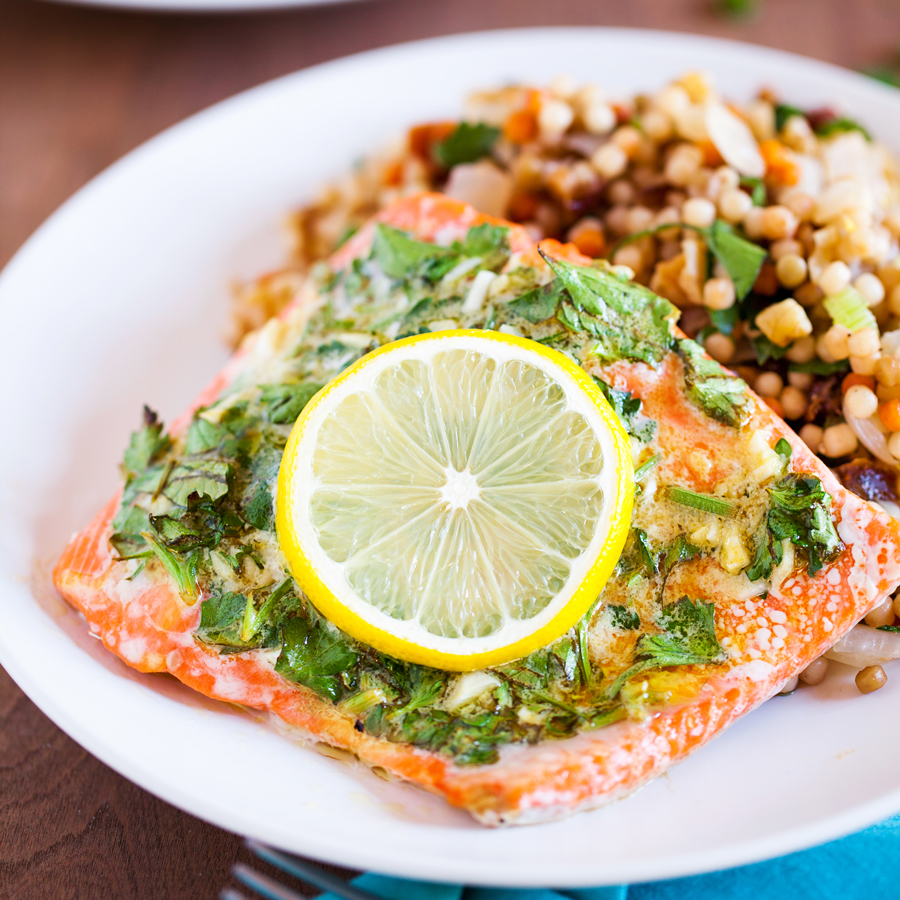 Salmon is a delicious and healthy fish that can be enjoyed in many different ways. Today, we're sharing a delicious and easy recipe for herb and lemon salmon that can be made in just minutes. This dish is perfect for any occasion – whether you're hosting a party or just want to enjoy a delicious and healthy meal on your own.
First, start by prepping your ingredients. In this recipe, we're using fresh lemon juice, fresh herbs (such as rosemary and thyme), salt, and olive oil. Next, season your salmon filet generously with salt and pepper before cooking it over medium-high heat in a skillet or oven. The key to great salmon is cooking it perfectly every time – don't overcook it or the fish will become dry and rubbery.
Once the salmon has cooked through, remove it from the heat and drizzle with olive oil before serving. Top the salmon with fresh lemon slices and fresh herbs before serving along with some crackers or bread for dipping. Enjoy!
If you'd like to make this dish even better – or if you have preferences that you would like to adjust – feel free to do so in the recipe below. As always, use fresh herbs whenever possible in order to get the most flavor out of your dish. And finally, when storing or preparing Salmon for dinner, make sure that you keep it refrigerated until just prior to eating so that its flavor stays at its peak. We hope you enjoy our simple but delicious Herb & Lemon Salmon recipe!
FAQs about the Herb and Lemon Salmon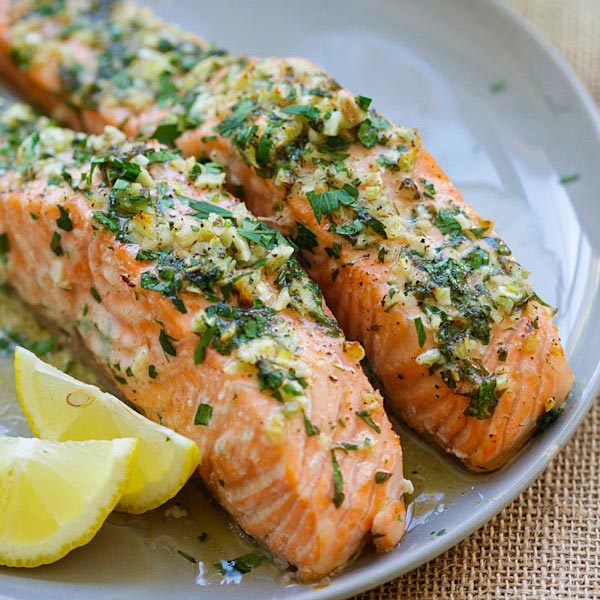 If you're looking for a delicious and healthy salmon recipe, look no further than the Herb and Lemon Salmon! This recipe is simple to make and only requires a few ingredients, making it perfect for a weeknight meal. Plus, the salmon is cooked in a foil packet, so there's no need to dirty up a baking dish.
Here are a few frequently asked questions about the Herb and Lemon Salmon:
What kind of salmon should I use?
You can use any type of salmon for this recipe, but we recommend using a wild-caught salmon for the best flavor.
How long does it take to cook the salmon?
The salmon only needs to cook for about 15-20 minutes, depending on the thickness of the fillets.
Can I use fresh herbs instead of dried herbs?
Yes, you can use fresh herbs instead of dried herbs. We recommend using 1 tablespoon of chopped fresh herbs for every 1 teaspoon of dried herbs called for in the recipe.
What can I serve with the salmon?
The salmon is delicious on its own, but you can also serve it with a simple salad or roasted vegetables.