My DH and I have an addiction. I am embarrassed to talk about it. It started out that we would share one when we were at the mall. Then we started having one for ourselves. This upped to two each w/extra frosting. And then, well, then we started going to the mall just to satisfy our craving. We couldn't last 2-3 days without a hit of its gooey center. It became our friend, there when we needed it. But then things changed when we left the country. None of the product is available south of the border. Our withdrawals were getting worse. It was either kick the habit for good or take things into our own hands.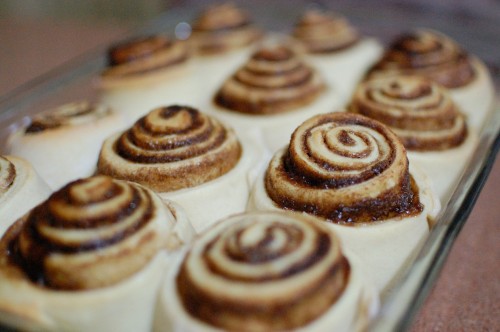 So we started making the product at home. It was a scary endeavor, so many things could go wrong. Everything had to be perfect or it would be a complete bust. But alas! The time and energy spent was well worth it. Our Cinnabon Cinnamon Rolls were Delicious and satisfying. No other product can compare.
Delicious Rating: Yummy Yummy Time! If you are anything like my DH and I, you will finish the whole pan if not the same day than the next. These are better than Cinnabon and the easy recipe for extra frosting is free…and you can eat it right out of the bowl…These are also highly dangerous Cinnamon Rolls. You may become addicted. You've had your warning. You may also try this Chocolate Orange Sweet Rolls recipe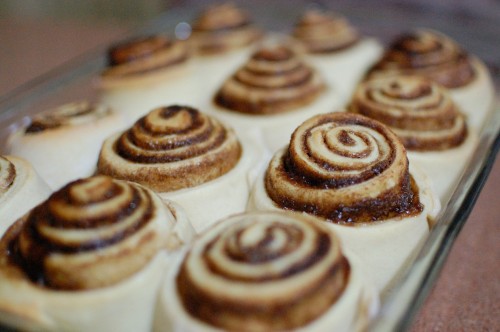 Cinnabon Cinnamon Rolls
Looking for the perfect cinnamon rolls recipe? Look no further than our favorite, Cinnabon cinnamon rolls! These delicious rolls are made with cinnamon, sugar, egg, and butter, and require just a few simple steps to prepare.
Ingredients
1

cup

warm milk

½

cup

white sugar

1

tsp

salt

4

tsp

yeast

1

egg

¼

cup

buttermilk

⅓

cup

vegetable oil

½

tsp

vanilla extract

4

– 5 cups flour

Filling: 1 cup brown sugar

3

tbsp

cinnamon

2

tbsp

cornstarch

½

cup

butter

softened

Frosting: 8 oz cream cheese

softened

¾

cup

butter

softened

3

tsp

vanilla extract

2

tbsp

corn syrup

2

tsp

lemon juice

pinch

of salt

3-4

cups

confectioners' sugar
Instructions
In a medium bowl, combine warm milk, white sugar, salt, and yeast together.

Allow to sit for 10 minutes.

Whisk in egg, buttermilk, oil, and vanilla.

Add in 2 cups of flour and continue mixing and adding flour in ⅓ cup increments until dough is sticky but does not stick to your hands.

Turn dough out onto a lightly floured surface and knead for 10 minutes or 5 in a stand mixer with a dough hook.
Do this in a mixer with a dough hook if you have one.
Place dough in a lightly oiled large bowl, cover and let rise for 1-2 hours.

Roll dough into a 16×21 rectangle.

Combine brown sugar, cinnamon, cornstarch, and butter in a bowl and spread over dough.
I only added pecans to half the rolls. You can add them to all the rolls or omit them completely.
Roll dough up lengthwise and cut into 12 even rolls.
If you weren't able to roll super tight, no worries, when they rise it will fill out.
Place in a lightly greased 9×13 baking pan.

Cover and let rise for another hour.

Preheat oven to 350 degrees F.

Bake rolls for 20 minutes.

While baking the rolls, whip together cream cheese and butter until light.
This frosting is amazing! Do not be like me and eat the whole bowl!
Mix in vanilla, corn syrup, lemon juice, and salt.

Slowly add in powdered sugar and whip until light and fluffy.

Frost hot rolls with ⅓ of the frosting which will melt into all the layers, nooks, and crannies!

Refrost with desired amount when served warm
Notes
Serve with coffee or a cold glass of milk.
Nutrition
Serving:
1
serivng
Calories:
313
kcal
Carbohydrates:
48
g
Protein:
3
g
Fat:
27
g
Saturated Fat:
14
g
Polyunsaturated Fat:
4
g
Monounsaturated Fat:
7
g
Trans Fat:
1
g
Cholesterol:
67
mg
Sodium:
369
mg
Potassium:
98
mg
Fiber:
2
g
Sugar:
13
g
Vitamin A:
658
IU
Vitamin C:
0.4
mg
Calcium:
61
mg
Iron:
0.3
mg
Tips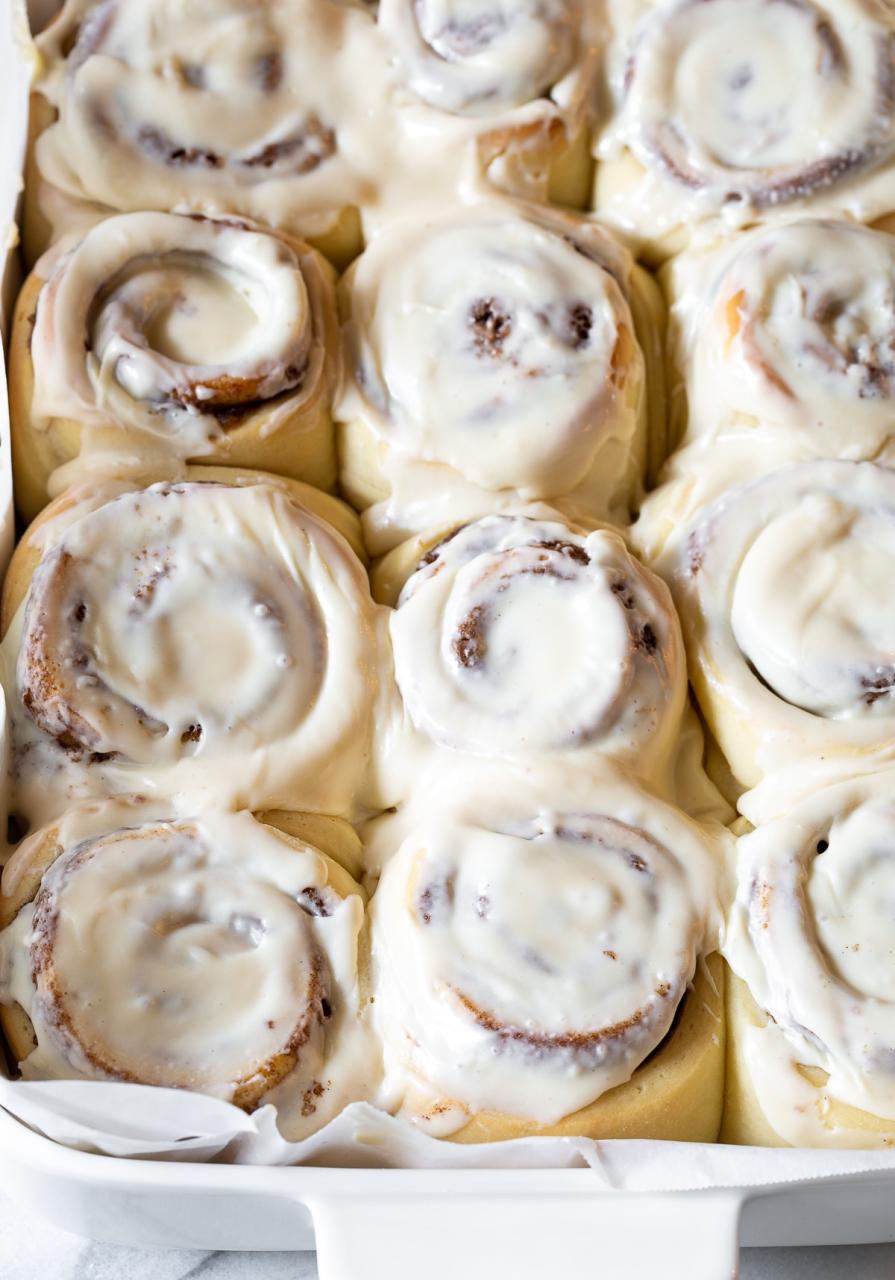 Rolling out the dough is key to making sure your Cinnamon Rolls come out perfectly.
Too thick a dough will make for tough rolls that won't rise and are difficult to slice, while too thin a dough will result in soggy cinnamon rolls.
Be generous with the cinnamon sugar and don't skimp on the baking time – these babies need to be golden brown and crispy on the outside!
Serve them warm with ice cream or whipped cream, and enjoy!
Frosting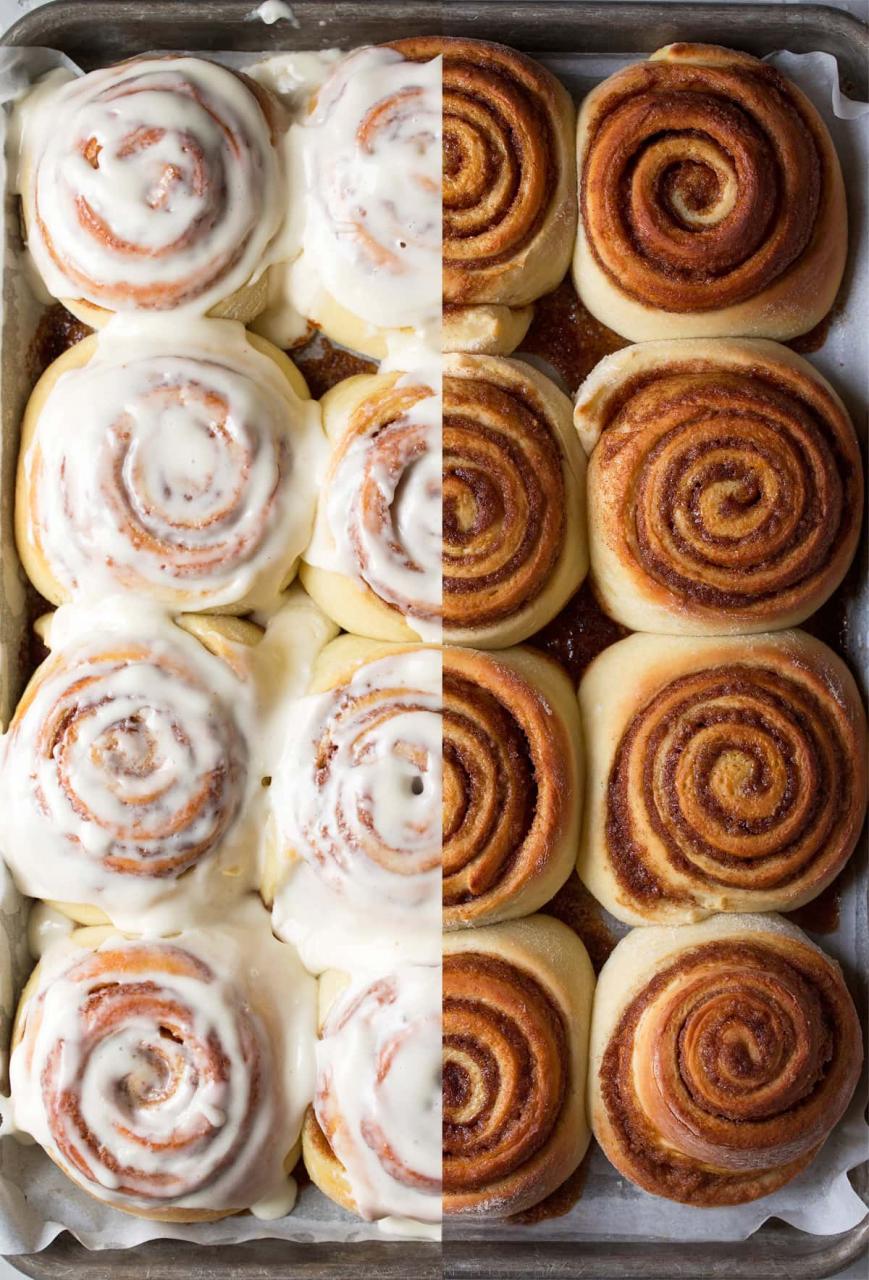 Cinnabon cinnamon rolls are one of the most popular items on their menu, and for good reason. They're delicious, and they're easy to make. In this section, we'll teach you how to make the frosting for these rolls.
First, preheat your oven to 375 degrees Fahrenheit (190 degrees Celsius).
Then, in a small bowl, cream together butter, sugar, and egg until light and fluffy.
Add flour, salt, baking powder, and cinnamon; mix well. Fold in raisins before spreading frosting over dough in a 12×18 inch rectangle.
Roll up dough jelly roll style and slice into 1 inch pieces before placing them on a greased baking sheet.
Bake for 15 minutes before removing to a wire rack to cool.
Enjoy your delicious Cinnabon cinnamon rolls!
How to Storage Cinnabon Cinnamon Rolls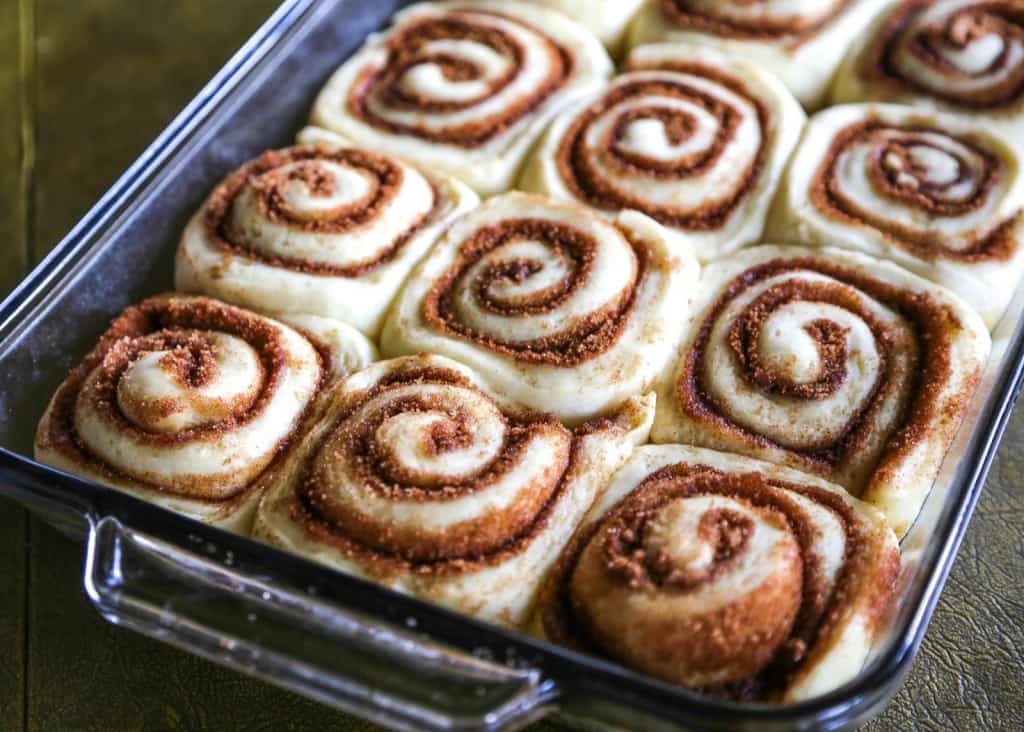 Cinnabon cinnamon rolls are a delicious and popular treat. They're easy to make, and they taste great no matter how many times you make them. However, like most things in life, cinnamon rolls don't last forever. That's why it's important to follow a few basic tips when storing them.
First and foremost, preheat the oven to 375 degrees F (190 degrees C). This will help the rolls to rise evenly and achieve a nice golden color.
Second, be sure to coat the rolls in flour, sugar, salt, baking powder, and baking soda before baking. This will help them to stay fresh and crispy.
Finally, make sure to frost the cinnamon rolls after they've come out of the oven – this will add extra flavor and moisture to the dough. Thanks for following these tips – we know you'll enjoy making Cinnabon cinnamon rolls time and time again!
Cinnabon Cinnamon Rolls's Variations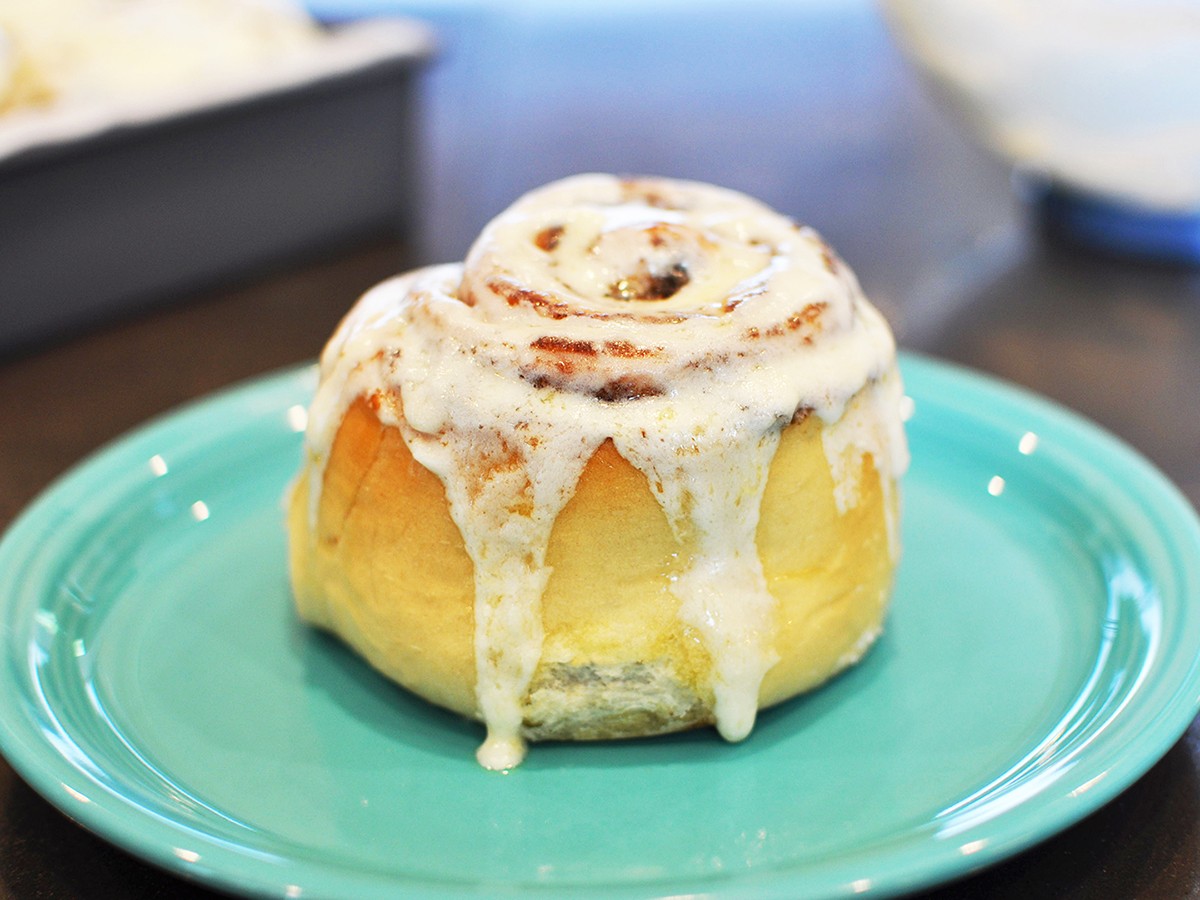 The holidays are a time for happiness and celebration, and what better way to celebrate than by baking some cinnamon rolls? Cinnabon is one of the most popular cinnamon roll brands in the world, and their rolls are always a hit. Below, we have provided five different variations of Cinnabon cinnamon rolls that will have you ready for anything.
First up is Cinnamon Rolls with Pecans and Caramel Sauce. These delicious rolls are topped with a layer of pecans and caramel sauce, making them irresistible.
Next is Pumpkin Spice Cinnamon Rolls. These sweet rolls are filled with pumpkin puree and spices, making them perfect for autumn celebrations.
Maple Bacon Cinnamon Rolls are another delicious variation that is sure to please bacon lovers everywhere. These rolls are topped with crispy bacon slices, making them taste even better.
Blueberry Cinnamon Rolls will brighten up any day – or meal – with their sweet blueberry flavor. These roll are also frosted with cream cheese frosting, ensuring that they're irresistible no matter how many you eat!
Last but not least is Chocolate Cinnamon Rolls – arguably the most popular cinnamon roll variant on the market! These sweetrolls are chocolatey from start to finish, making them irresistibly delicious.
Source: https://foodandmeal.com