Learn how to make a red cabbage coleslaw recipe with this easy to follow guide.
Who likes KFC's coleslaw? Hands? I am not going to lie, I like it. And their mashed potatoes too but that is another food post.
Coleslaw is the perfect side dish for a BBQ. It also is great for pulled pork sandwiches…yum. It is a super easy delicious recipe to cook up, making it quick and painless.
Delicious Rating: This Coleslaw recipe is delicious. I couldn't stop eating it, literally, my DH had to pull me away from the bowl. He said it was totally KFC's coleslaw but with red cabbage. It tasted similar but just a thousand times better. Let me know your favorite coleslaw recipe!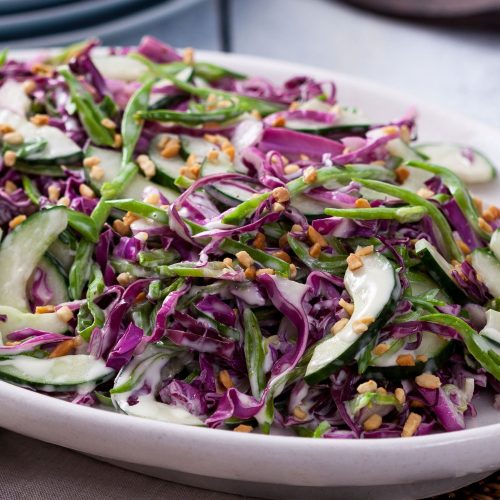 Red Cabbage Coleslaw
Red cabbage is a classic coleslaw ingredient that can add a touch of color and flavor to your dish. In this blog post, we're going to teach you how to make a red cabbage coleslaw recipe. First, we'll discuss the ingredients needed for the recipe. Then, we'll provide instructions on how to make the coleslaw. Finally, we'll provide tips on how to make the best coleslaw and variations. So, if you're looking for a delicious and colorful coleslaw recipe, look no further than our Red Cabbage Coleslaw Recipe.
Ingredients
½

head of red cabbage

thinly sliced

2

carrots

julliened

½

red onion

minced

2

tbsp

white sugar

1

tbsp

mustard

½

cup

mayo

⅓

cup

milk

1

tbsp

white vinegar

2

tbsp

lemon juice

1

tsp

black pepper
Instructions
In a large bowl combine cabbage, carrots, and onion.

Mix in remaining ingredients.

Adjust seasoning to taste.

Refrigerate for at least 4 hours to chill thoroughly.
Notes
Serve with BBQ Pulled Seitan Sandwich
We hope you enjoyed this blog on how to make healthy smoothies at home! Remember, there are endless possibilities when it comes to ingredients, so get creative and have fun making your own unique concoctions. Be sure to include plenty of fruits and vegetables in your diet for optimum health, and if you're looking for an extra boost of vitamins and minerals, consider adding a quality green powder or superfoods like spirulina or acai berries to your smoothie. As always, consult with your healthcare provider before making any major changes to your diet.
Nutrition
Serving:
4
servings
Calories:
1129
kcal
Carbohydrates:
80
g
Protein:
12
g
Fat:
88
g
Saturated Fat:
15
g
Polyunsaturated Fat:
51
g
Monounsaturated Fat:
20
g
Trans Fat:
0.2
g
Cholesterol:
57
mg
Sodium:
1108
mg
Potassium:
1715
mg
Fiber:
14
g
Sugar:
54
g
Vitamin A:
25292
IU
Vitamin C:
262
mg
Calcium:
372
mg
Iron:
5
mg
Tips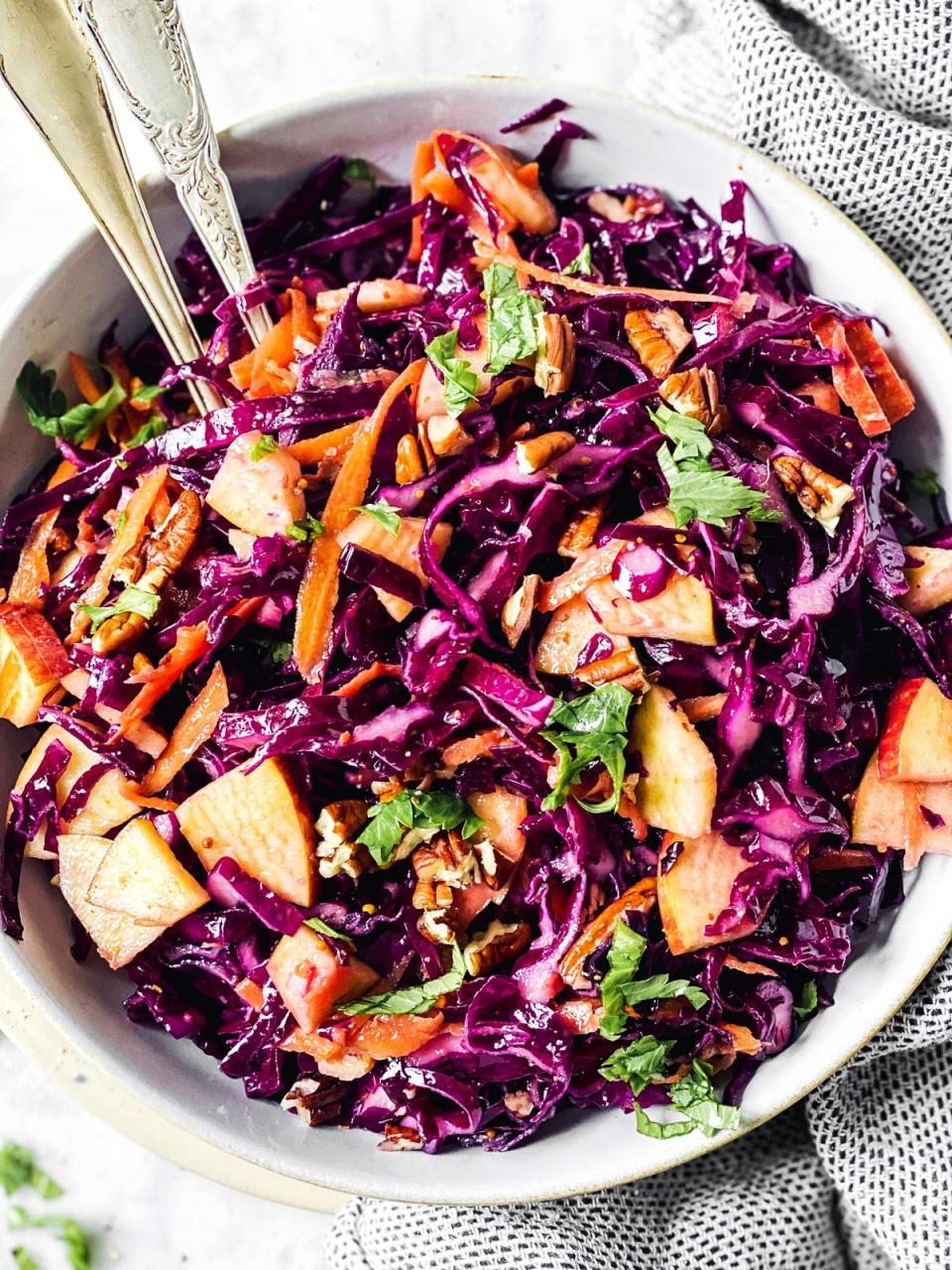 To make the best red cabbage coleslaw, start with a good quality red cabbage. Look for a cabbage that is deep red in color and has crisp, green leaves. Avoid cabbages that are wilted or have brown or yellow leaves.
Cut the cabbage into thin strips, using a sharp knife or a mandoline. If you are using a knife, make sure to cut the cabbage against the grain to get thin, even strips.
For the dressing, mix together mayonnaise, vinegar, sugar, and salt to taste. You can also add in some mustard for extra flavor. Adjust the dressing to your liking – add more vinegar if you want it tangier, or more sugar if you prefer it sweeter.
Toss the cabbage with the dressing, making sure all the strips are evenly coated. Let the coleslaw sit for at least 30 minutes before serving, to allow the flavors to meld. Serve chilled or at room temperature.
Nutrition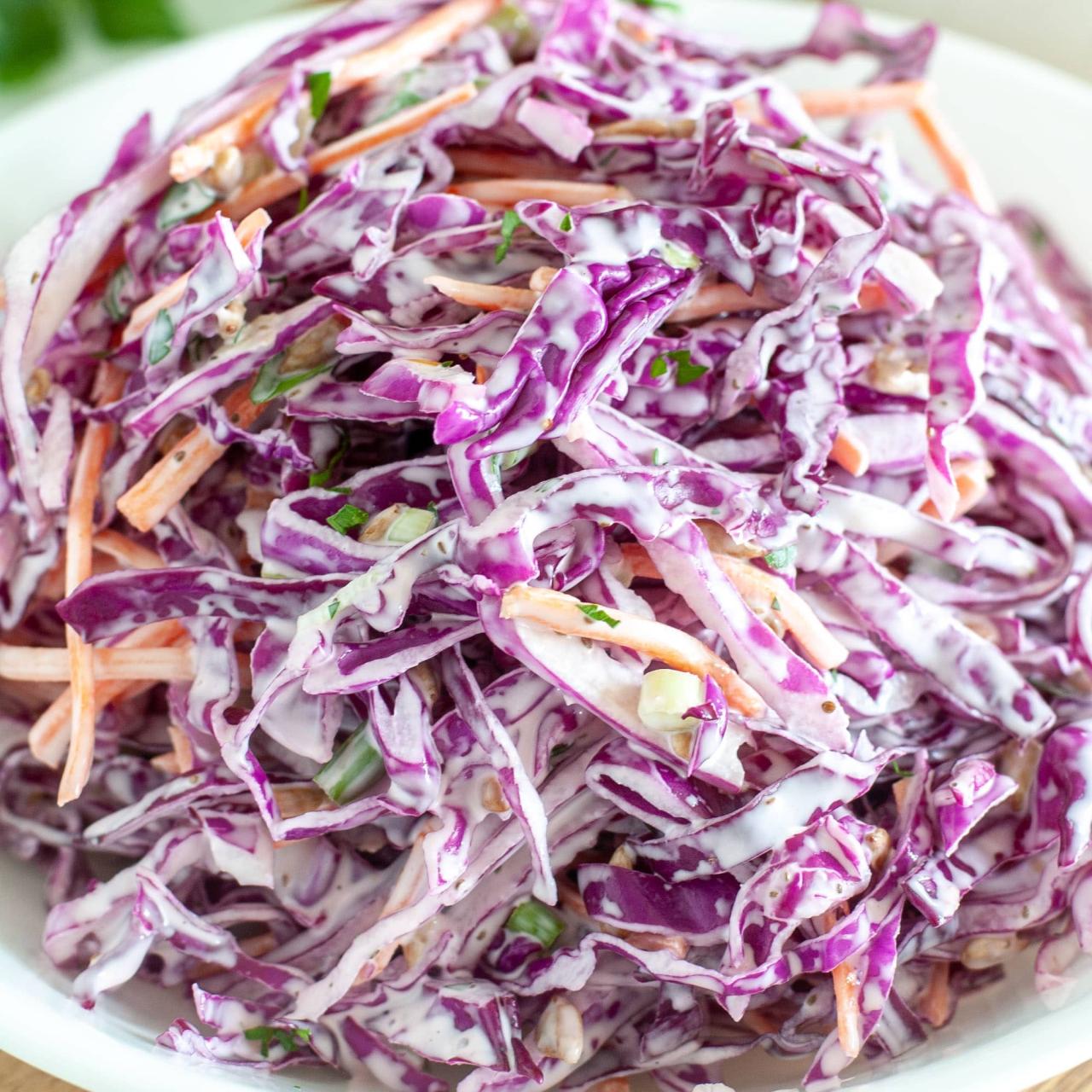 Coleslaw is a classic side dish that can be enjoyed on its own or as part of a meal. However, many people don't know that red cabbage is also a great source of nutrients and vitamins. In particular, red cabbage is an excellent source of vitamins C and K, as well as important compounds like anthocyanins. Anthocyanins are antioxidants that help to protect the cells in your body from damage. This coleslaw recipe contains low-calorie ingredients and plenty of fiber to help you feel full after eating it. Plus, the vinegar in this recipe helps to boost the coleslaw's antioxidant power.
So why not give this coleslaw recipe a try? You might be surprised at just how nutritious and delicious it is!
FAQs about the Red Cabbage Coleslaw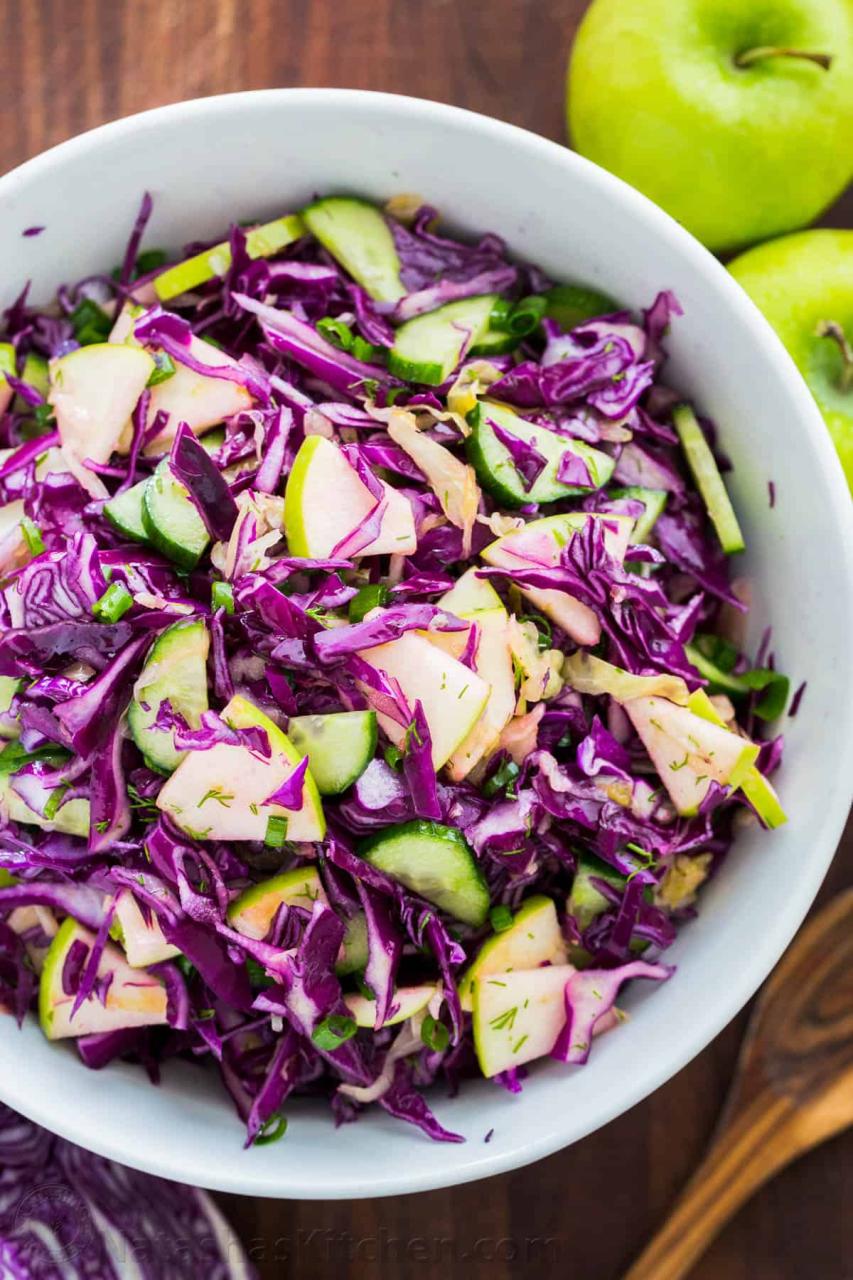 1. What is red cabbage coleslaw?
Red cabbage coleslaw is a type of coleslaw that is made with red cabbage instead of green cabbage. It is often made with a vinegar-based dressing, but can also be made with a mayonnaise-based dressing.
2. What are the benefits of eating red cabbage coleslaw?
Red cabbage coleslaw is a good source of fiber and vitamins A, C, and K. It can also help to promote healthy digestion and may help to reduce the risk of some types of cancer.
3. How can I make red cabbage coleslaw?
To make red cabbage coleslaw, you will need red cabbage, a dressing of your choice, and any other desired ingredients (such as carrots, onions, or herbs). Simply shred the cabbage, mix it with the dressing and other ingredients, and serve.
4. What are some common flavorings for red cabbage coleslaw?
Some common flavorings for red cabbage coleslaw include vinegar, mayonnaise, mustard, and honey. You can also add in other ingredients such as carrots, onions, or herbs to customize the flavor to your liking.