Get tips for the perfect make ahead baked meatballs so that you can enjoy them any time you want! Click through for the full recipe.)
I have never been a huge fan of meatballs. What is so appealing about a ball of meat?
We were having friends over for some Italian food and I wanted to cook an easy meat dish. What better than baked meatballs? This meatball recipe is super easy, after you get hands deep into the meat! I could spend most of my time on the other dishes while these baked up to perfection in my mini muffin pan.
Cook Eat Delicious Rating: Like I said, super easy recipe. I used pork, chicken, and beef for a moist combination. Threw in some spinach for a visual effect, plus a little spinach never hurt anybody. These are delicious meatballs that go perfect with with Spaghetti Marinara or any other Italian sauce dish.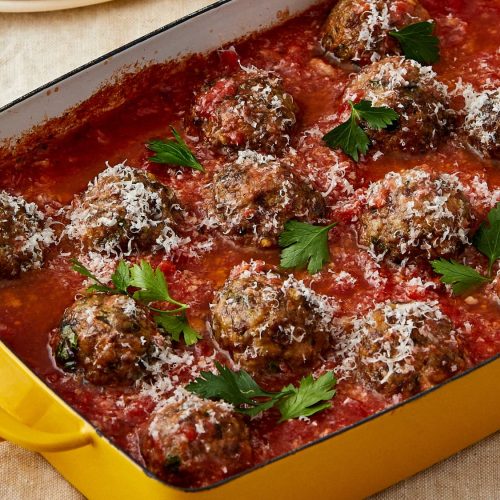 Baked Meatballs
Baked meatballs are a popular dish that can be enjoyed for any occasion. In this blog post, we're going to show you how to make ahead baked meatballs so that you can enjoy them any time you want. We'll explain how to preheat the oven and prepare the baking dish, mix the meatball ingredients together, shape the balls, and bake them until they're perfect. Finally, we'll give you tips for the perfect meatballs so that you can make them every time. Thanks for reading!
Ingredients
1

lb

ground Pork

1

lb

ground Chicken

1

lb

ground Beef

12

oz

frozen spinach

thawed and drained

1

cup

grated Parmesan

2

Eggs

4

tsp

Basil

4

tsp

Parsley

4

tsp

Garlic Powder

2

tsp

Salt

2

tsp

Red Pepper Flakes

1½

cup

Bread Crumbs
Instructions
Preheat oven to 400 degrees F.

Combine pork, chicken, and beef in a large bowl.

Get your hands dirty and mix in spinach, parmesan, eggs, basil, parsley, garlic powder, salt, red pepper flakes, and 1 cup of the bread crumbs.

Combine well.
If you want larger meatballs, shape into large enough balls to fit into a regular size muffin pan. Choose to bread or not. I did half and half for my meatballs.
Place the remaining ½ cup of breadcrumbs into a small bowl.

Shape 2 tbsp of meat into a round ball and roll in the breadcrumbs.

Place each meatball into a mini muffin tin slot.

Bake the tray for 20 minutes.

Serve hot.
Notes
There you have it! A simple, step-by-step guide to making perfect meatballs every time. Be sure to preheat your oven and prepare your baking dish before getting started. Mix all of the ingredients together in a bowl, shape into balls, and bake. Remove from the oven and enjoy! For extra tips on making perfect meatballs, check out the blog post linked below.
Nutrition
Serving:
1
serving
Calories:
90
kcal
Carbohydrates:
3
g
Protein:
6
g
Fat:
6
g
Saturated Fat:
2
g
Polyunsaturated Fat:
1
g
Monounsaturated Fat:
2
g
Trans Fat:
0.1
g
Cholesterol:
30
mg
Sodium:
185
mg
Potassium:
144
mg
Fiber:
0.4
g
Sugar:
0.3
g
Vitamin A:
885
IU
Vitamin C:
0.5
mg
Calcium:
39
mg
Iron:
1
mg
Tips For The Perfect Meatballs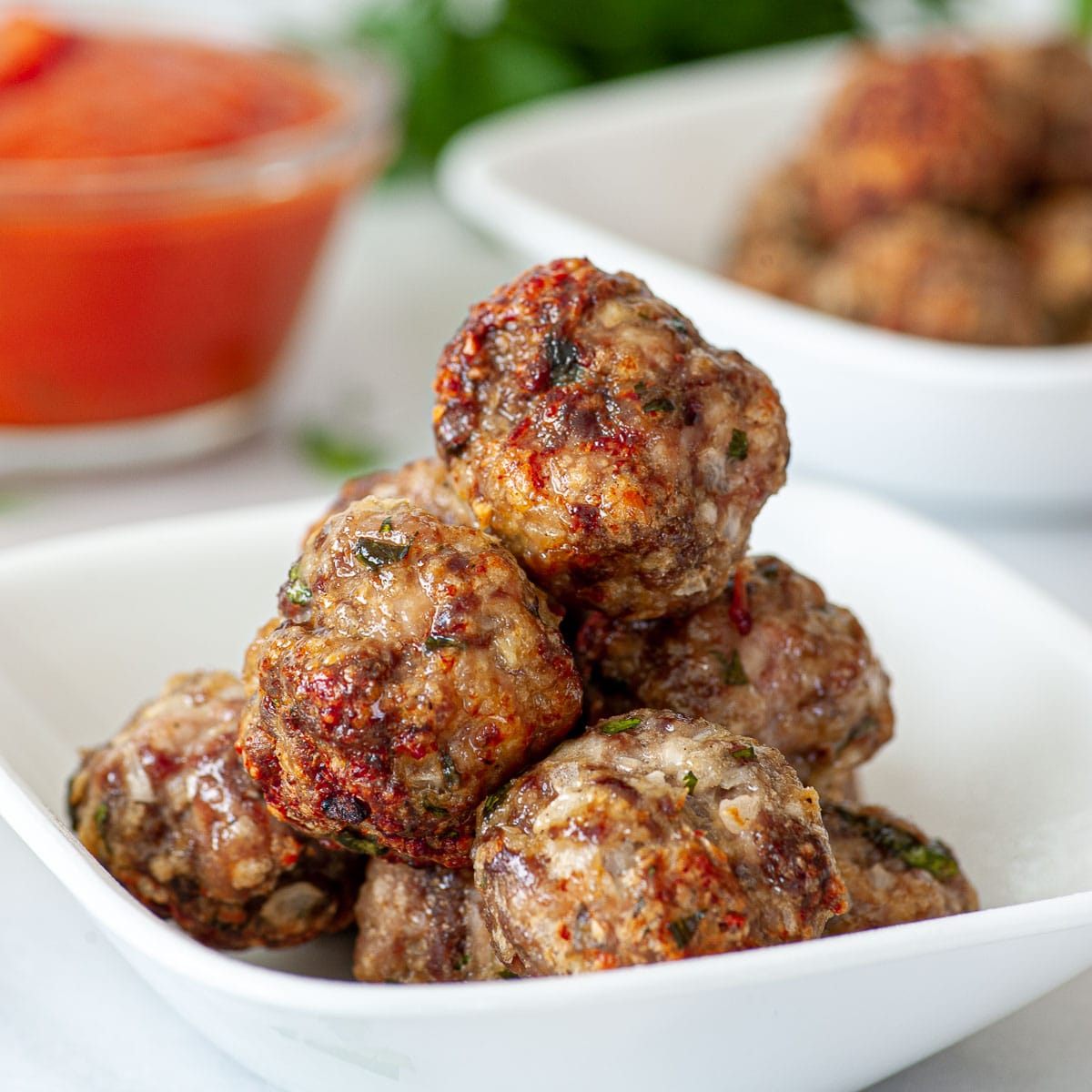 Making meatballs can be a daunting task, but with our tips and tricks, it's easy breezy. Below, we will outline the steps you need to take in order to make the perfect meatballs.
First and foremost, use a 80/20 ground beef when making your meatballs. This will ensure that they are both flavorful and tender. Do not overcook them either – they should be cooked through but still hold their shape.
Another important step is to use a meat thermometer when cooking the meatballs. This will ensure that they are cooked to perfection without becoming dry or tough.
Finally, do not forget the egg! Without it, your meatballs will not be as fluffy and delicious as they could be. Combined with the other ingredients, the egg gives the balls a creamy texture that cannot be beat.
To make sure that your meatball recipe is perfect every time, follow our other tips for making great meatballs: use a light hand when breading them; do not overcrowd the baking sheet; and finally, use your hands to gently toss them in breadcrumbs before baking them!
We hope that our tips help you produce perfect Meatball Heaven every time!
FAQs about the Baked Meatballs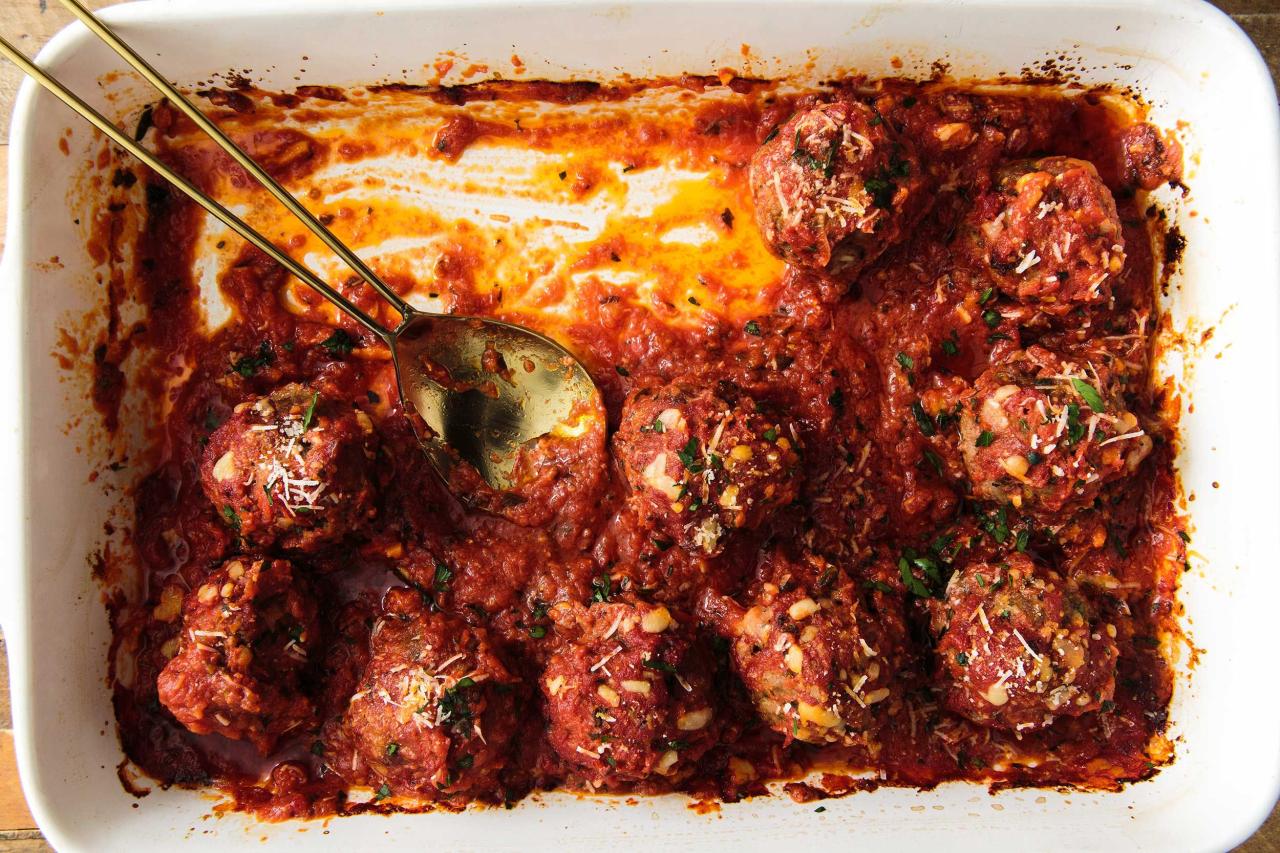 What are the Baked Meatballs?
The Baked Meatballs are a dish made with ground meat, typically beef or pork, that is formed into small meatballs and then baked. They are a popular dish in many cultures and can be served as part of a meal or as a snack.
How are they made?
The Baked Meatballs are made by mixing ground meat with bread crumbs, onion, garlic, and eggs. The mixture is then formed into small meatballs and baked in the oven.
What are some common variations?
There are many variations of the Baked Meatballs, but some common ones include adding cheese to the mixture, using different types of meat, or adding herbs and spices to the mixture.
What are some common ways to serve them?
The Baked Meatballs can be served alone or with a sauce, such as marinara or gravy. They can also be served on a bed of rice or pasta.