Whet your appetite for a restaurant-quality meal with our easy-to-follow guide on Miso Salmon Recipe
One of my favorite dishes at The Cheesecake Factory is the Miso Salmon. It is light, the fish is perfectly cooked, and you think you are eating something healthy from The Cheesecake Factory…think again! Nothing from that restaurant is very healthy but everything is delicious and really, isn't that all that matters?
Every time we are visiting home The Cheesecake Factory is a must on our restaurant list. I always try to order something different on their huge menu or get my usual (cobb salad with blue cheese) and something else to take home. Well, this one time I tried the Miso Salmon. Yum! The salmon just falls apart at the touch of your fork and melts in your mouth. The miso glaze is sweet and yet perfectly balanced with umami that you just want that glaze and a spoon. The salmon sits on top a bed of jasmine rice and garnished with a few snow peas. A great dinner with a few more veggies or a light lunch that is easy to pack up for work and heat at the office. This easy delicious recipe really duplicates the meal spot on, you will absolutely love it!
I used a ginger and garlic paste but if you use minced or chopped, just run the glaze through a food processor or blender once finished. Also, look for miso, soybean paste, in your grocer Asian aisle or at an Asian grocery store. I used 4 salmon fillets, about 6 ounces each and 1 inch thick.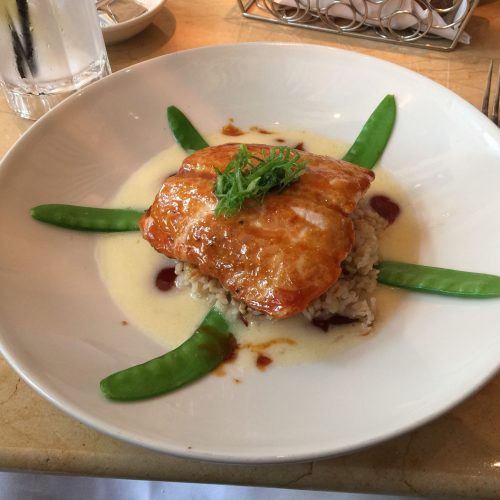 The Cheesecake Factory's Miso Salmon
Have you ever wanted to make a restaurant-quality dish at home? If so, you're in luck! In this blog post, we'll show you how to make The Cheesecake Factory's Miso Salmon.
Ingredients
½

cup

brown sugar

3

tbsp

soy sauce

¼

cup

hot water

3

tbsp

miso

soybean paste

4

salmon fillets

1

tbsp

butter

2

tbsp

ginger paste

1

tbsp

garlic past

½

cup

sake

1

tbsp

heavy cream

1

stick 1/2 cup

butter

, cut into 8 pieces

Squeeze of half of a lime

Steamed snow peas

broccoli, and carrot

Steamed Jasmine Rice
Instructions
Whisk together brown sugar, soy sauce, hot water, and miso paste in a bowl until combined.

Place salmon in a lightly oiled baking dish and cover with miso mixture.

Broil for 10 minutes, basting the fish with the sauce twice.

While fish is broiling, melt 1 tbsp of butter over medium heat and add in the ginger and garlic paste. Cook for 2 minutes.

Add Sake and bring to a boil for 3 minutes.

Add in heavy cream and return to boil for 2 minutes.

Add the heavy cream, bring to a boil, and reduce by half, about two minutes.

Constantly whisk in butter, piece by piece, and once all combined and sauce has thickened remove from heat.

Whisk in lime juice and salt if necessary.

Place sake glaze on rice and top with a salmon fillet.

Add steamed veggies to the side.
Notes
I hope this blog has been helpful in showing you how to make delicious, flavorful miso salmon. With these tips, ingredients, and step-by-step instructions, you can easily create this Japanese classic right at home. Not only is miso salmon incredibly tasty, but it is also a healthy dish that is packed with essential vitamins and minerals. So, why not give it a try? If you are looking for some creative serving ideas for your miso salmon dish, The Cheesecake Factory has some amazing options to choose from! Now, get out there and start cooking up your own delicious miso salmon!
Nutrition
Serving:
1
serving
Calories:
470
kcal
Carbohydrates:
34
g
Protein:
37
g
Fat:
16
g
Saturated Fat:
5
g
Polyunsaturated Fat:
5
g
Monounsaturated Fat:
5
g
Trans Fat:
0.1
g
Cholesterol:
106
mg
Sodium:
1341
mg
Potassium:
952
mg
Fiber:
1
g
Sugar:
28
g
Vitamin A:
228
IU
Vitamin C:
1
mg
Calcium:
65
mg
Iron:
2
mg
Tips For Making The Perfect Miso Salmon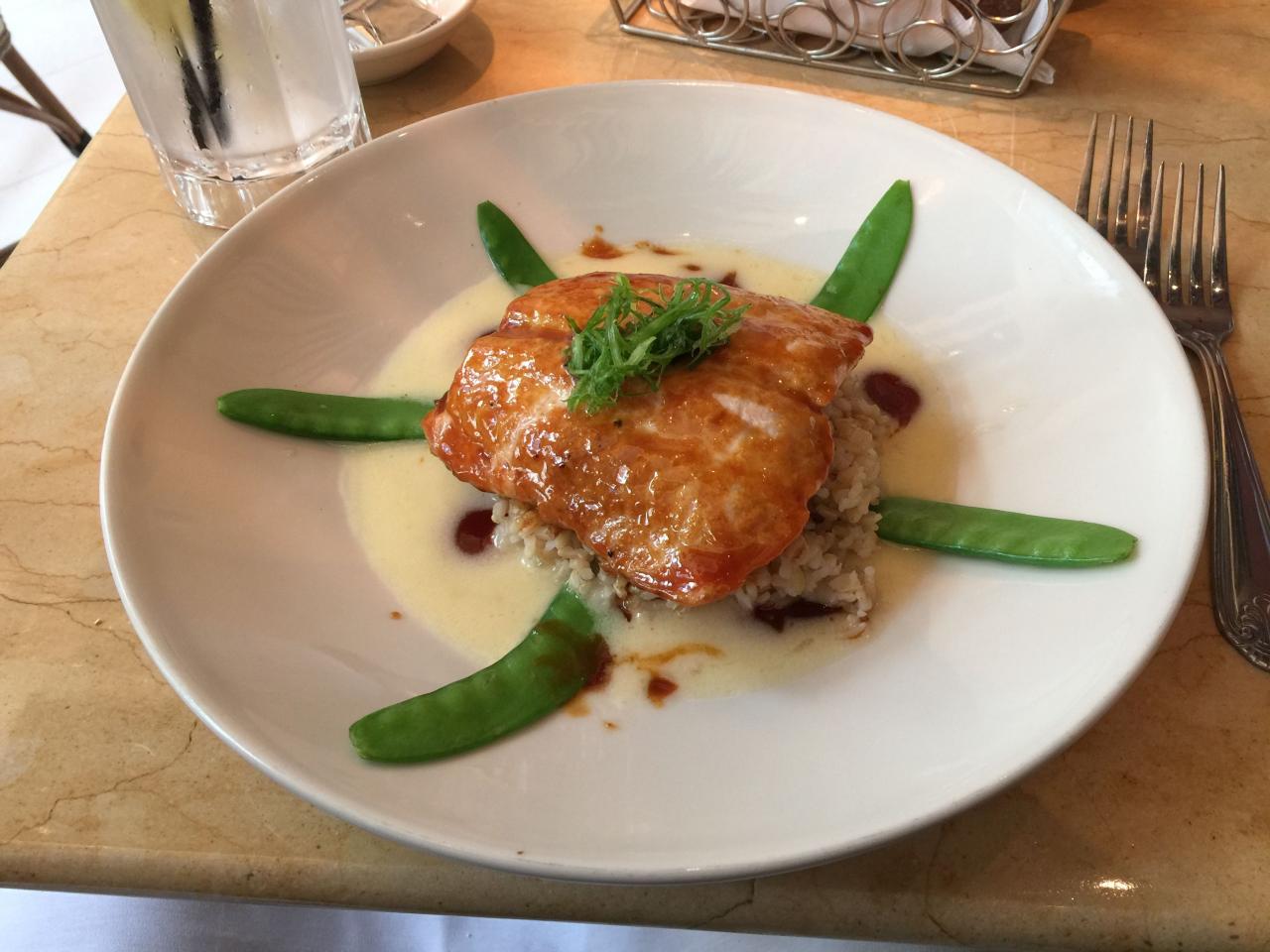 Making the perfect Miso Salmon is a skill that takes time and practice to perfect. Follow these tips, and you will be able to create a dish that everyone will love.
First and foremost, select the freshest salmon possible. This is important not only because it tastes better, but also because salmon can go bad quickly if it's not fresh. Combine the sauces together in a blender before using them in your salmon. This will help to make sure that all of the flavors are evenly mixed together.
Secondly, make sure that your oil is hot before adding the salmon to it. This will help to cook the fish evenly and prevent it from sticking to the pan. Finally, lay the salmon skin side down on top of the sauce and cook until its internal temperature reaches 145F. Allow the fish to rest before serving so that it's juicy and tender. Garnish with fresh fruits or vegetables if desired, and enjoy!
Frequently Asked Questions About Making Miso Salmon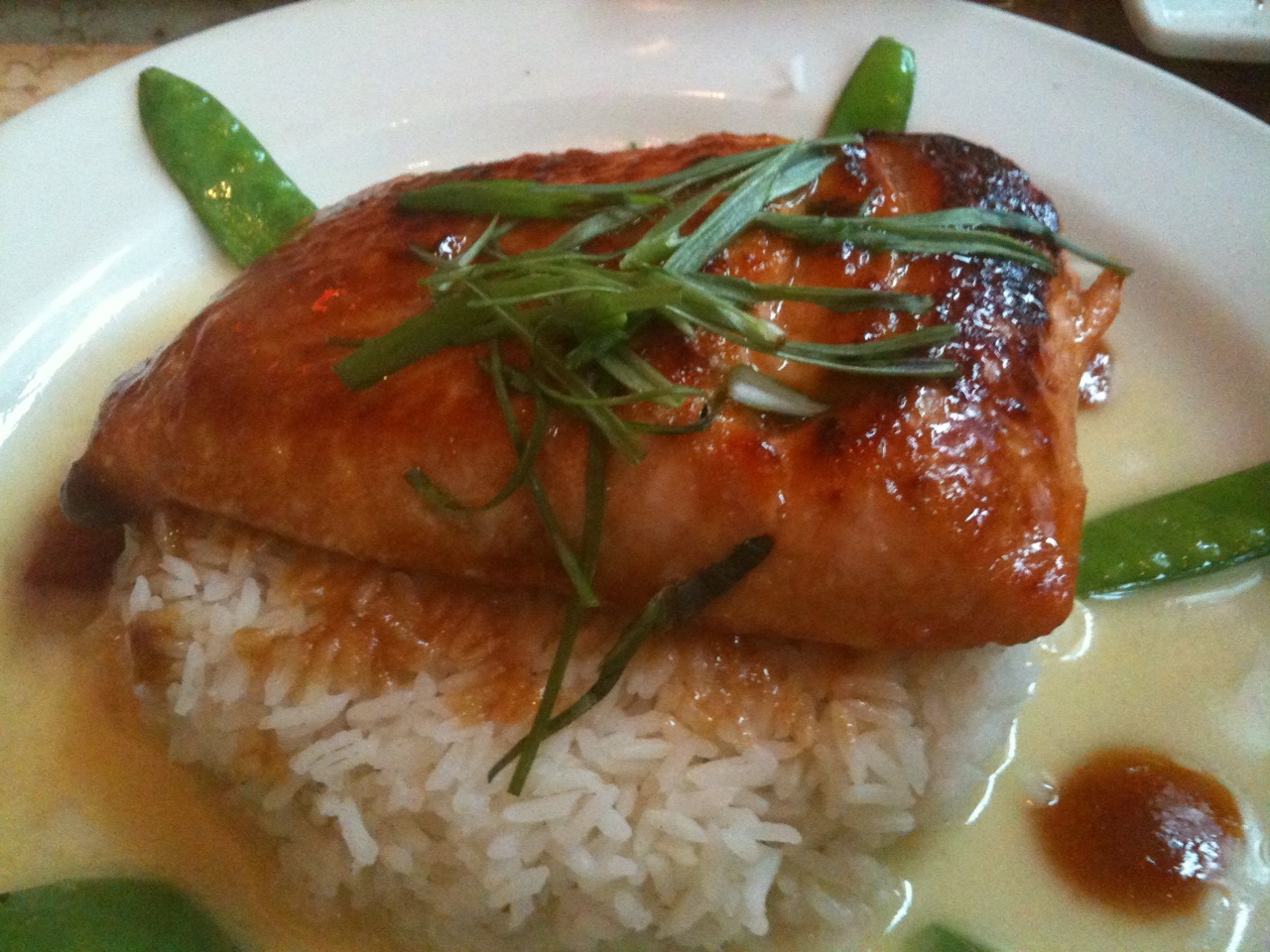 Making miso salmon can be a challenging task, but with the right instructions it can be a delicious and succulent meal. Today, we are going to answer some frequently asked questions about making this dish.
First, what type of miso should you use?
There are many varieties of miso on the market, so it is up to you to determine which one is the best for your salmon. Some popular choices include white miso, red miso, and shiro-miso.
Next, what type of fish is used for this recipe?
The most common fish used for miso salmon is sockeye salmon. However, other options include pink salmon or even tuna.
How to make ginger glaze ?
To make the ginger glaze for the salmon, you will need sugar, rice vinegar (or other vinegar), and grated gingerroot. First mix together all of the ingredients until they are well combined. Then brush the glaze over both sides of the salmon before cooking it in a preheated oven at 400 degrees Fahrenheit for 18-20 minutes or until cooked through.
You can try ginger salmon recipe here
Other tips
When it comes to preparing the vegetables for topping your Salmon Miso Bowls (or any other dish), there isn't one set way to do it. You can just as easily choose some fresh vegetables that you happen to have on hand or order them online from a reputable source like Thrive Market or Amazon Fresh. For example, we recommend using broccoli florets, snow peas, carrots, asparagus, baby bok choy, zucchini, sweet potatoes, and kale. Simply pick whichever vegetables you would like and chop them into small pieces before adding them to your bowl or plate along with cooked rice noodles. You can also add shredded ginger (if desired) and green onions (scallions). Finally, drizzle on some soy sauce before serving!
Serving Ideas For Miso Salmon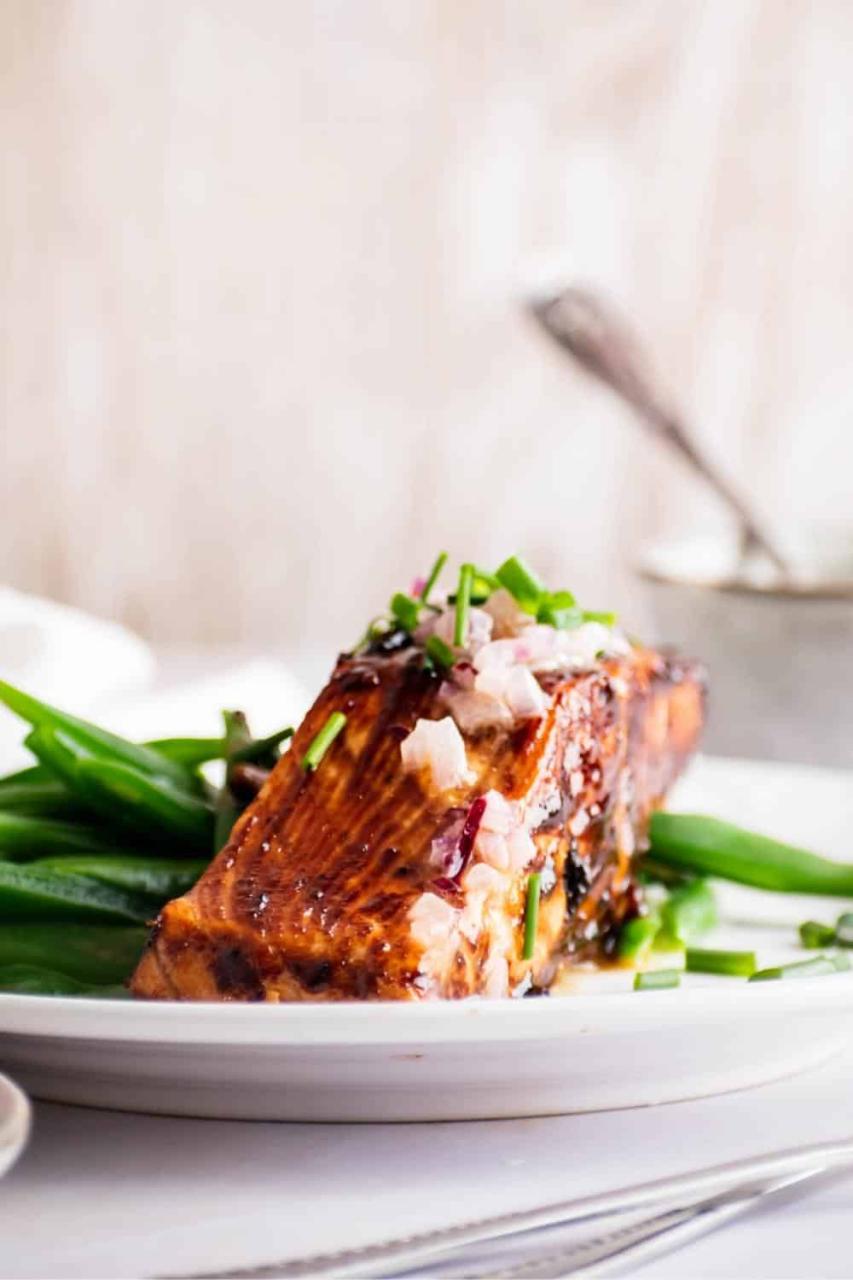 Miso salmon is a delicious and easy to prepare dish that is perfect for a weeknight meal. The salmon is marinated in a miso paste and then baked in the oven. The result is a moist and flaky salmon fillet that is packed with flavor.
There are a few different ways that you can serve miso salmon. One option is to serve it with steamed rice and vegetables. Another option is to serve it with a salad. You could also serve it with roasted vegetables or grilled vegetables.
Whichever way you choose to serve miso salmon, it is sure to be a hit with your family and friends.