Transform eggplant into a delicious and crowd-pleasing Layered Eggplant Parmesan dish with our easy-to-follow instructions – get ready to impress your family and friends!
Eggplant has never been one of my favorite vegetables…I mean fruits…but we will keep it as a vegetable for now. Maybe it was mental, I mean who really wants to eat a fat purple thing? I remember when I was around 22 years old we went out to this Thai restaurant with friends and did a family style thing. Spicy Eggplant was ordered and looked terrible when it arrived at the table. "Oh, you just have to try the eggplant, it is the best" they said. Well, I tried, I liked, I ate more. But I never had eggplant again for years after that and the next experience was horrible (another time we can delve into that). So when I wanted to cook up some Chicken Parmigiana but the chicken was looking suspicious at the store, I went for the eggplant. When I did my vegan stint I always read recipes about eggplant as a meat substitute. I thought, why not?
Cook Eat Delicious Rating: Why did I wait so long?! Somebody should have/could have told me that this fat purple thing can be utterly delicious when cooked just right! I went double on the cheese because anything is great with cheese but the eggplant really stood alone as delicious. I served the eggplant parmesan on spaghetti noodles but you can easily serve it alone with salad and bread. Or include the pasta and keep the salad and bread too. Part of the success of the meal really depends on the sauce you use. I used my easy classic marinara sauce recipe but if you don't have the time, you are more than welcome to use your favorite jarred red sauce. This easy recipe is definitely a keeper!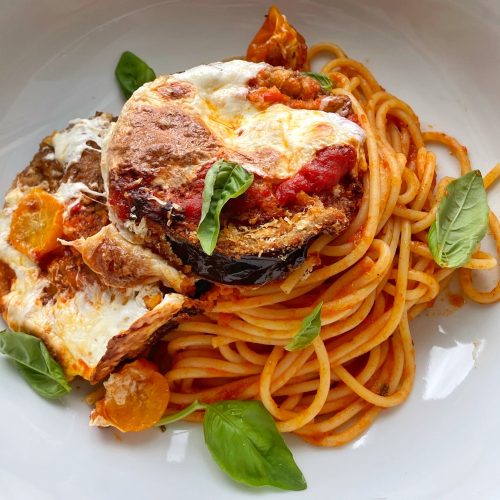 Layered Eggplant Parmesa
Are you looking for a delicious and crowd-pleasing dish to make for dinner? Then look no further than Layered Eggplant Parmesan! This classic Italian dish is made with layers of eggplant, cheese, and a homemade sauce. It's a great way to get your kids to eat their vegetables and is sure to satisfy even the pickiest eaters.
Ingredients
Marinara Sauce:
2

tbsp

Olive Oil

1

Onion

chopped

2

Carrots

chopped

3

Garlic cloves

crushed

1

tsp

Oregano

1

tsp

sugar

1

tsp

salt

1

tsp

black pepper

2

bay leaves

3

tsp

fresh chopped basil

12

oz

Tomato paste

28

oz

crushed Tomatoes
Eggplant:
2

eggplant

sliced and sweated

2

eggs

beaten

4

cup

bread crumbs

Italian seasoned

2

cup

shredded mozzarella cheese

1

cup

gratedd Parmesan cheese

1

tsp

dried basil
Instructions
Preheat oven to 350 degrees F.

Heat olive oil in a pan over medium heat.

Add in onion, carrot, garlic and cook for 6 minutes.

Add in seasonings and cook for an additional minute.

Stir in tomato paste and cook for an additional minute.

Add in crushed tomatoes, cover, and turn heat low to simmer for 20 minutes.

Dip eggplant slices in egg, then in bread crumbs.

Place on a baking sheet.

Bake for 5-7 minutes on each side.

Remove bay leaves from sauce and blend until smooth.

Place a layer of sauce on the bottom of a 9×13 baking dish.

Place a layer of eggplant slices in the sauce.

Top each layer with both cheeses and a dollop of sauce.

Place an eggplant slice on top and repeat.

Top last eggplant layer with more cheese and dried basil.

Bake for 35 minutes, or until golden brown.
Notes
Serve with Spaghetti noodles.
Making a delicious layered eggplant parmesan is an easy and flavorful way to enjoy this classic Italian dish. By following the simple steps outlined in this blog, you can create a restaurant-quality meal in no time! With the perfect balance of cheesy layers and creamy sauces, this dish is sure to be a hit with your family and friends. And with instructions for storing and reheating leftovers, it's easy to make ahead of time or have another tasty meal later on. Now that you know how to make layered eggplant parmesan, why not give it a try today?
Nutrition
Serving:
4
servings
Calories:
1110
kcal
Carbohydrates:
155
g
Protein:
54
g
Fat:
36
g
Saturated Fat:
15
g
Polyunsaturated Fat:
5
g
Monounsaturated Fat:
13
g
Trans Fat:
0.01
g
Cholesterol:
143
mg
Sodium:
4422
mg
Potassium:
3874
mg
Fiber:
25
g
Sugar:
54
g
Vitamin A:
10185
IU
Vitamin C:
72
mg
Calcium:
949
mg
Iron:
16
mg
Storing And Reheating Instructions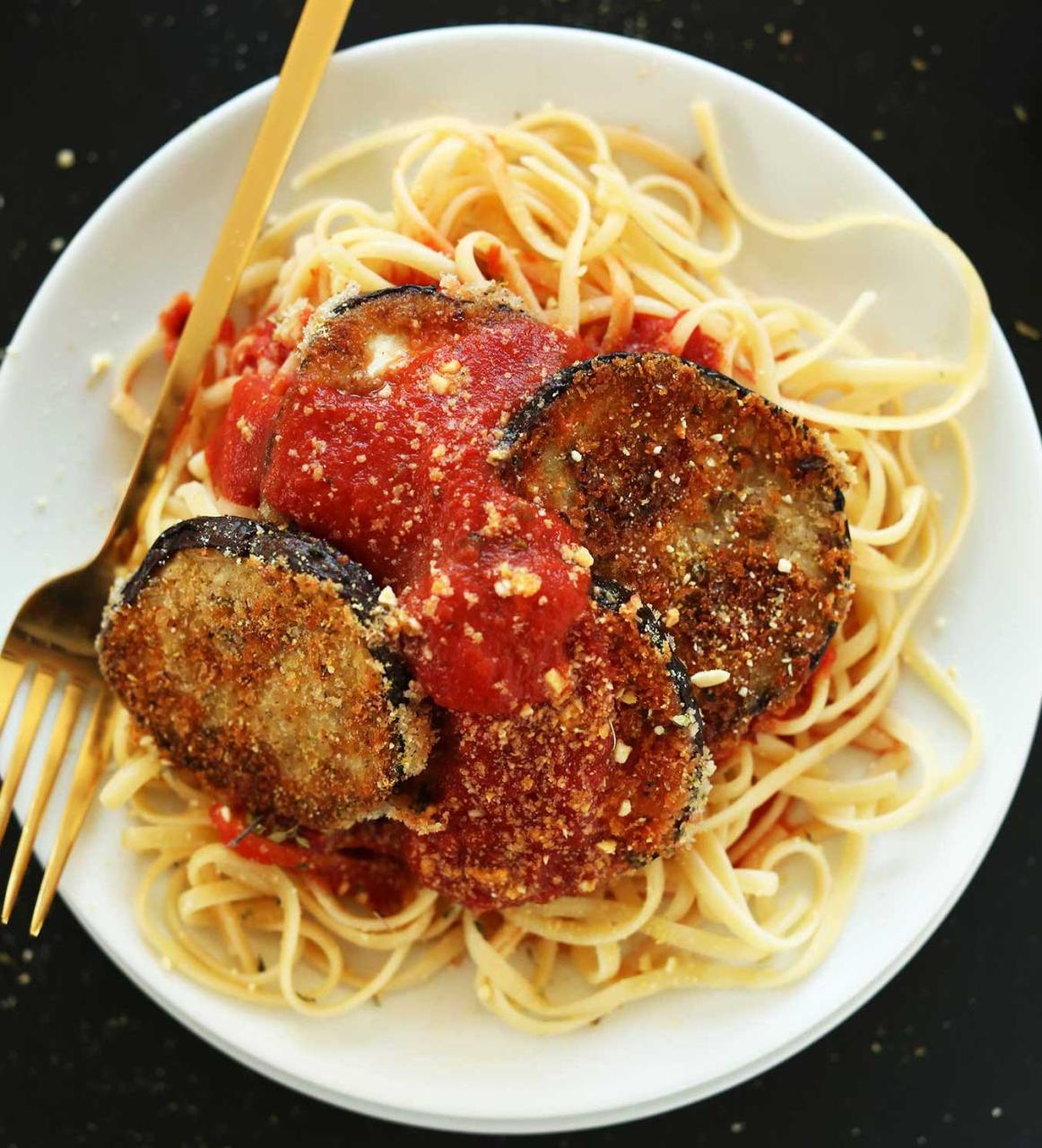 A layered eggplant parmesa is a delicious and hearty dish that can be enjoyed as a main course or as a side dish. It takes some time to prepare, but the end result is well worth it. Below, we will outline the steps that you need to take in order to prepare this meal with ease.
First, gather all of your ingredients. You will need: eggplant, cheese, tomato sauce, and Parmesan cheese. To make the layers of eggplant parmesa, first slice the eggplant into thin slices lengthwise. Then layer the slices in between sheets of wax paper or parchment paper so that they are covered completely. This will help them to stay intact during cooking.
Next, heat a large skillet over medium-high heat and add about two tablespoons of tomato sauce to it. Once the sauce has heated up, add about one-third of the sliced eggplant to the skillet and cook for about five minutes per side until tender and browned. Then remove from heat and repeat with remaining ingredients.
Once all of the eggplants have been cooked and layered, it's time to assemble your dish! First, spread a layer of cheese over each layer of eggplant parmesa before topping with another layer of tomato sauce and Parmesan cheese. Finally, place back in the oven for about 20 minutes until cheese is melted and bubbly throughout. Serve warm or at room temperature!
If you find yourself wanting to enjoy your layered eggplant parmesan again later on (or even right away!), reheat it according to the instructions below: Preheat the oven to 350 degrees Fahrenheit; cover an ungreased baking dish with aluminum foil; spread half of each ingredient over the top; bake for 15-20 minutes until heated through.
Tips For Serving Perfect Layered Eggplant Parmesa Every Time!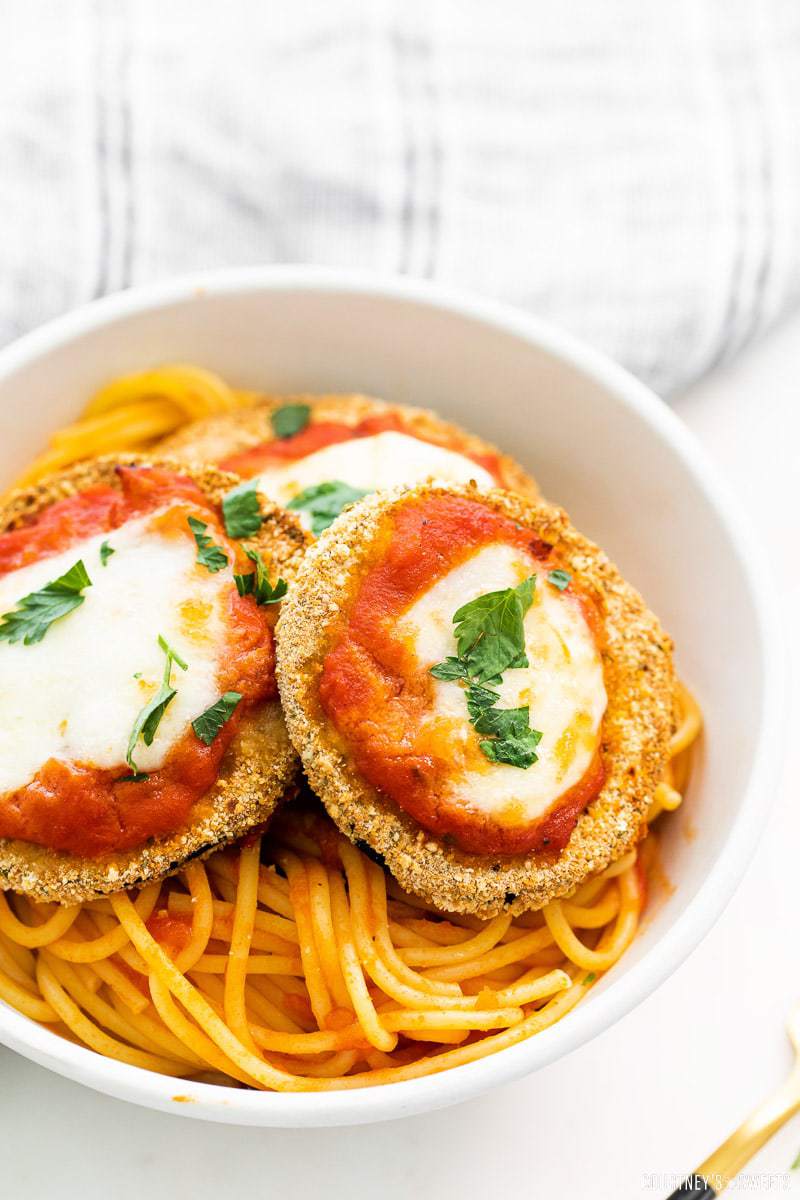 It's That Time Of Year – The Holidays Are Near And Eggplant Parmesan Is One Of The Favorite Dishes To Prepare. Whether You're Cooking For A Large Group Or Just Want To Enjoy A Delicious, Simple Meal On Your Own, Following These Simple Steps Will Help You Create A Gorgeous Layered Eggplant Parmesan Every Time.
First, Preheat Your Oven To 350 Degrees Fahrenheit And Line A Baking Sheet With Parchment Paper. Cut The Eggplant Into Thin Slices And Then Brush Them With Olive Oil Before Baking For About 15 Minutes, Or Until They're Soft And Lightly Browned.
Next, Make The Sauce By Combining Ricotta Cheese, Parmesan Cheese, Garlic Powder, Salt, And Black Pepper In A Medium Bowl. Mix Well Until Everything Is Fully Combined.
Once The Eggplant Slices Have Finished Baking, Remove Them From The Oven And Let Them Cool Slightly Before Assembling Your Dish. First Layer Half Of The Sliced Eggplants On Top Of Each Other On The Prepared Baking Sheet. Spread Half Of The Sauce Over The Top Of Each Layer Of Eggplant (Reserve Any Leftover Sauce For Later). Next, Add Another Layer Of Eggplants Followed By Another Layer Of Sauce. Top It All Off With Cheese And Herbs (If Desired) Before Baking For About 20 Minutes Or Until Everything Is Hot And Bubbly. Serve Immediately! Enjoy Your Beautifully Layered Eggplant Parmesa Every Time!