Sometimes people get all weirded out when they hear or see that pork chops are paired with apples. What's the problem?! I mean these two are meant to be with each other. The tart sweetness of the apple on top of the juicy seasoned pork chop…I don't know about you but I love it! I paired these pork chops and apples with some Spicy Thyme & Rosemary Bread and Hasselback Potatoes. It was the perfect meal on a cool night to have the oven on!
Cook Eat Delicious Rating: The steam from the apples cook the pork chops to create a juicy piece of white meat. Oh, I am salivating as I type this now. I love how food can create emotions and more hunger when you're not near hungry! This is an easy recipe that can be placed in the oven and forgotten about while it bakes. Use with smaller thicker chops if you would like and just bake for some more time. Let me know in the comments if you like your pork chops with apples!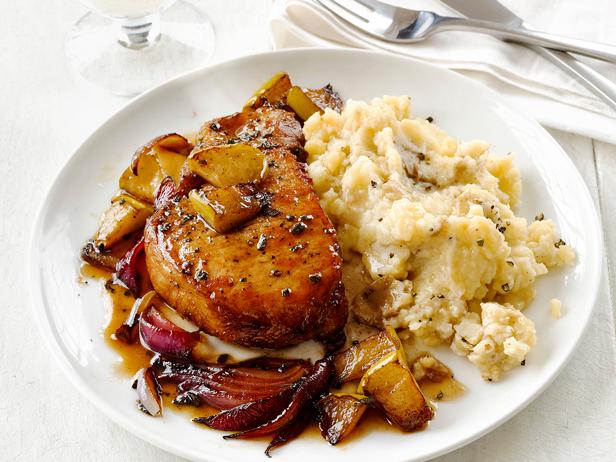 Baked Pork Chops and Apples
If you're looking for an easy and delicious meal that only requires one pan and a few ingredients, then you're in luck! This baked pork chops and apples dish is the perfect meal to whip up on a weeknight when time is limited and you don't want to fuss around with too many ingredients.
Ingredients
2

medium Green Apples

peeled & sliced

½

cup

Brown Sugar

1

tsp

Cinnamon

3

bone-in Pork Chops

about ½ inch thick

Salt & Pepper
Instructions
Preheat oven to 350°F.

Mix apple slices with brown sugar and cinnamon.

Place on the bottom of a 9×13 dish.

Sprinkle salt and pepper on both sides of the chops.

Top apples with pork chops and cover with foil.

Bake for 40 minutes, taking off the foil in the last 7 minutes for extra browning on the chops.

Serve with apples on top of the pork chops.
Notes
Cooking pork chops and apples is a delicious and simple way to enjoy this classic combination. With just a few ingredients, you can make a flavorful dish. By following the tips and tricks outlined in this blog post, you can easily create the perfect pork chops and apples to satisfy your cravings. Don't forget to experiment with different variations of the recipe too! If anything goes wrong during the cooking process, these troubleshooting tips should help you figure out what went wrong. Now that you know all about cooking pork chops and apples, why not try it out for yourself?
Nutrition
Serving:
1
serving
Calories:
491
kcal
Carbohydrates:
53
g
Protein:
50
g
Fat:
9
g
Saturated Fat:
3
g
Polyunsaturated Fat:
1
g
Monounsaturated Fat:
3
g
Trans Fat:
0.1
g
Cholesterol:
156
mg
Sodium:
143
mg
Potassium:
1000
mg
Fiber:
3
g
Sugar:
48
g
Vitamin A:
67
IU
Vitamin C:
6
mg
Calcium:
85
mg
Iron:
2
mg
Tips And Tricks For Cooking This Recipe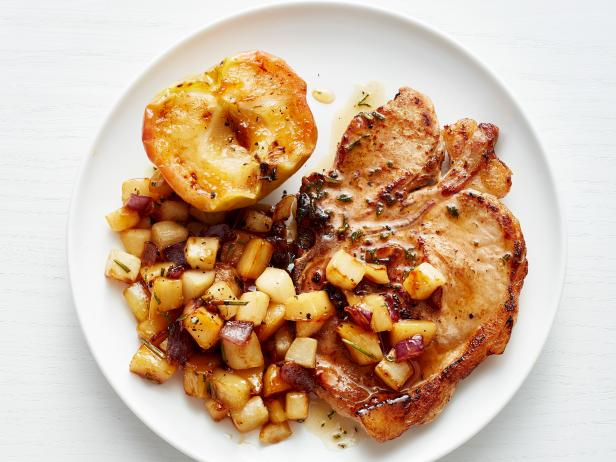 Are you looking for a delicious and easy meal that will leave you with nothing but compliments? Look no further than our recipe for A One-Pan Meal-Baked Pork Chops and Apples. This dish is perfect for any time of the day, and it can be enjoyed by everyone in the family.
When preparing this dish, it is important to pay attention to the details. For example, make sure that your pork chops are seasoned correctly and grilled to perfection. Additionally, be sure to select ingredients that will give the dish flavor and appeal. We recommend blending spices and herbs together before adding them to a pan of hot oil, which will create a fragrant and flavorful outcome.
Once everything is prepped and cooked, it's time to assemble your masterpiece. We recommend mixing tofu, apples and cabbage together before placing them into an oven-safe dish. Be sure to bake this dish for 30 minutes or until the pork chops are cooked through (which should take about 20 minutes). Finally, enjoy your delicious meal with some garnish (if desired) on top!
Variations To Try Out With This Dish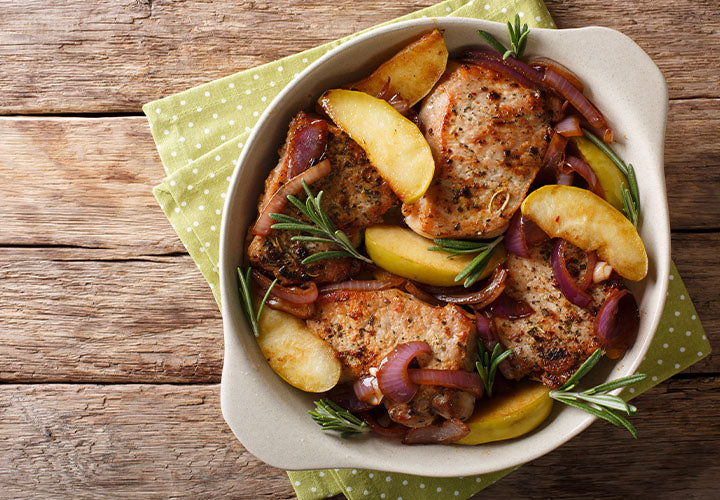 When it comes to dinner, there's nothing like a good one-pan meal. Whether you're looking for something simple and easy or you want to try out a new dish, one-pan meals are a great option. This dish – pork chops and apples – is a delicious and easy way to enjoy a variety of flavors. Below, we'll outline some of the different ways that you can enjoy this dish.
To begin, mix together your favorite marinade or sauce in a bowl. This can be anything from honey garlic sauce to balsamic glaze. Once the marinade is mixed together, add your pork chops and let them soak for about 30 minutes. After 30 minutes have passed, preheat your oven to 350 degrees Fahrenheit and bake the pork chops for about 20-25 minutes until they are cooked through.
Next, it's time to prepare your vegetables. You can choose any type of vegetable that you'd like – carrots, onions, celery – anything! Simply slice them into thin pieces and add them to the baking dish alongside the pork chops. For added flavor and nutritional benefits, mix in some fresh fruits such as pineapple or cranberries before finishing off with some spices such as smoked paprika or chipotle powder.
Once everything is ready to go, it's time to serve! Be sure to enjoy your delicious one-pan meal with friends or family members!
Serving Suggestions For Baked Pork Chops And Apples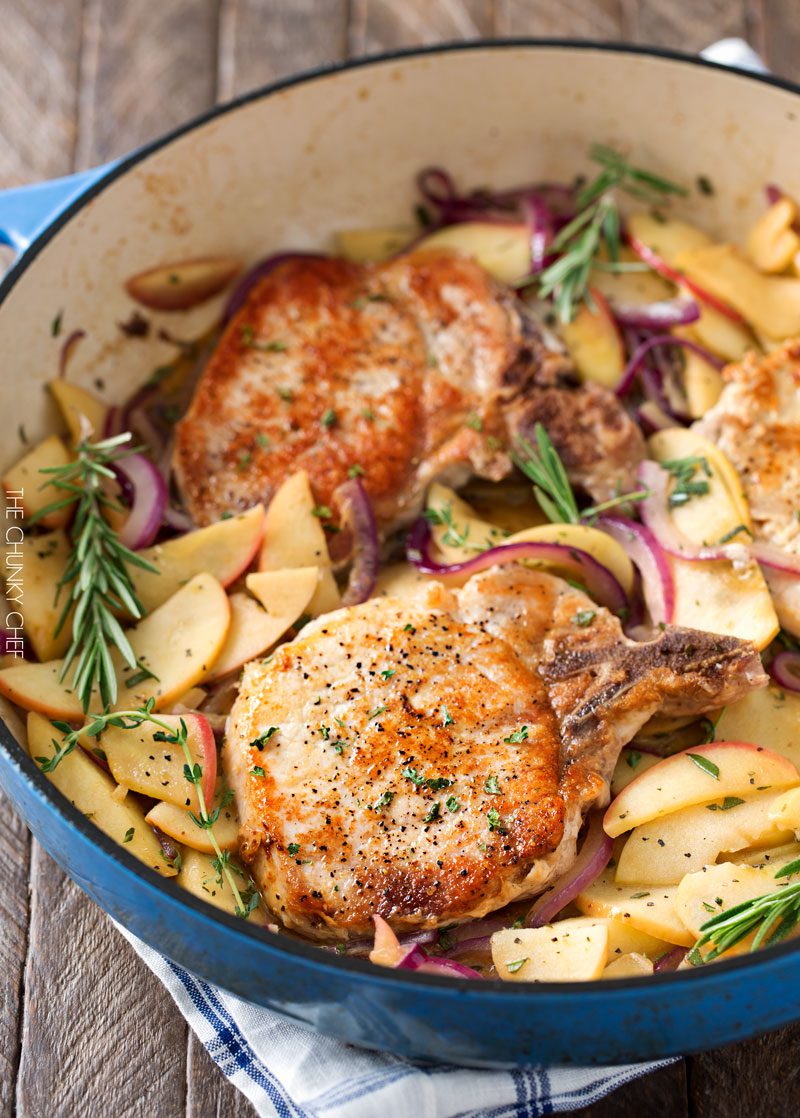 There's no need to spend hours in the kitchen trying to prepare a delicious meal – with a little preparation, you can have a delicious and nutritious one-pan meal that will be sure to please. Below, we'll outline the steps that you need to take in order to make this dish perfect.
First, start by heating your oven to 400 degrees Fahrenheit. Then, lay out your pork chops on a baking sheet and season them with salt and pepper. Next, drizzle apple cider vinegar over the top of the chops, making sure that they are covered completely. Bake for about 15 minutes, or until the pork chops are cooked through (the internal temperature should be at least 145 degrees Fahrenheit).
Once the pork chops have cooked, it's time for some sides! We recommend serving them with mashed potatoes or steamed broccoli spears. For a more decorative presentation, we recommend serving them with roasted Brussels sprouts or dried cranberries. Finally, if you're looking for something special to serve with your meal – like dessert – try out our recipes for chocolatey apple pudding or apple tartlets!
FAQs about the Baked Pork Chops and Apples recipe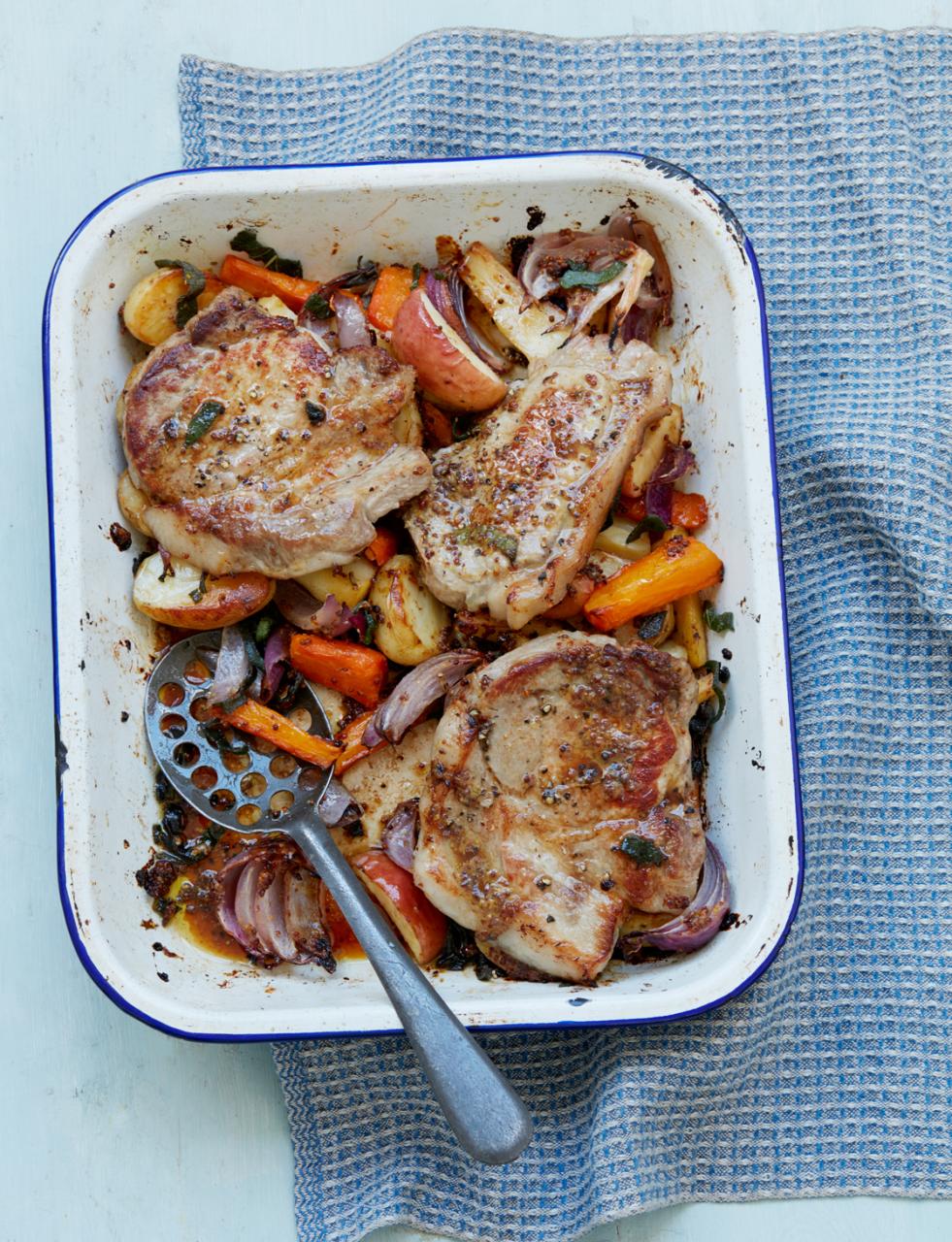 This recipe is for baked pork chops and apples. It is a simple, yet delicious and hearty dish. Perfect for a winter evening!
Q: What type of pork chops should I use for this recipe?
A: Boneless pork chops work best for this recipe. However, you can also use bone-in pork chops. Just make sure to adjust the cook time accordingly.
Q: Can I use a different type of apple for this recipe?
A: Yes, you can use any type of apple you like. However, we recommend using a firmer apple such as Granny Smith, Honeycrisp, or Braeburn.
Q: What kind of seasoning should I use on the pork chops?
A: We recommend using a simple seasoning of salt and pepper. However, you can also use your favorite pork chop seasoning.
Q: How long should I bake the pork chops for?
A: Boneless pork chops should be baked for 20-25 minutes. Bone-in pork chops should be baked for 30-35 minutes.
Q: What temperature should the pork chops be cooked to?
A: The pork chops should be cooked to an internal temperature of 145 degrees Fahrenheit.