Zero Carbs, Zero Calories, Zero Fat…sounds a little iffy right? Well, I am not talking about this easy recipe (although it is super healthy and full of great stuff), I am talking about the Konjac Shirataki noodles in the soup. Naturally I was skeptical when Gita over at Konjac Foods sent me some samples of their products.
The noodles boast the whole "Zero" thing and are said to be pretty good. I found that they will only really work in an Asian recipe. They didn't just go well with Marinara or Alfredo sauce. They also smell funny when you open the package. Just rinse them a few times before using! Once rinsed they are ready to go and be eaten. The perfect recipe for the Konjac noodles is this Spicy Korean Noodle Soup.
Cook Eat Delicious Rating:  This soup is chock full of all kinds of yummy goodness. You have spicy that you can control to your palate level. Assorted veggies for color and healthiness. Lentils for depth of flavor and protein.  And Konja Shirataki noodles for the extra slurp down! I love this soup and the heat and Asian flavor it gives off. Try it and let me know what you think!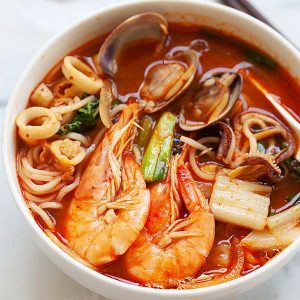 Spicy Korean Noodle Soup
This Korean noodle soup is the perfect balance of spice and flavor. The noodles are cooked to perfection, and the soup is packed with veggies and a variety of meats. The soup is also a great way to get your daily dose of Korean culture.
Ingredients
1

cup

cabbage

chopped

1

cup

celery

chopped

1

cup

broccoli

chopped

1

cup

carrots

julienned

1

tsp

sesame oil

2

tsp

garlic

minced

2

Tbsp

chili pepper flakes

4

cups

water

2

tbsp

soy sauce

2

tbsp

chili pepper paste

1½

cup

lentils

already soaked

Konjac Shirataki Noodles

rinsed well
Instructions
In a large pot heat sesame oil, minced garlic, and pepper flakes over medium heat.

Add in cabbage, celery, broccoli, and carrots and cook over low-medium heat for 7 minutes or until slightly softened.

Add in water, soy sauce, and chili pepper paste.

Stir in lentils and Konjac Shirataki noodles.

Combine all well and alter seasonings to taste.

Let simmer for 15-20 minutes.

Serve hot.
Nutrition
Serving:
1
bowl
Calories:
311
kcal
Carbohydrates:
53
g
Protein:
21
g
Fat:
3
g
Saturated Fat:
0.4
g
Polyunsaturated Fat:
1
g
Monounsaturated Fat:
1
g
Sodium:
638
mg
Potassium:
1060
mg
Fiber:
26
g
Sugar:
5
g
Vitamin A:
6832
IU
Vitamin C:
33
mg
Calcium:
103
mg
Iron:
7
mg
Tips for making Spicy Korean Noodle Soup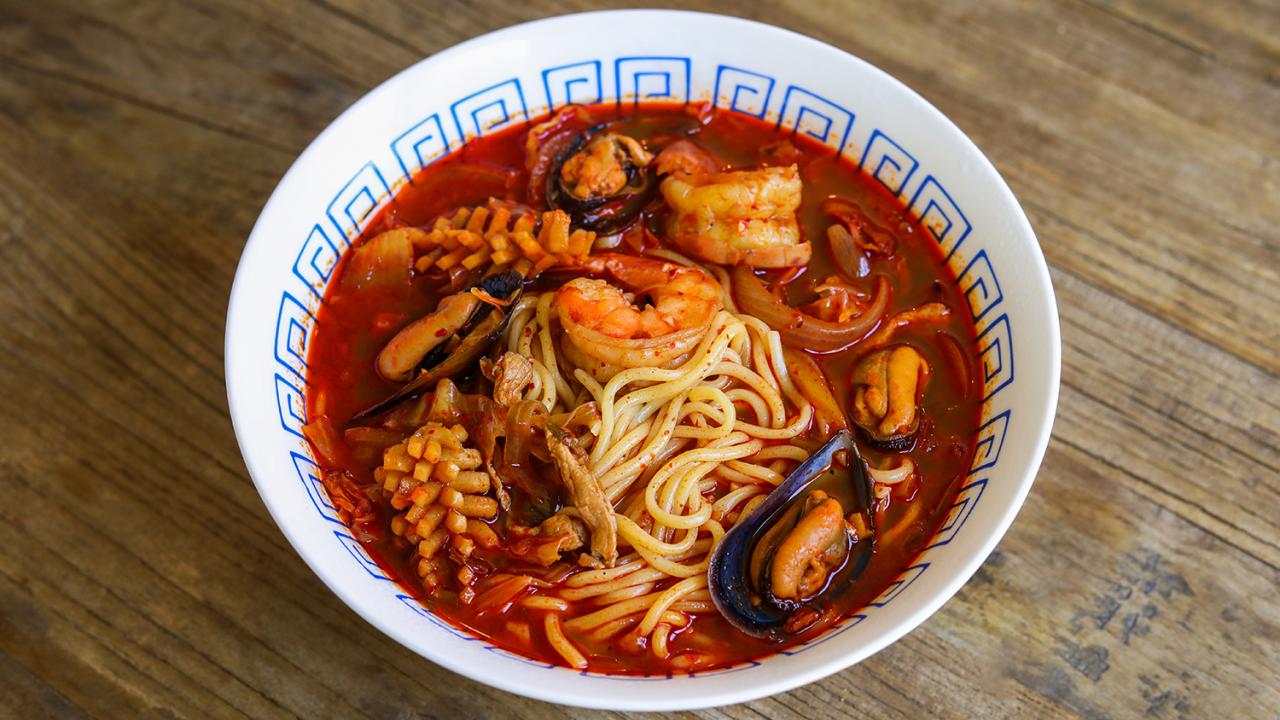 If you're looking for a delicious and hearty soup that will warm you up on a cold day, look no further than Korean noodle soup! This soup is packed with flavor, and the addition of spice gives it an extra kick that will leave you feeling satisfied. Here are some tips for making the perfect bowl of spicy Korean noodle soup:
1. Use a good quality beef or chicken stock as your base. This will give the soup a rich flavor that will stand up to the spices.
2. Add plenty of fresh ginger and garlic to the soup. These two ingredients are key in giving the soup its signature flavor.
3. Use a Korean chili powder or flakes to add spice. Go easy at first, you can always add more if you want more heat.
4. Use fresh noodles for the best results. You can find Korean noodles at most Asian markets.
5. Garnish the soup with green onions, cilantro, and sesame seeds. This will add a nice flavor and texture to the soup.
FAQs about Spicy Korean Noodle Soup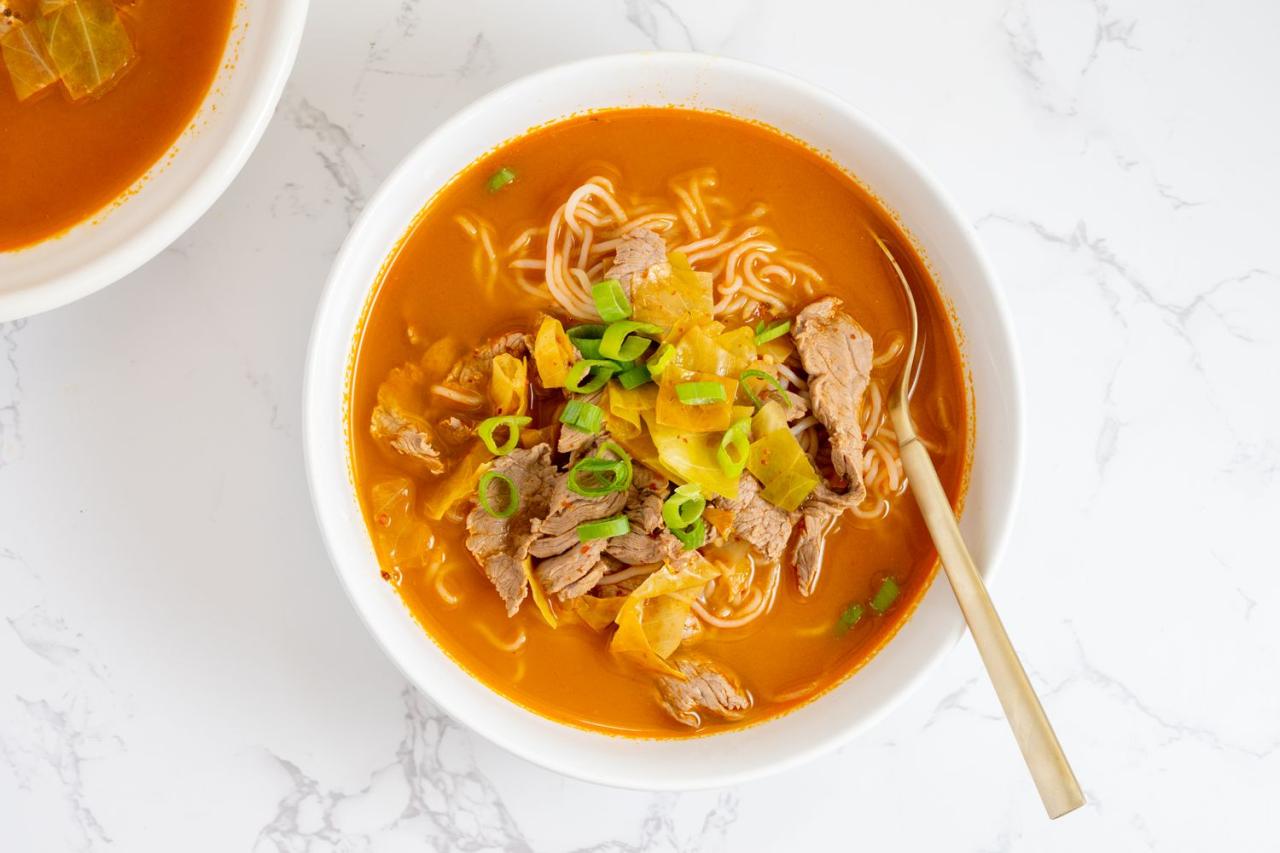 1. What is Spicy Korean Noodle Soup?
Spicy Korean Noodle Soup is a popular dish in Korea that is made with noodles, vegetables, and meat in a spicy broth. It is often served with a side of rice and is a popular choice for both lunch and dinner.
2. How is it made?
The soup is made by simmering noodles, vegetables, and meat in a spicy broth. The broth is typically made with gochujang, a Korean chili paste, and is often spicy and flavorful.
3. What are some of the common ingredients?
Some of the common ingredients in Spicy Korean Noodle Soup include noodles, vegetables, meat, gochujang, and rice.
4. Can I make it at home?
Yes, you can easily make Spicy Korean Noodle Soup at home. Simply simmer noodles, vegetables, and meat in a spicy broth made with gochujang. Serve with a side of rice and enjoy!