Who doesn't love a warm bowl of thick chunky clam chowder? Growing up in coastal towns really made me fall in love with clam chowder. The thick tender potatoes in a creamy clam soup base….yum! My DH loves clam chowder so I always try to cook up a nice pot on a windy day since we don't get many cold days here in Costa Rica!
Cook Eat Delicious Rating: This easy recipe gets all the stars in my book. It is thick and chunky. The clams are abundant and the chowder base is creamy and not thin at all. I add bacon to just have bacon! And since when was bacon and seafood and potatoes a bad combination? This is by far my favorite and the best clam chowder recipe I have ever cooked up. Let me know what you think of it!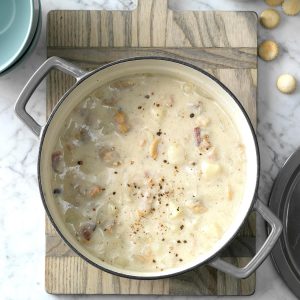 Chunky Clam Chowder
Are you looking to make the perfect chunky clam chowder? If so, you've come to the right place! In this blog post, we'll be providing you with a comprehensive guide to cooking the perfect chunky clam chowder. From what ingredients you need for the perfect chowder to how to cook it from scratch, this guide will provide you with the tools and tips you need to make the perfect chowder. So, let's get started!
Ingredients
1

pack

Bacon

4

medium can

clams

whole or minced

1

onion

minced

1

cup

celery

minced

3

large

potatoes

diced

2-3

carrots

diced

2

sticks

butter

1

cup

flour

2

cups

whole milk

2

cups

heavy whipping cream

4

tbsp

red wine vinegar

Salt & Pepper to taste
Instructions
Fry bacon and let drain on paper towels, crumble.

Cook onion, celery, potatoes, and carrots in bacon grease for 5 minutes.

Add clam juice to pan and some water to cover vegetables and cook vegetables for another 5-10 minutes or until tender.

In a large heavy pot, melt butter over medium heat.

Whisk in flour until smooth.

Whisk in milk and cream, whisking constantly for 7 minutes until thick and smooth.

Stir in vegetables and clam juice.

Add bacon.

Stir in clams just before serving.

Stir in red wine vinegar and season with salt and pepper.
Notes
Serve with sourdough bread.
Making A Perfectly Chunky Clam Chowder Is No Easy Feat, But With The Right Ingredients, Cooking Techniques, And Garnishes, You Can Create A Delectable Dish That Will Have Your Dinner Guests Begging For Seconds. Start By Selecting The Best Quality Clams, Then Learn To Cook It From Scratch Using Herbs And Spices To Enhance The Flavor. Finally, Top It Off With Garnishes Like Bacon Or Parsley For An Added Touch Of Sophistication. With These Tips In Mind, You Can Be Sure To Create A Delicious And Well-Rounded Clam Chowder That Will Impress Even The Most Seasoned Foodie! Now, Grab Your Ingredients And Get Cooking!
Nutrition
Serving:
1
serving
Calories:
497
kcal
Carbohydrates:
35
g
Protein:
7
g
Fat:
37
g
Saturated Fat:
24
g
Polyunsaturated Fat:
2
g
Monounsaturated Fat:
9
g
Trans Fat:
1
g
Cholesterol:
108
mg
Sodium:
201
mg
Potassium:
687
mg
Fiber:
3
g
Sugar:
6
g
Vitamin A:
3431
IU
Vitamin C:
24
mg
Calcium:
123
mg
Iron:
2
mg
Enhance The Taste With Herbs & Spices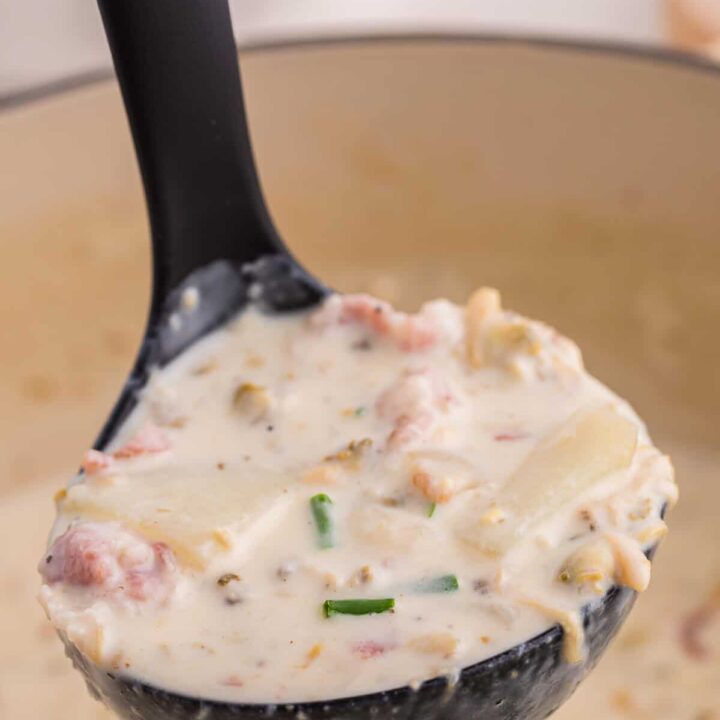 When it comes to clam chowder, there are few things that are as important as the quality of the clams. If you want a soup that is rich and flavorful, you need to use fresh clams that have been shucked correctly. Fortunately, there are many tips and techniques that you can use in order to achieve this goal. In this article, we will discuss the key elements of a classic clam chowder and give tips for selecting the freshest clams possible. We will also discuss how to add layers of flavor with herbs and spices, cook the soup properly so that it retains its texture and flavor, store it safely so that it remains edible, and customize it to your own taste preferences.
Classic clam chowder is all about balance. There are many different flavors present in this soup – from the savory broth to the fragrant herbs and spices. By understanding these flavors and adding them in a balanced way, you can create a dish that is truly unique. Below, we'll discuss each ingredient in detail and give tips for enhancing their flavor profile.
The Savory Broth: Clam choadsoup is all about depth of flavor – something that can be achieved with a savory broth made from fresh clams. To make your own savory broth at home, start by boiling water in a pot or saucepan until it begins to boil rapidly. Then add chopped onions, celery stalks, carrots or any other vegetables that you might prefer (such as potatoes or winter squash). Next add some salt (a teaspoon or two) and let everything simmer until the vegetables are tender – around 15 minutes should do the trick! Once everything is cooked through, strain out any debris using a fine mesh strainer before placing all of your clams into the pot or saucepan. Let everything cook until they open up (around 5-10 minutes), using tongs if necessary so they don't stick together once they open up. Once they're open up enough, carefully remove them with a slotted spoon or colander into another pot or bowl where you can discard any undigested shells (this step is optional but recommended). Now what's left is your savory clam broth!
Adding Layers of Flavor: When it comes to classic clam chowder recipes like Mama Mary's recipe below*, one of the most important steps is adding layers of flavor while keeping everything balanced… otherwise things can quickly get too spicy/sweet/salty for comfort! For our basic recipe above*, we recommend adding three.
Garnish And Serve Like A Professional Chef!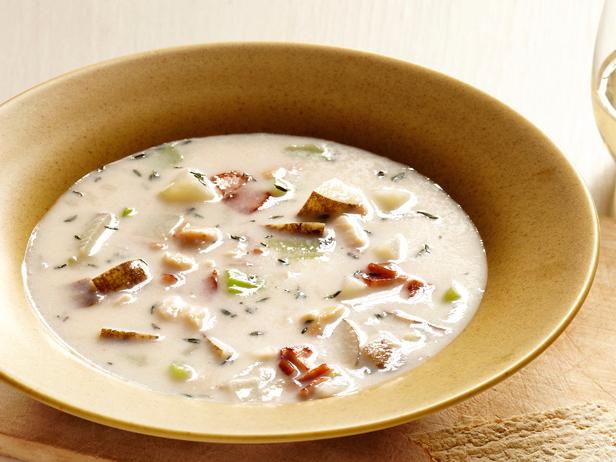 When it comes to clam chowder, there are a few key things that you need to know in order to craft the perfect bowl. From the type of clams that you use to the spices that you add, everything plays a role in creating a delicious and satisfying soup. In this section, we will outline all of the essential tips and tricks for crafting the perfect clam chowder.
Before getting started, it's important to understand how many clams you'll need for your recipe. By using a combination of fresh and canned clams, you can create a soup with a variety of different flavors and textures. It's also important to season your soup appropriately with salt and pepper – just enough to give it flavor but not too much that it overpowers the other ingredients. Once your ingredients are prepared, it's time to begin cooking! Follow these cooking techniques and guidelines carefully so that your soup comes out perfectly every time.
After your soup is cooked through, it's time to properly garnish each bowl with fresh thyme leaves or chopped scallions. Finally, make sure that you serve your clam chowder piping hot so that everyone can enjoy its deliciousness! With proper knowledge and preparation, crafting the perfect clam chowder is easy – just like a professional chef!
FAQs about the Chunky Clam Chowder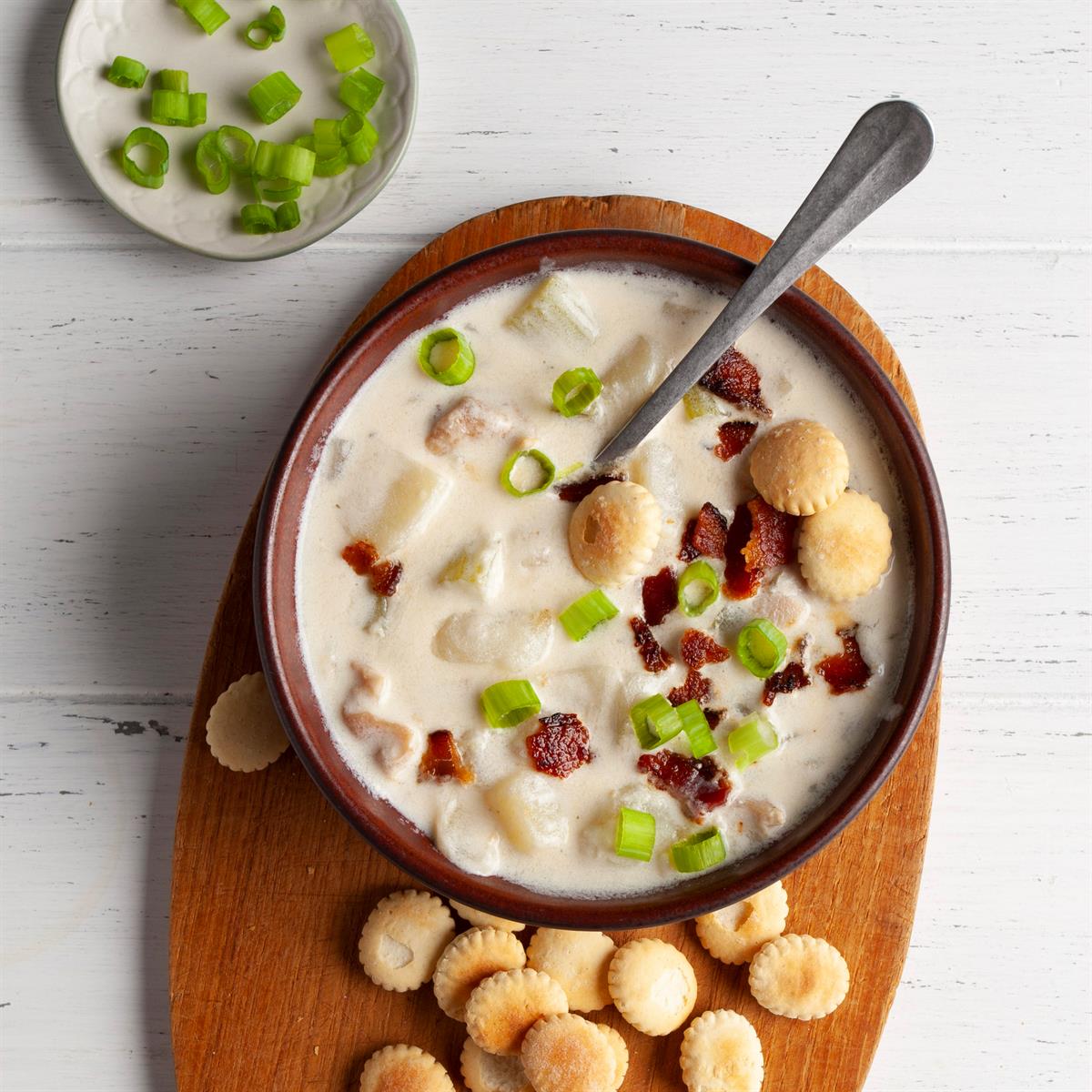 What is the Chunky Clam Chowder?
The Chunky Clam Chowder is a soup that is made with clams, potatoes, and onions in a creamy broth. It is a traditional New England soup that is often served with oyster crackers or bread.
What are the ingredients in the Chunky Clam Chowder?
The ingredients in the Chunky Clam Chowder are clams, potatoes, onions, celery, bacon, butter, flour, salt, pepper, and milk.
How do you make the Chunky Clam Chowder?
To make the Chunky Clam Chowder, you will need to cook the bacon and onions in a large pot. Then, add the celery, potatoes, clams, butter, flour, salt, and pepper to the pot and stir. Pour in the milk and bring the soup to a boil. Once it is boiling, reduce the heat and let the soup simmer for 15 minutes.