Get ready to experience an explosion of flavor with this classic Hawaiian pulled pork recipe – read on to learn how to make your taste buds dance!
My DH and I got on this whole Pulled Pork addiction and I was cooking up different types of pulled pork for a couple of weeks. Those were some good meals and easy recipes to make for lunch or dinner. This is one of the recipes I cooked. I wanted a sweet savory pork that was juicy with a little bit of spice. Pineapple! Pineapple is the perfect sweet fruit that pairs perfectly with a little spice and pork.
Cook Eat Delicious Rating: You will love this recipe, you definitely have to try this. Of course, it is one of my favorite on pot dishes; just throw all the ingredients in the pot and cook for a few hours. I served it with some potato salad but any side would be good. The pork shreds so easily once cooked for a few hours and soaks up all the juice which means plenty of flavor inside. I used some red pepper flakes for a little spice but if you eliminate them the pork will still taste great.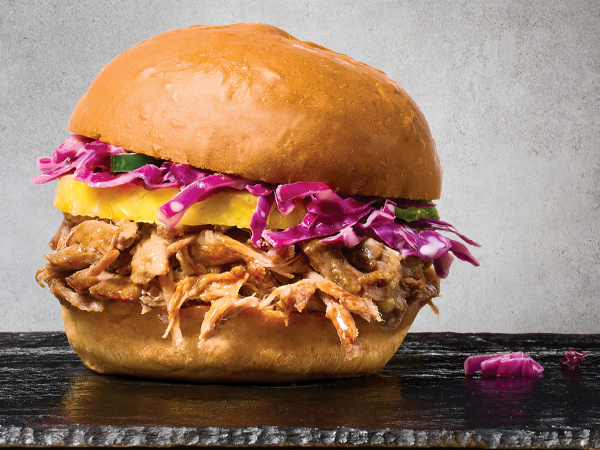 Hawaiian Pulled Pork Sandwich
Hawaiian pulled pork is a classic recipe that will make your taste buds dance! This Hawaiian-inspired dish is easy to make and full of flavor.
Ingredients
2

lbs

pork butt

or shoulder, cut into 2 inch chunks

1

onion

finely diced

½

cup

ketchup

⅓

cup

cider vinegar

⅓

cup

packed brown sugar

¼

cup

tomato paste

2

tbsp

paprika

1

tbsp

red pepper flakes

2

tbsp

Worcestershire sauce

1

can of pineapple rings or chunks in their own juice

not heavy syrup

2

tsp

salt

2

tsp

black pepper
Instructions
Place all the ingredients in a heavy dutch oven pot and combine well.

Bring to a boil and cook for 7 minutes.

Cover with lid and lower heat to simmer.

Cook for 3-4 hours.

Remove extra pineapple.

Shred meat with a fork to soak up excess juices.

Serve on a bun of your choice.
Notes
Hawaiian pulled pork is a delicious and easy-to-prepare dish that offers a unique twist on classic pulled pork. By using ingredients such as pineapple juice, brown sugar, garlic, and ginger, you can create a sweet and savory flavor that your family will love. With variations such as adding bacon or grilling the finished product over an open flame for extra smokiness, there are countless ways to make Hawaiian pulled pork a hit for any meal! To get the most out of this dish, be sure to follow our tips and tricks for the perfect Hawaiian pulled pork every time. Now it's time for you to try it out! Give this flavorful recipe a go today and your taste buds won't be disappointed.
Nutrition
Serving:
1
serving
Calories:
302
kcal
Carbohydrates:
25
g
Protein:
30
g
Fat:
9
g
Saturated Fat:
3
g
Polyunsaturated Fat:
1
g
Monounsaturated Fat:
4
g
Trans Fat:
0.1
g
Cholesterol:
91
mg
Sodium:
1243
mg
Potassium:
866
mg
Fiber:
2
g
Sugar:
19
g
Vitamin A:
1822
IU
Vitamin C:
5
mg
Calcium:
63
mg
Iron:
3
mg
Serving Suggestions For Hawaiian Pulled Pork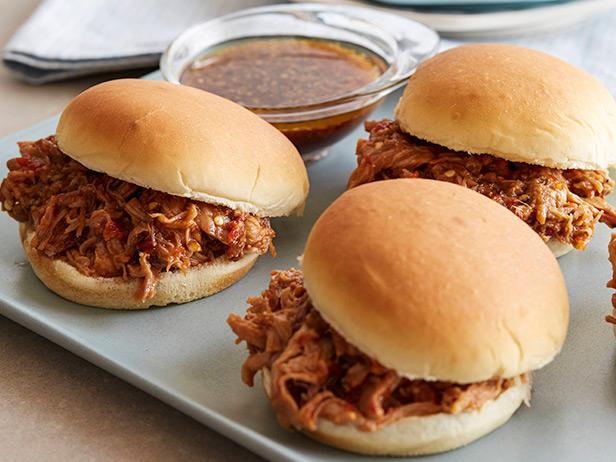 If you're looking for a delicious and unique dish to serve at your next dinner party, look no further than Hawaiian pulled pork. This dish is made from different types of meat, typically pork, and is cooked in a variety of ways to bring out the flavor. Below, we'll outline the different ingredients that are used in making Hawaiian pulled pork and give you some ideas for how to cook it.
Once you have all of the ingredients needed for Hawaiian pulled pork, it's time to start cooking! You can cook it in a variety of ways, depending on your preferences and the flavors that you want to bring out. Some popular methods include barbecuing, smoking, and baking. Be sure to use the right type of wood or other fuel source for best results so that your pulled pork reaches its fullest potential in terms of flavor.
To complete your Hawaiian dinner party centerpiece, consider serving some complementary sides such as macadamia nut coleslaw or steamed bok choy with ginger garlic sauce. For an extra touch of sophistication, serve Hawaiian Pulled Pork on a bed of fresh greens such as kale or collard greens. Finally, think about creative presentation ideas such as serving the pulled pork inside a pineapple or on top of fluffy white rice bowls drizzled with honey soy sauce or Sriracha sauce. With these tips and tricks in mind, you're well on your way to making an unforgettable meal!
FAQs about the Hawaiian Pulled Pork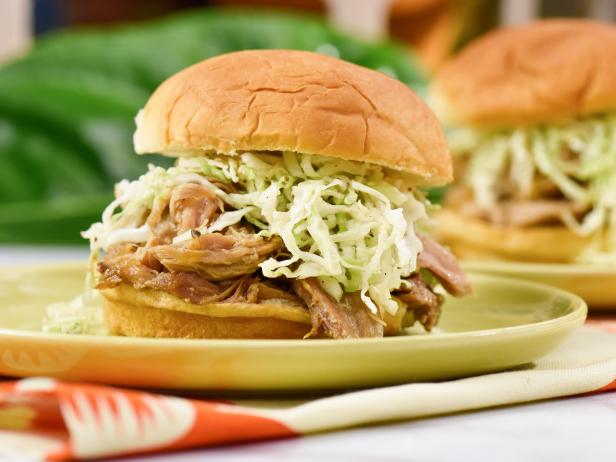 Q: What is the Hawaiian pulled pork?
A: The Hawaiian pulled pork is a type of dish that is made with pork that has been cooked in a slow cooker. The pork is then shredded and mixed with a variety of different sauces, such as BBQ sauce, teriyaki sauce, and soy sauce. The dish is then served over rice or noodles.
Q: What are the benefits of eating Hawaiian pulled pork?
A: Hawaiian pulled pork is a dish that is high in protein and low in fat. It is also a good source of iron and vitamin B12. Additionally, the dish is a good way to get your daily serving of vegetables, as it is typically served with rice or noodles and a side of vegetables.
Q: What are some tips for making Hawaiian pulled pork?
A: When making Hawaiian pulled pork, it is important to use a lean cut of pork, such as pork loin. Trim any visible fat from the pork before cooking. Additionally, be sure to use a low sodium soy sauce, as this will help to keep the sodium content of the dish low. Lastly, be sure to cook the pork in a slow cooker on low heat for several hours, until the pork is very tender.