Get ready to tantalize your taste buds with this aromatic and flavorful garlic and basil flatbread recipe, and learn hot tips for making perfect flatbreads every time! Try it now!
Flatbreads are easy bread recipes for any occasion or meal. You can mix and match with different herbs or use as a pizza dough too. The options are endless. I served this flatbread with some Pasta with Avocado Cream Sauce. The flavors of garlic and basil really went perfectly with the simple pasta and this bread holds up great to clean the plate as well!
Cook Eat Delicious Rating: I really enjoyed this bread. It is soft and a little chewy, which I love when it comes with pasta. As I said the options are endless.  I think I will use this again for pizza dough or chop in fresh herbs when mixing the dough together. Then just bake or drizzle with a little olive oil. How do you like your flatbreads? I am open for suggestions!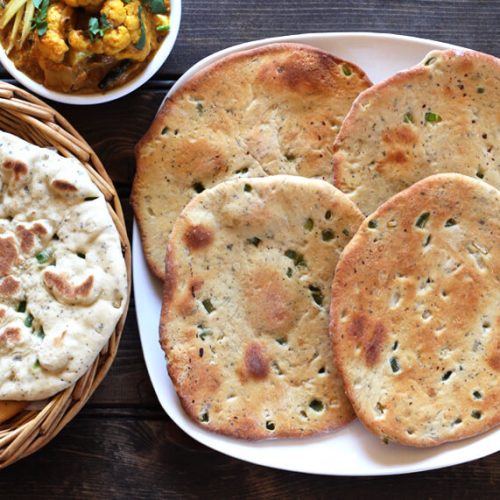 Garlic and Basil Flatbread
If you are looking for a delicious flatbread recipe that will tantalize your taste buds, then look no further than this aromatic and flavorful garlic and basil flatbread. With its combination of garlic, basil, and butter, this flatbread packs a punch of flavor that will make your mouth water.
Ingredients
2¼

tsp

yeast

1½

cups

warm water

110 degrees F

1

tsp

salt

¼

cup

olive oil

3½

cups

flour

8

cloves

garlic

minced

2

tbsp

basil

chopped

Salt & Pepper
Instructions
In a large bowl combine yeast, water, 1 tsp salt, and 1 tbsp of oil and gently stir one or two times.

Let stand for 5 minutes.

Stir in flour ½ cup by ½ cup to form dough.

Knead dough on a lightly floured surface for 7 minutes, addin in up to ⅓ cup of extra flour if needed.

With 1 tbsp of oil, oil a large bowl and set the ball of dough in it.

Cover with a damp kitchen towel and let rise for 30-45 minutes, or until doubled in size.

Punch dough and split into four pieces.

Cover with saran wrap and let rest for 10 minutes.

Preheat oven to 425 degrees F.

Take each dough ball and gently form into a 13×7 shape and place on a baking sheet.

Add garlic, basil, salt & pepper evenly over top of each dough and drizzle with oilive oil.

Bake for 10 minutes.
Notes
Making your own flatbreads is a great way to enjoy fresh, delicious flavors without breaking the bank. With this easy-to-follow guide, you can make gourmet flatbreads with garlic butter and basil sauce in no time. The key to making perfect flatbreads every time is to preheat the oven and prepare all of your ingredients before you start assembling. Now that you know how to make delicious homemade flatbreads, why not give it a try? Invite some friends over and impress them with your newfound culinary skills!
Nutrition
Serving:
4
flatbreads
Calories:
549
kcal
Carbohydrates:
88
g
Protein:
14
g
Fat:
15
g
Saturated Fat:
2
g
Polyunsaturated Fat:
2
g
Monounsaturated Fat:
10
g
Sodium:
588
mg
Potassium:
209
mg
Fiber:
5
g
Sugar:
0.4
g
Vitamin A:
53
IU
Vitamin C:
2
mg
Calcium:
32
mg
Iron:
5
mg
Assembling The Flatbreads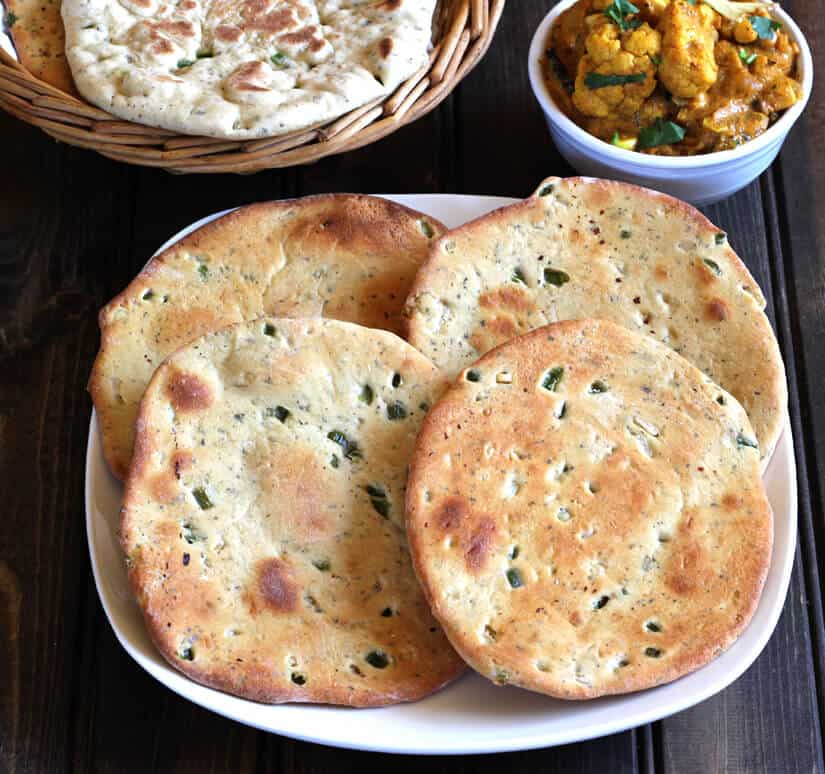 Making garlic and basil flatbreads is a simple and easy way to add a delicious aroma and flavor to your meal. These flatbreads are made from flour, garlic, and basil paste, which is mixed together before being shaped into small rounds or squares. The dough is then allowed to rise before it is baked, giving the flatbreads their characteristic risen texture.
There are several different ways to assemble the flatbreads. You can make them into small round or square shapes, or you can even make them into larger pizza-style shapes. Once you have made your desired shape, it is time to bake them in the oven.
While baking, be sure not to over-cook the flatbreads – they should be cooked until they are golden brown on both sides and firm to the touch. Once they have finished baking, let them cool slightly before serving with your favorite sauce or spread. Finally, store the flatbreads in an airtight container for later use.
Baking And Serving Your Flatbreads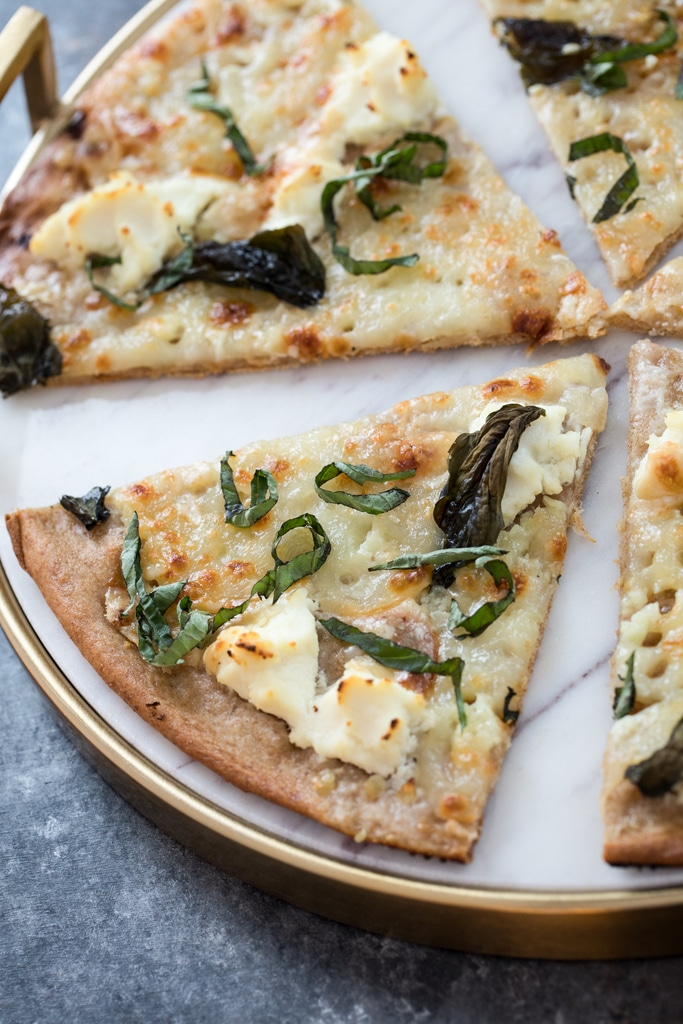 Making garlic and basil flatbreads is a delicious and easy way to incorporate some fresh flavors into your diet. Not only are these flatbreads delicious, but they're also versatile – you can serve them as is, or customize them to make them even more unique. Below, we'll outline the steps that you need to take in order to make the best garlic and basil flatbreads ever.
First, prepare the dough by mixing together all of the ingredients in a bowl. Be sure to use cold water so that the dough can be easily rolled out. Once the dough is ready, use a rolling pin to roll it out until it's about 1/8-inch thick.
Next, preheat your oven to 375 degrees F (190 degrees C). Spread a layer of sauce on each flatbread and top with shredded cheese and diced tomatoes. Then bake for about 15 minutes or until the cheese is melted and bubbly.
Once your garlic and basil flatbreads are baked, it's time for the finishing touches! To add extra flavor and texture, you can sprinkle on chopped parsley or basil before serving. Alternatively, you could drizzle olive oil over top before baking for an extra rich flavor experience. Finally, be sure to serve your flatbreads warm – they'll taste even better that way!
Tips On Making Perfect Flatbreads Every Time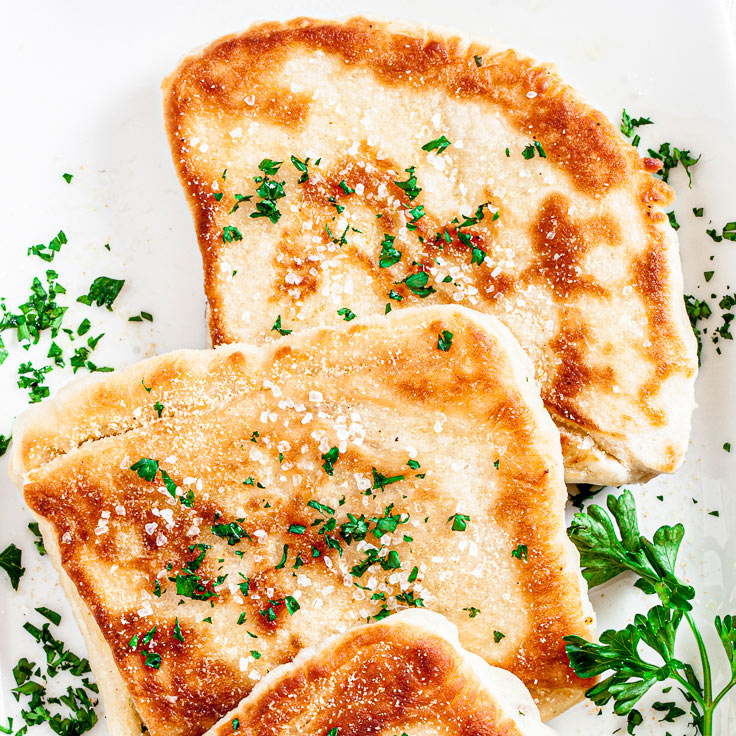 To Make This Flatbread, Start By Mixing Together The Garlic And Basil. Use The Freshest Ingredients Possible For The Best Flavor – Minced Or Chopped Onions Are Also A Great Addition If You Want To Add Some Extra Crunch. Next, Knead Your Dough Properly – It Should Be Soft But Not Too Sticky. Make Sure To Use A Quality Flour With Good Elasticity – Something Like Whole Wheat Flour Would Be Ideal.
Once Your Dough Is Ready, It's Time To Stretch It Out Into A Thin Sheet On A Floured Surface. Be Sure To Use Enough Flour So That The Dough Doesn't Stick To Your Hands Or The Surface You're Working On. Once It's Thin Enough, Place It Onto A Baking Sheet And Bake At 425 Degrees Fahrenheit For About 15-20 Minutes Or Until Lightly Golden Brown In Color. Allow The Bread To Cool Before Slicing Into Wedges And Serving With Your Favorite Toppings!
FAQs about the Garlic and Basil Flatbread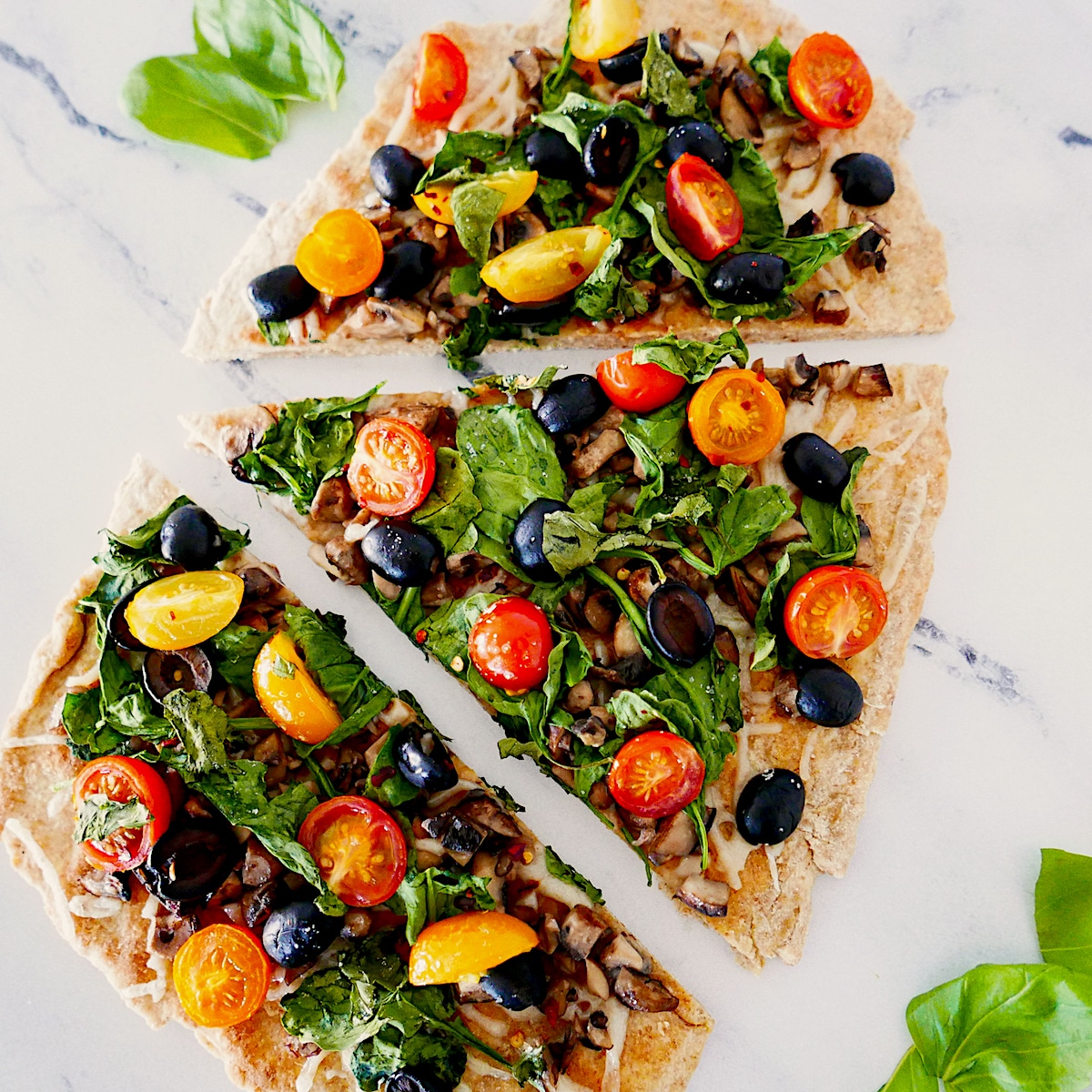 What is the Garlic and Basil Flatbread?
The Garlic and Basil Flatbread is a delicious and healthy option for anyone looking for a quick and easy meal. This flatbread is made with whole wheat flour, garlic, and basil, and is brushed with olive oil before baking. It can be served with a variety of toppings, such as tomato sauce, cheese, or vegetables.
How do I make the Garlic and Basil Flatbread?
The Garlic and Basil Flatbread is easy to make. Simply mix the whole wheat flour, garlic, and basil together in a bowl. Then, add enough water to make a dough. Once the dough is made, flatten it out and brush it with olive oil. Finally, bake the flatbread in a preheated oven for 10-12 minutes.
Can I freeze the Garlic and Basil Flatbread?
Yes, the Garlic and Basil Flatbread can be frozen. Simply wrap the flatbread in plastic wrap or aluminum foil and store it in the freezer. When you're ready to eat it, thaw the flatbread at room temperature or in the microwave. Then, reheat it in the oven or in a skillet on the stove.