Learn how to make the perfect tomato soup with six easy steps – read our blog post now and get cooking0
Soups are easy recipes to cook up any day of the week. There might be some prep with chopping vegetables but the cooking process is a cinch, just throw everything in a pot and cook for awhile. My DH loves eating soup, even in this hot Costa Rican weather. I love a good tomato soup and pair it with a grilled cheese sandwich…delicious!
Cook Eat Delicious Rating: This soup is delicious. It is creamy without all that extra cream. I added a little roux to make it thicker than a usually tomato soup. Serve this soup with some crusty bread or add some sharp white cheddar cheese to that crusty bread for a really unique and yummy flavor combination. This is a great recipe to cook if you have extra tomatoes or want a light lunch or appetizer to a meal.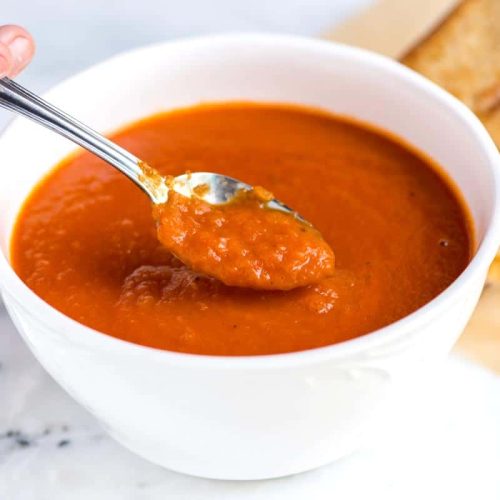 Tomato Soup
Tomato soup is a classic and comforting meal that is perfect for any time of the year. Whether you are looking for a quick lunch or a simple dinner, tomato soup is the perfect option. But how do you make sure it is perfect?
Ingredients
4

cloves

garlic

minced

1

onion

diced

6

large ripe

tomates

chopped

2

cups

vegetable broth

2

tbsp

butter

2

tbsp

flour

1

tbsp

sugar

Salt & Pepper to taste
Instructions
In a heavy pot, combine garlic, onion, tomatoes, and broth.

Bring to a boil and cook for 20 minutes.

Blend mixture thouroughly and add sugar.

Lower heat to simmer.

In another pan, melt butter over medium heat and whisk in flour for 3-5 minutes.

Slowly whisk roux into tomato soup until thickened.

Season with salt and pepper to taste.
Notes
Making the perfect tomato soup is both an art and a science. By following the steps outlined in this blog, you can create a delicious and nutritious meal that everyone will love. Start by selecting tomatoes that are ripe, flavorful, and colorful. Then, use seasonings to give your soup complexity and depth. Blend your ingredients until they reach the desired consistency before heating them up until they begin to simmer. Finally, add a last touch of flavor for maximum effect. With these easy steps, you can create the perfect tomato soup that will leave everyone satisfied!
Nutrition
Serving:
1
bowl
Calories:
49
kcal
Carbohydrates:
5
g
Protein:
0.5
g
Fat:
3
g
Saturated Fat:
2
g
Polyunsaturated Fat:
0.1
g
Monounsaturated Fat:
1
g
Trans Fat:
0.1
g
Cholesterol:
8
mg
Sodium:
258
mg
Potassium:
31
mg
Fiber:
0.3
g
Sugar:
3
g
Vitamin A:
219
IU
Vitamin C:
2
mg
Calcium:
7
mg
Iron:
0.1
mg
Adding A Last Touch Of Flavour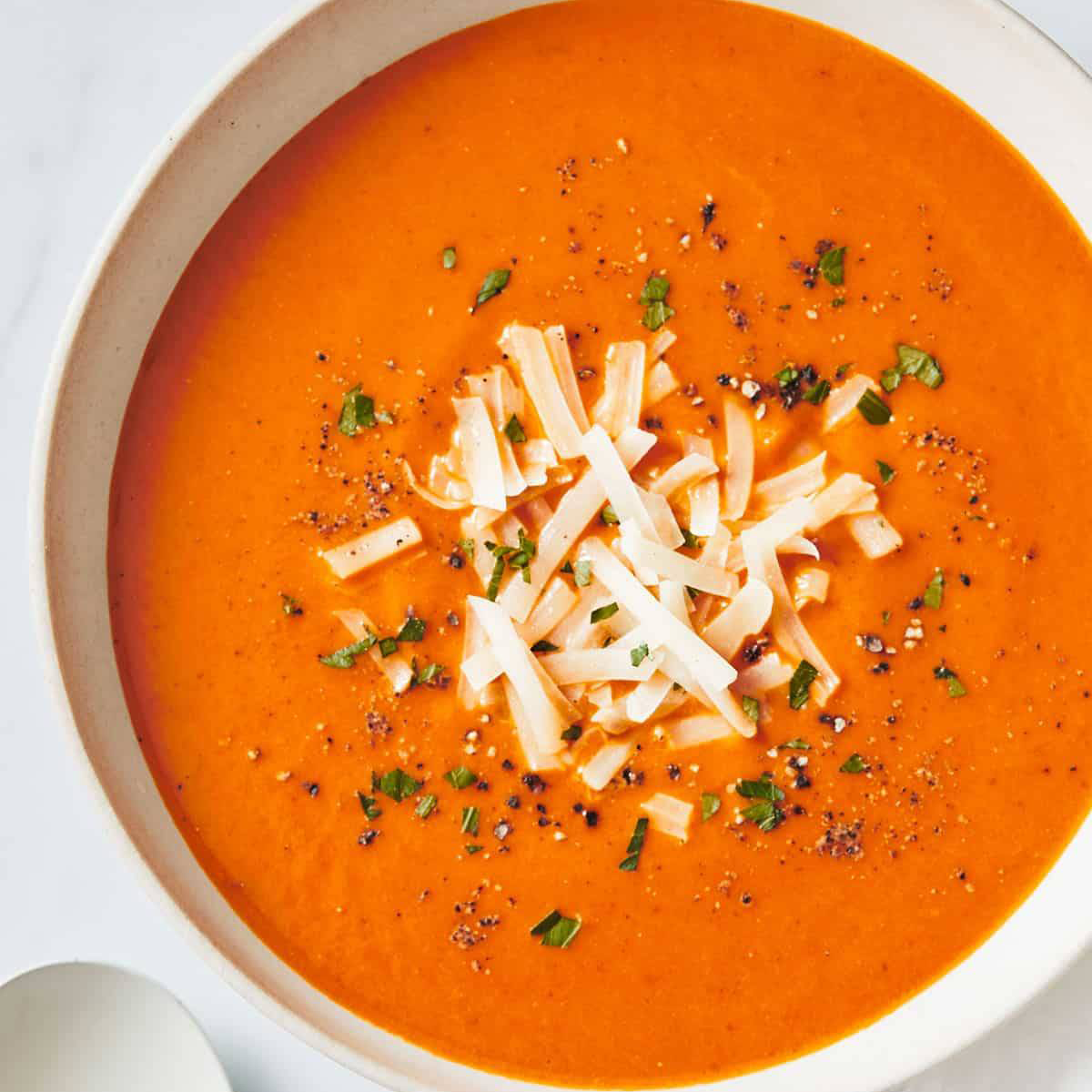 Making a delicious and flavourful tomato soup can be a daunting task, but with the help of these five easy steps, it's possible to create a soup that everyone will love. First, gather all the ingredients that you'll need – including diced tomatoes, onion, garlic cloves, salt, pepper, chicken or vegetable broth (if using), and any additional spices that you may want to use.
Next, prepare the vegetables by chopping them into small pieces so that they are cooked evenly. This will ensure that they add in maximum flavour to your soup. Once the vegetables are ready, it's time to start boiling water and adding in your spices. Remember – less is more when it comes to spices – start with just a pinch of each and adjust as needed.
Once all of the ingredients have been added and the water has boiled, reduce it down until it has thickened into a lovely broth. This will take about an hour or so on low heat. Once the broth has simmered for enough time (it should be thick like gravy), it's time to add in your diced tomatoes and let them cook for another fifteen minutes or so before serving up!
To make things even more special, consider topping your soup with a dollop of sour cream or crumbled cheese before serving. And if you're feeling extra indulgent (or like making some last-minute changes), feel free to try out some different variations on this classic recipe!
Serving & Enjoying Your Tomato Soup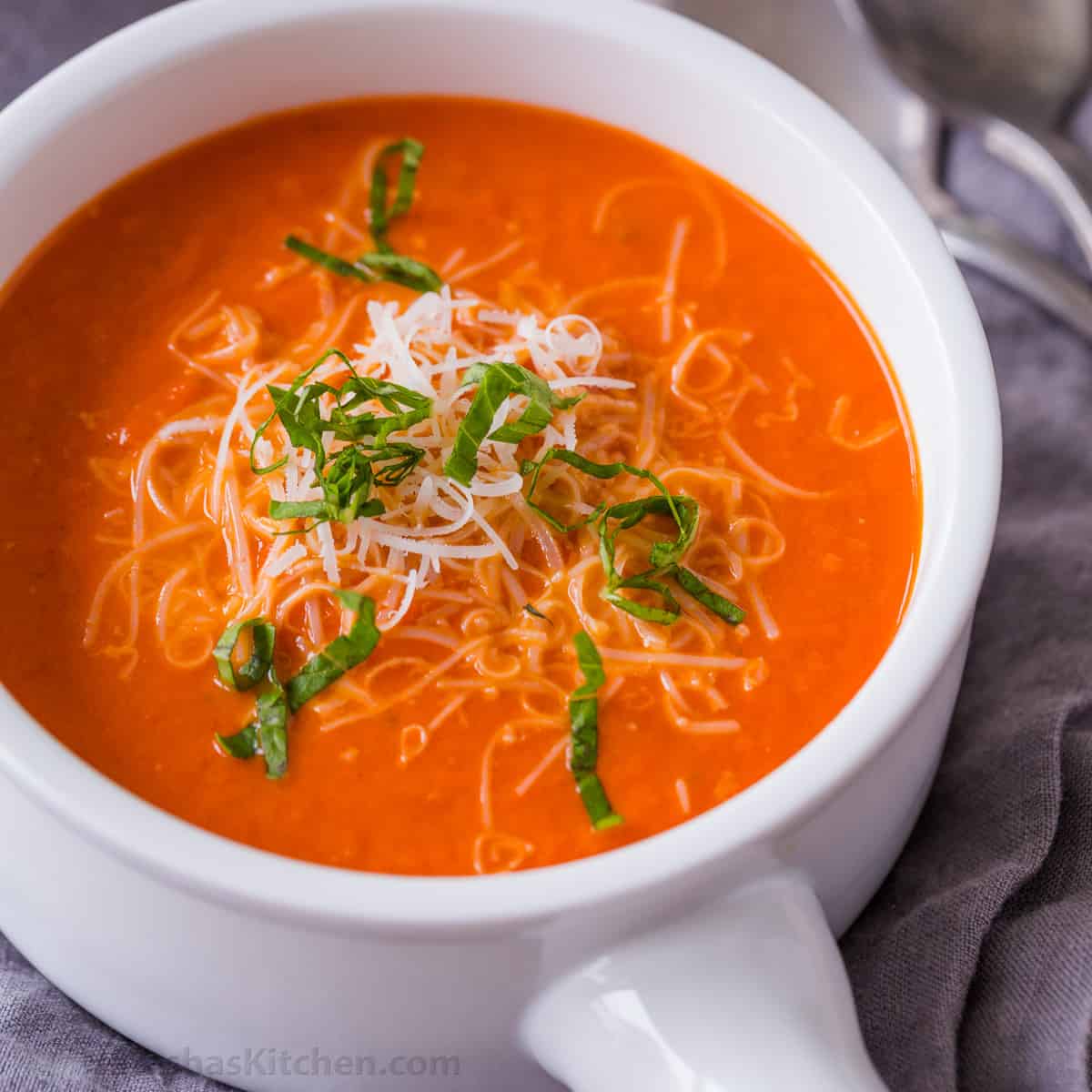 First, gather all of the ingredients that you'll need for your soup – tomatoes, garlic, onion, celery, carrots, potatoes, chicken broth or vegetable broth (or both), salt and pepper. If you're using canned tomatoes instead of fresh ones, be sure to reserve about two cups of juice for later.
Once all of the ingredients are ready to go, begin preparations by boiling the vegetables in water until they're tender. This will help to reduce the amount of preparation that you'll have to do later on.
Next step is to create your base soup recipe by combining all of the vegetables and liquids together in a pot on medium heat. Be sure to season it well with salt and pepper before bringing it to a boil. Once boiling begins, reduce heat and let simmer for about 30 minutes or until all of the vegetables are cooked through.
After 30 minutes have passed, it's time to add flavor! Add either chicken broth or vegetable broth (or both) and diced onion or garlic cloves if desired before serving up your delicious soup hot! You can also enjoy this soup cold as well as reheating leftovers for another day. Enjoy!
FAQs about the Tomato Soup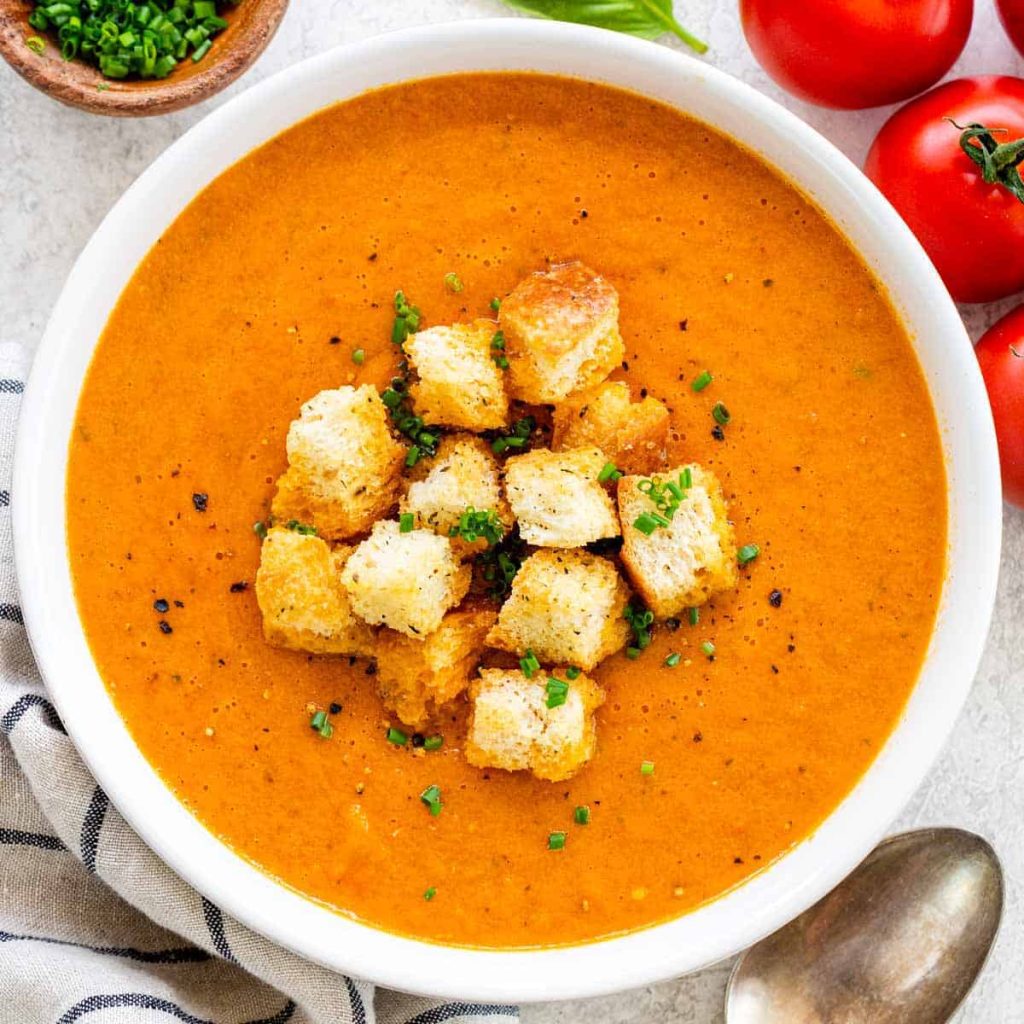 1. What is the best way to make tomato soup?
There is no one-size-fits-all answer to this question, as the best way to make tomato soup will vary depending on personal preferences. However, some tips on how to make a delicious tomato soup include using fresh tomatoes, roasting the tomatoes before adding them to the soup, and adding complementary ingredients such as fresh herbs, garlic, and onion.
2. What is the nutritional value of tomato soup?
Tomato soup is a good source of vitamins A and C, as well as lycopene, a powerful antioxidant. Tomato soup can also be a good source of protein and fiber, depending on how it is prepared. For example, if the soup is made with whole milk or cream, it will be higher in fat and calories.
3. What are some tips for making a healthy tomato soup?
To make a healthier tomato soup, you can use low-fat milk or cream instead of whole milk or cream. You can also add more vegetables to the soup, such as carrots, celery, or spinach. Finally, you can use fresh tomatoes instead of canned tomatoes, which will provide more nutrients and less sodium.