Unlock the secret to perfectly delicious Lemon Raspberry Thumbprint Cookies with this easy-to-follow recipe and instructions – try it now!
A buttery shortbread can do no wrong. Crisp yet soft, firm yet crumbly & flaky. I baked about 4 dozen of these and they were gone by nightfall, very addicting! Thumbprint cookies get there name from the fact that you use your thumb to make an indentation in the cookie dough that is filled with a jam. There is a variety of flavors & combinations you can choose from for Thumbprint cookies. Whatever you like, you bake! I chose Lemon & Raspberry…two of my favorites together again!
Cook Eat Delicious Rating: I rated it 'Home Cook' skills because you are dealing with delicate ingredients and if not measured, mixed, and baked correctly, the cookie can be ruined. First time around for me, they began to flatten and crack. This isn't as easy recipe as other cookie recipes are. If you add to much jam it will run over, creating ugly cookies. So take your time with this recipe, you may have to try it a couple of times to really get the perfect Thumbprint Cookie. They turned out Delicious. The lemon is not overpowering at all. The amount of jam was just right for the cookie and everything blends together when you take a bite very nicely. The second batch I baked a little longer to get a more crispy cookie. I preferred them that way. Although crispy, they were still soft, buttery, & flaky. My DH liked the softer ones so it is really your own preference. I will definitely make these again. I may add more lemon juice because I like a more stronger lemon taste. But overall a delicious cookie!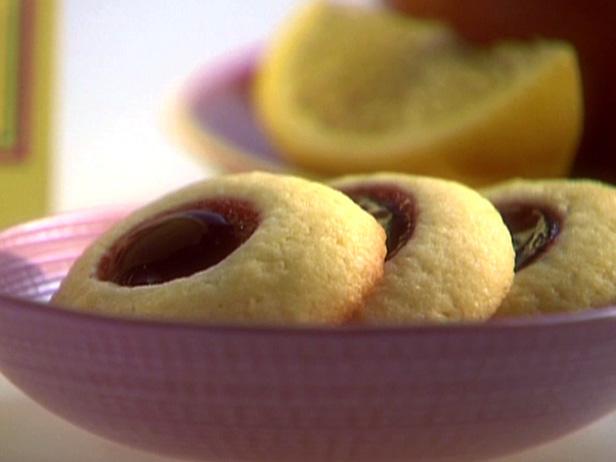 Lemon Raspberry Thumbprint
Are you looking for a delicious and unique cookie recipe? Look no further than these Lemon Raspberry Thumbprint Cookies! Not only are they simple to make, but they are perfect for any occasion. In this blog post, we will walk you through the ingredients you need, instructions for baking, pro tips for perfect thumbprints every time, and ways to change up the flavor. Plus, we have included some serving suggestions to impress your guests! So, grab your ingredients and let us get started!
Ingredients
½

cup

raspberry jam

2¼

cups

flour

1

tsp

baking powder

¼

tsp

salt

2

sticks butter

softened

⅔

cup

sugar

2

large egg yolks

2

tbsp

lemon zest

3

tbsp

lemon juice

1

tsp

vanilla
Instructions
Preheat the oven to 350 degrees F.

Heat jam in sauce pan over low heat until smooth.

Run through a sieve and set aside to cool.

Throw out seeds.

In a medium bowl, combine the flour, baking powder, and salt and whisk to blend.

In a large bowl use an electric mixer to beat the butter and sugar together until light and creamy.

Beat in the egg yolks, lemon zest, lemon juice and vanilla.

Add the flour mixture in 2 parts and just combine.

Shape dough into 1 inch balls.

Place on baking sheet.

Use a ½ tsp measuring spoon to create the indentations in the center of each ball.

Fill each indentation with ½ tsp of the jam mixture.

Bake until golden brown, about 20 minutes.

Transfer the cookies to wire racks to cool completely.

Sprinkle with powdered sugar if you would like.
Notes
Use a different jam if you wish.
Making thumbprint cookies is a great way to enjoy a delicious classic treat. With the right ingredients and by following the instructions, you can make perfect thumbprints every time. You can also get creative and change the flavor of your cookies by adding different types of fillings or toppings. Finally, impress your guests by serving your homemade thumbprint cookies with some fun garnishes! Give it a try today and bake up some delicious memories!
Nutrition
Serving:
1
cookie
Calories:
45
kcal
Carbohydrates:
10
g
Protein:
1
g
Fat:
0.3
g
Saturated Fat:
0.1
g
Polyunsaturated Fat:
0.1
g
Monounsaturated Fat:
0.1
g
Trans Fat:
0.01
g
Cholesterol:
8
mg
Sodium:
23
mg
Potassium:
11
mg
Fiber:
0.2
g
Sugar:
5
g
Vitamin A:
11
IU
Vitamin C:
1
mg
Calcium:
8
mg
Iron:
0.3
mg
Ways To Change Up The Flavor Of Thumbprint Cookies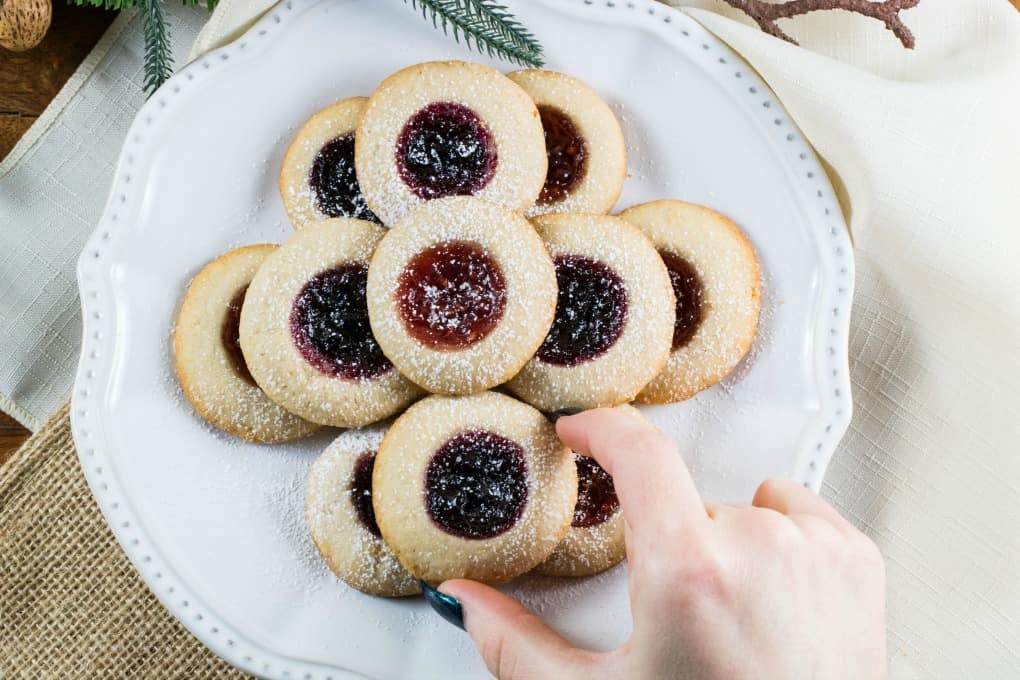 Thumbprint cookies are a classic favorite, and there are many ways to change up the flavor profile of these cookies. In this section, we will show you how to make a lemon raspberry thumbprint cookie, as well as other variations that you can try.
First, make the Lemon Raspberry Dough. This dough is simple to prepare and uses natural sweeteners for a delicious and flavorful outcome. Once the dough is prepared, it is time to start baking the cookies! There are several different methods that you can use to roll out and shape the dough, but we recommend using either a silicone or marble rolling pin for even results. Once the cookies are rolled out, it's time to fill them with your favorite flavors! We suggest using raspberries and lemon juice for this recipe, but feel free to experiment with other flavors – such as strawberry or blueberry – in order to create unique combinations that are sure to please.
Last but not least, it's time to decorate your cookies! You can add fresh raspberries directly onto the baked cookies or use a variety of different toppings such as edible flowers or nuts. Be creative and enjoy experimenting with new flavor combinations – you may be surprised at just how tasty these little gems can be!
Pro Tips For Perfect Thumbprints Every Time!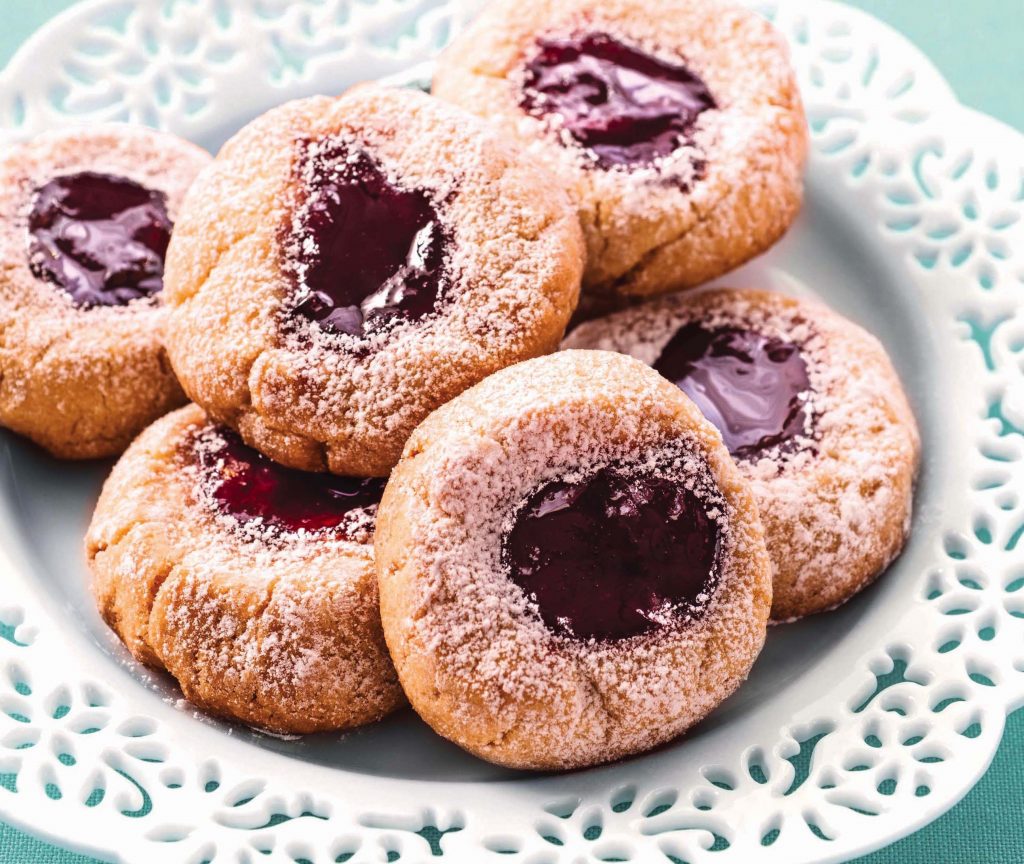 Craving some delicious European style cookies? Then you're in luck! This recipe is perfect for anyone who wants to make a perfect thumbprint cookie. Not only are these cookies delicious, but they're also easy to make. By following these simple steps, you'll be able to create fun and festive cookies that your family and friends will love.
First, mix together the ingredients for the dough in a bowl. Be sure to use warm water if needed so that the ingredients are easily mixed together. Once the dough is mixed together, form it into small balls and place them on a baking sheet lined with parchment paper. You can then use your hands to press down on each ball of dough so that it forms a thumbprint indentation.
Next, fill each indentation with your favorite cookie stuffing ingredient – such as jam or jelly. Be sure to spread the filling evenly within each cookie so that they are full and rich in flavor. Next, bake the cookies at 350 degrees Fahrenheit for about 15 minutes or until they are golden brown in color. Once they are done, let them cool on the baking sheet before transferring them to a wire rack to cool completely. Finally, enjoy your perfect thumbprint cookies!
FAQs about the Lemon Raspberry Thumbprint Cookies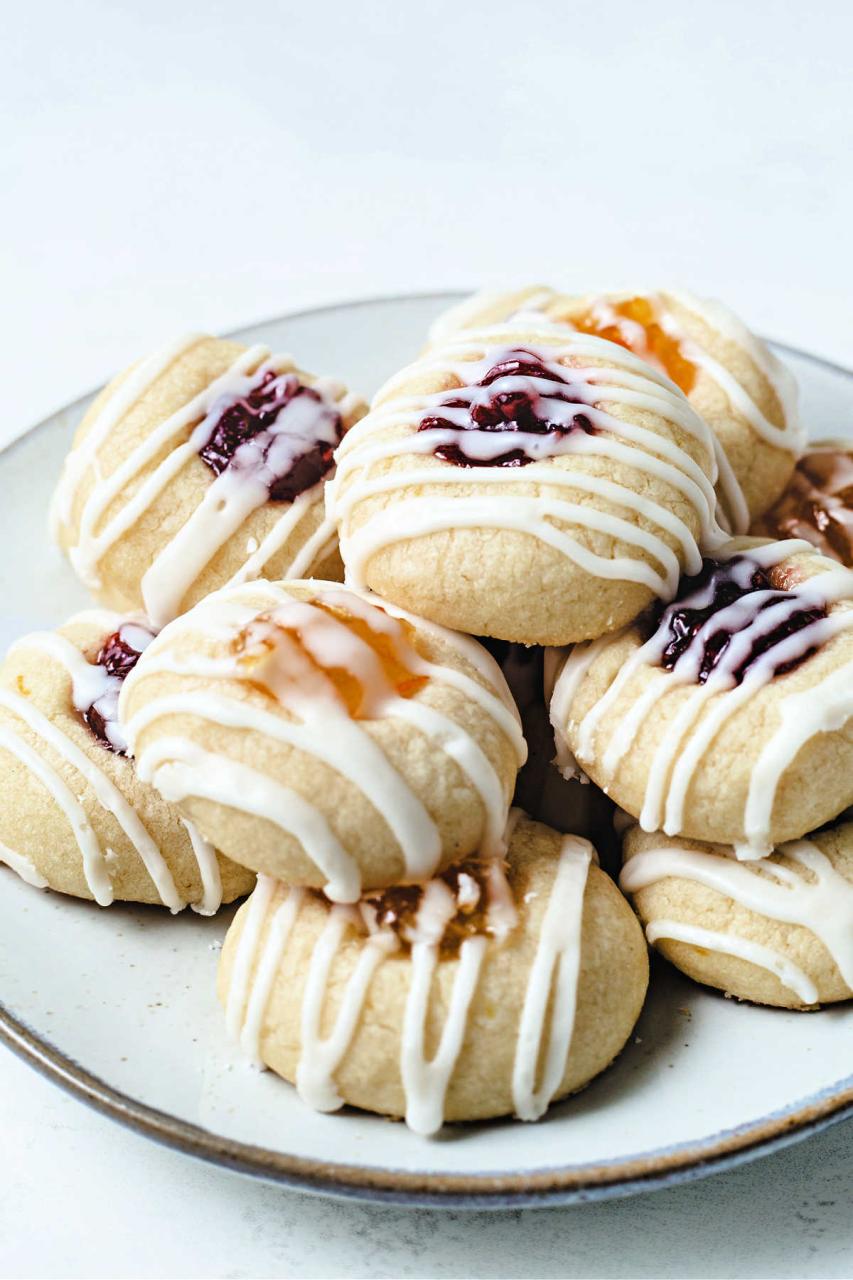 1. What are the Lemon Raspberry Thumbprint Cookies?
The Lemon Raspberry Thumbprint Cookies are a type of cookie that is made with a lemon flavored dough and then rolled in sugar. The cookies are then baked and have a raspberry jam thumbprint in the center.
2. How many cookies are in a batch?
A batch of Lemon Raspberry Thumbprint Cookies usually yields around 24 cookies.
3. How long do the cookies need to bake for?
The cookies need to bake for around 10-12 minutes, or until they are golden brown.
4. What is the shelf life of the cookies?
The shelf life of the Lemon Raspberry Thumbprint Cookies is around 2 weeks.