Get creative in the kitchen this fall and try your hand at making Vanilla Cinnamon Apple Sticky Buns with our easy-to-follow recipe!
OH MY GOODNESS LIKE SERIOUSLY DELICIOUS FOR REALS.
These Sticky Buns are a delicious combination of warm dough, cinnamon, caramel apple goodness, and a deep vanilla flavor. What could be better than that? The best thing about these Vanilla Cinnamon Apple Sticky Buns (besides the long name) is the easy recipe used to bake them up. In two hours max you can have two pans of these ooey gooey sticky buns on the table…
The secret to these Sticky Buns turning out so well is the Vanilla. I used the Nielsen-Massey Madagascar Bourbon Pure Vanilla Bean Paste. This Vanilla is to die for and perfect for baking. It adds in so much more vanilla flavor without overpowering it like some extracts can do. Want a bottle for yourself? The folks over at Nielsen-Massey are giving away a bottle to one reader on CookEatDelicious.com. Stay tuned for the giveaway this Monday!
Cook Eat Delicious Rating: Delicious all the way. Not super sweet but sweet enough. The bun dough is soft and moist, perfect for a cinnamon roll recipe too! I will definitely make these Vanilla Cinnamon Apple Sticky Buns again. I served them with a Cream Cheese Frosting, which was great to eat by itself as well. You don't need the frosting if you want to stick to the traditional sticky buns but it does add another dimension of flavor and option to the dish. Let me know what you think in the comment box!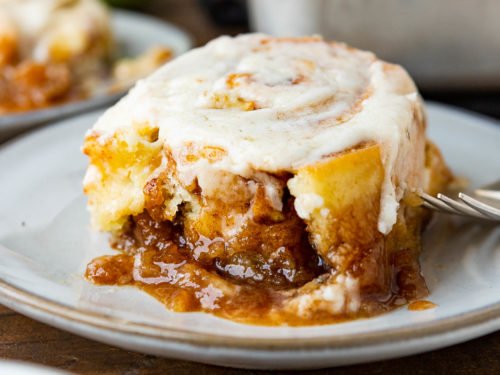 Vanilla Cinnamon Apple Sticky Buns
What is the perfect fall recipe? We have one for you: Vanilla Cinnamon Apple Sticky Buns! These delicious buns are the perfect way to celebrate the fall season.
Ingredients
BUNS:
2

cups

Milk

½

cup

Sugar

½

cup

Oil

1

tbsp

Vanilla Bean Paste

4

tsp

Active Dry Yeast

4

cups

Flour

2

tsp

Salt

½

tsp

Baking Soda

½

tsp

Baking Powder

½

cup

Melted Butter

2-4

tbsp

Cinnamon

2

tbsp

Vanilla Bean Paste
STICKY TOPPING:
1

stick Butter

1½

cup

Brown Sugar

2

tbsp

Dark Brown Corn Syrup

2

tbsp

Heavy Cream

or milk

1

tbsp

Vanilla Bean Paste

1

Green Apple

peeled and diced

Chopped Pecans

optional
FROSTING:
1

package cream cheese

softened

½

cup

butter

softened

3

cups

confectioners' sugar

1

tsp

Vanilla Bean Paste

1

tsp

salt

Juice from 1 Lemon Wedge
Instructions
Start with the Bun Dough: Heat milk, sugar, oil, and vanilla bean paste in a sauce pan until warm, do not bring to boil.

Pour into large bowl and add in yeast and flour.

Stir together gently until combined.

Cover with a towel and let rise in a warm dark place for 1 hour.

Knead in the salt, baking soda, and baking powder.

Start the sticky topping: Place stick of butter, brown sugar, corn syrup, heavy cream, and vanilla paste in a saucepan over low heat.

Combine sauce together well and bring to a boil for 30 seconds and remove from heat.

Pour into 2 round cake pans or two 8×8 baking dishes.

Sprinkle the diced apple and pecans on the sticky topping.

Split dough in half and roll out one half into a large rectangle.

Cover with half the melted butter, 1 tbsp vanilla bean paste, and 1-2 tbsp of cinnamon.

Roll up lengthwise into a long roll and slice into even sized buns.

Place buns in 1 pan and repeat for the second half of the dough.

Allow buns to rise in pan for 20 minutes.

Preheat oven to 375 F.

Cover buns with foil and bake for 30 minutes.

Remove the foil during last 5 minutes of baking.

Prepare frosting by combining all 6 ingredients in a mixing bowl

Whip them up into a delicious frosting.

Once Buns are done baking, immediately invert the baking pan on a serving plate
Notes
For truly sticky sticky buns, double the topping.
Making baklava is a fun and rewarding activity that can be enjoyed by all. From preparing the dough to making the filling to assembling and baking, each step of this delicious treat is essential for success. Once you have finished baking your baklava, glaze it with a mixture of honey and water or syrup for added flavor! Finally, pair your freshly made baklava with a hot cup of coffee or tea for an even better experience. Now that you know how to make baklava at home, why not try it out? Go ahead and give it a go - you won't regret it!
Nutrition
Serving:
1
serving
Calories:
351
kcal
Carbohydrates:
65
g
Protein:
5
g
Fat:
17
g
Saturated Fat:
7
g
Polyunsaturated Fat:
2
g
Monounsaturated Fat:
6
g
Trans Fat:
0.4
g
Cholesterol:
29
mg
Sodium:
476
mg
Potassium:
126
mg
Fiber:
2
g
Sugar:
25
g
Vitamin A:
352
IU
Vitamin C:
0.5
mg
Calcium:
67
mg
Iron:
1
mg
Making The Filling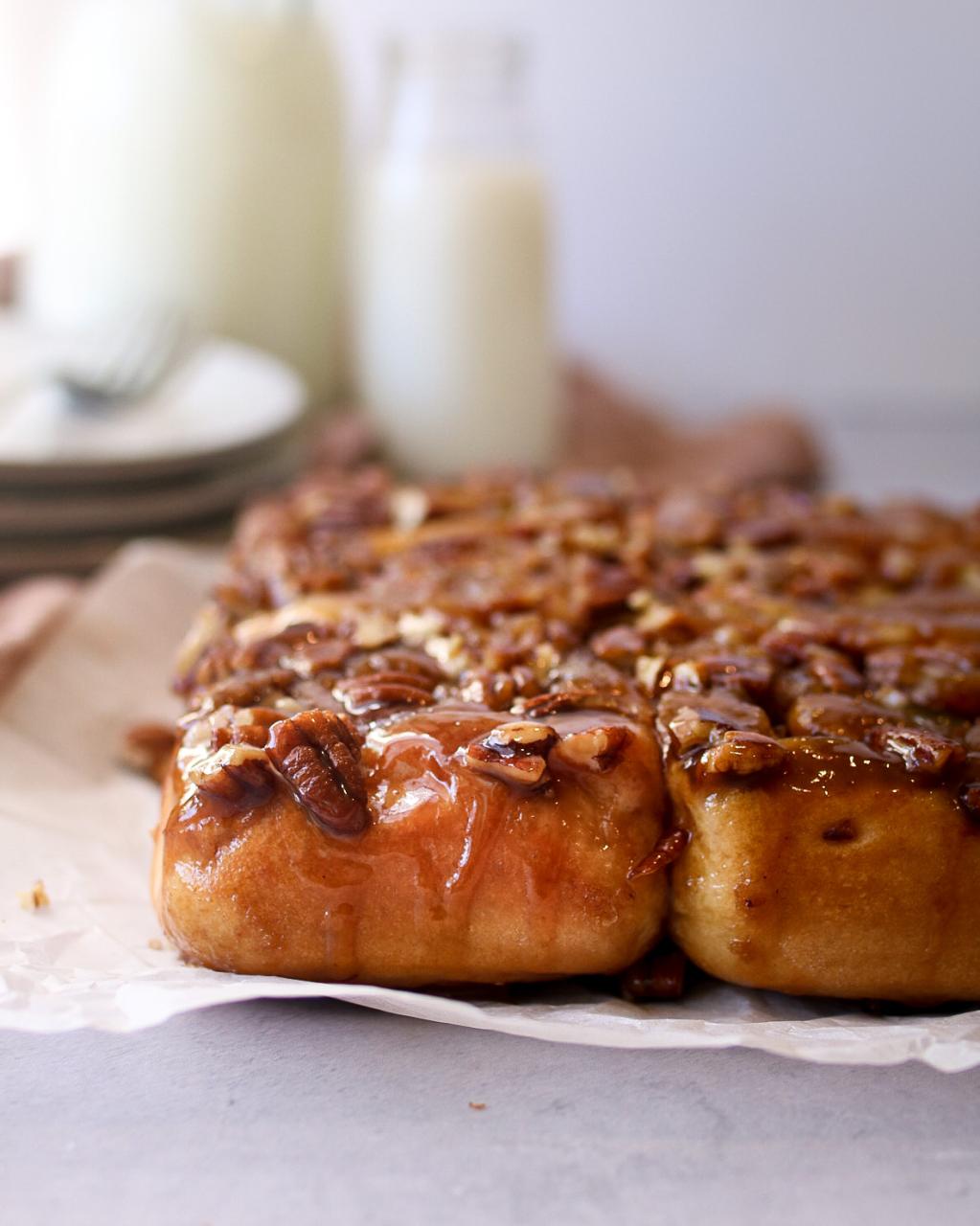 Fall is a time of year when we enjoy delicious baked goods. One of our favorite recipes is vanilla cinnamon apple sticky buns. They are easy to make, and the filling is simply delicious – you won't be able to resist!
To make these buns, you will need the following ingredients: sugar, cinnamon, butter mix, apples, and nuts. First, gather all of your ingredients and put them in a bowl. Then, mix the sugar and butter together until they form a smooth paste. Add in the cinnamon and stir until well combined. Next, add in the apples and toss them around so that they are coated in the sugar mixture. Finally, place the mixture into a baking dish or pan and bake at 350 degrees for 25-30 minutes or until the apples are soft and tender.
Once they're done baking, let them cool for a few minutes before assembling them into sticky buns with some nuts on top (pecans or walnuts work well). You can serve them warm right out of the oven! Enjoy your delicious fall recipe – vanilla cinnamon apple sticky buns!
Assembling And Baking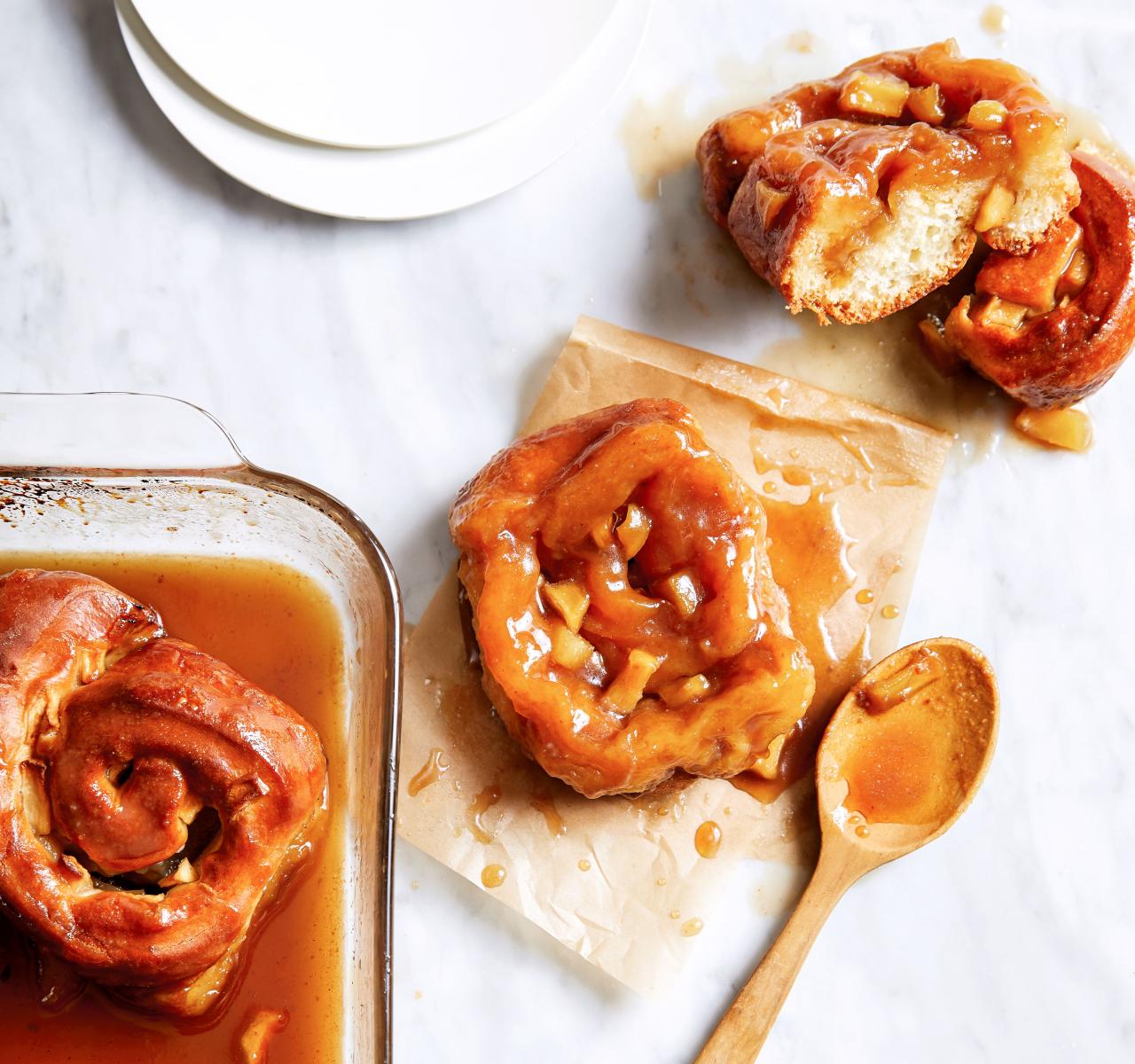 Fall is a time of year when delicious treats are a must! One of our favorite fall recipes is the vanilla cinnamon apple sticky buns. These buns are easy to make, and they taste delicious – perfect for any occasion. Here are the instructions for assembling and baking these irresistible beauties:.
1. Assemble the sticky buns by mixing together the dough, filling, and icing ingredients.
2. Knead the dough until it's smooth and then let it rest for about 10 minutes so that the flavors can blend.
3. Preheat your oven to 350 degrees Fahrenheit before shaping the sticky buns into rolls or logs.
4. Bake in your preheated oven for 20-25 minutes, or until the sticky buns are golden brown and cooked through.
5. Serve warm with butter and maple syrup – we think they're simply irresistible! And don't forget to enjoy them on special occasions like Thanksgiving or Christmas!
Glazing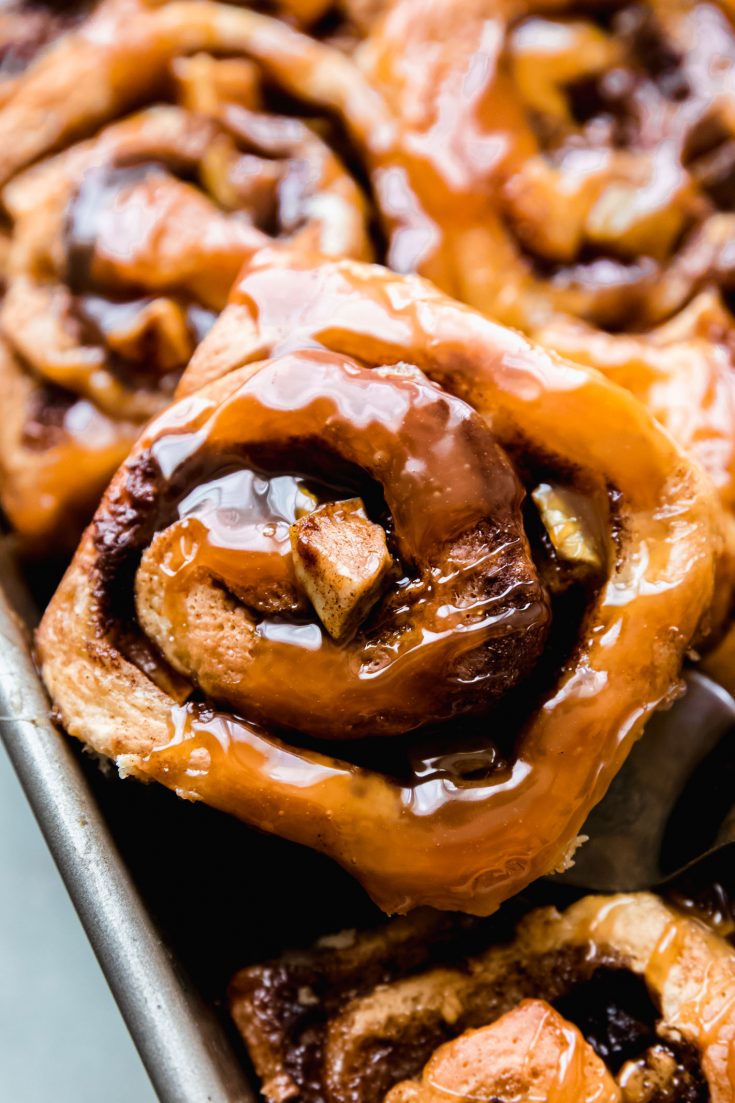 Fall is the perfect time to enjoy a delicious sticky bun. These sweet and savory buns are bursting with cinnamon and apple flavor, and they are sure to be a hit with your guests. To make the perfect dough for these delicious treats, you will need the right ingredients and a few simple steps.
To start, you will need to gather all of the ingredients that you will need for the dough: water, sugar, yeast, salt, butter (or margarine), and flour. In order to make sure that your dough is properly mixed and rolled out, it is important to use a stand mixer or an electric mixer. Once your dough has been mixed and rolled out into a thin sheet, it is time to start preparing the filling.
For this recipe, we recommend using vanilla extract as our main flavor agent. Other options for filling include apple sauce or shredded cheddar cheese. To prepare the filling, mix together all of the ingredients until well combined before spreading it evenly over the surface of the dough. Next, it is time to cover the sticky buns in a glaze recipe of your choosing. We recommend using either cream cheese or egg white glazes because they provide sweetness while still maintaining some tartness in comparison to other types of glazes.
Finally, let these delicious treats rise until they reach their desired size before baking them in an oven at 350 degrees Fahrenheit for about 20 minutes or until golden brown on top. Once they have finished baking, let them cool slightly before serving warm or at room temperature!
Pairing Your Delicious Vanilla Cinnamon Apple Sticky Buns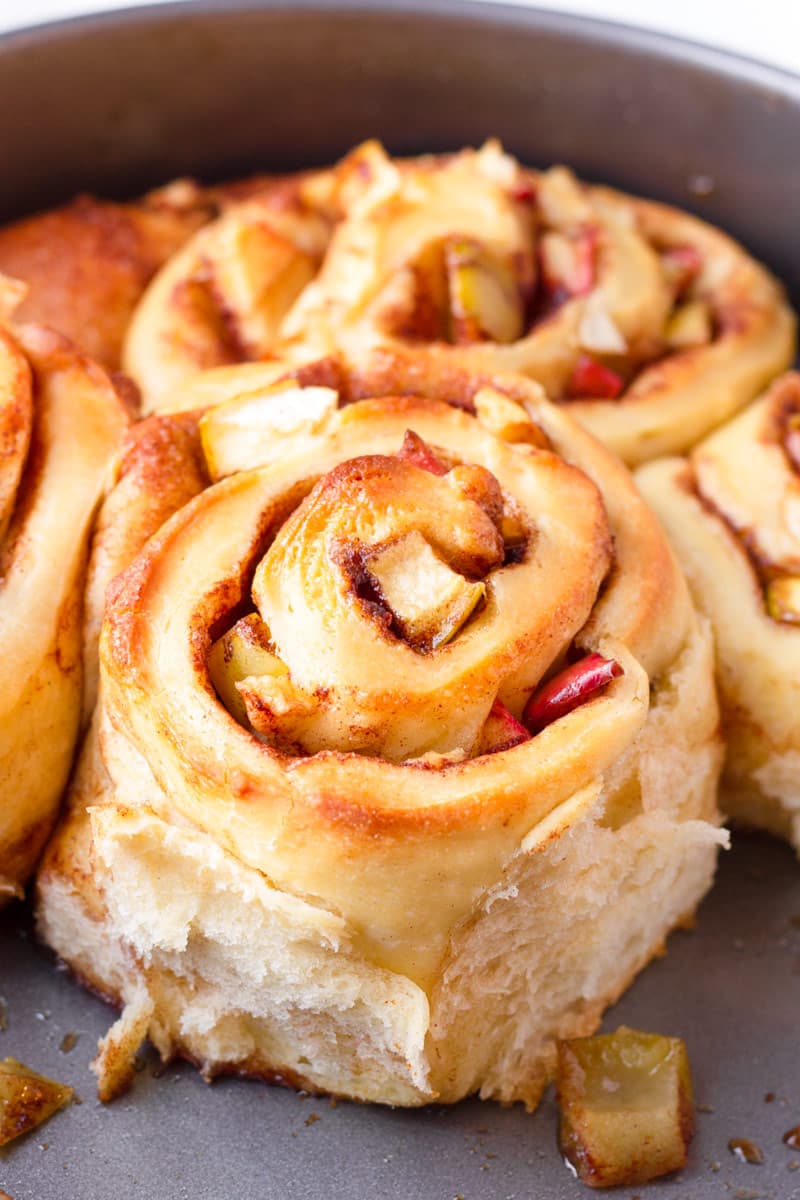 Time to break out the pumpkin spice everything! Fall is the perfect time to enjoy a delicious, classic dish – vanilla cinnamon apple sticky buns. This recipe is simple to make, and it features two of your favorite flavors – vanilla and cinnamon. Not only will you love the taste, but you'll be delighted by the gorgeous color combination of orange and brown on a warm autumn day.
To make these tasty treats, you'll need a combination of store bought and homemade ingredients. You can start with some store bought ingredients like eggs and flour, then add in some homemade flavors like cinnamon sugar and applesauce. Be sure to mix together all of the ingredients well before rolling them into sticky buns.
Toppings are optional for these delicious buns, but they definitely add an extra layer of flavor and texture. Try topping them off with eggnog or hot coffee for a delicious Fall treat that satisfies both your sweet tooth and your caffeine cravings! Finally, finish them off with some caramel or toffee sauce for an extra sweet finish. These amazing cinnamon apple sticky buns are definitely worth indulging in this season!