Make your own luxurious flourless chocolate cake at home with this step-by-step guide and get ready to indulge in a delicious and creamy dessert – make yours today!
A friend of mine is allergic to gluten. I tried my best not having to invite her over seeing that almost everything I cook & serve contains some sort of gluten. Once I realized that a gluten-free diet contains a large range of food I wasn't that worried about it. Meat, Rice, Vegetables…oh but wait, dessert?! I did not want to serve fruit & ice cream, I wanted to bake. So I tried baking this flourless chocolate cake.
CookEatDelicious Rating: Very easy recipe to make. You basically throw all the ingredients in a blender and bake. The finished result? I didn't care for the texture of the cake. It is smooth and rich but almost slimy. When cooled longer it did firm up but still did not please my palate. My friend thought it was great but I suppose if you haven't eaten cake made with gluten in years than anything might be good. Will I make it again? Not unless my company is on a gluten free diet!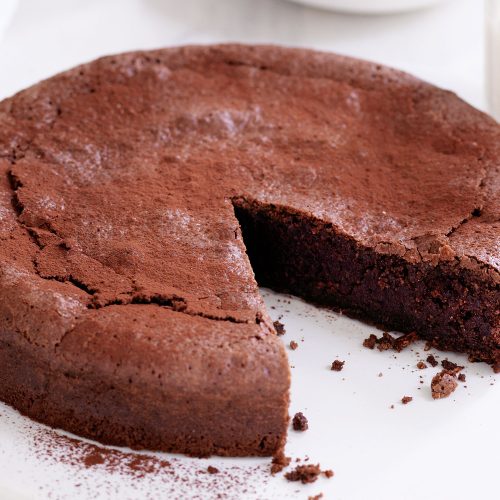 Flourless Chocolate Cake
If you're looking to indulge in a luxurious dessert without breaking the bank, look no further than flourless chocolate cake. This rich and creamy cake is easy to make and can be dressed up with a variety of toppings and decorations
Ingredients
16

oz.

of your favorite Dark Chocolate Bar

1

cup

Packed brown sugar

½

cup

white sugar

¾

cup

very hot coffee

2

sticks unsalted butter at room temp

2

tbsp

unsweetened cocoa powder

8

large eggs

1

tbsp

vanilla extract
Instructions
Preheat oven to 350 degrees F.

Prepare an 8×8 baking dish, lining the bottom with a buttered piece of parchment paper.

Wrap pan with foil to avoid over browning.

Break up chocolate and pulse in blender until small bits.

Add in both sugars and pulse until all combined into a sandy grain.

Add the hot coffee in slowly while pulsing.

Pulse until the chocolate is melted.

Add the butter pieces and cocoa powder.

Pulse until combined.

Add eggs and vanilla and combine until smooth.

Pour batter into pan and bake for 55-65 minutes.

Use a toothpick to check cake, it should come out clean.

Cool cake on wire rack.

When the cake is completely cooled, cover and chill for three or more hours before serving.
Notes
Making A Flourless Chocolate Cake Is Easier Than You May Think. All You Need Are Quality Ingredients, A Few Simple Steps, And The Right Tricks To Ensure Your Cake Comes Out Deliciously Moist Every Time. You Can Also Use Different Flavors And Toppings To Add Interest To Your Cake And Make It Truly Unique. Finally, A Glass Of Wine Or Champagne Makes For The Perfect Accompaniment To This Luxurious Dessert.
Nutrition
Serving:
1
serving
Calories:
501
kcal
Carbohydrates:
59
g
Protein:
9
g
Fat:
26
g
Saturated Fat:
14
g
Polyunsaturated Fat:
1
g
Monounsaturated Fat:
8
g
Trans Fat:
0.04
g
Cholesterol:
147
mg
Sodium:
75
mg
Potassium:
476
mg
Fiber:
6
g
Sugar:
47
g
Vitamin A:
236
IU
Calcium:
81
mg
Iron:
7
mg
Tricks To Ensure A Moist And Delicious Result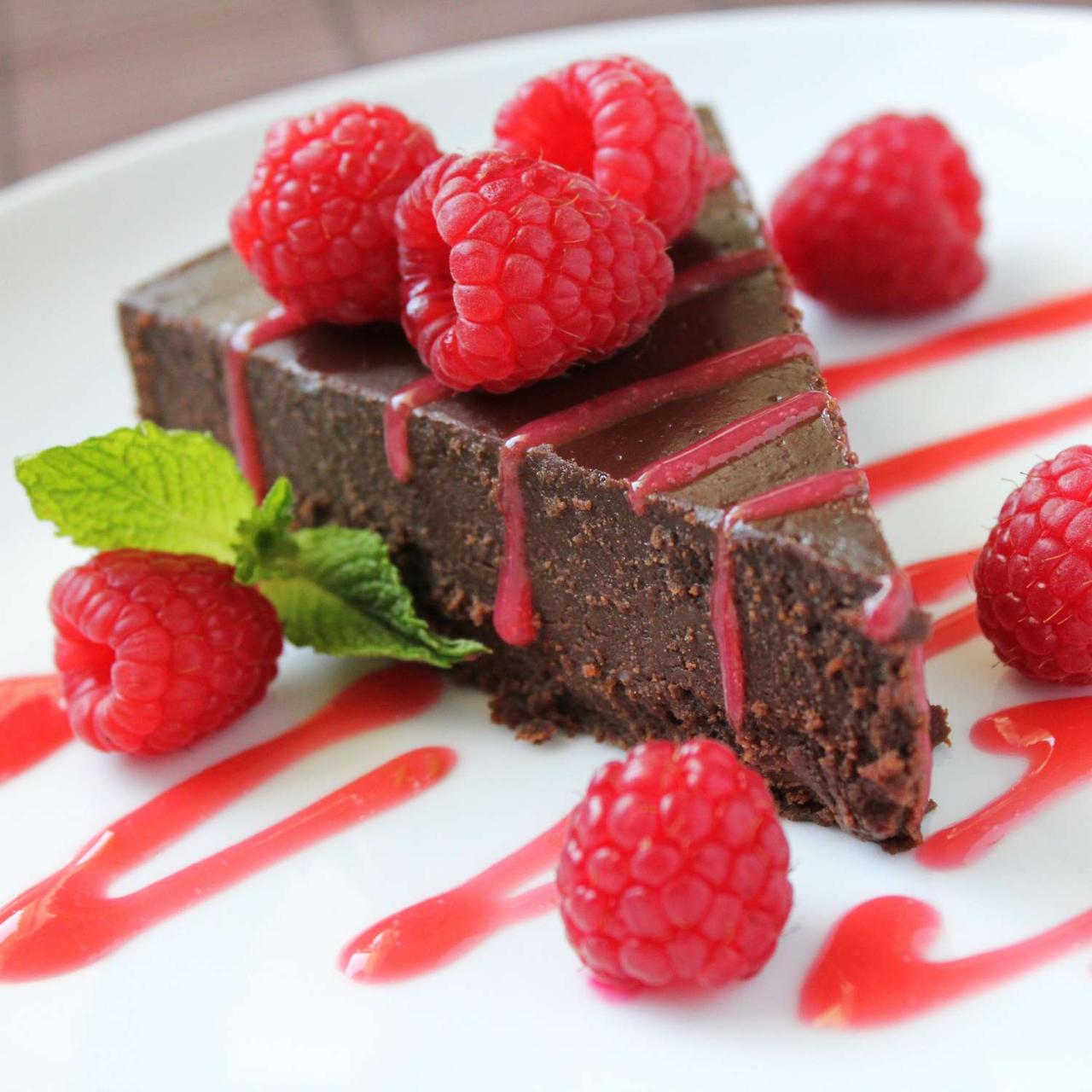 Flourless chocolate cake is a luxurious treat that's sure to bring joy to your taste buds. Making this cake at home is simple and easy, but there are a few tricks that you need to know in order to get the perfect result.
First and foremost, make sure that you properly prepare your ingredients. Be sure to heat your oven and water correctly before starting, and mix all of the ingredients gently so that they are evenly mixed. Also, be sure not to overmix – a cake that is too dense will not be as fluffy or moist as one that is well-mixed.
Adding wet ingredients such as milk or yogurt will also help to make the cake more moist. However, don't overdo it – adding too much moisture will result in a heavy and dense cake. For extra flavor, try using dark or white chocolate in place of regular chocolate chips. This will add an extra layer of complexity and richness to your cake. Finally, bake your cake at the right temperature and time – it's best if it's done slightly under or overbaked so that it remains soft but doesn't fall apart when cut into pieces.
Once you've followed these simple steps, you can enjoy the luxurious taste of flourless chocolate cake at home! Whether you're serving it for dessert alone or sharing with friends and family, everyone will love this delicious treat!
Ways To Jazz Up Your Flourless Chocolate Cake
To start, experiment with different flavor combinations by adding different ingredients to your cake batter. You could try adding cocoa powder, espresso powder, or even spices to give your cake unique flavor profiles. For added sweetness and richness, add a layer of ganache to the top of your cake once it has baked. Ganache is an easy way to add extra richness and sweetness to your cake without having to use additional sugar or other additives.
Next, consider incorporating vegetables into your flourless chocolate cake recipe for added texture and flavor. Some great options include carrots, zucchini, or even butternut squash – all of which will give your cake a unique taste and texture that you won't find in traditional chocolate cakes. Turn it into an individual dessert by serving it in individualized mason jars or cupcake tins instead of traditional cakes boxes or pie crusts.
For added crunch and visual appeal, top off your flourless chocolate cake with nuts (pecans are our favorite) or seeds such as pumpkin seeds or sunflower seeds. Be sure to choose varieties that are high in antioxidants so they can help improve your overall health while enjoying this delicious dessert! Finally, take advantage of seasonal ingredients when preparing your flourless chocolate cake recipe – substituting pumpkin puree during fall season or maple syrup during winter season will bring out the flavors in the recipe more effectively than using regular ingredients every time.
Pairing Suggestions For Your Flourless Chocolate Cake
There's no doubt that flourless chocolate cake is a luxurious dessert. But don't worry, you can enjoy the luxurious taste of this cake at home without having to go to a fancy restaurant. Follow the tips in this blog for pairing suggestions that will let you enjoy the best flavor possible.
First, it's important to understand how dense and rich a flourless chocolate cake can be. Some cakes are very dense and tough, while others are extremely fluffy and delicate. You want to find a recipe that strikes the perfect balance between these two qualities so that your cake is both delicious and satisfying. Second, make sure to follow the baking process closely so that your cake arrives perfectly moist and doesn't fall apart when you cut into it. Finally, use healthy ingredients in your recipe that won't compromise on flavor – this will help to ensure that your cake tastes delicious no matter which flavors you choose to mix together.
If you're looking for ways to add some extra excitement to your flourless chocolate cake experience, consider using different frosting flavors or pairing it with different liquors or desserts. For example, ice cream pairs beautifully with a rich and dense flourless chocolate cake while berries add sweetness and texture contrast. When it comes time for dessert, there's no harm in experimenting!