Come learn how to make the flavorful and easy-to-make Thai Yellow Curry with our tips and FAQs, and enjoy your homemade dish to the fullest
When we were dating, my DH & I used to a great Thai place on Market in San Francisco. Unfortunately, they changed management throughout the years and the food just wasn't the same. When we moved here to Mexico, well let's just say that we were missing any type of Thai food. So we took it upon ourselves to make Thai at home, Curry more specifically. DH makes some deliciously HOT curry. We end up a ball of sweat by the time we finish one bowl! So when I make some Thai Curry it brings out the curry flavor that I love, especially in a yellow curry. "Mellow Yellow" is what I like to call it. I decided to enter it into my 1st ever food blog event! It is called "House Favorites: Vegan" hosted by Chez Cayenne. I am so excited to enter my "Mellow Yellow Thai Curry" because it has been a House Favorite going on two years now! Plus it is vegan. We actually never realized it until recently that most of the dishes I cook are vegan!
Cook Eat Delicious Rating: If you love Yellow Thai Curry you will definitely find this easy recipe to be delicious. It is easy for any home cook to make and as I said above it is a House Favorite in our home. Change it up with different veggies if you would like or make hotter by adding more curry paste or curry powder. I cook the potatoes separately because I don't care for them buy my DH loves them in curry. You decide and comment on how it turns out for you.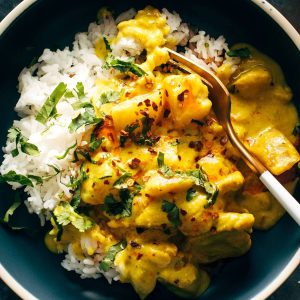 Vegan Thai Yellow Curry
Are you looking for a way to bring a taste of Thailand into your home? Look no further than Thai Yellow Curry! A favorite amongst Thai cuisine fans, this dish is both flavorful and easy to make. In this blog post, we will cover everything you need to know about Thai Yellow Curry, including what is in it, tips for making the perfect curry, frequently asked questions, storing and serving information, and more. Plus, we will include some tips on how to enjoy your homemade curry to the fullest. So, grab your ingredients and let us get cooking!
Ingredients
2

tbsp

olive oil

1

onion

sliced into crescent moons

3

tbsp

ginger

freshly minced

3

garlic cloves

minced

4

tbsp

yellow curry paste

2

cans

coconut milk

3 if cooking potatoes separately

3

potatoes

diced

1

red bell pepper

sliced

1

orange bell pepper

sliced

3

tbsp

soy sauce

2

tbsp

pure maple syrup

3

cups

jasmine rice

cooked
Instructions
In a large pan heat oil over medium heat.

Add curry paste and 'fry' for 2-3 minutes.

Add in onion, garlic, and ginger; cover and cook for 5 minutes.

In a separate pan boil potatoes in water or an additional can of coconut milk.

Reduce heat, cover, and let potatoes simmer.

Add coconut milk to curry pan and mix well.

Stir in bell peppers, cover and cook over low heat until vegetables are tender.

Add in soy sauce and syrup.

Serve in a bowl with jasmine rice or on top of rice.

Don't forget the potatoes!
Notes
There you have it! We have explored the amazing flavors of Thai yellow curry and all the tips, tricks, and techniques that will help you make the perfect dish. From selecting the right ingredients to adding your own creative toppings, there is no limit to how far your culinary adventure can take you. So, why wait? Gather up all your ingredients and get ready to enjoy a taste of Thailand in your very own kitchen!
Nutrition
Serving:
4
servings
Calories:
1154
kcal
Carbohydrates:
161
g
Protein:
20
g
Fat:
50
g
Saturated Fat:
38
g
Polyunsaturated Fat:
2
g
Monounsaturated Fat:
8
g
Sodium:
801
mg
Potassium:
1500
mg
Fiber:
8
g
Sugar:
12
g
Vitamin A:
4229
IU
Vitamin C:
114
mg
Calcium:
142
mg
Iron:
10
mg
Tips For Making The Perfect Curry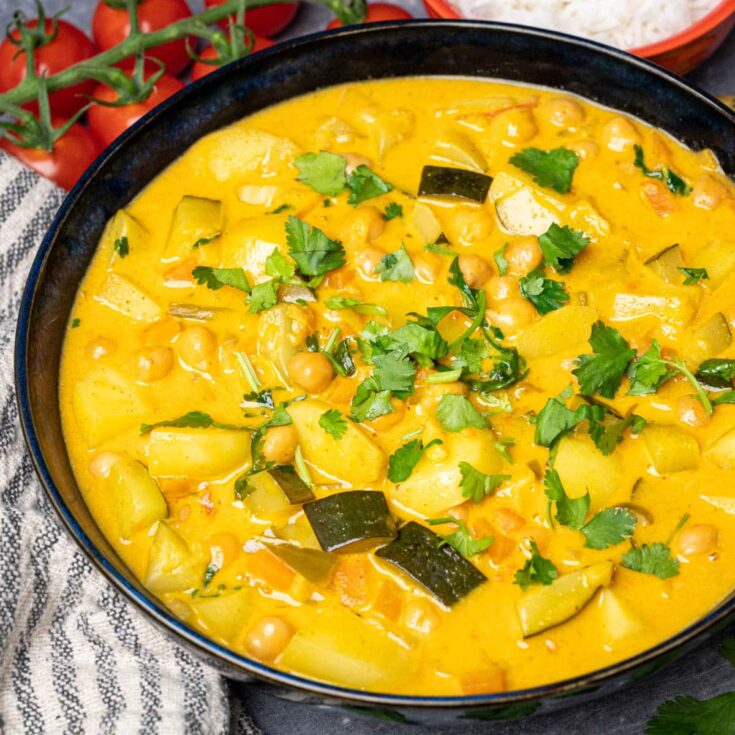 There's nothing like a good Thai yellow curry, and learning how to make it the perfect way is a fun and easy task. Curry is one of the most popular dishes in the world, and for good reason. It's delicious, it can be enjoyed in many different ways, and it packs a lot of flavor into a small amount of time. Below, we will outline the steps that you need to take in order to achieve the perfect cup of curry.
Before starting, gather all your key ingredients: spices, fresh ingredients, base sauce, coconut milk, and measuring utensils. First off, make sure that your spices are fresh – if they're not then they won't taste as good when cooked. Secondly, start by preparing the base sauce by adding vegetable stock or water to a pan and simmering until thickened. Then add your canned coconut milk and let everything cook together for another few minutes until warmed through.
Next up is selecting your fresh ingredients. In order to get that authentic Thai yellow curry flavor profile you'll want to use different types of vegetables including potatoes or zucchini instead of traditional chicken or beef options. Finally, cook everything together until all items are cooked through – this could take anywhere from fifteen minutes to an hour depending on how complex your recipe is. Once everything is cooked through proceed with adding your selected vegetables and spices before serving up into bowls or plates! Enjoy!
Frequently Asked Questions About The Thai Yellow Curry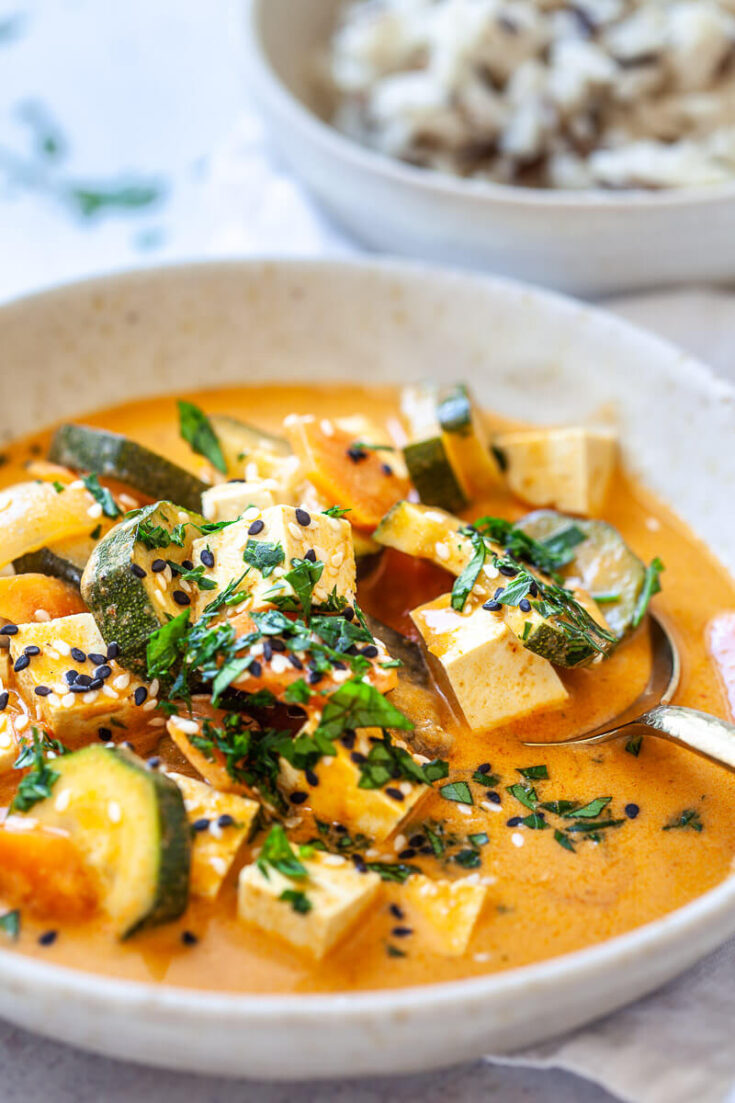 What is the Thai yellow curry?
The Thai yellow curry is a type of curry that is typically made with yellow curry paste, coconut milk, and meat or vegetables. It is often served with rice and is a popular dish in Thai cuisine.
What is the difference between Thai yellow curry and other curries?
The main difference between Thai yellow curry and other curries is the use of yellow curry paste. Yellow curry paste is made with a combination of yellow chili peppers, turmeric, cumin, and other spices, which gives the curry its characteristic yellow color.
How do you make Thai yellow curry?
There are many recipes for Thai yellow curry, but the basic ingredients usually include yellow curry paste, coconut milk, and meat or vegetables. The curry paste is typically cooked in a pan with some oil before the other ingredients are added. Then, the coconut milk and meat or vegetables are added and cooked until the curry is heated through.
What are some common ingredients in Thai yellow curry?
Some common ingredients in Thai yellow curry include yellow curry paste, coconut milk, chicken, potatoes, and onions.
Serving & Storing Your Curry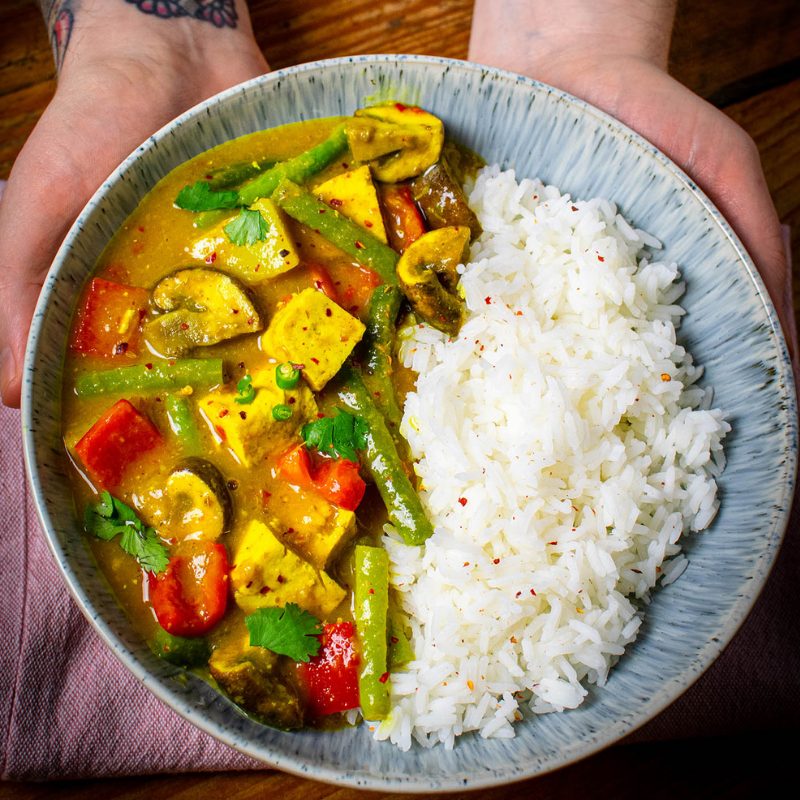 When it comes to curry, there are a few things to keep in mind in terms of serving and storing. First, it's important to let your curry simmer for a bit before serving, as this allows the flavors to meld together and creates a more cohesive dish. Additionally, be sure to taste your curry before serving to ensure that the seasoning is to your liking. If it's too spicy, you can add a bit of coconut milk or yogurt to help balance things out.
As for storing curry, it's best to keep it in an airtight container in the fridge. It will keep for up to a week this way, and reheating is easy – just pop it in the microwave or on the stovetop for a few minutes.
Adding Toppings For Flavourful Enhancements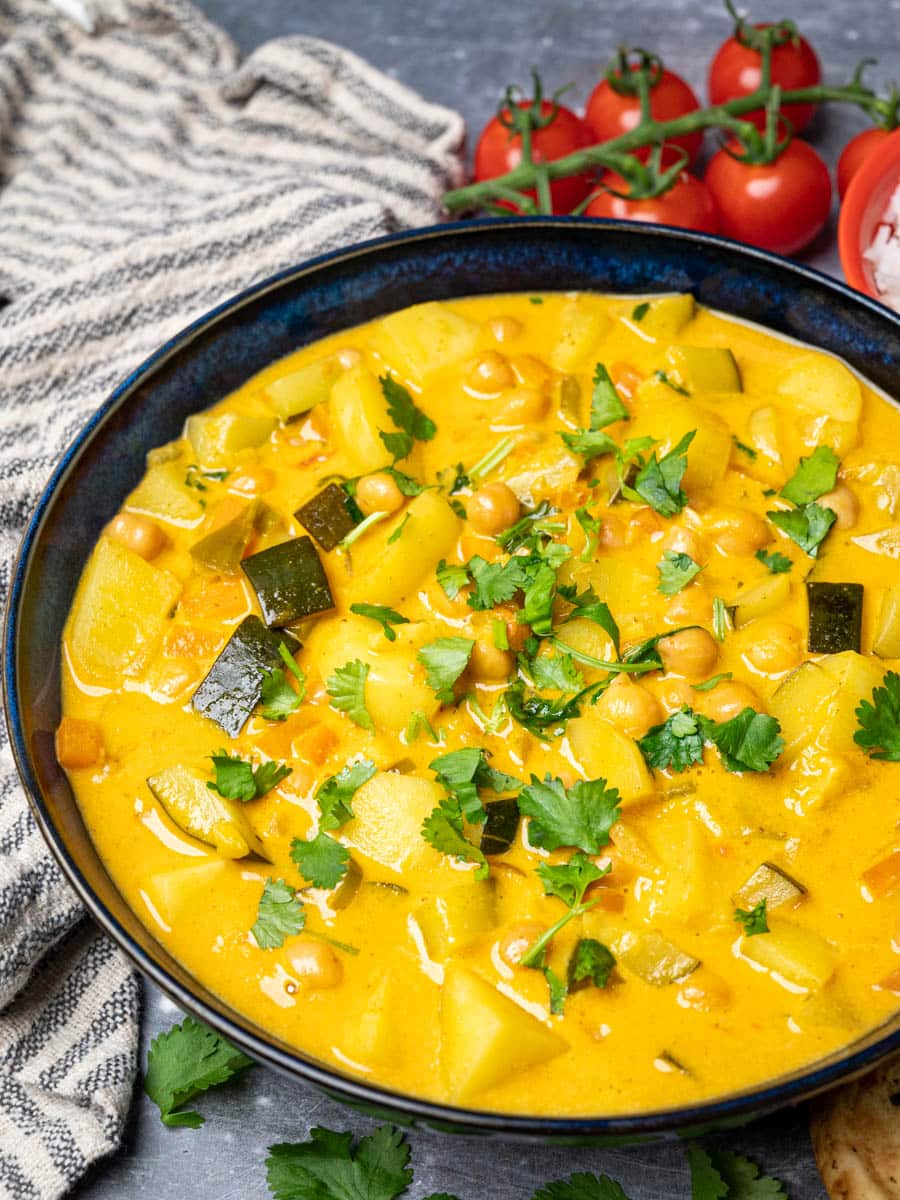 There's no better way to experience a new culture than by cooking their food. In this section, we'll be teaching you how to make Thai yellow curry – a popular dish from Thailand that is sure to tantalize your taste buds.
First, it's important to understand the types of Thai ingredients that are used in this recipe. yellow curry typically includes fresh ginger, galangal (a type of ginger), lime juice, garlic, and coriander (a herb). These ingredients are all used together to create a flavorful dish that is full of flavor.
Once you have selected your vegetables, it's time to start cooking the curry. The main goal is to create a balance between the flavors and textures of the vegetables while still ensuring that they are cooked through. To do this, you will need to cook them slowly until they are tender yet still retain their shape.
To add extra flavor and nutrients to your dish, be sure to include unique Thai spices such as kaffir lime leaves and tamarind paste. These ingredients not only add tons of flavor but also provide essential vitamins and minerals for healthy digestion. Plus, they help boost the immune system!
Last but not least, it's time to add some delicious toppings such as coconut milk or fish sauce (both traditional Thai condiments). This will give your meal even more depth of flavor and nutritional benefits. Finally – enjoy a delicious bowl of Thai yellow curry that has been tailored specifically for your taste buds!