Get the ultimate recipe for warm and delicious White Chocolate Chip Pumpkin Cookies – follow our easy-to-follow guide and start baking now!
I was a bit apprehensive to make these cookies. I love anything pumpkin but never have had pumpkin cookies. But there are those cravings for pumpkin that sneak up on me so suddenly, I only have time to bake cookies. I happened to have a bag of white chocolate chips on hand and thought, "Why not?"
CookEatDelicious Rating: "Why Yes!" is exactly what I said after eating the first cookie, okay, actually after eating spoons of the cookie dough. These are a hit and delicious. Firm and yet soft, almost like a perfect pumpkin muffin soft but with a crunchy cookie bottom. The white chocolate chips balance so perfectly with the pumpkin in this easy recipe, not over nor underwhelming at all. Next time I want to try chocolate chocolate chips, what do you think?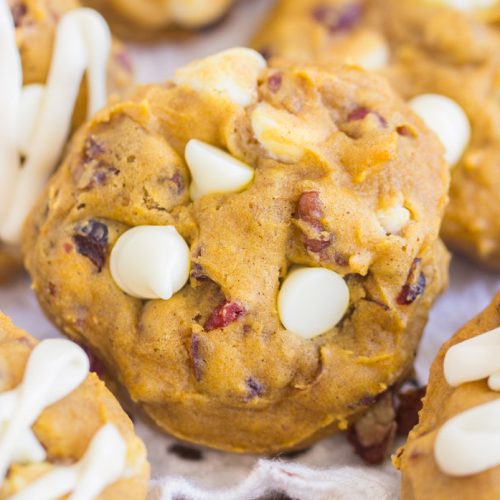 White Chocolate Chip Pumpkin Cookies
If you're looking for a unique and delicious treat to make for the fall season, look no further than white chocolate chip pumpkin cookies! This easy-to-follow recipe will have you baking a batch of delicious and warming cookies in no time.
Ingredients
2

sticks

butter

softened

1

cup

white sugar

1

cup

brown sugar

2

eggs

1

tsp

vanilla

15

oz

pumpkin

can of pure pumpkin

3

cups

flour

2

tsp

baking soda

1

tsp

salt

1½

tsp

cinnamon

1

tsp

nutmeg

1

tsp

all spice

2

cups

white chocolate chips
Instructions
Preheat oven to 350 degrees F.

Beat butter until nice and fluffy.

Add in sugars and beat until well combined.

Mix in eggs one at a time.

Add in vanilla and pumpkin puree.

Mix in spices, salt, and baking soda.

Beat flour into pumpkin mix, little by little.

Stir in white chocolat chips.

Drop cookie mixture of 1 tbsp on a non-stick baking sheet.

Bake for 15-18 minutes.

Cool on wire racks.
Notes
White chocolate chip pumpkin cookies are a delicious, seasonal treat that will satisfy the sweet tooth of any cookie lover. With just a few simple ingredients, they can be prepared and baked in no time. By following the recipe and tips provided, you will have the perfect batch of cookies that your friends and family will love. To make these tasty treats even more special, try experimenting with different variations to add your own unique spin on them. Now it is time to start baking! So, grab those ingredients and get ready for some delicious white chocolate chip pumpkin cookies!
Nutrition
Serving:
1
serving
Calories:
189
kcal
Carbohydrates:
26
g
Protein:
2
g
Fat:
9
g
Saturated Fat:
5
g
Polyunsaturated Fat:
0.4
g
Monounsaturated Fat:
2
g
Trans Fat:
0.2
g
Cholesterol:
25
mg
Sodium:
180
mg
Potassium:
94
mg
Fiber:
0.4
g
Sugar:
18
g
Vitamin A:
1179
IU
Vitamin C:
1
mg
Calcium:
33
mg
Iron:
1
mg
Baking The White Chocolate Chip Pumpkin Cookies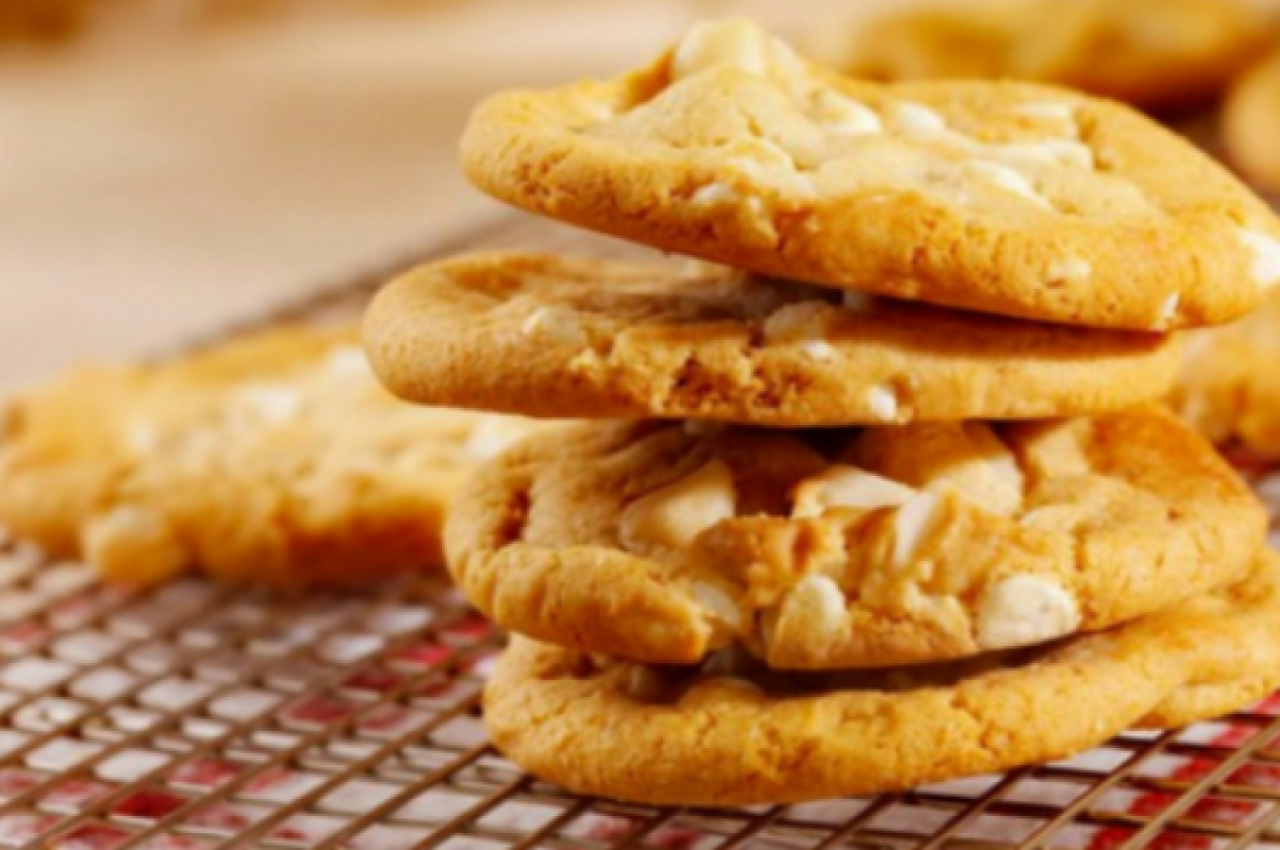 To begin, you'll need all of the ingredients needed for these cookies. We've included a list above for your convenience. Make sure to have all of the ingredients ready before beginning so that everything can come together quickly and easily.
Next, it's time to prepare the mixing bowl and preheat the oven. We recommend warming up the oven before baking so that the cookies will cook evenly and without any problems. Once both are ready, it's time to combine all of the ingredients together and get baking!
Once you've mixed everything together nicely, it's time to form the cookies into desired shapes. We recommend dropping them by spoonfuls onto an baking sheet so that they can bake more evenly. Be sure to bake them for about 10-12 minutes or until they are golden brown in color and center is set (if using a digital timer). Allow them to cool on a wire rack before serving up with your favorite topping (in our case, white chocolate chips). Enjoy!
Tips For Perfect Results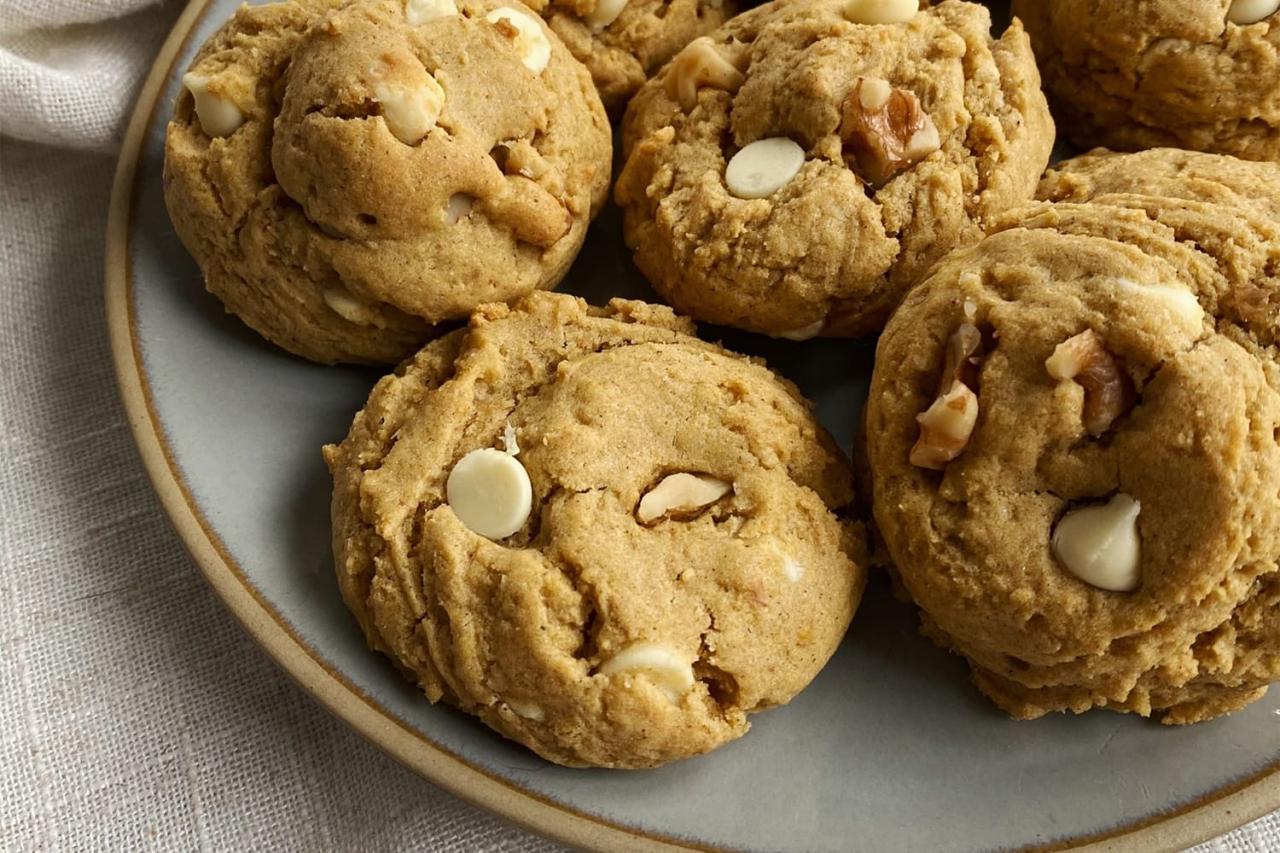 Making delicious, warm cookies is a skill that many people learn as children. But with the right tips and ingredients, it can be easy to make perfect cookies every time. In this section, we will outline the steps that you need to take to make perfect cookies every time.
First and foremost, we recommend using oats in place of some of the all purpose flour. This substitution will result in a softer cookie that is more digestible. Additionally, using high quality white chocolate will provide deeper flavor and smoother texture. Finally, it is important to melt the butter before adding it to the dough so that it spreads easily and provides maximum flavor. This step is especially important when using almond extract as its flavors can be quite strong.
Next, it is important to chill the cookie dough before baking for optimal thickness and shape. Cookies that are cold throughout will be thicker and have more consistent shapes, while cookies that are too warm will become spread out or irregular in shape. Chill the dough for at least two hours before baking for best results.
Lastly, use a large ice cream scoop for even cookie shapes when baking – this will help ensure even cooking throughout the entire batch and prevent burnt or over-cooked cookies on any one batch of cookies. When baking one sheet at a time in your oven (rather than transferring them all at once), this also helps promote even cooking and prevents overcrowding which can lead to uneven browning on your Cookies (yum!). Allow Cookies cool on the baking sheet before transferring them either directly onto a cooling rack or serving them up!
FAQS about the White Chocolate Chip Pumpkin Cookies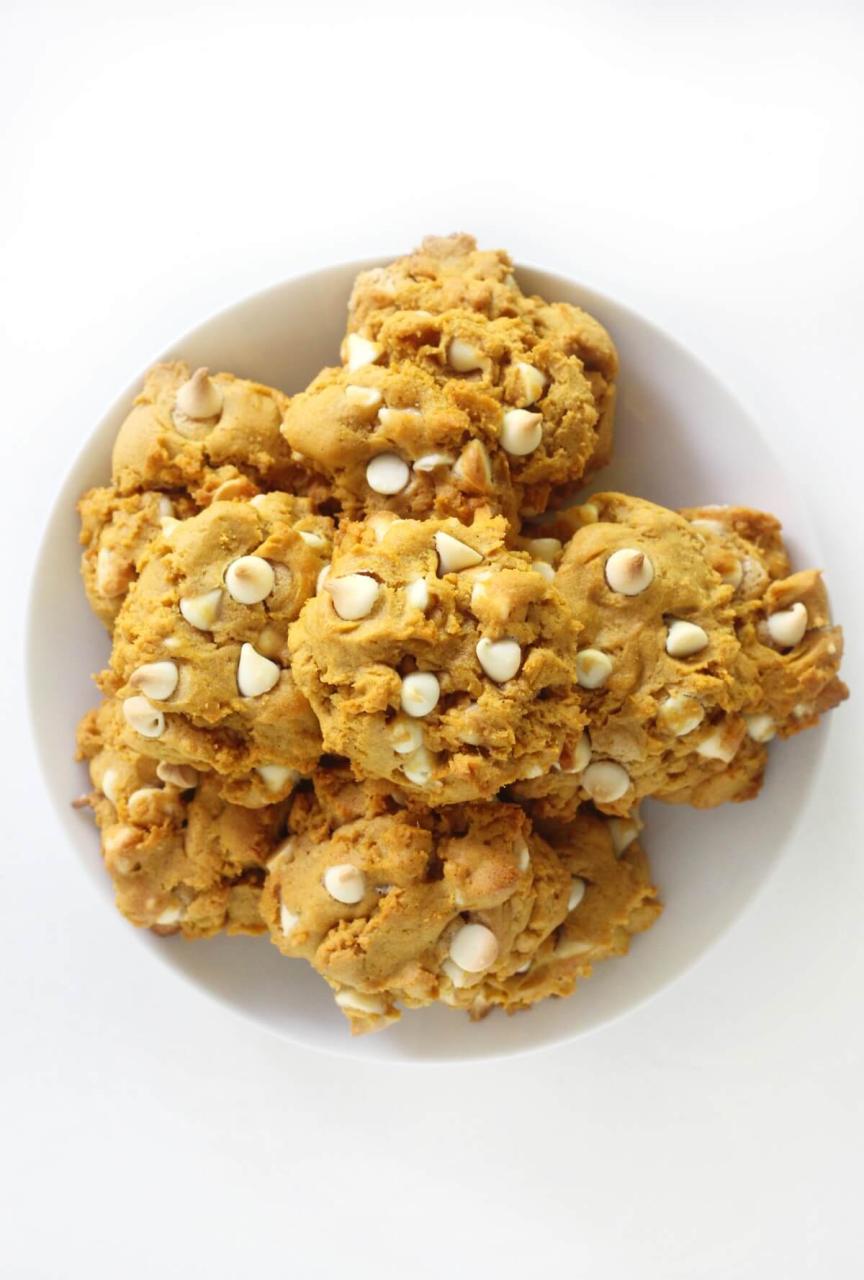 Here are a few frequently asked questions about our delicious cookies:
Q: What kind of pumpkin do you use in the cookies?
A: We use canned pumpkin puree in our cookies.
Q: Do the cookies need to be refrigerated?
A: No, the cookies can be stored at room temperature in an airtight container.
Q: How long do the cookies stay fresh?
A: The cookies will stay fresh for up to 2 weeks.
Q: Can the cookie dough be frozen?
A: Yes, the cookie dough can be frozen for up to 3 months. Just be sure to thaw the dough overnight in the refrigerator before baking.
We hope you enjoy our white chocolate chip pumpkin cookies as much as we do!