Make boiled cabbage the star of your next meal with this easy, healthy, and delicious recipe – read on to learn the basics and get inspired!
Cabbage is an easy side dish recipe to cook up for any dinner. Just be careful on over doing it. Cabbage can cause gas…not the good kind. Sorry if this is TMI but a warning is always issued as needed!
Cook eat Delicious Rating: YUM! Sometimes I cook up some boiled cabbage just to eat as a meal in itself. It is great to serve as a vegetable side with the Jalepeno Bacon Macaroni and Cheese and a piece of Garlic Fried Chicken. If you want to go a little healthier, forget the butter and season with fresh herbs for a nice change up.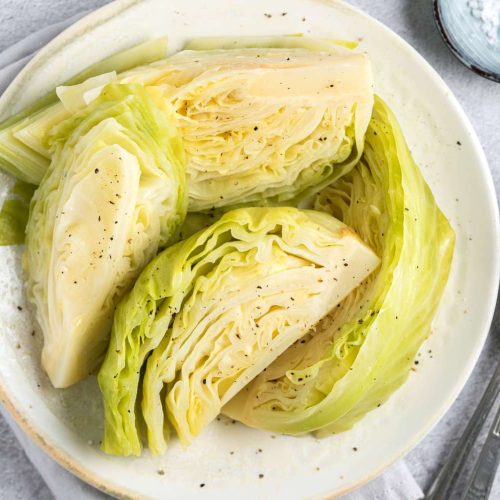 Boiled Cabbage
Boiled cabbage is a simple yet delicious vegetable dish that can be enjoyed as a side or as a main course. In this blog post, we'll explore all aspects of boiled cabbage, from what you need to make it, how to cook it, pairings, tips for making perfectly cooked boiled cabbage, health benefits, and variations and inspiration.
Ingredients
1

medium head

Red Cabbage

4

tbsp

butter

Salt & Pepper to taste
Instructions
Cut cabbage into 6 wedges, then cut each wedge in half.

Add about ½ inch of water to a large pot and bring to a boil.

Add cabbage and salt and bring down to a simmer.

Cook for 10 minutes.

Stir cabbage gently and cook for another 5 minutes.

Pour off water and cook cabbage over low heat for 1 minute.

Add butter.

Salt & Pepper to taste.

Serve immediately
Notes
Boiled cabbage is a delicious and nutritious vegetable dish that can be enjoyed on its own or paired with other foods. It is easy to make, requiring only a few ingredients and very little time. With the tips provided in this article, you can create perfectly cooked boiled cabbage every time. The health benefits of boiled cabbage are numerous, including its high fiber content, vitamins A and C content, and cancer-fighting properties. Finally, there are many variations available to help keep your meals interesting while still providing all the nutritional benefits of boiled cabbage. So, add some boiled cabbage to your next meal for a boost of nutrition!
Nutrition
Serving:
6
servings
Calories:
110
kcal
Carbohydrates:
10
g
Protein:
2
g
Fat:
8
g
Saturated Fat:
5
g
Polyunsaturated Fat:
0.4
g
Monounsaturated Fat:
2
g
Trans Fat:
0.3
g
Cholesterol:
20
mg
Sodium:
98
mg
Potassium:
342
mg
Fiber:
3
g
Sugar:
5
g
Vitamin A:
1794
IU
Vitamin C:
80
mg
Calcium:
65
mg
Iron:
1
mg
What You Need To Make Boiled Cabbage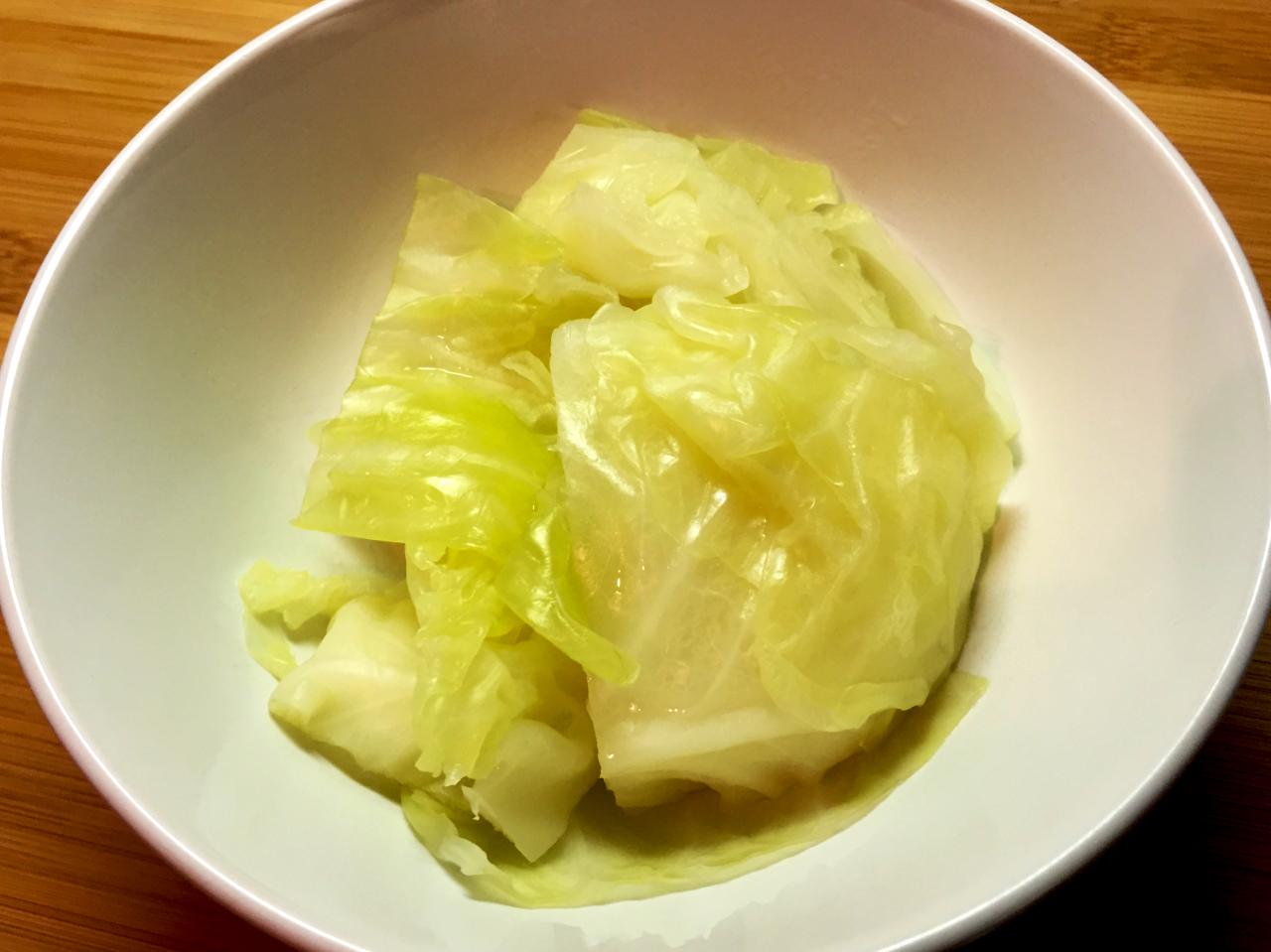 First, it's important to choose high-quality cabbage and avoid any damaged or wilted specimens. Once you have chosen your cabbage, wash it well and then remove the tough outer leaves. Next, cut the cabbage into small pieces and place it into a large pot or Dutch oven. Add enough water to cover the vegetables by two inches and then bring the water to a boil before reducing the heat and simmering for about 30 minutes.
During this time, it's important to add certain ingredients that will enhance the flavor of your boiled cabbage. These ingredients include salt, sugar, vinegar, garlic cloves, onion slices, carrots, celery seed (or substitute), and black pepper (or substitute). Once 30 minutes has passed, carefully remove theabbage from the pot with a slotted spoon or colander and allow it to cool slightly before serving。
While boiled cabbage is definitely delicious on its own right – especially during cold winter months – there are many variations available that can be added for extra flavor variations. Try adding shredded cheese (or other types of cheese), chopped green onions (or other types of green onions), diced ham (or other types of protein), dried cranberries or raisins – anything that you think will enhance the flavor profile of your boiled cabbage!
Finally – whether you're serving leftovers or just want some extra freshness – storing boiled cabbage properly can be crucial in keeping it tasting its best throughout subsequent meals. Try wrapping leftover cooked cabbage tightly in plastic wrap before placing in an airtight container in fridge for up to four days。Enjoy your delicious bowl of boiled cabbage today!
How To Cook Boiled Cabbage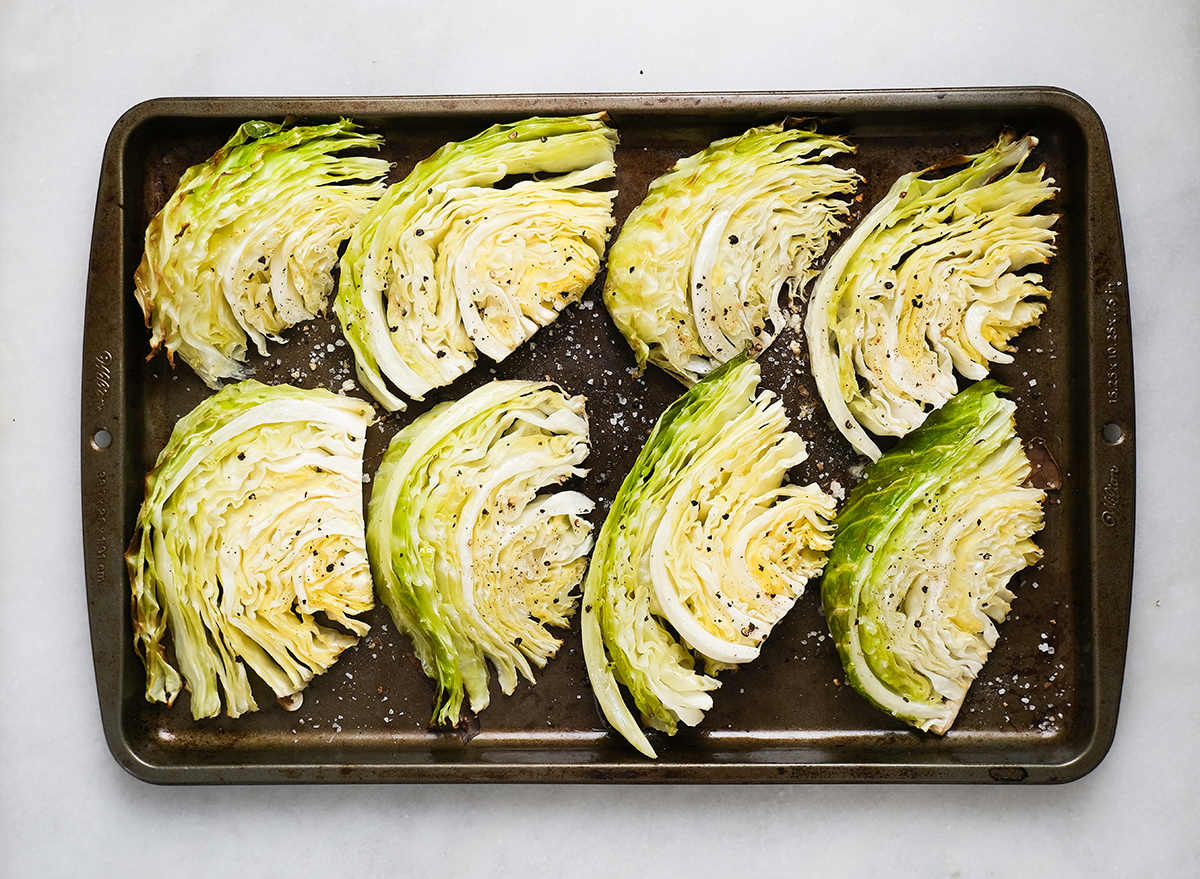 First, it is important to understand the benefits of eating boiled cabbage. This vegetable is packed with vitamins and minerals, including vitamin C and potassium. Additionally, boiled cabbage contains antioxidants that can protect you against cancer and other diseases. Moreover, boiling cabbage effectively releases all of its nutrients so that they are more readily available to your body.
To cook boiled cabbage successfully, you will need the following ingredients: a pot or saucepan filled with water, a head of white or green cabbage (about 2 pounds), salt, and pepper. Begin by bringing the water to a boil before adding the salt and then adding the head of cabbage to the pot or saucepan. Allow the vegetables to boil until they are tender – about 10 minutes should do the trick. Once they are done boiling, drain them in a colander or sieve before using them in one of your favorite recipes!
In addition to providing information on how to cook boiledabbage effectively, this blog also provides tips on pairing boiled cabbage with other dishes as well as advice on using the right amount of water when boiling vegetables. Finally, we provide instructions for what to do with leftover boiled cabbage so that you can enjoy it another day!
Pairings For Boiled Cabbage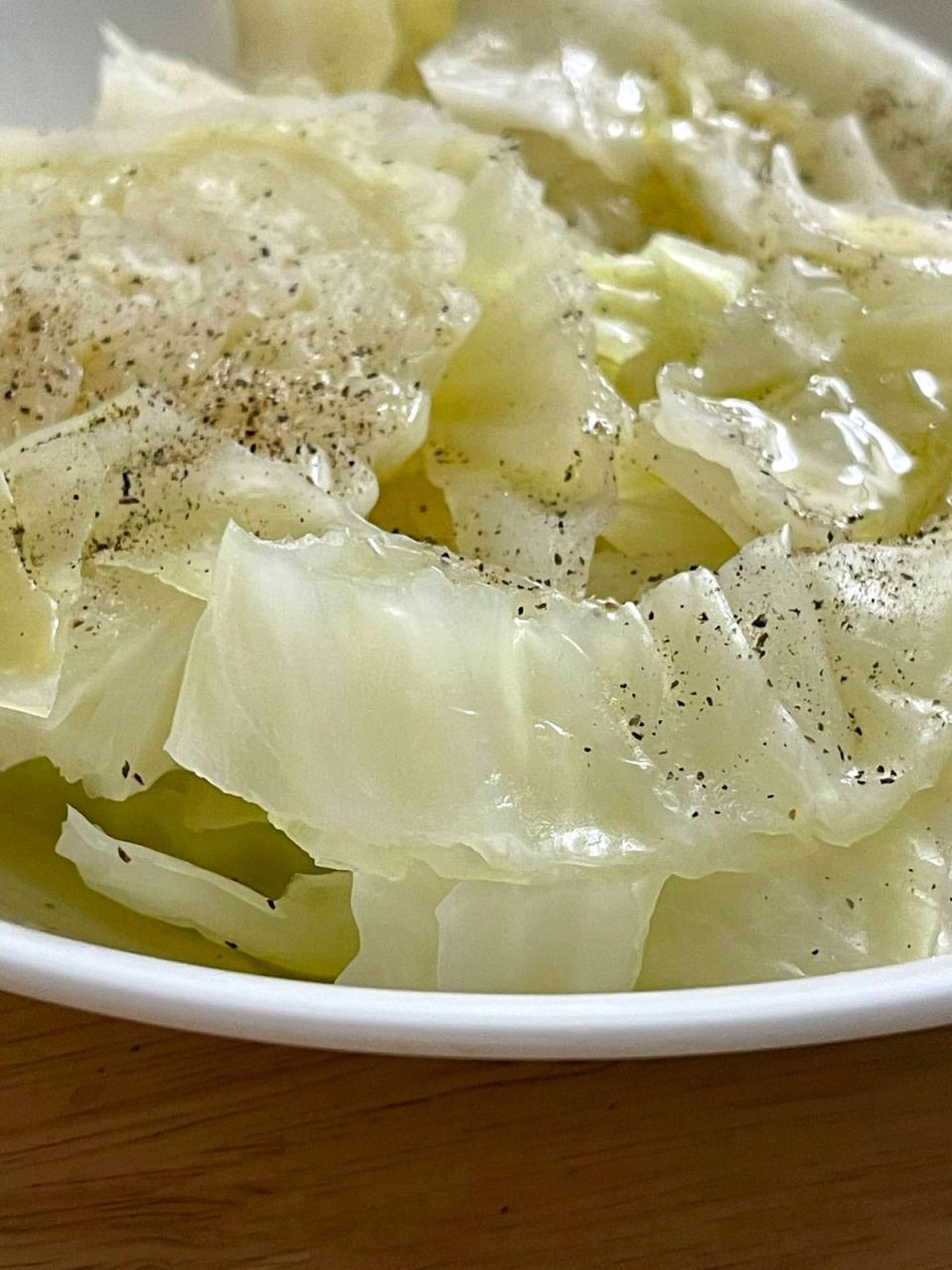 When making boiled cabbage, there are a few basics that you need to know. First and foremost, make sure that your water is hot before beginning. Second, add the prescribed amount of salt to the water and bring it to a boil before adding the cabbage. Third, cook the cabbage for about 20 minutes or until it is soft. Fourth, remove the cooked cabbage from the pot with a slotted spoon and let it cool slightly before using it in your recipe.
Now let's take a look at some of the different flavor enhancers that you can use when boiling cabbage. Some popular options include: vinegar (diluted or not), soy sauce, honey, garlic cloves, gingerroot slices/grate or ground ginger (both fresh or dried), and brown sugar (light or dark). It's up to you which flavor enhancer you choose – just remember to adjust the amount according to your own taste preferences.
One great way to incorporate boiled cabbage into other dishes is by pairing it with proteins such as chicken breast or pork loin. Boiled cabbage makes an amazing side dish for these meaty meals – its mild taste won't overpower either dish! Alternatively, try incorporating boiled cabbage into main dishes such as stir-fries or curries by adding it towards the end of cooking time. Finally, don't forget about side dishes – try serving boiled kale alongside your boiledabbage for an extra nutritional boost!
Tips For Making Perfectly Cooked Boiled Cabbage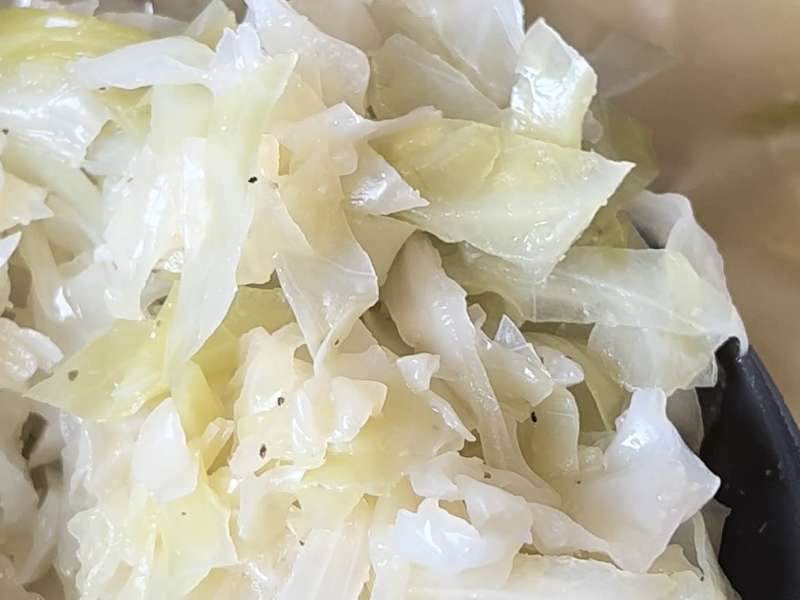 First and foremost, it's important to choose the freshest cabbage possible for boiling. Cabbage can be tough and chewy if it's not fresh, so make sure to choose something that looks vibrant and firm. Once you've selected your cabbage, it's time to season it with just enough salt and spices to enhance its flavour and taste. A subtle blend of savory spices will do the trick nicely.
Once your cabbage is seasoned, it's time to start cooking it properly. Boil water in a large pot or Double Dutch Oven or The Dutch Oven, add your chopped up cabbage and bring the water to a boil before turning down the heat and simmering until the vegetables are cooked through – about 15-20 minutes should do the trick. Be careful not to overcook your cabbage – boiling too long will cause it to become tough and unpalatable.
Finally, select complementary ingredients such as bacon or other vegetables that you enjoy eating raw and cook them along with the boiled cabbage in your pot until they're tenderized (about 5-10 minutes). Remember that different vegetables will take different amounts of time to cook so don't be afraid to experiment a little bit! When everything is ready, enjoy your dish hot or cold – either way it will be delicious!
Health Benefits Of Boiled Cabbage
First, you will need to gather all of your ingredients: boiling water, cabbage, salt, and pepper. Next, prepare the boiling water by bringing it to a boil and then adding salt and pepper to taste. Once the water has boiled, add the chopped cabbage and cook until it is tender. Cooking time for boiled cabbage will vary depending on how thick your slices are – typically about 20 minutes should be enough.
Once cooked, remove the cabbage from the pot and let it cool slightly before serving. You can flavor boiled cabbage in many different ways using spices such as salt, pepper, garlic powder, or onion powder. Some popular dishes that are pairing well with boiled cabbage include coleslaw or potato salad. Be sure to try out this delicious vegetable in some new ways!
Variations And Inspiration For Making Boiled Cabbage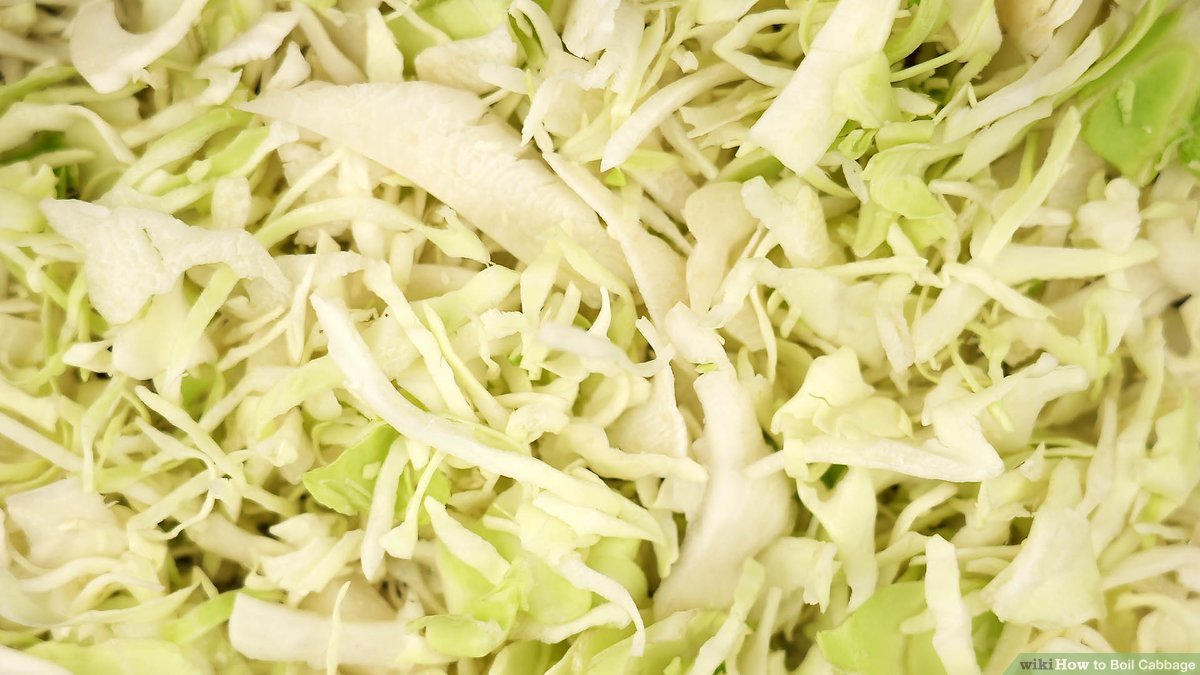 There are many ways to enjoy boiled cabbage.
For a simple and classic dish, simply boil cabbage in water until tender. For a more flavorful option, try boiling cabbage in chicken or beef broth.
You can also add other vegetables to the boiling water, such as carrots, potatoes, or onions.
For a more robust flavor, try boiling cabbage with bacon or sausage.
And for a truly unique dish, try boiled cabbage with apples and raisins.
Whatever your preference, boiled cabbage is a versatile and delicious option.