If you plan on making these, here is your warning: These Chewy Peanut Butter Hershey's Kiss Blossoms Cookies are Extremely Addictive. Eat with Caution!
I must be on a peanut butter high  or a cookie addiction after making so many types of Peanut Butter Cookies and just plain cookies. I know you must be tired of all these easy cookie recipes. But nothing beats the best peanut cookie except a peanut cookie with a Chocolate Kiss on it! It is the perfect blend of chocolate and peanut butter. I love how the Hershey's Kiss doesn't melt but softens and warms. Mmmhhhh…delicious! Plus they are so cute and miniature that you have to eat at least 10!
Delicious Rating: Simple to bake and delicious to eat. Cook Eat Delicious make these for parties or as a finger dessert. They always go so fast! You have the option to roll the dough balls in sugar or not. I do half and half. Both are equally good and you really don't need the extra sugar! Be prepared to eat a lot of extra Hershey's Kisses when unwrapping each one!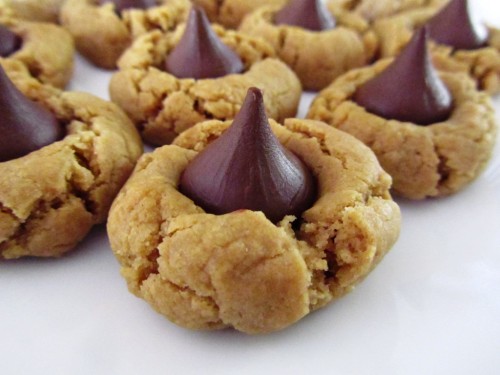 Chewy Peanut Butter Hershey's Kiss Blossoms Cookies
Make your sweet tooth happy with this recipe for Chewy Peanut Butter Hershey's Kiss Blossoms
Ingredients
36

hersheys kisses brand milk chocolates

2

eggs

1

cup

brown sugar

2

tsp

vanilla extract

1

cup

peanut butter

1½

tsp

baking powder

½

tsp

salt

2

cups

flour

2

tbsp

butter

melted

About ¼ cup sugar
Instructions
Preheat oven to 375 degrees F.

In a large bowl combine eggs, brown sugar, vanilla, and peanut butter.
If you are a 'joneser' for peanut butter, add in a little extra, it won't hurt!
Mix in baking powder, salt, flour, and melted butter.

Form dough into 1-inch balls and roll into sugar.
I rolled some cookies in sugar and left some out. It is really up to your preference. My DH doesn't like any extra sugar if it doesn't he to be there. So I left off the sugar in half the batch.
Place on an non-greased cookie sheet and bake 8 minutes.

Once removed from oven, immediately press a Hershey's Kiss in center of each cookie ball.
Immediately press the kiss in the cookie once out the oven. MMmmmhhh…you can literally smell the chocolate softening inside. Yum!
Remove cookies from baking sheet and allow to cool on wire rack.
Notes
Serve with a tall glass of milk!
This is the perfect recipe for anyone looking to make delicious, homemade vanilla cupcakes. The key to making these cupcakes perfect is to follow the directions carefully and to use high-quality ingredients. With just a few simple steps, you'll be on your way to baking up a batch of these irresistible treats.
Nutrition
Serving:
1
serving
Calories:
124
kcal
Carbohydrates:
16
g
Protein:
3
g
Fat:
6
g
Saturated Fat:
2
g
Polyunsaturated Fat:
1
g
Monounsaturated Fat:
2
g
Trans Fat:
0.03
g
Cholesterol:
12
mg
Sodium:
95
mg
Potassium:
60
mg
Fiber:
1
g
Sugar:
9
g
Vitamin A:
33
IU
Calcium:
30
mg
Iron:
1
mg
What to do with the Hershey's Kiss Blossoms Cookies once they are done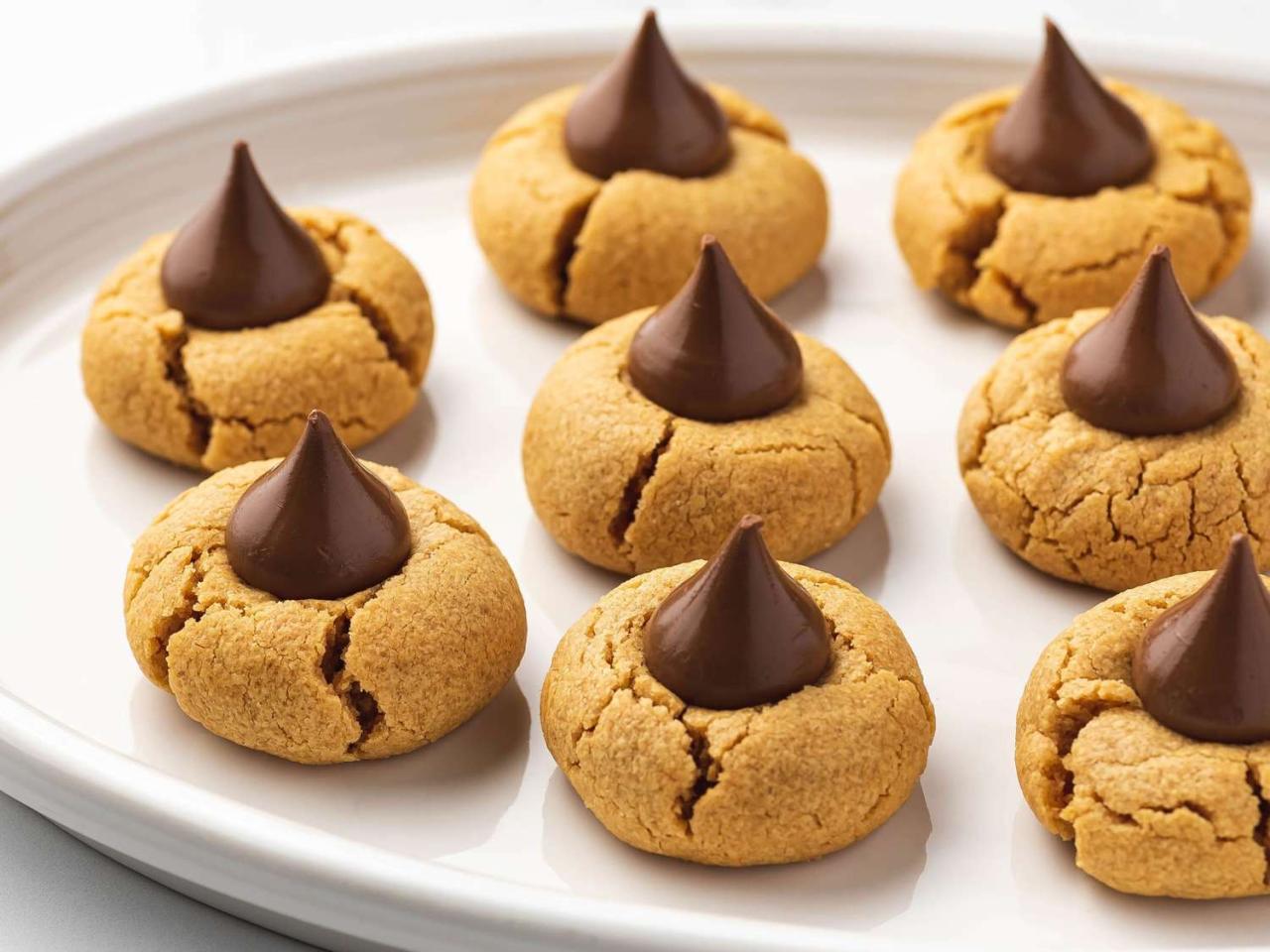 Assuming you're talking about baked cookies:
Once the cookies are done, you have a few options. You can eat them right away, store them in an airtight container, or freeze them.
If you eat them right away, be careful not to burn yourself. The best way to eat a warm cookie is to let it cool for a few minutes first.
If you want to store them, make sure to put them in an airtight container. This will keep them fresh for a few days.
If you want to freeze them, put them in a freezer-safe container and they will keep for a few months.
What is Hershey's Kisses ?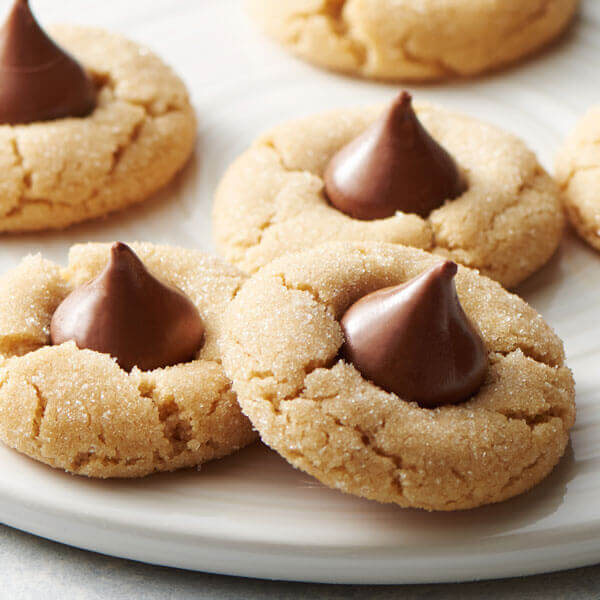 Hershey's Kisses are one of the most iconic American chocolate candies. They are small, cone-shaped chocolates with a flat bottom and a pointy top. The candy is wrapped in a thin strip of aluminum foil, which is often silver but can also be found in other colors. Hershey's Kisses are available in a variety of flavors, including milk chocolate, dark chocolate, and white chocolate.
Hershey's Kisses were first introduced in 1907 and were originally called "Hershey's Kisses." The name was changed to "Hershey's Kisses" in 1921. The candy was originally made by hand, with each chocolate being individually wrapped in foil. Today, Hershey's Kisses are made by a machine, but they still maintain the same iconic shape and flavor.
Hershey's Kisses are a staple of American candy culture and are enjoyed by people of all ages. If you've never had a Hershey's Kiss, you're missing out on a true American classic!
Fun facts about Hershey's Kiss Blossoms Cookies!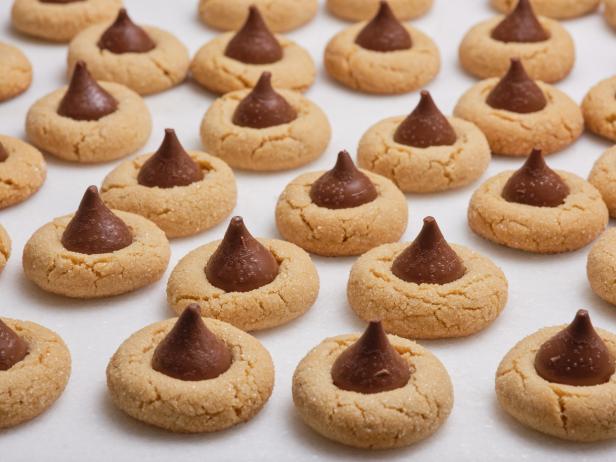 Hershey's Kiss Cookies are one of America's favorite cookies! They are named for their unique shape, which resembles a Hershey's Kiss candy. The cookies are made with chocolate chips, and are often topped with a Hershey's Kiss candy. They are soft, chewy, and simply delicious!
Here are some fun facts about Hershey's Kiss Cookies:
-The cookies were first created in 1907 by the Hershey Chocolate Company.
-The original recipe called for just three ingredients: chocolate chips, sugar, and flour.
-Hershey's Kiss Cookies are now made with a variety of different ingredients, including oats, nuts, and even peanut butter.
-The cookies are a holiday favorite, and are often given as gifts during Christmas and Hanukkah.
-There are many different recipes for Hershey's Kiss Cookies, but the original is still the best!