Peanut Butter Cookies have to be a classic in most homes. I can remember being young and waiting by the oven for the peanut butter cookies to be done. As a kid you already feel a bit special being able to make the 'criss-cross' pattern with the fork. Now you wait. You watch through the tiny window oven until they are done. Yum! Warm cookies fresh out of the oven are always the best. But the true test is how the hold up 30-minutes later. Still soft and chewy? Or hard and crunchy?
Delicious Rating: These didn't stand up to the test of time. Hot out the oven they are soft and chewy. Smooth peanut butter taste and great dunked in milk. But 30 minutes or so later, or even the next day, super crunchy and hard. The consensus? Easy delicious recipe to make & bake, good out of the oven, but won't make again. Stick to my Soft & Chewy Peanut Butter Cookies made with Oatmeal and let me know what you think!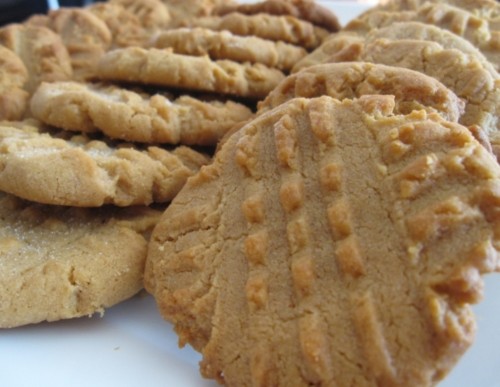 Classic Peanut Butter Cookies
Peanut butter cookies are a classic American cookie that is always a favorite. In this blog post, we are going to show you how to make classic peanut butter cookies using a simple and easy recipe. All you need are a few ingredients, and we will walk you through the step-by-step instructions.
Ingredients
1

cup

butter

softened

1

cup

peanut butter

1

cup

white sugar

1

cup

brown sugar

2

eggs

2½

cups

flour

1

tsp

baking powder

½

tsp

salt

1½

tsp

baking soda

Instructions
Instructions
In a large bowl cream butter, peanut butter, and both sugars together with an electric mixer.

Mix in eggs.

In a medium bowl combine flour, baking powder, salt, and baking soda.

Add dry ingredients into butter mixture.

Stir batter so that all is combined well.

Refrigerate for 1 hour.

Preheat oven to 375 degrees F.

Roll dough into 1-inch balls and place on a non-stick baking sheet.

Using a fork, flatten each ball making a criss-cross pattern.

Bake for 10 minutes.

Cool on wire rack and serve.
By refrigerating the dough the cookie bakes more evenly and keeps that criss-cross pattern.
Sprinkle with sugar if you'd like.
Notes
This blog has provided valuable information on how to make a delicious and healthy smoothie. By following the simple steps outlined in this blog, anyone can make a nutritious smoothie that will help them reach their daily recommended intake of fruits and vegetables. What's more, this recipe is easily adaptable to different dietary needs and preferences, making it a perfect choice for everyone. So what are you waiting for? Go ahead and give it a try!
Nutrition
Serving:
1
serving
Calories:
252
kcal
Carbohydrates:
30
g
Protein:
4
g
Fat:
14
g
Saturated Fat:
6
g
Polyunsaturated Fat:
2
g
Monounsaturated Fat:
5
g
Trans Fat:
0.3
g
Cholesterol:
34
mg
Sodium:
250
mg
Potassium:
94
mg
Fiber:
1
g
Sugar:
18
g
Vitamin A:
256
IU
Calcium:
29
mg
Iron:
1
mg
Recipe Notes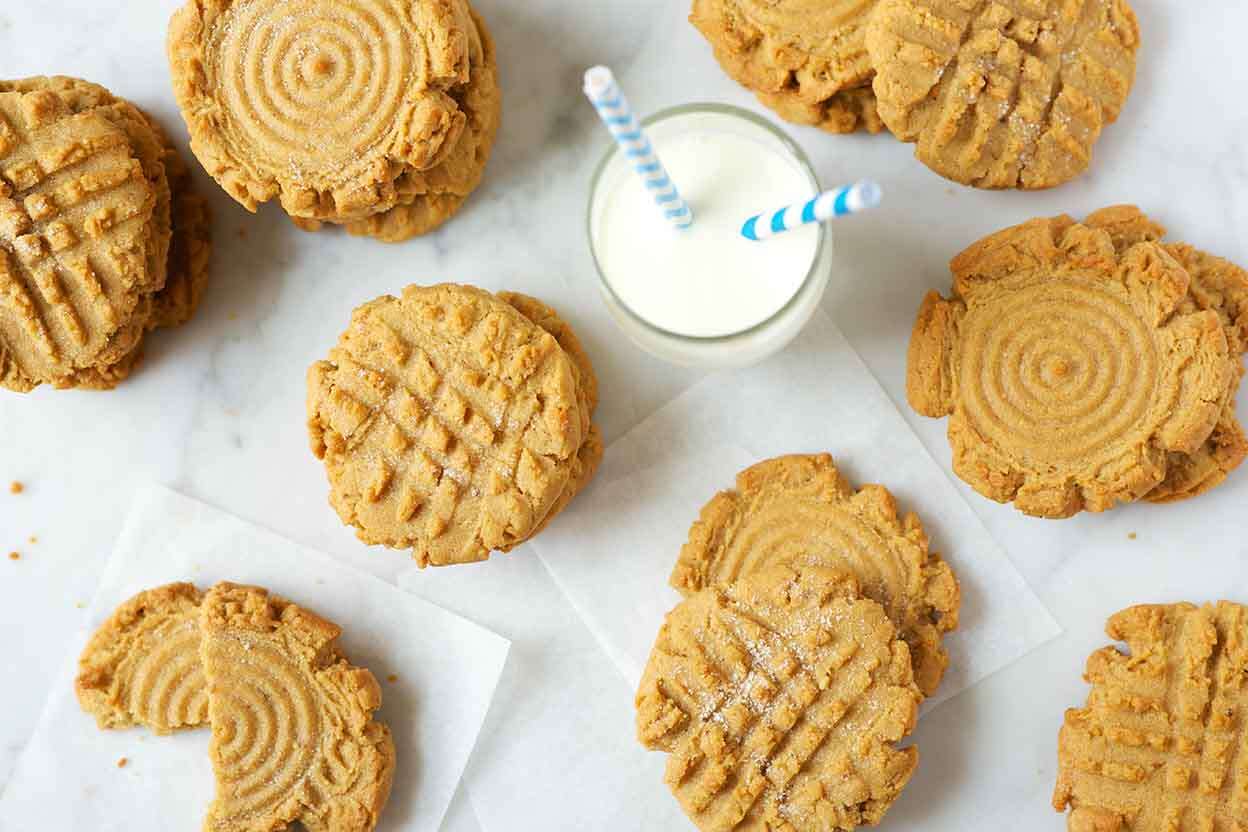 Peanut Butter Cookies are a classic treat, and they're easy to make using this classic recipe. This recipe makes 48 cookies, and it will take you about 20 minutes to prep and 10 minutes to cook. Before baking, be sure to preheat your oven to 375°F (190°C). Then, line a baking sheet with parchment paper and begin by creaming together the peanut butter, sugar, egg, and vanilla until light and fluffy.
In a separate bowl, whisk together the flour, baking soda, and salt. Gradually add this mixture to the peanut butter mixture until just blended. Next, drop dough by rounded tablespoons onto the prepared baking sheet. Be sure to keep an eye on the cookies as they bake – they should be lightly browned in 10 minutes flat! Once they're done cooking, cool them on the baking sheet for a few minutes before transferring them to a wire rack to cool completely.
Store your cookies in an airtight container for future enjoyment!
Peanut Butter Cookies's Variations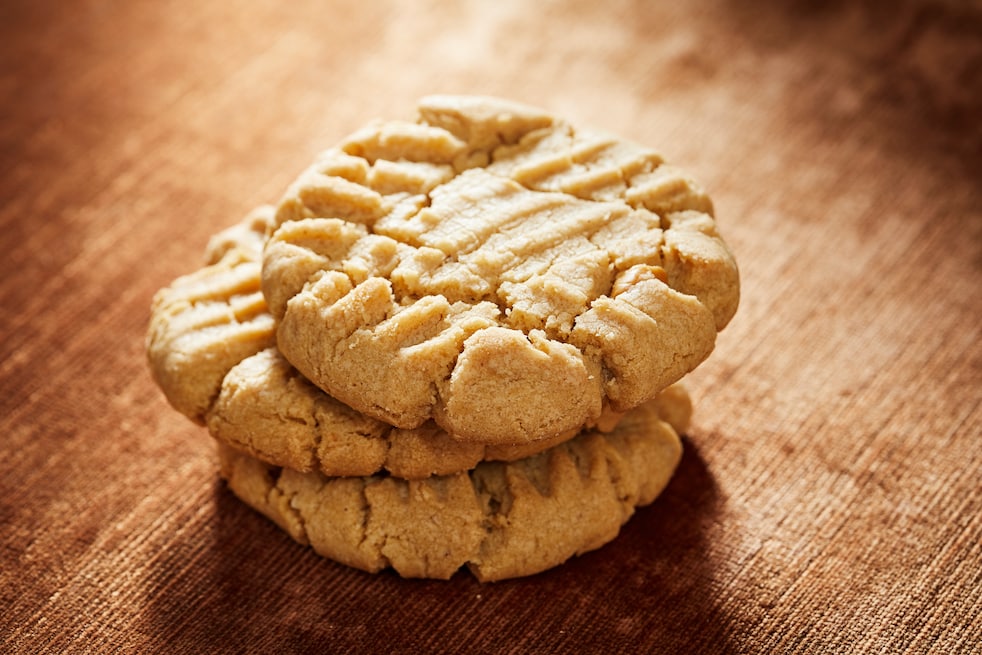 Peanut butter cookies are a classic and beloved dessert. They're simple to make and can be customized with a variety of flavors and textures. In this section, we'll outline the most popular variations of peanut butter cookies, as well as some lesser-known options.
Basic Peanut Butter Cookie Recipe: This classic recipe features a soft and smooth peanut butter cookie dough that is topped with either chocolate or vanilla icing.
Chocolate Peanut Butter Cookies: These cookies are baked with a chocolate-dipped peanut butter center that melts in your mouth. They're also enhanced with bits of chocolate chips for added flavor and richness.
Peanut Butter Surprise Cookies: These cookies are shaped like an envelope and filled with creamy peanut butter goodness inside. The outside is coated in melted chocolate, making them irresistible to lick off!
Peanut Butter Cup Cookies: Similar to the classic peanut butter cookie, but shaped like a cupcake instead of a cookie, these beauties are perfect for enjoying with your favorite milk or ice cream. They're also dipped in Chocolate Ganache (a mixture of heavy cream and chocolate) for an extra decadent treat!
No-Bake Peanut Butter Cookies: These cookies require no baking – simply mix together the ingredients, shape into balls, and press them into the desired shape – then refrigerate until firm. They're perfect for quick snacks or dessert recipes that don't Require baking time! (Note: these cookies will not hold their shape once they've been refrigerated.)
How to Storage Peanut Butter Cookies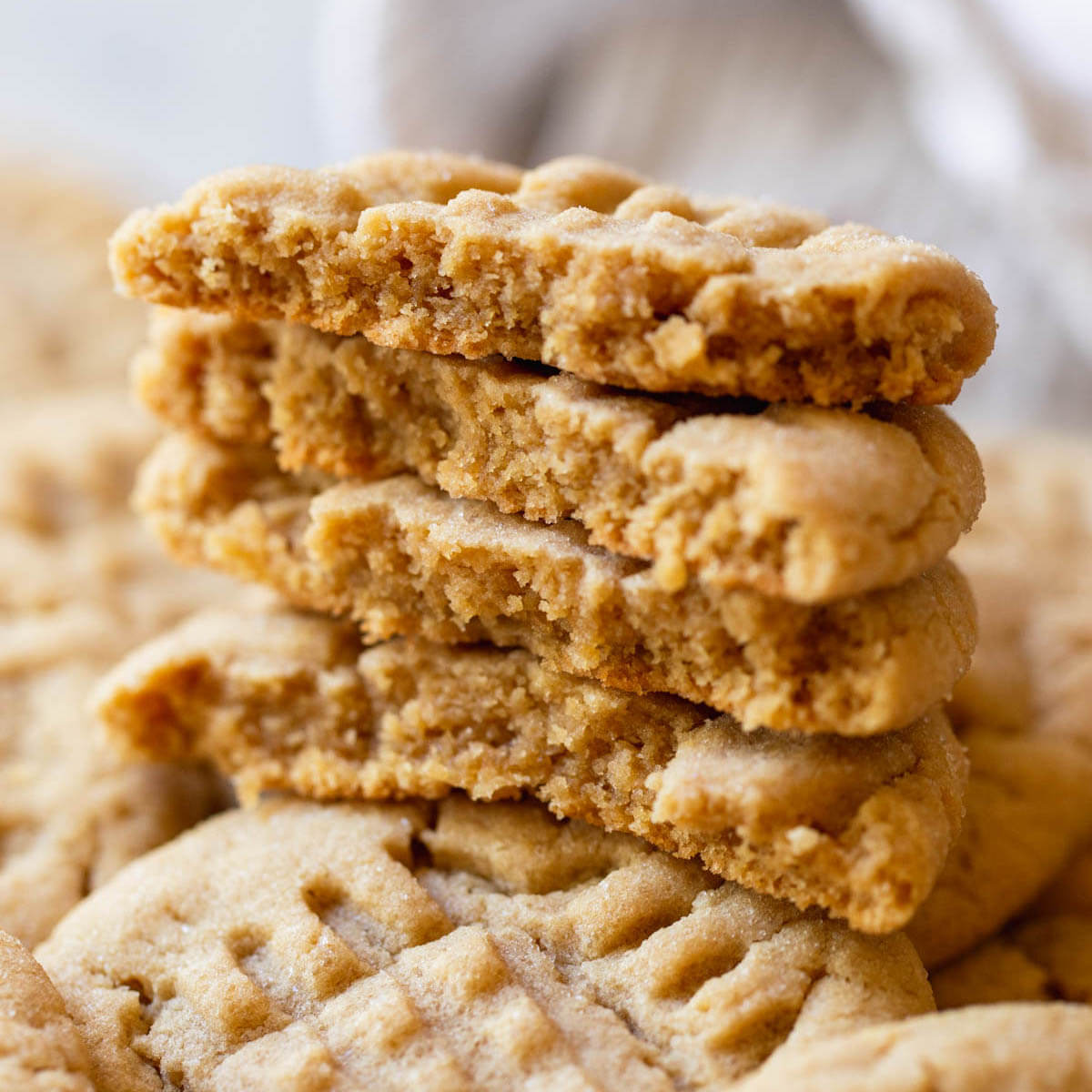 It's that time of year again – the days are getting shorter, the weather is turning colder, and all of a sudden, those delicious peanut butter cookies are calling your name! But before you can start baking, you need to know a few key details about storing your cookies.
First and foremost, do not store these cookies in the refrigerator. The moisture in the air will make them too crisp. Instead, store them in an airtight container at room temperature for up to one week. If you're feeling especially ambitious (or impatient!), you can even freeze them for up to three months. Just be sure to thaw them out in the refrigerator before serving so they stay fresh and crispy!
As far as taste goes, these cookies will be just as delicious after being stored for a week or frozen for three months. In fact, they may even taste even better than when they were freshly made! So go ahead – indulge in some classic peanut butter cookies this holiday season!
Nutrition
Peanut butter cookies are a classic favorite and for good reason! These cookies are simple to make, and they're packed with flavor. Not only are they delicious, but they're also a great source of protein and healthy fats. Plus, this recipe is vegan and gluten- free, so it's perfect for anyone who wants a delicious and healthy cookie.
This recipe makes a great gift for the holidays. Not only are these cookies easy to make, but they're also wrapped up in festive wrapping paper and topped with candy canes or greenery. They make an excellent gift for anyone on your list who loves peanut butter cookies!
Source: https://foodandmeal.com