Try something new for your next gathering with these delicious artichoke dipping sauce recipes – don't miss out on the fun!
You can't go wrong with Artichokes. They are full of fiber, low in calories, and high in flavor. I love to eat them as a meal in itself. Sometimes I go plain, salt & pepper, with mayo, or whip up some 'special sauce'. Yes…Special Sauce sometimes sounds leery, not knowing what is in a special sauce can really put you off. Don't worry, I tell all in this sauce! Artichokes are the easiest thing to make as well as the dipping sauce to accompany it.
CookEatDelicious Rating: Easy recipe to cook and delicious to eat. This is a great Vegetarian Recipe as well! Great for an appetizer or a side. Let me know how you like to eat your Artichokes!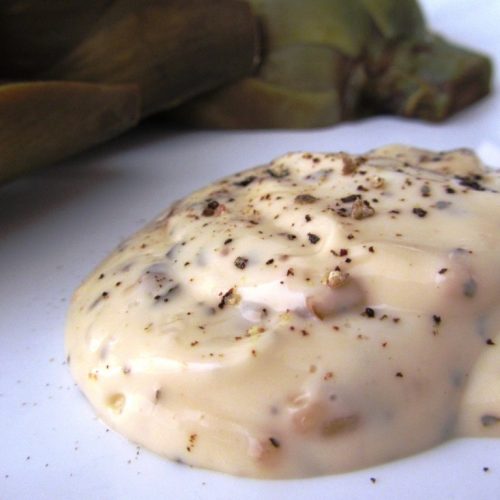 Artichoke Dipping Sauce
Artichoke dip has been a classic party favorite for years and there is no denying its deliciousness. But if you are looking to switch it up, why not try a new artichoke dipping sauce? In this blog post, we will be exploring five delicious artichoke dipping sauce recipes that you can make at home.
Ingredients
4

Artichokes

¼

cup

Mayo

¼

cup

Sour Cream

Minced Garlic

Basil to taste

Salt & Cracked Pepper
Instructions
Start water in a large pot with steamer.

Wash your artichokes very well.

Clip the leaf tips with shears or cut them with a knife.

Also cut stem to desired length.

Split Artichokes in half for faster cooking time.

Spoon out all feathery purple leaves inside above the heart of the artichokes.

Place in steamer and cook for 20-30 minutes, until fork can pierce it through.

Start on sauce: Combine all ingredients and place in fridge until artichokes are done.

Serve warm with sauce.

Artichokes can be all cooked at once and stored in the fridge and reheated in the microwave the next day.
Notes
These were some pretty beat up looking artichokes. I usually by the 4 pack from Costco, they are nice and big and a lot cheaper than buying separately.
Some choose to leave in this part of the artichoke and take out after cooking. I guess it is your preference. For me, taking out all the fuzzy purpleness and then rinsing it clean is a lot easier than cooking it and taking all the hot fuzzy purpleness and it just makes a hot mess!
Serve warm with sauce. Artichokes can be all cooked at once and stored in the fridge and reheated in the microwave the next day.
Nutrition
Serving:
1
serving
Calories:
184
kcal
Carbohydrates:
14
g
Protein:
5
g
Fat:
13
g
Saturated Fat:
3
g
Polyunsaturated Fat:
6
g
Monounsaturated Fat:
3
g
Trans Fat:
0.03
g
Cholesterol:
14
mg
Sodium:
214
mg
Potassium:
494
mg
Fiber:
7
g
Sugar:
2
g
Vitamin A:
115
IU
Vitamin C:
15
mg
Calcium:
72
mg
Iron:
2
mg
Other Recipes
Spicy Artichoke Cream Sauce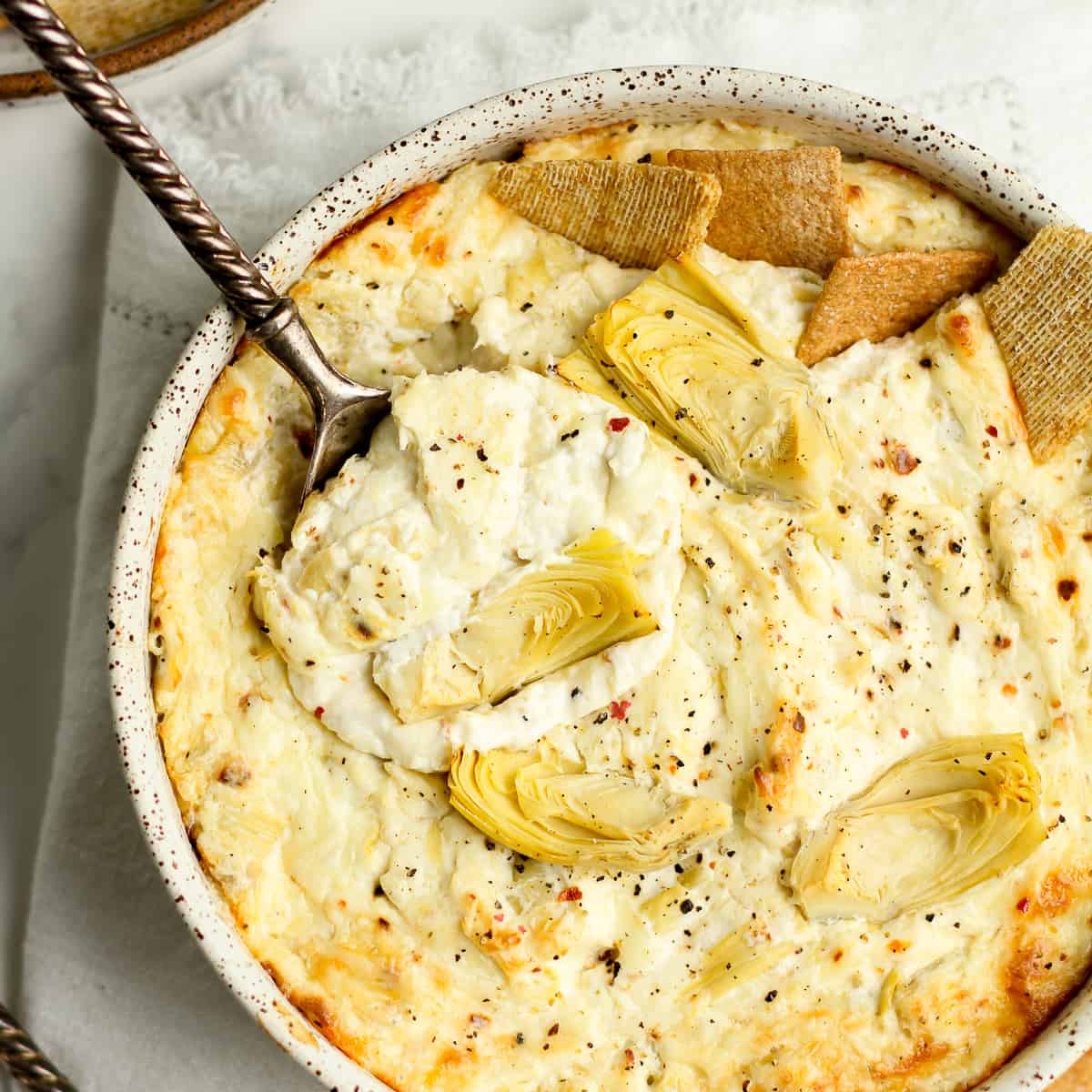 There's no reason to avoid dipping sauces when it comes to artichokes. In fact, these delicious sauces can add a lot of flavor and excitement to any meal. Whether you're looking for something simple and straightforward, or you want something that's a little more complex, there are many delicious dipping sauce ideas available.
Below, we will outline the benefits of using an artichoke dipping sauce as well as how to prepare a spicy artichoke cream sauce. We will also provide tips for enhancing the flavor and texture of the sauce, as well as different ingredients that work best with this type of dip. Finally, we'll provide tips for presenting the sauce in a visually appealing fashion and suggestions for pairing it with different foods for a complete meal.
After reading this article, you should be able to prepare beautiful and flavorful artichoke dipping sauces that will add excitement and flavor to any meal!
Garlic And Lemon Aioli Artichoke Sauce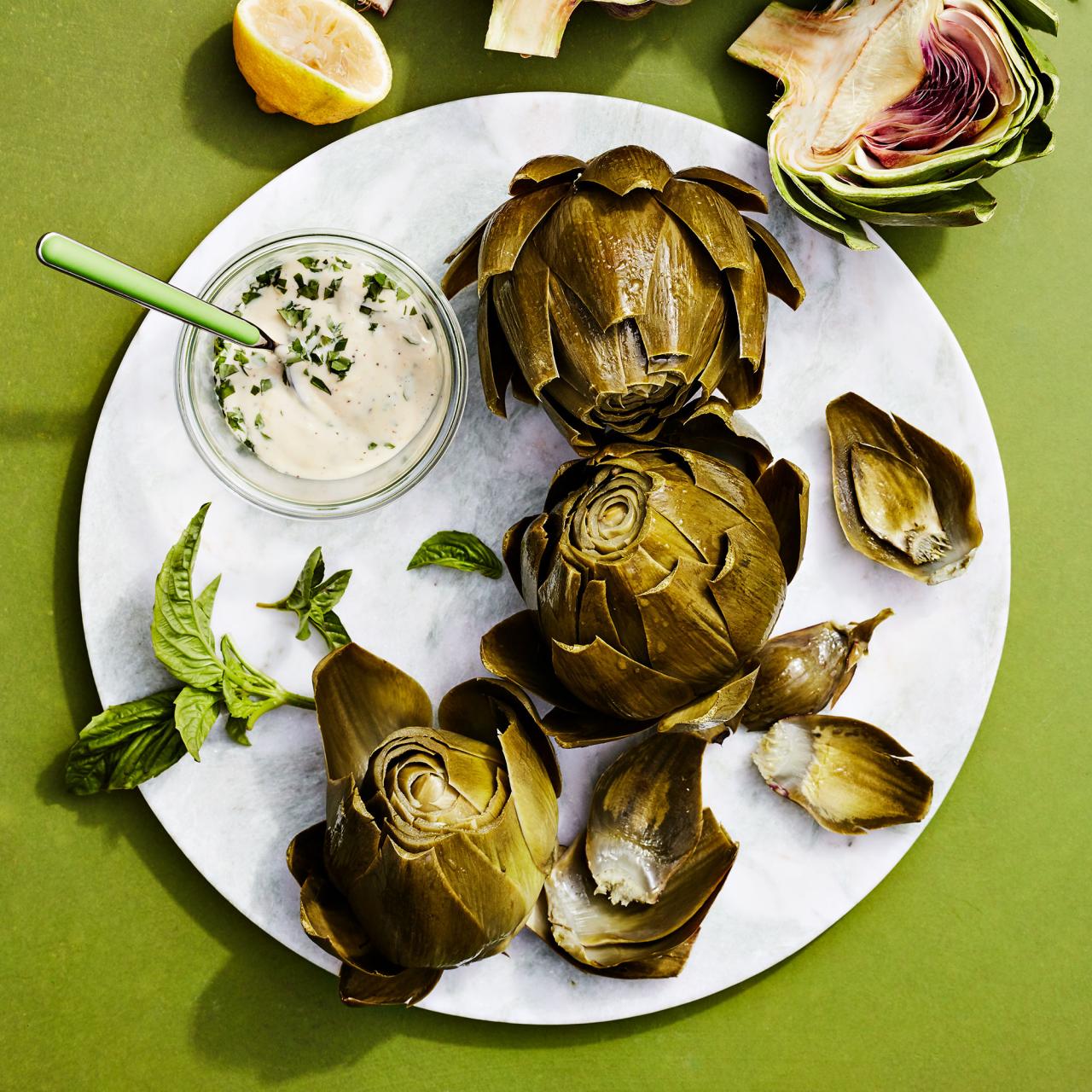 Are you looking for a delicious and easy way to add flavor to your food? Look no further than artichoke dipping sauce. This simple, yet flavorful, sauce can be used on just about any dish – appetizers, grilled vegetables, chicken and fish dishes. Plus, the ingredients are easy to find and low in calories so you can indulge guilt free. Here are some of our favorite artichoke dipping sauce ideas to try.
The Garlic and Lemon Aioli Artichoke Sauce is the perfect combination of garlic, lemon, and artichoke flavors. With just four ingredients (plus salt and pepper), this sauce is easy to make and brings out the best in any meal. Whether you're serving it as an appetizer or adding it to your main dish, this sauce is sure to please.
Another delicious option is the Classic Artichoke Dip. This recipe only takes five minutes to prepare and features a creamy consistency that will tantalize your taste buds. Plus, it's perfect for using up leftover artichokes from dinner – no cooking required!
Finally, we recommend trying our Crockpot Artichoke Dip recipe. This dip requires only ten minutes in the Crockpot before it's ready to serve – making it a quick and easy way to enjoy a delicious dip without having to spend time in the kitchen. And if you're feeling extra patriotic (or just want something different), try our Rosemary Artichoke Dip instead!
Savory Cheese And Herb Dip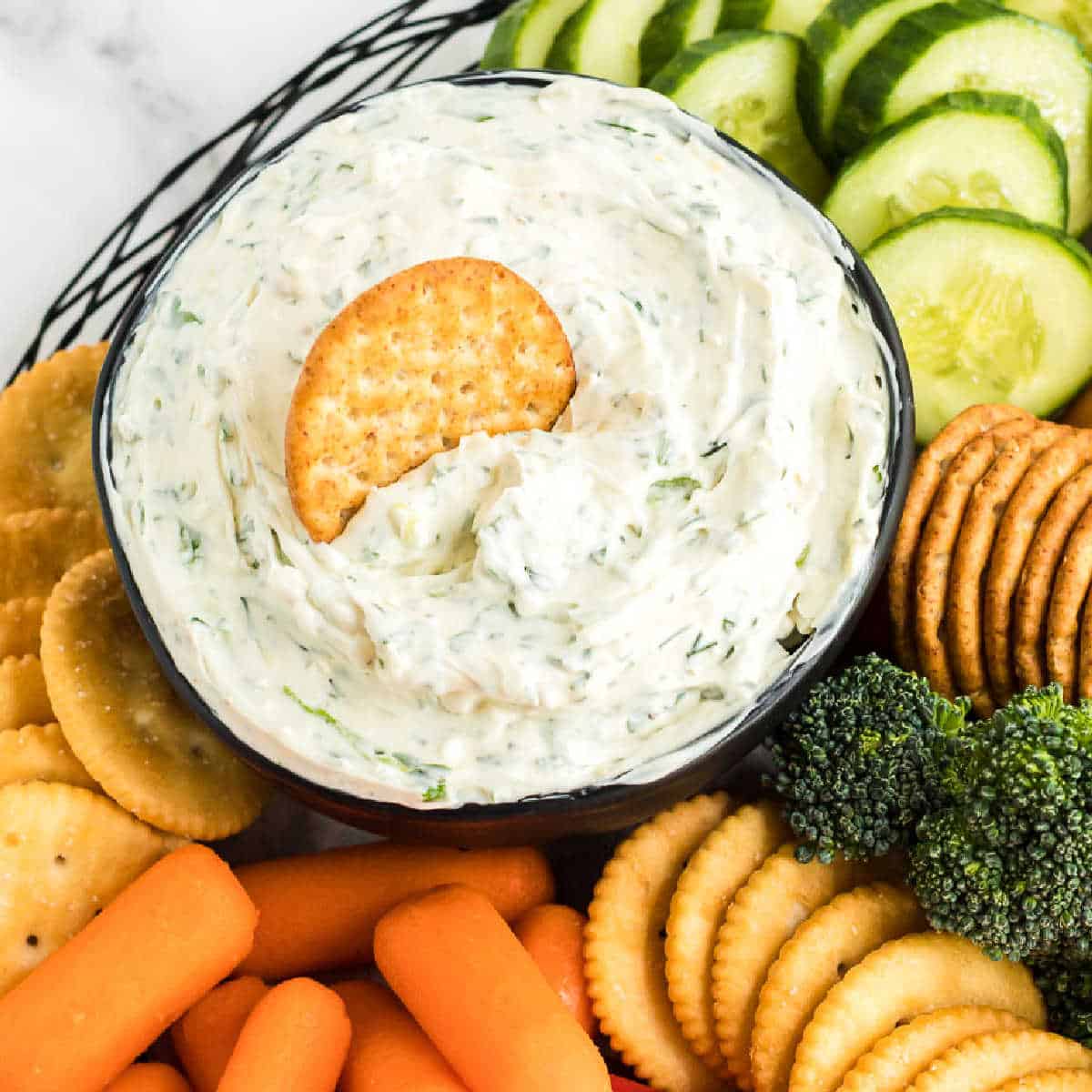 When it comes to preparing artichokes for dipping, there are a few things that you need to keep in mind. First and foremost, make sure that you are using high-quality artichokes. These vegetables have a lot of flavor and can be enhanced by using quality ingredients. Second, be sure to follow the detailed step-by-step instructions that are provided in this recipe. This will ensure that your dip is amazing and full of flavor.
In addition to the artichoke dip recipe, this blog contains several other delicious cheese and herb dipping sauces that you can try out. Each sauce has been carefully crafted with quality ingredients and is perfect for enhancing any dish. Whether you're looking for something savory or sweet, these sauces have you covered!
Finally, it's important to note the importance of olive oil when preparing artichoke dip recipes. Without it, the dip will not have the desired texture or flavor profile. And don't forget about creative presentation – presentation is key when it comes to pleasing your palate! With these easy tips in mind, you'll be able to create an exquisite dipping experience like no other.
Classic Olive Oil And Herb Dipping Sauce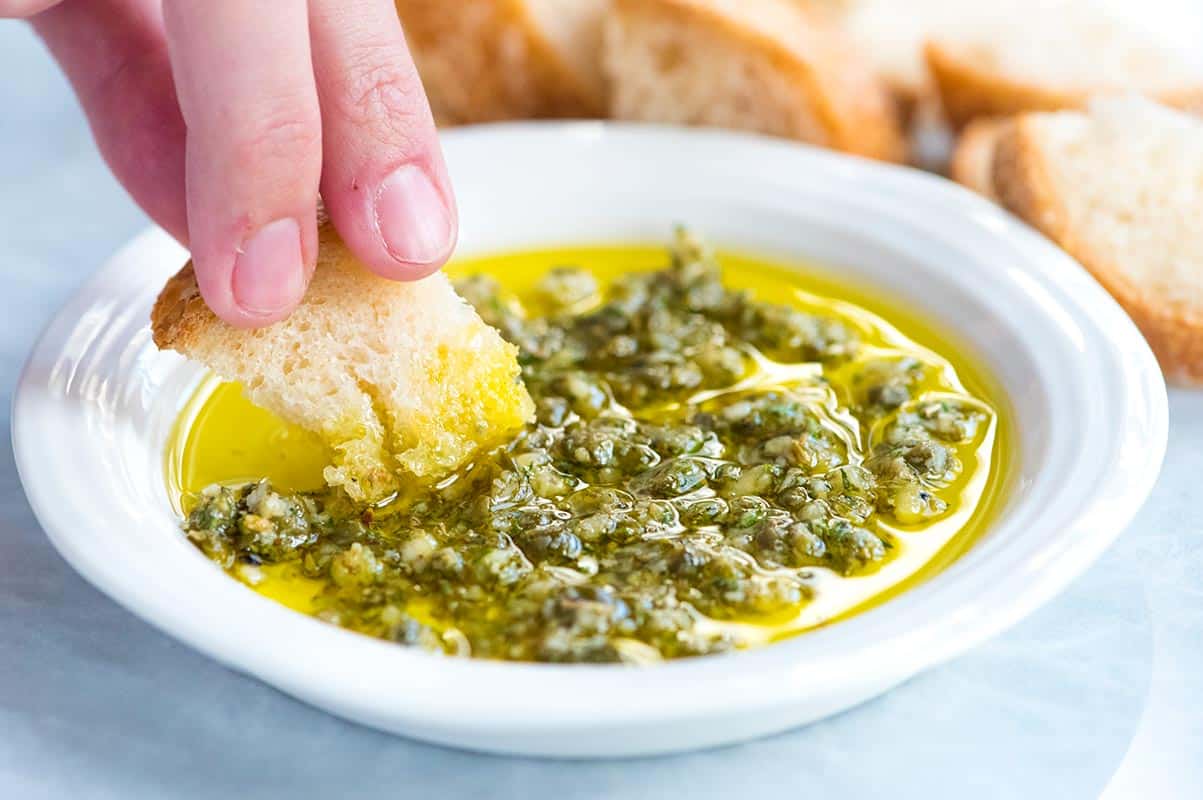 When it comes to dipping sauces, there are endless possibilities. Whether you're looking for something classic and simple, or something with a little more zing, there is a sauce perfect for you. In this section, we will outline the basic ingredients and steps needed to create two delicious dipping sauces – one based on olive oil and herbs, and the other using sour cream and garlic.
To make the olive oil and herb dipping sauce, start by heating some olive oil in a skillet over medium heat. Add in your favorite herbs – such as rosemary, oregano or thyme – and sauté until they are fragrant. Then add in garlic or shallots if desired, and cook for another minute or two until softened. Finally, add vinegar (or lemon juice) and lime juice to balance out the flavors and bring everything together. Serve warm with fresh bread or vegetables for a delicious appetizer or snack!
For our sour cream garlic dipping sauce recipe, start by heating up some sour cream in a bowl until it's melted into liquid form. Add in minced garlic (or onion) for added flavor; if desired, you can also add a dash of crushed red pepper flakes for extra spice. Serve warm alongside your favorite vegetables – we especially love diping carrots into this tasty sauce!
Artichoke Greek Yogurt Spread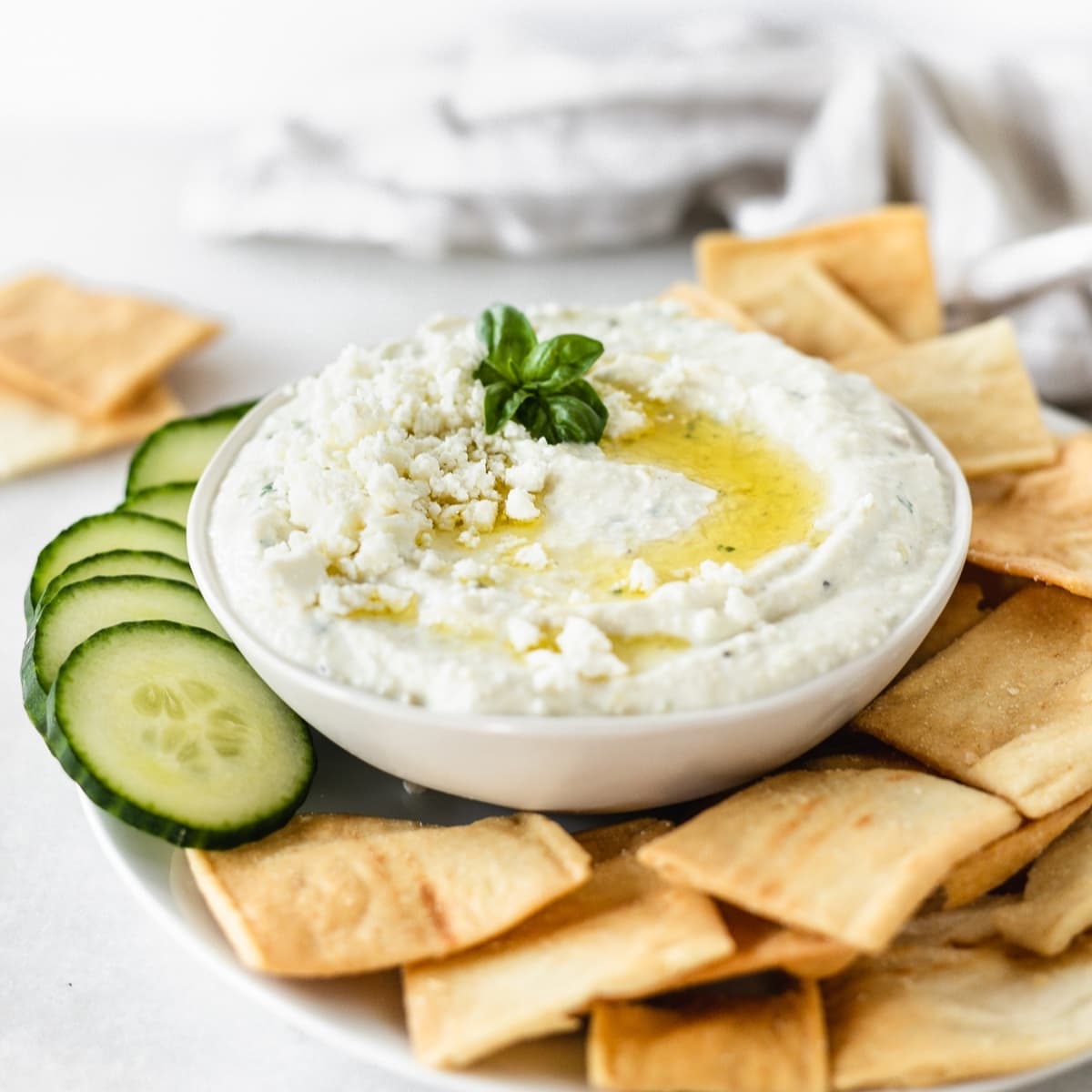 Artichokes Are A Fantastic Ingredient For Creative Recipes. Not Only Do They Add Flavor And Texture, But They Also Have A Range Of Health Benefits That Make Them A Great Addition To Any Diet. In This Section, We Will Explore Some Of The Best Ways To Use Artichokes In Creative Recipes, As Well As Provide Nutritional Information And Pairing Suggestions For Artichoke Dip Recipes.
First And Foremost, Artichokes Are A Great Source Of Fiber Which Can Help To Regulate Digestion. They're Also High In Antioxidants Which Can Help To Protect Cells From Damage. Furthermore, Artichokes Contain Vitamins A And C Which Are Essential For Healthy Skin And Hair, Respectively. Finally, Artichokes Are An Excellent Source Of Potassium Which Is Essential For Maintaining Fluid Balance And Preventing Heart Disease.
When It Comes To Dipping Sauces, There's No Better Way To Enjoy The Delicious Flavors Of The Mediterranean Than With An Artichoke Greek Yogurt Spread Recipe. This Spread Is Perfect As A Condiment Or Topping For Sandwiches Or Wraps. You Can Even Try Variations Such As Vegan Or Gluten-Free Versions! In Addition To Being Delicious On Its Own, This Spread Makes An Excellent Base For Other Dipping Sauces Such As Hummus Or Guacamole.
Finally, We've Included Some Pairing Suggestions For Artichoke Based Recipes Below So That You Can Create Unique Dishes That Will Impress Your Guests! Whether You're Looking For Something Light And Refreshing Or Something More Hearty And Flavorful – We've Got You Covered! And Don't Forget About The Health Benefits – Eating Artichoke Based Dishes Is Sure To Give Your Body The Nutrients It Needs!
Artichoke sauces are a great way to add flavor and texture to your favorite dishes. Whether you're looking for something spicy, savory, or creamy, there is an artichoke sauce that can do the job! From the classic olive oil and herb dipping sauce to the more creative garlic and lemon aioli artichoke sauce, these recipes can take your meal from average to extraordinary. So, what are you waiting for? Try one of these artichoke sauces today and experience deliciousness like never before!