If you're looking for a delicious vegan bread recipe, look no further than this vegan rosemary bread recipe. This bread is bursting with flavor, thanks to the addition of fresh rosemary. It's also nice and moist, thanks to the addition of olive oil. This bread is the perfect addition to any meal, and it's sure to please vegans and non-vegans alike. So, what are you waiting for? Give this vegan rosemary bread recipe a try today!
Fresh Baked Bread has no rival. I mean, who could stand against the inviting aroma and the warm softness that is bread?
And then there is the whole "Bread & Butter" concept. What about the vegans?! For all you vegans out there or those staying away from the dairy here is a great Vegan Bread Recipe that is seriously Delicious!
This vegan Rosemary Bread is aromatic, moist, and perfect with an Oil & Vinegar dipping sauce. Serve it with your favorite Italian dish or with my Vegan Penne & Artichoke Hearts Recipe.
Delicious Rating: Delicious. This easy delicious recipe for bread isn't dry and has a good crumb to it. For some reason that I am not sure of my loaves never browned. Although I brushed some with Olive oil, they never fully browned like I was expecting. Maybe to brown it needs egg or butter brush? Regardless, the bread tastes amazing. It is best eaten the same day I think, although it did keep well overnight I prefer it fresh out of the oven 
 .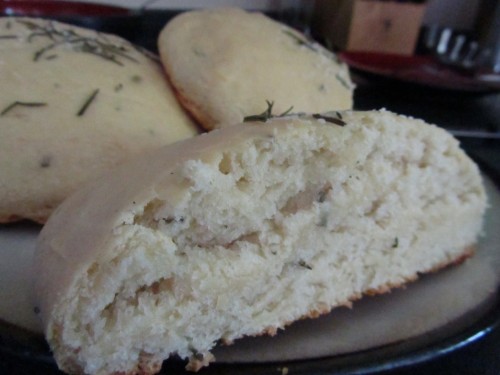 Vegan Rosemary Bread
This Vegan Rosemary Bread recipe is perfect for a quick and easy dinner bread! It is also great for a holiday meal or to give as a gift. This bread is made with a few simple ingredients, including vegan margarine, rosemary, and flour. It is a delicious, savory bread that is sure to please everyone at the table.
Ingredients
2

tbsp

yeast

2

tbsp

sugar

1

cup

warm water

3

cups

flour

1

tsp

salt

2

tbsp

rosemary

chopped

1

tbsp

olive oil
Instructions
In a large bowl combine 2½ cup flour, salt, rosemary, and olive oil.

Add in yeast mixture.

Knead for 8 minutes adding in ½ cup of flour if necessary.

Oil a large bowl and place kneaded dough ball inside and cover with a towel.

Let rise in a warm place for one hour.

Shape into rounded loaves and brush with olive oil.

Sprinkle with salt and extra rosemary if you prefer.

Let loaves rise again for 45 minutes.

Preheat oven to 375 degrees F.

On an oiled baking sheet, place loaves and bake for 18 minutes or until lightly browned.
Nutrition
Serving:
2
loaves
Calories:
810
kcal
Carbohydrates:
158
g
Protein:
21
g
Fat:
9
g
Saturated Fat:
1
g
Polyunsaturated Fat:
2
g
Monounsaturated Fat:
6
g
Sodium:
1170
mg
Potassium:
258
mg
Fiber:
7
g
Sugar:
12
g
Vitamin A:
63
IU
Vitamin C:
1
mg
Calcium:
56
mg
Iron:
9
mg
Tips for making the perfect vegan rosemary bread every time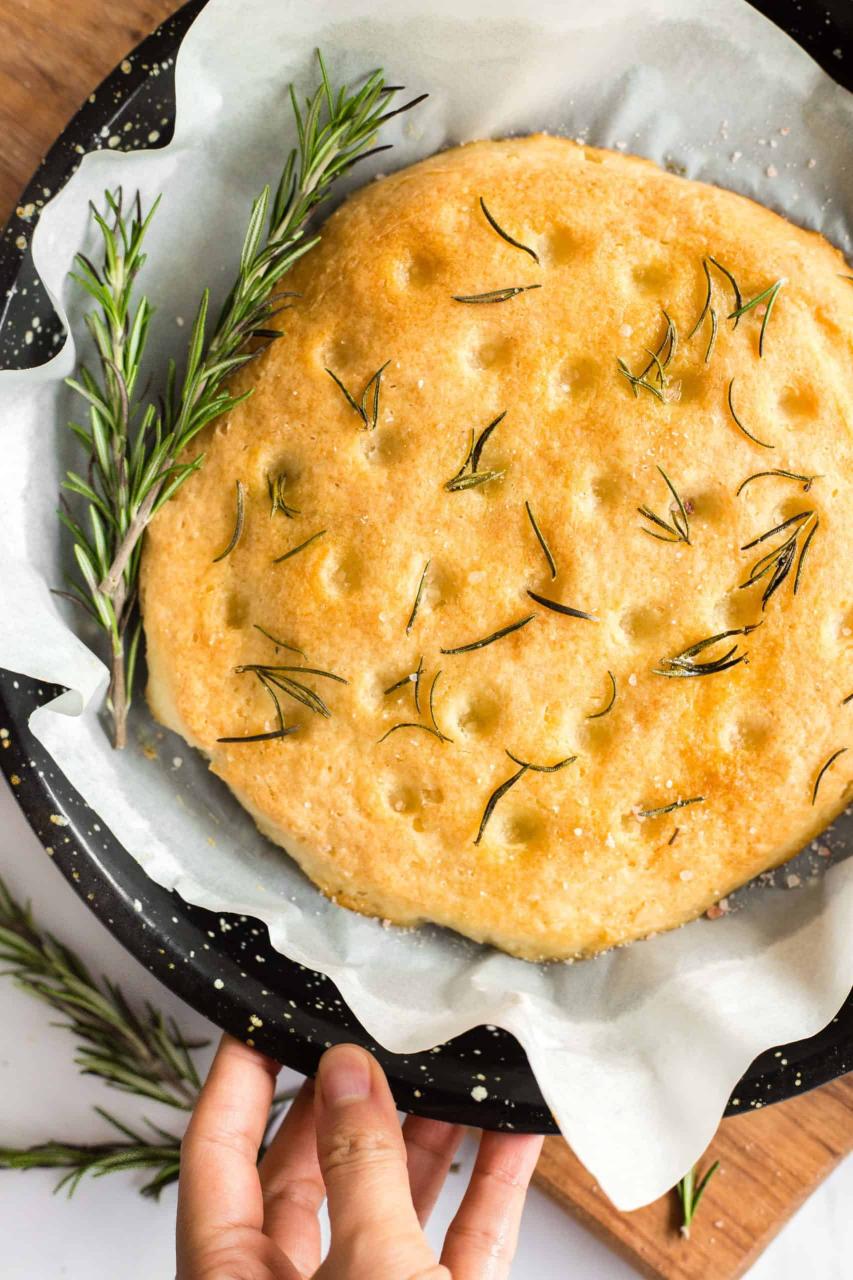 There's nothing quite like freshly baked bread, and vegan rosemary bread is a delicious option that's perfect for any occasion. Here are a few tips to help you get the perfect results every time:
1. Use fresh rosemary for the best flavor. If you don't have fresh rosemary on hand, you can use dried rosemary, but the flavor won't be as strong.
2. Be sure to knead the dough well to ensure a good rise.
3. Bake the bread in a preheated oven to ensure the best results.
4. Allow the bread to cool completely before slicing, so you don't end up with a crumbly mess.
With these tips, you'll be able to enjoy perfect vegan rosemary bread every time!
Nutrition information for vegan rosemary bread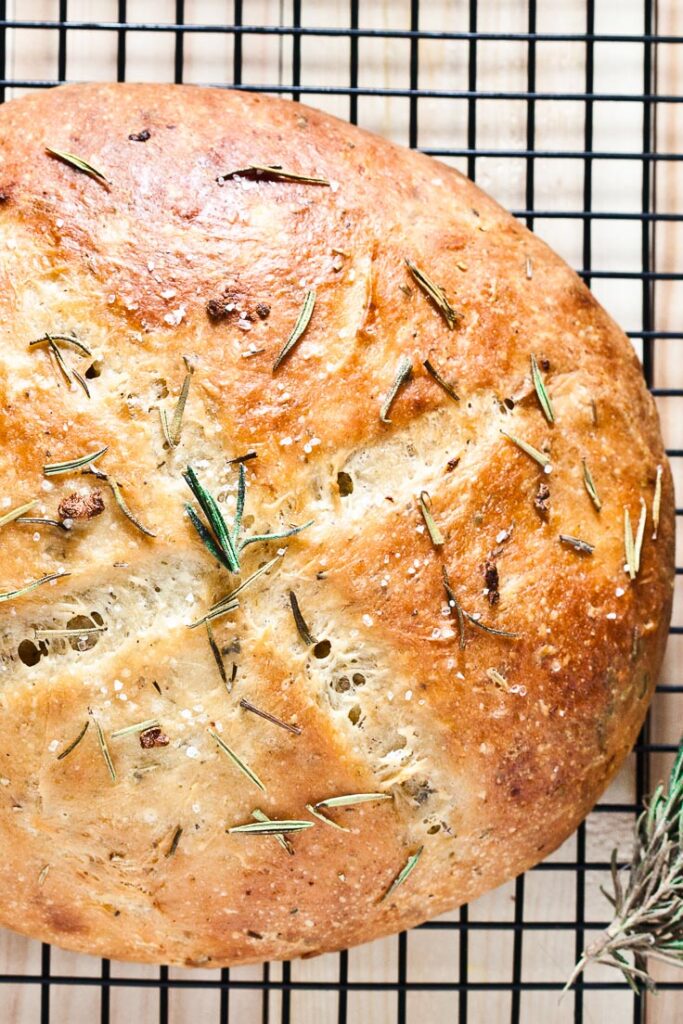 If you're looking for a delicious and nutritious vegan bread option, rosemary bread is a great choice! This bread is made with flour, water, yeast, and salt, and is typically vegan-friendly. The addition of rosemary gives the bread a unique flavor and aroma that is perfect for any meal.Rosemary bread is a good source of fiber and protein, and is also low in fat and calories. This makes it a healthy option for those on a vegan diet. When shopping for rosemary bread, be sure to check the ingredients list to make sure it doesn't contain any animal products.