Learn how to make the nation's perfect bacon cheeseburger with our step-by-step guide and grilling instructions – try it today!
If you have never ventured into the San Francisco Bay Area then you have never feasted on the best Bacon Cheeseburger of your life. Yes, Nation's, The Original Giant Hamburger, cooks up one delicious Bacon Cheeseburger. Usually a late night meal but more often a quick diner feel lunch, CookEatDelicious.Com eat a Bacon Cheeseburger from Nation's whenever I am back home. Now that I am living in Costa Rica, however, a delicious juicy, mouth-watering, smelling good, fresh-off-the-grill burger is hard to come by. So I have had to take matters into my own kitchen!
This burger is not complicated at all. Simple, fresh ingredients are the key to making this successful. Follow the recipe for a fantastic Nation's Bacon Cheeseburger at home tonight!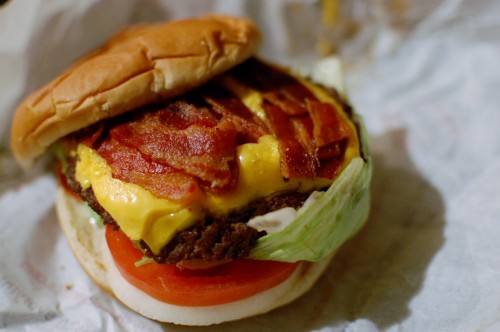 Nation's Bacon Cheeseburger
If you're looking for the perfect bacon cheeseburger recipe, look no further! This blog post will teach you the nation's bacon cheeseburger recipe step-by-step.
Ingredients
8

oz

Ground Beef

85/15 ratio

3

bacon

thick slices Hickory-smoked

¼

tsp

Seasoning Salt

2

slices

Cheddar Cheese

1

large

Hamburger Bun

spongy

2

slices

Tomato

3

leaves

Iceburg Lettuce

1

slice

White Onion

Miracle Whip
Instructions
Heat up a nice heavy duty pan over medium heat.

Cook bacon until lightly crisp, remove and place on paper towels.

Season beef and shape into a round patty a little larger than bun.

Cook in hot bacon grease for 4 minutes, flip and cook for an additional 3 minutes.

minute before patty is done cooking place the 2 slices of cheese on top.

Place Miracle Whip on bottom bun followed by raw onions, tomato slices, and the lettuce leaves.

Place patty on top of lettuce.

Cut the bacon slices in half and place on the melted cheese.

Top with bun and enjoy.
Notes
Creating the perfect bacon cheeseburger at home is easy when you follow these steps. From choosing the right bun and cheese, to searing and dressing your burger - each step is essential for a delicious final product. With these grilling instructions, you can make a delicious bacon cheeseburger that will impress your family and friends. So don't wait any longer - fire up the grill and start making America's favorite summertime meal!
Nutrition
Serving:
1
burger
Calories:
880
kcal
Carbohydrates:
26
g
Protein:
52
g
Fat:
62
g
Saturated Fat:
25
g
Polyunsaturated Fat:
3
g
Monounsaturated Fat:
24
g
Trans Fat:
3
g
Cholesterol:
198
mg
Sodium:
1178
mg
Potassium:
873
mg
Fiber:
2
g
Sugar:
6
g
Vitamin A:
912
IU
Vitamin C:
10
mg
Calcium:
356
mg
Iron:
6
mg
Choosing The Right Cheese And Bacon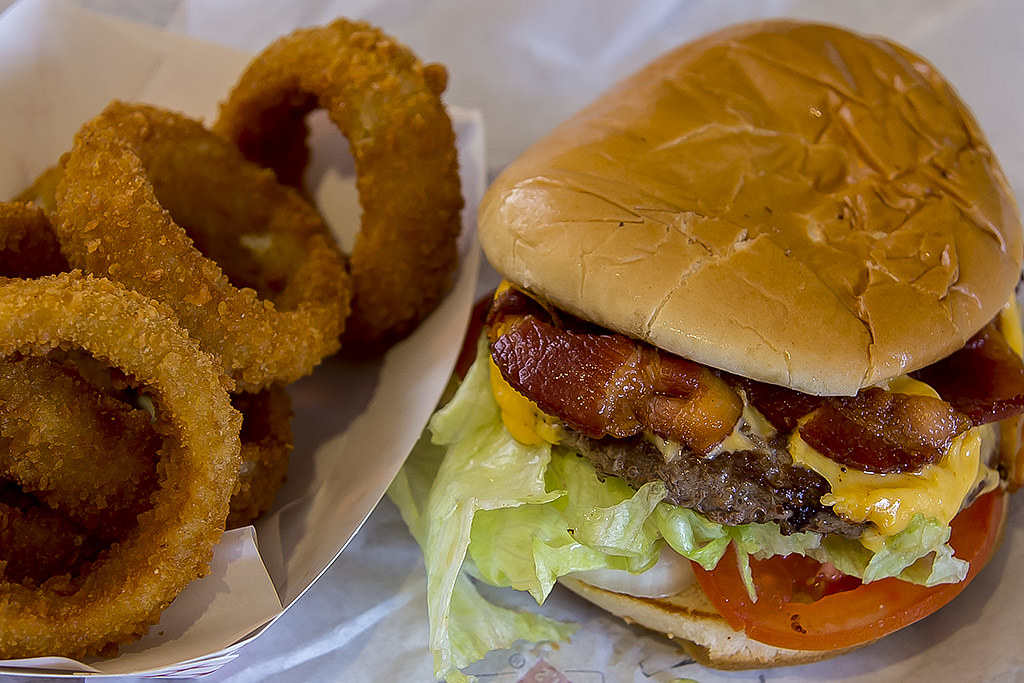 When it comes to recipes, cheese and bacon are a classic combination. They add richness, flavor, and texture to any dish. However, not all cheeses and bacon are created equal. In this section, we will outline the different types of cheese and bacon that can be used in a Nation's bacon cheeseburger recipe, as well as tips on how to select the right ingredients for the recipe.
First, we need to understand that there are three main types of cheese: soft cheese (brie, camembert), hard cheese (cheddar, blue cheese), and semi-soft cheese (feta). Each has its own unique properties that can be used in different ways in a Nation's bacon cheeseburger recipe. For example, brie is a soft cheese that is creamy and smooth while cheddar is a hard cheese with strong flavors.
Next, we need to decide which type of bacon will work best in the recipe: smoked or uncured. Smoked bacon has been treated with smoke so it has a smoky flavor that pairs perfectly with blue cheese while uncured bacon is simply pork belly that hasn't been cured or treated in any way. Both options have their own unique benefits – smoked Bacon provides extra richness while uncured Bacon offers more intense flavors and textures.
Now that we have our key ingredients selected, it's time to cook them! There are two main techniques for cooking bacon: pan-fried or grilled – each with its own set of benefits and drawbacks. Pan-fried Bacon cooks evenly throughout so it's perfect for burgers or sandwiches where you want them to be crispy on the outside but still juicy on the inside; however Grilled Bacon gives off more pronounced flavors which can work well with stronger-flavored cheeses like blue cheese or gouda.
Finally, it's time to assemble our Nation's Bacon Cheeseburger Recipe! Start by spreading some softened butter on one side of your bun before topping it with your favorite type of shredded Cheese(brie excluded)and then top that off with some crispy pan-fried Bacon strips.. Finally add your cooked burger patty onto the bun top before adding your favorite condiments such as ketchup, mustard, lettuce, tomatoes, etc.. Enjoy your delicious Nation's Bacon Cheeseburger Recipe!
Sear Beef For Maximum Flavor And Juiciness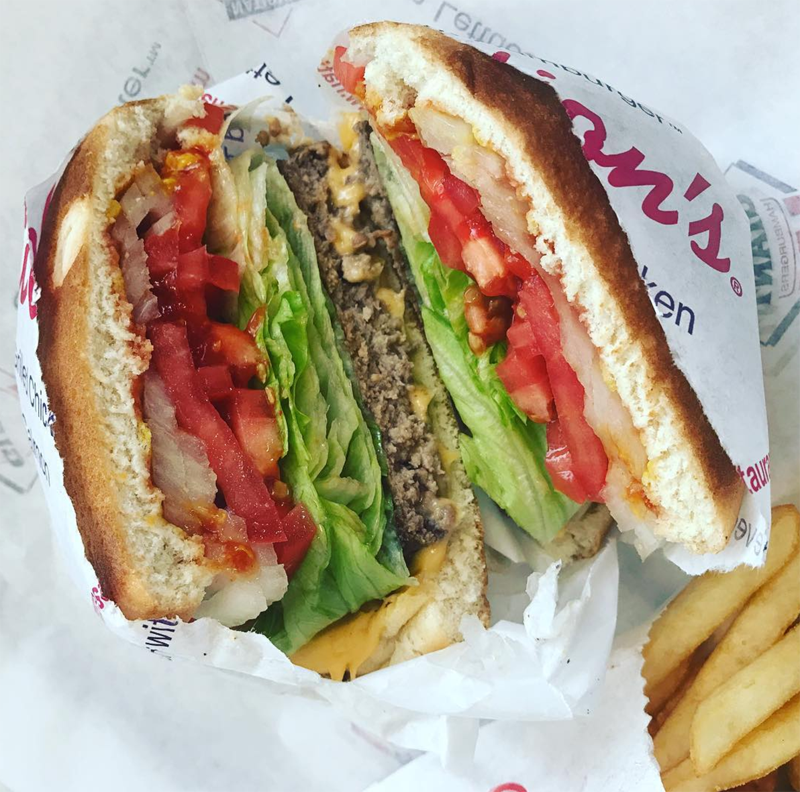 There's nothing quite like a good bacon cheeseburger, and this recipe is sure to bring the taste of America to your fingertips. With the help of this guide, you'll be able to learn how to make the perfect burger every time.
First and foremost, beef fat is an essential part of a great bacon cheeseburger. Without it, the burger will not be as juicy or flavorful. In order to cook your beef properly and achieve maximum flavor, sear it for a few minutes on all sides over medium-high heat in a pan or skillet. This will create a crispy outer crust while ensuring that the meat inside is cooked through.
Next, it's time to cook up some bacon. Make sure that you cook it until it's crispy on the outside and fluffy on the inside – this will give your burger that signature bacon flavor and texture. Make sure you keep an eye on it so that it doesn't burn; overcooking bacon can ruin its flavor completely. Once you've cooked your bacon perfectly, put it aside in a separate dish so that you can use it later for topping your burgers.
Now comes the fun part: assembling your burger! First, add some shredded cheese to each bun before adding your burgers patty (we recommend using quality cheese such as cheddar or Swiss). Then add some crispy strips of bacon to each sandwich before piling on some fresh lettuce and tomatoes if desired (or anything else that strikes your fancy!). Finally, enjoy! By following these easy steps, you'll be able to make delicious Bacon Cheeseburgers like a pro in no time at all!
How To Dress Your Burger For Maximum Taste And Aesthetics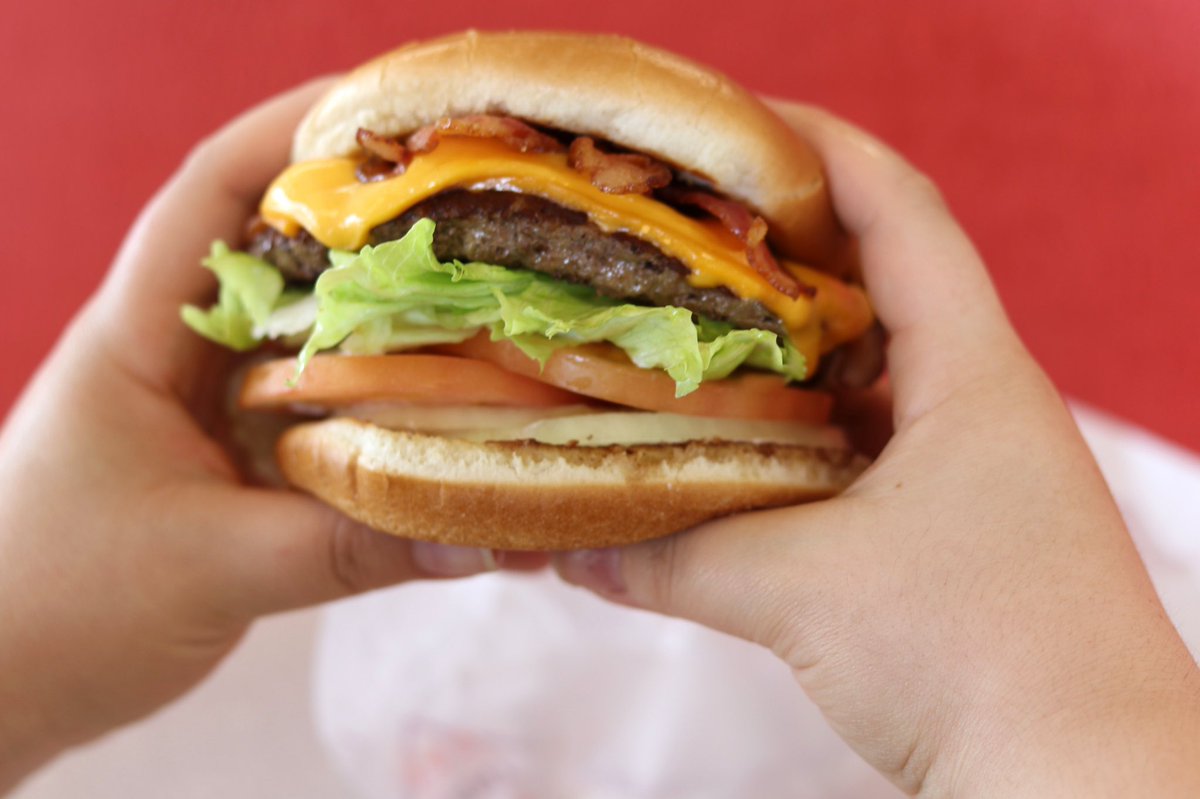 There's nothing like a good burger, and with the right ingredients and cooking techniques, you can make one that's absolutely delicious. In this section, we will outline the steps that you need to take in order to create the perfect burger.
When selecting your ingredients, be sure to choose quality ingredients that will taste great together. For our bacon cheeseburger recipe, we recommend using high-quality beef and thick-cut bacon. We also recommend using a ratio of about 50% meat to fat so that the patties are juicy and flavorful. Finally, make sure you mashing the patties before shaping them into burgers so they fit nicely on bun. This will ensure even cooking and prevent them from becoming dry or tough.
Once your burgers are prepared, it's time for some toppings! We recommend using just enough cheese to balance out the flavors of the meat and bacon while not being too heavy or greasy. We also recommend adding a little bit of salt and pepper for flavor profile. Finally, add any other desired toppings such as avocado, tomatoes, or lettuce for extra flavor or texture.
When it comes time to assemble your burgers, try different techniques to see what works best for you. For example, try stacking different types of burgers on top of each other or forming them into different shapes such as an artfully arranged tower topped with cheese sauce or crispy onions. Once everything is assembled correctly, cook your burger in a grill or on a stovetop until it reaches your desired doneness (we don't recommend overcooking them). Add finishing touches such as grilled onions or sauces if desired before serving up!
Constructing The Final Sandwich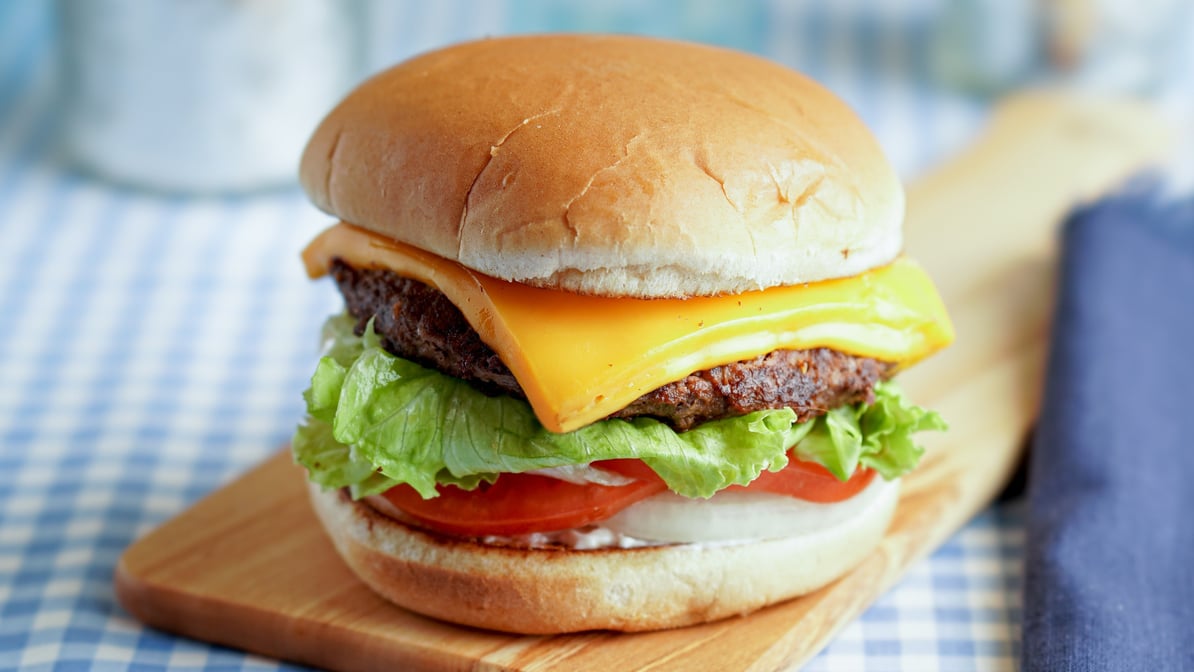 Making the perfect bacon cheeseburger is a skill that can be learned and mastered in no time. Below, we will outline the steps necessary to create the perfect sandwich.
First, slice the buns in half and toast them until they are slightly crispy. Then, cook up a bacon patty in your favorite way. We recommend using our easy bacon recipe or using store-bought products. Once the bacon is cooked, melt cheese on top of it and set it aside to heat up.
Next, assemble the bun by adding lettuce and tomato to each half bun. Finally, add your desired condiments to taste (we recommend adding ketchup, mustard, mayonnaise, or relish). Grill both sides of the sandwich until it is lightly browned and bubbly. Place the finished sandwich onto a plate and enjoy! Leftovers can be stored in an airtight container for later consumption or topped with different veggies for a different flavor profile every time you eat them.