Get all the tips and tricks you need to make the perfect apple pie and crust with our easy-to-follow guide – click now to get started!
You know that deep dish apple pie that Costco sells? I usually daydream about it at least twice a day, seriously. It is so perfect. Plenty of soft apples spiced up just right inside of a thick flaky crust, the perfect apple pie. Last time we were home I bought one for dinner, my dinner, with a tub of vanilla bean ice cream. It was the perfect dinner, dessert, and breakfast the next day. And no, I didn't share if you were wondering.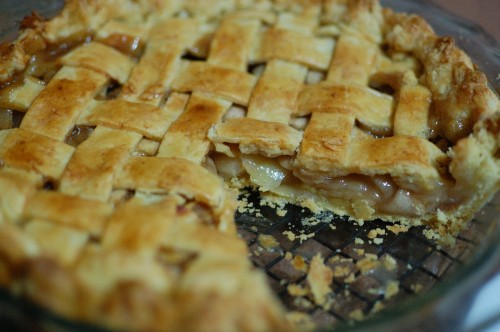 So my apple pie craving has come to Costa Rica and I just had to have it out last night. I was feeling lazy but knew that an apple pie wasn't going to bake itself so I put on a good TV show and started.
Cook Eat Delicious Rating: First the crust. Very simple with a food processor and by far the best pie crust I have ever eaten in my life, no joke. It is flaky, soft, crusty, and tastes amazing on its own which I think a pie crust should be able to do. The Apple Pie filling is delicious to in this easy recipe. I cut the apples up thinly and tossed with a few ingredients. Let them sit while I rolled out the crusts so that all the juices could flow. I didn't add all the juice to the pie so that it wouldn't be overly soggy. It was perfect. I am thinking another tomorrow…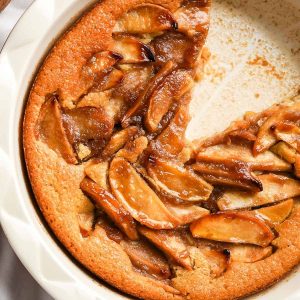 Apple Pie and Crust
Apple pie is a classic dessert that is perfect for any occasion, from family dinners to holiday celebrations. But how do you make the perfect apple pie and crust? In this blog post, we will give you all the tips and tricks you need to make a delicious, perfectly baked apple pie with a perfectly flaky crust.
Ingredients
3

cups

all-purpose flour

2

sticks

unsalted butter

cold and cut into little cubes

1

tsp

salt

1

tbsp

sugar

6

tbsp

ice water

6

green medium apples

peeled and thinly slice

⅔

cup

white sugar

2

tbsp

flour

1

tsp

cinnamon

½

tsp

nutmeg

¼

tsp

salt

Juice from half a lemon

1

egg yolk

1

tbsp

milk
Instructions
Add 2½ cups flour, butter, salt, and sugar in a food processor and pulse until it looks like a crumbly mixture.

Add in 1 tbsp of ice water, pulsing after each addition, until mixture can be pinched and held together.

Place dough on a clean surface and gently work into two round disks, don't over knead.

Wrap in saran wrap and refrigerate for at least 1 hour.

Cut up apples and place in a bowl along with the sugar, 2 tbsp flour, cinnamon, nutmeg, salt, and lemon juice.

Mix well to coat the apples and let sit.

Heat oven to 425 degrees F.

Take out pie crusts and allow to come to room temperature in 5 minutes or so.

Roll out into a 12 inch circle on a floured surface, adding flour as necessary to avoid sticking.

Place in a 9 inch pie pan and gently press evenly on the sides

Roll out the second disc and create a lattice top.

Add apples and ½ to ¾ cups of excess juice to pie pan.

Cover with lattice top or full top with slits.

Fold edges in and pinch together in a uniform pattern, securing the top pie crust with the bottom.

Whisk together the egg yolk and milk and brush on the top pie crust well.

Use a pie crust ring or foil to cover the crust for the first 40 minutes of baking.

Bake for 55 minutes and allow to cool for at least 2 hours before cutting into and serving.
Notes
Apple pie is the quintessential American dessert, and making it can be a fun and rewarding experience. With the right ingredients and techniques, anyone can make a delicious homemade apple pie that will have their family begging for more. Take the time to choose the right apple varieties, make your own crust with care, and prepare your apples perfectly before creating a flavorful filling that will really shine in the finished product. Finally, assemble and bake as directed to get an amazing apple pie every time! So why wait? Get baking today!
Nutrition
Serving:
1
serving
Calories:
460
kcal
Carbohydrates:
56
g
Protein:
6
g
Fat:
24
g
Saturated Fat:
15
g
Polyunsaturated Fat:
1
g
Monounsaturated Fat:
6
g
Trans Fat:
1
g
Cholesterol:
85
mg
Sodium:
370
mg
Potassium:
66
mg
Fiber:
1
g
Sugar:
18
g
Vitamin A:
742
IU
Vitamin C:
0.01
mg
Calcium:
23
mg
Iron:
2
mg
Choose The Right Apple Varieties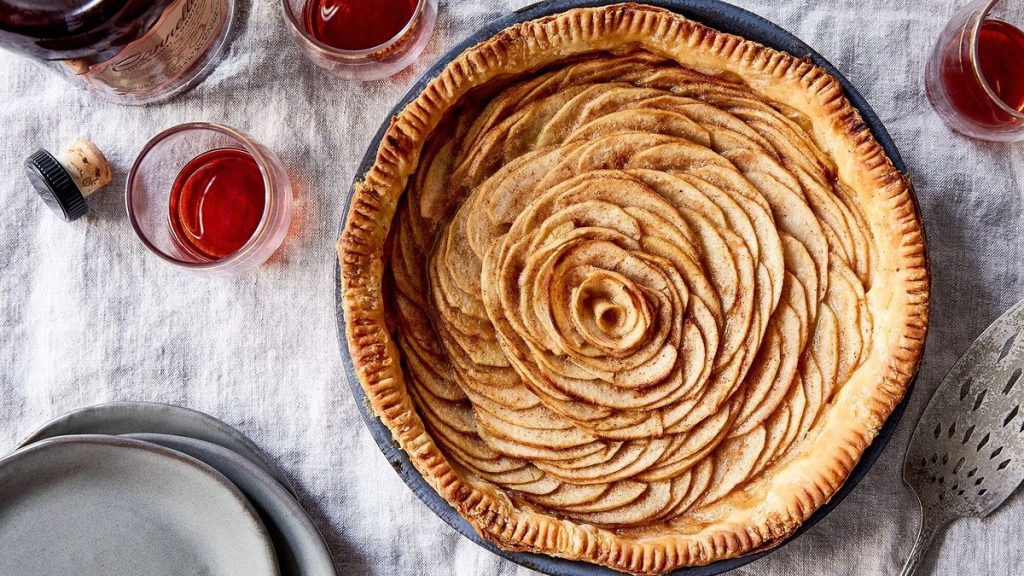 Apple pie is a classic recipe that is sure to please. But in order to make it as delicious and perfect as possible, you need to understand the different types of apples that can be used and how they should be combined. Below, we will detail the different types of apples that are available and the best way to use them for apple pie.
When it comes to apple varieties, there are three main types: sweet, tart, and firm. Each type of apple has its own unique flavor profile that is best suited for certain dishes. For example, Granny Smith apples are firmer and have a tart flavor that makes them great for pies or other desserts with a strong Tart side like lemon tarts or blackberry pie. Red Delicious apples are sweeter and ideal for pies with a Sweet side like pear or apricot pies. Finally, Golden Delicious apples are milder with a tangy flavor that pairs well with savory dishes such as quiche or bacon-wrapped dates stuffed with cream cheese.
To create the perfect apple pie taste, you need to use multiple types of apples together in harmony. For example, using Granny Smiths for the tartness combined with Red Deliciouses for their sweet flavor creates an incredibly delicious pie experience without being overly sweet or overpowering any one particular taste profile. You can also experiment with different combinations of flavors by using Honeycrisp, Rome Beauty, or Braeburn apples in your pies instead of traditional varieties like Golden Deliciouses or Grannies Smiths. By understanding how different types of apples bake differently (and which ones pair well together), you can create anapple pie that is truly unforgettable!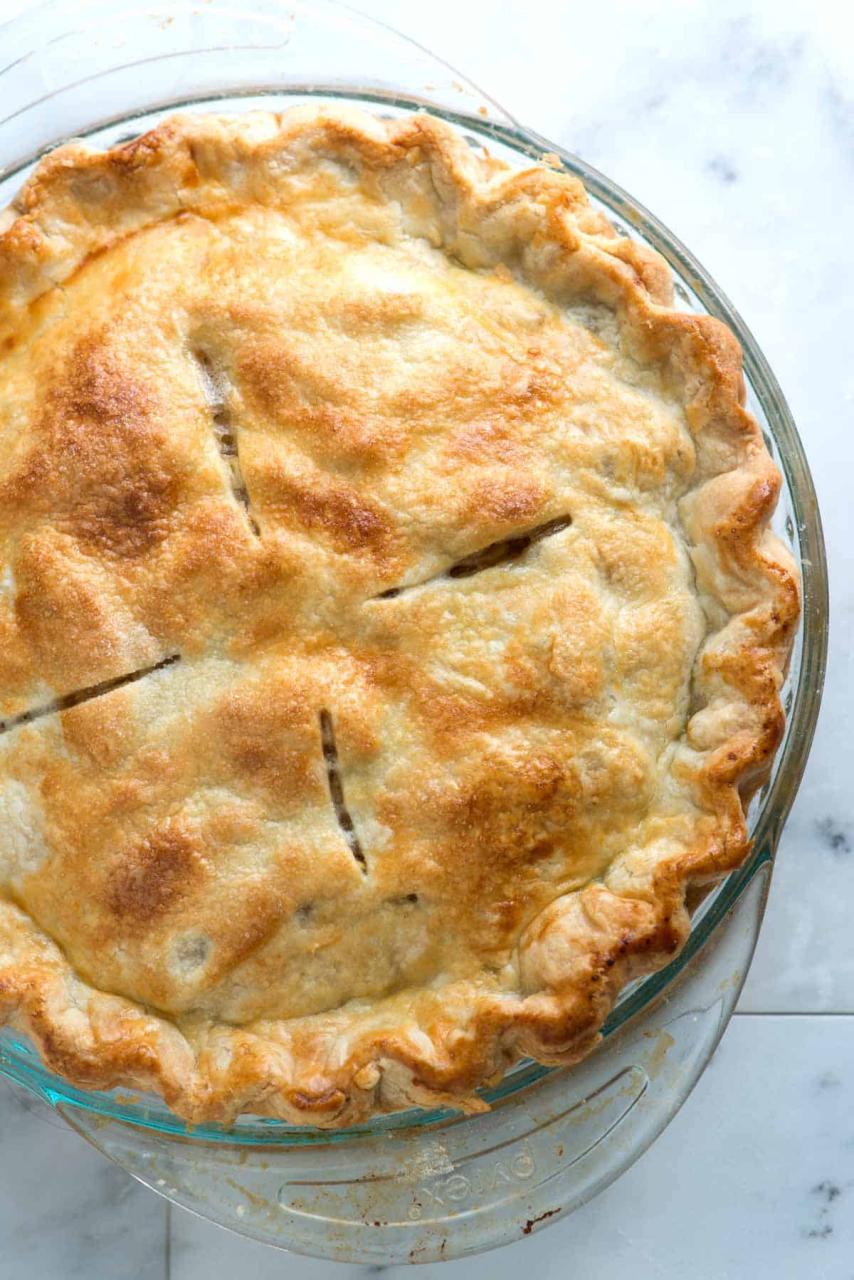 Tips for making the Apple Pie and Crust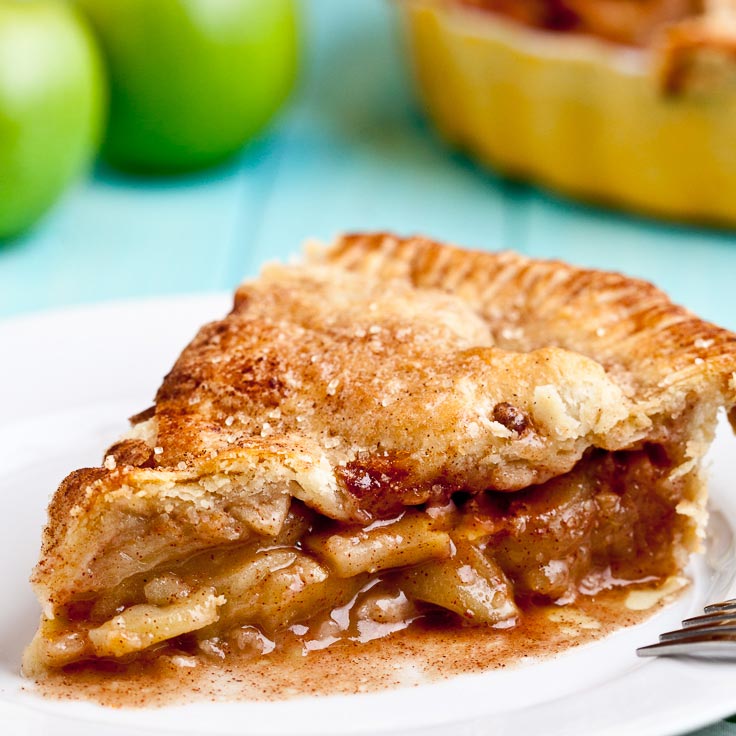 When it comes to making the perfect apple pie, there are a few key tips to keep in mind.
First, be sure to use a variety of different apples in your pie for the best flavor.
Second, use a good quality pie crust mix or make your own crust from scratch.
Third, be sure to pre-bake the crust before adding the filling to prevent the crust from getting soggy.
fourth, use a generous amount of sugar and spice in the filling to really bring out the flavor of the apples.
And lastly, don't be afraid to experiment with different toppings for the pie, such as a streusel topping or a caramel drizzle.
With these tips in mind, you'll be sure to create a delicious apple pie that will be the envy of all your friends and family.
FAQs about the Apple Pie and Crust recipe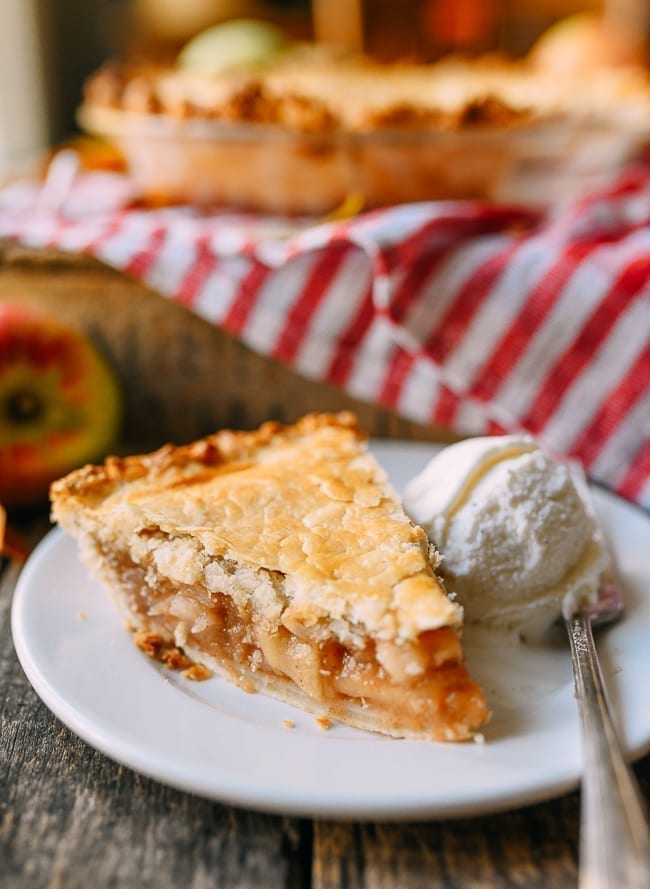 1. What is the best way to store an apple pie?
The best way to store an apple pie is in a cool, dry place. If you need to refrigerate the pie, be sure to wrap it tightly in plastic wrap or aluminum foil to prevent it from drying out.
2. How long will an apple pie keep?
An apple pie will keep for 2-3 days at room temperature, or up to 1 week if stored in the refrigerator.
3. What is the best way to reheat an apple pie?
The best way to reheat an apple pie is in a 350°F oven for 10-15 minutes, or until the filling is hot and the crust is crisp.
4. How do I know if my apple pie is done?
The easiest way to tell if an apple pie is done is to insert a knife into the center of the pie. If the knife comes out clean, the pie is done. Another way to test for doneness is to tap the top of the pie crust. If it sounds hollow, the pie is probably done.