Learn how to make a beautiful lattice top pie crust with our easy-to-follow steps – make your next pie the envy of all who see it!
Top Pie Crust is a beautiful way to present your favorite fruit pie. I always thought that the intricate looking design took forever to do and required some extra brain cells to weave all the pieces together just right. But with a little practice and eating a lot of pies, CookEatDelicious have been able to make a lattice top pie crust easily and you can too. Follow my easy photo guide to help you cook up a beautiful pie that all your friends will rave about.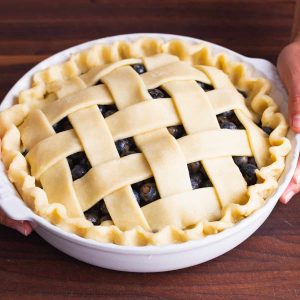 Lattice Top Pie Crust
Lattice-top pie crusts are a classic way to top pies like apple, cherry, and peach. A lattice-top adds a decorative touch that elevates the look of any pie. But how do you make one?
Ingredients
2

pie crusts

one for bottom crust and one for the lattice top (Easy Pie Crust Recipe)

1

egg yolk

1

tbsp

milk

Ruler
Instructions
After rolling out yr first pie crust and filling it, roll out the second to a 12 inch round.

Cut round into 3/4 inch thick strips.

Place 6 strips across the top of the pie.

Roll back halfway every other strip, 3 of them.

Place another strip over the 3 laying down.

Place the three strips back to the end and fold back the other three.

Place another strip over the 3 laying down.

Repeat for last strip on that half and then repeat the same way for the other half of the pie.

Mix egg yolk and milk and generously brush on top of crust.

Bake pie and enjoy!
Notes
Creating a lattice top pie crust is not as difficult as it may seem. With the right ingredients, directions, and tips, anyone can make a beautiful and tasty crust. So, don't be intimidated; give it a try and impress yourself with the results! If you need help along the way, don't hesitate to ask for advice from an experienced baker. Now that you know the basics of making a lattice top pie crust, why not try your hand at making one today?
Nutrition
Serving:
4
servings
Calories:
405
kcal
Carbohydrates:
42
g
Protein:
6
g
Fat:
23
g
Saturated Fat:
7
g
Polyunsaturated Fat:
3
g
Monounsaturated Fat:
11
g
Cholesterol:
49
mg
Sodium:
351
mg
Potassium:
93
mg
Fiber:
2
g
Sugar:
0.2
g
Vitamin A:
72
IU
Calcium:
27
mg
Iron:
2
mg
Tips For Perfecting A Lattice Top Pie Crust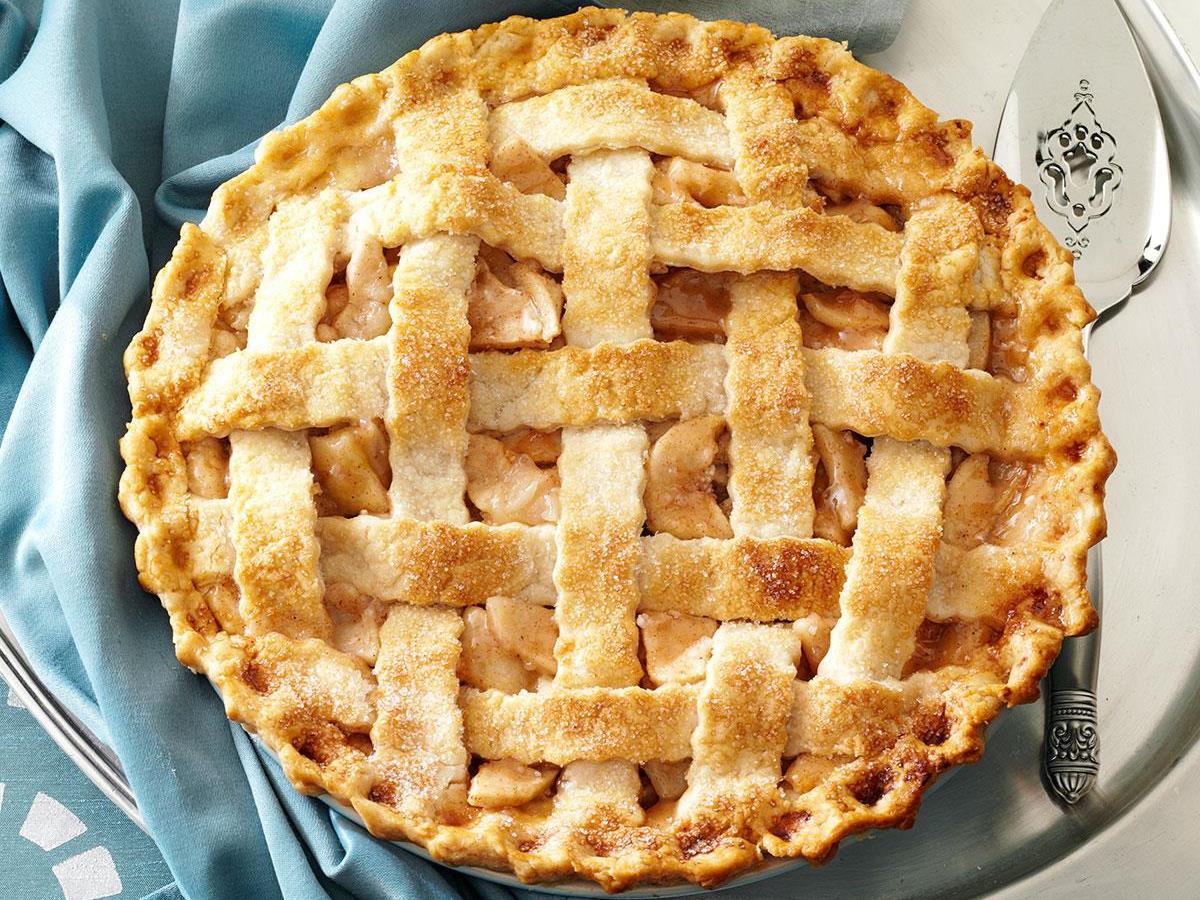 Making A Lattice Top Pie Crust Is A Skill That Takes Some Practice To Perfect. Follow These Tips And You'll Be On Your Way To Creating A Beautiful Lattice Top Pie Crust In No Time!
First, Prepare The Dough And Chill It Before Rolling It Out. To Do This, Mix The Dough Together Well And Then Divide It Into Two Equal Parts. Roll Each Part Out Into A Thin Sheet And Then Use A Pizza Cutter Or A Sharp Knife To Make Strips Of Dough That Are About 1 Inch Wide By 12 Inches Long. Make Sure That The Strips Of Dough Are Uniform In Thickness – If They Are Not, The Lattice Design Will Not Be As Perfect.
Once You Have Made The Strips Of Dough, Place Them Over The Top Of Your Pie Filling. It's Important To Make Sure That The Lattice Design Is Uniform In Size And Shape Across All Of The Pieces Of Dough. Once Everything Is Placed Over The Pie Filling, Use Your Fingers Or A Fork To Gently Press Down On Each Strip Of Dough So That It Sticks Firmly To The Pie Filling.
Brush One Side Of Each Strip With An Egg Wash – This Will Give Your Lattice Crust A Golden Color. Then Trim Off Any Extra Edges Around The Pie And Flute Them Using Your Fingers Or A Fork So That They Look Nice And Finished. Finally, Bake At The Required Temperature For Your Chosen Filling – Usually Pies Need To Be Baked At 425 Degrees Fahrenheit For Around 20 Minutes Or Until Golden Brown In Color.
How To Place And Secure The Strips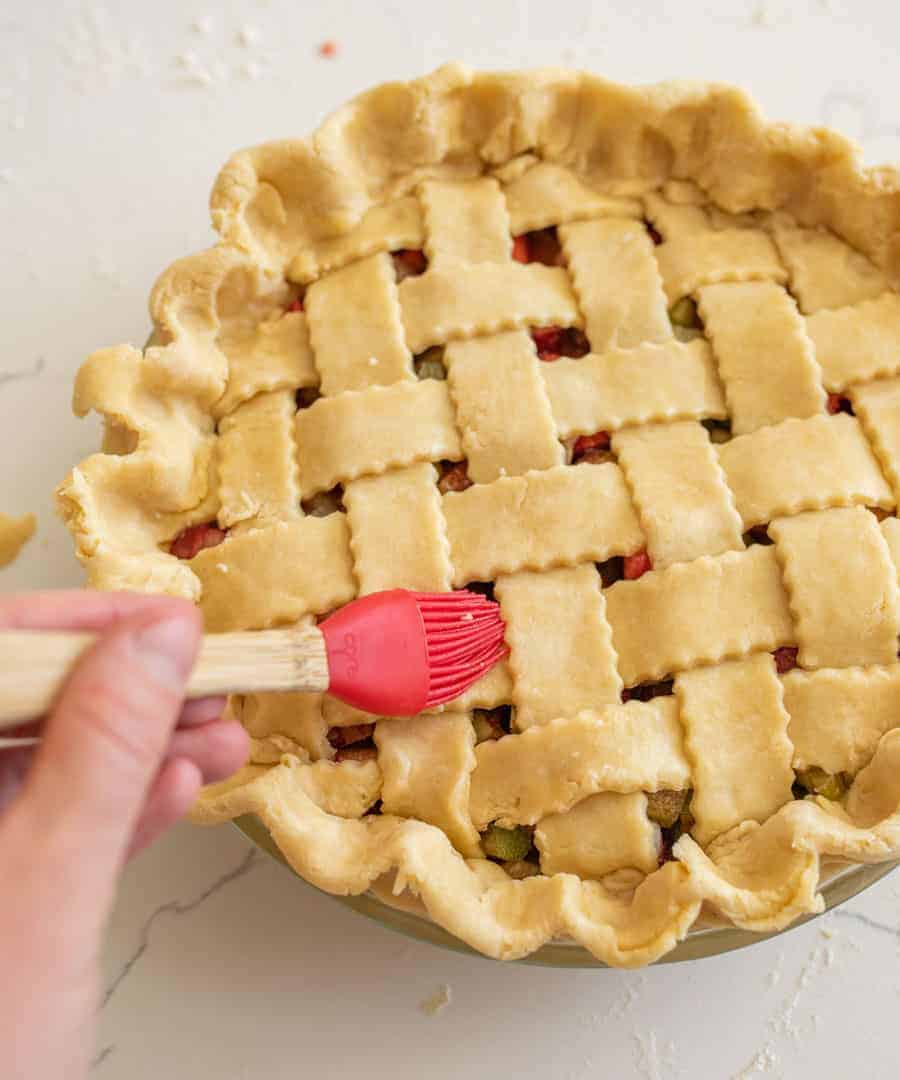 Making a lattice pie crust can be a fun and creative project that can add an elegant touch to any dessert. With the help of this guide, you'll be able to learn the basics of making a lattice pie crust and place and secure the strips in the correct way.
First, it's important to understand the basics of making a lattice pie crust. A lattice is made up of small squares or strips of dough that are woven together to create a pattern. To make this type of crust, you first need to measure out your ingredients and cut them into appropriate sizes. Next, you will need to place the strips one at a time on your work surface in the desired pattern. Be sure to weave them tightly together so that they form a strong and durable lattice structure.
Once your lattice is complete, it's time to fix any gaps or errors in your weaving. This can be done by gently pressing down on the edges of each strip until they join together perfectly. It's also important to note that you should never try to patch larger holes – instead, try using smaller pieces of dough as temporary fillers until you can complete your repair project later on.
Now that you know how to make a lattice pie crust, it's time to learn some tips on creating beautiful decorative patterns with your dough strips. By following these easy steps, you'll be able to create stunning designs like roses or dots alike. Additionally, you'll discover methods for fixing common errors when weaving the lattice and ways to improve its overall appearance overall. Finally, we will outline how best to secure the strips so that they don't unravel during baking – giving your dessert an elegant finish!
Brushing And Baking The Lattice Topped Pie Crust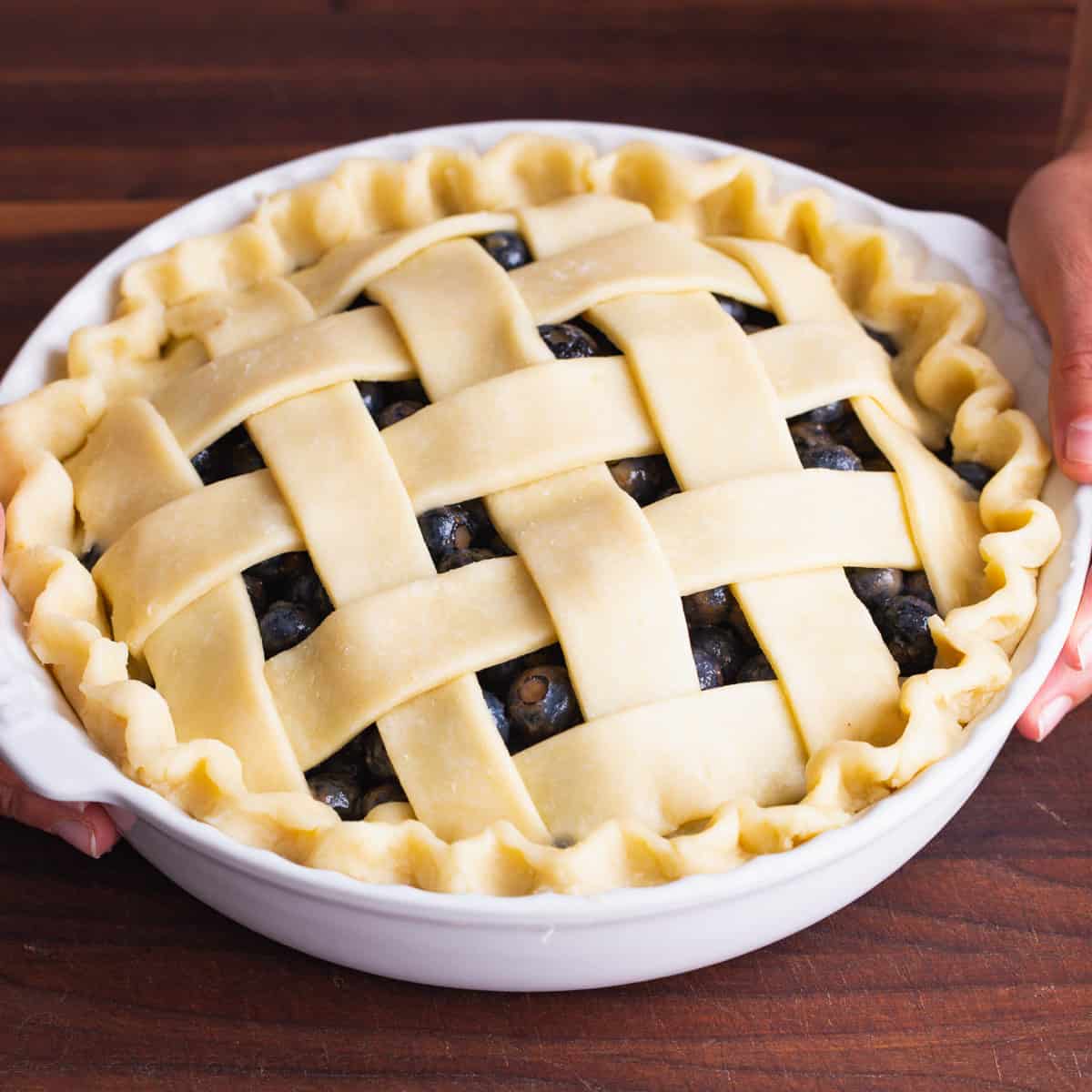 There's nothing like a delicious lattice-topped pie, and it's easy to make with the help of a crusty pastry dough. In this section, we'll outline the steps that you need to take in order to make a beautiful lattice-topped pie crust.
First and foremost, prepare the dough by mixing together all of the ingredients together until well combined. Be sure to use cold water so that the dough is firm but not tough – you want it to be able to easily form into a lattice pattern. Once the dough is prepared, shape it into a disk and wrap it in plastic wrap. Refrigerate for at least an hour or overnight so that the pastry will be firm enough to handle without crumbling.
Next, it's time to start forming your lattice pattern. Use a rolling pin or your hands to roll out the dough until it is about 1/8-inch thick. Then, use a biscuit cutter or rimless cookie cutter to cut out circles or strips of dough, depending on how large your lattice will be. Be sure not to overwork or stress the pastry – you want it to be easy enough for you to form your lattice pattern without hassle later on.
Once all of your circles or strips are cut out, place them onto a baking sheet lined with parchment paper and freeze for about 20 minutes so that they can harden up slightly and become easier to handle. Once they've hardened up somewhat, place them into the oven and preheat oven temperature at 400 degrees Fahrenheit before baking for 10-12 minutes or until golden brown around the edges (watch carefully as these pies can burn quickly!). Allow pies cool completely before slicing and serving!