Make a restaurant-worthy dinner of Pan Seared Moroccan Fish and Spiced Couscous with our step-by-step guide and helpful tips
Couscous is a great alternative to the usual side of rice that you may have with dinner. It is light and such an easy recipe to make with most store bought packages cooking in 5-minutes. Since it is so light, I love to pair it with Fish or an array of vegetables. Couscous can be served plain, seasoned, or even with added goodies combined inside like this Moroccan Couscous recipe. I added green onion and sun-dried tomatoes to create a mild onion flavor and a rich smokiness from the tomatoes. Of course, the red & green aren't bad to color up the couscous.
Cook Eat Delicious Rating: Making the Couscous is a very easy job. Even pan frying fish isn't on the level of a 'Master Chef'. This dish is simple and quick to cook up for dinner, either for a couple or a family. You can dress it up with a side of steamed vegetables too. I found it to be very refreshing and delicious. I definitely will make this Moroccan Couscous again!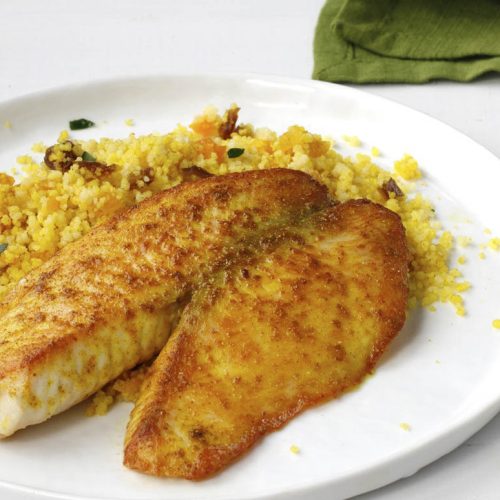 Pan Seared Moroccan Fish With Spiced Couscous
This unique dish is perfect for a special night in and it is surprisingly easy to make. In this blog post, we will walk you through the step-by-step guide for making pan-seared Moroccan fish and spiced couscous. We will also provide some tips and FAQs for serving, as well as pairing suggestions. With this blog post, you will be able to make a restaurant-worthy dinner in no time.
Ingredients
1

cup

couscous

1

sliced

green onion

10

sun-dried

tomatoes

chopped

4

tilapia fillets

Salt & pepper

1

cup

flour

2

tbsp

oil
Instructions
Add green onion and sun-dried tomatoes to water before boiling.

Continue to prepare couscous as package directs.

Season fillets with salt & pepper and dredge in flour, shake off excess.

Pan fry in hot oil 6 minutes, 3 on each side.

Serve immediately with warm couscous.
Notes
We hope you enjoyed learning how to make Pan Seared Moroccan Fish and Spiced Couscous. This classic Moroccan dish is full of flavor and perfect for an evening dinner or meal-prepping for the week ahead. Be sure to garnish it with your favorite herbs and spices, serve it with a side of steamed vegetables, and pair it with some delicious wine. With this guide in hand, you'll be able to make this delicious dish anytime you want! Give it a try today!
Nutrition
Serving:
1
serving
Calories:
502
kcal
Carbohydrates:
57
g
Protein:
43
g
Fat:
10
g
Saturated Fat:
2
g
Polyunsaturated Fat:
3
g
Monounsaturated Fat:
5
g
Trans Fat:
0.03
g
Cholesterol:
85
mg
Sodium:
94
mg
Potassium:
625
mg
Fiber:
3
g
Sugar:
0.2
g
Vitamin A:
23
IU
Vitamin C:
0.4
mg
Calcium:
32
mg
Iron:
3
mg
Serving Tips & FAQS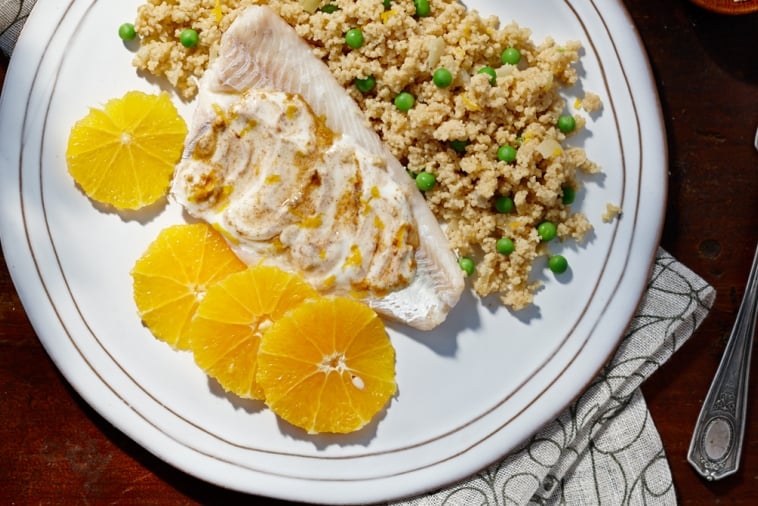 There's no better way to enjoy a warm summer evening than grilling or searing some delicious fish. This recipe for Pan Seared Moroccan Fish will give you a fantastic result every time. Follow our tips and you'll be able to prepare this dish with ease.
First, choose the right type of fish for searing. The best choices are delicate fish such as tilapia or cod that can be easily cooked without becoming overcooked or dry. We recommend using a non-stick cooking spray before placing the fish in the pan to help prevent sticking and ensure even cooking.
The correct temperature for pan searing is around 350 degrees Fahrenheit, but it's important to pay attention to your own personal preferences when it comes to food safety. Make sure that your kitchen is properly ventilated and that you're using an oven-safe pan that can hold up to high temperatures.
Now let's get started on preparing the couscous itself! First, bring about two quarts of water to a boil in a large pot before adding eight ounces of couscous and simmering until tender, about 12 minutes. Then, fluff the couscous with a fork before seasoning it with salt, pepper, and any other desired spices like paprika or cumin. Finally, mix together one cup of chicken or vegetable broth with one tablespoon of Olive Oil so that the couscous is fully coated and ready to serve!
To assemble your dish, first place some Couscous onto each plate before layering on some Pan Seared Moroccan Fish fillets (try out different types depending on what you have available). Finish off each plate with diced tomatoes and shredded lettuce if desired. Serve immediately while still warm – Couscous tends to get soggy quickly once it cools down! And don't forget: Safety first – always use proper kitchen equipment when preparing seafood dishes so that you can enjoy them without any risk of injury.
FAQS about the Pan Seared Moroccan Fish With Spiced Couscous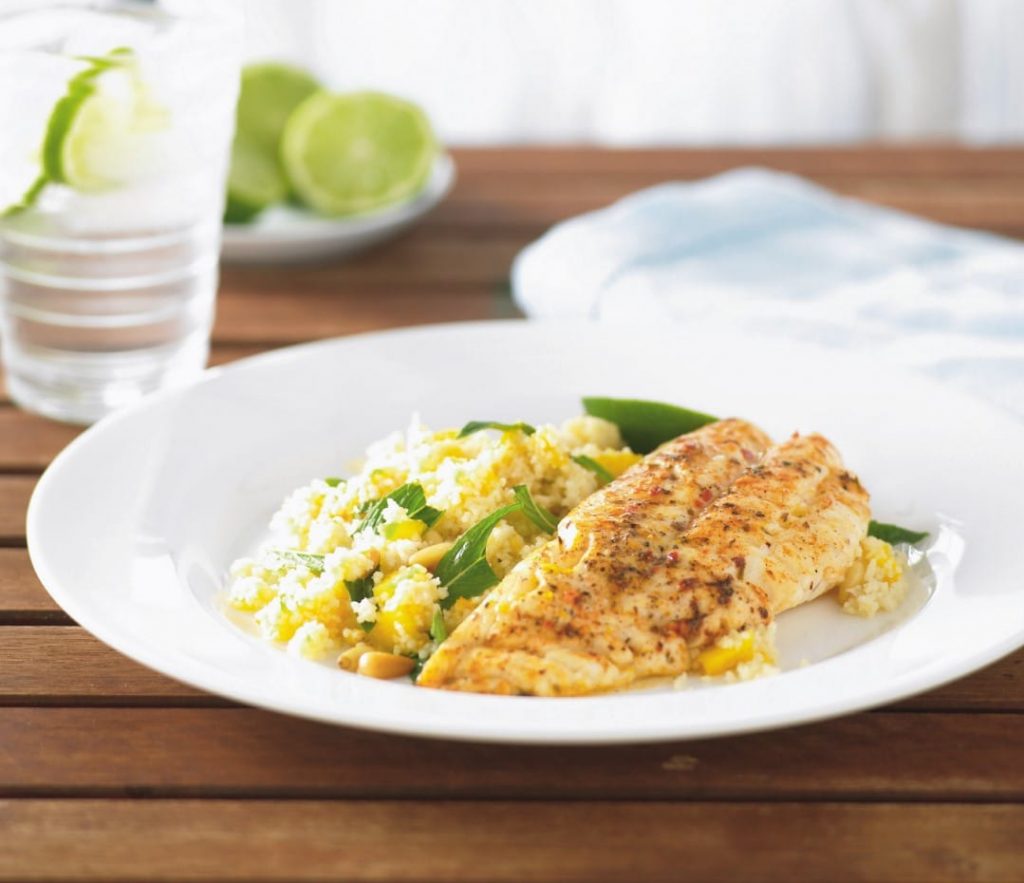 If you're looking for a delicious and healthy seafood recipe, look no further than this pan seared Moroccan fish with spiced couscous. This dish is packed with flavor and nutrients, and is sure to please even the pickiest of eaters.
Here are a few Frequently Asked Questions about this recipe:
Q: What kind of fish can I use for this recipe?
A: Any type of white fish will work well in this recipe. We recommend using cod, halibut, or tilapia.
Q: Can I make the couscous ahead of time?
A: Yes, you can make the couscous up to 2 days in advance. Simply store it in an airtight container in the fridge until you're ready to use it.
Q: What can I use in place of the fish?
A: If you're not a fan of fish, you can use chicken, shrimp, or tofu in this recipe.