Treat yourself to a delicious pinwheel cookie with our easy-to-follow recipe
No matter how unspectacular a vanilla sugar cookie tastes, the way it looks will make it spectacular. Case and point: Pinwheel Cookies. Don't get me wrong, these cookies are delicious. Simple vanilla and chocolate butter cookies. But there are no bells and whistles with these cookies. What makes them great is the presentation, the way they look. Pinwheels. I have made these on numerous occasions and each time everyone is wowed, I mean, they can't believe they are eating a homemade pinwheel cookie. "You baked these at home?" If I would have just baked up simple vanilla cookies or chocolate cookies nobody would have asked me that. But make a cool looking design and wham! You got some spectacular cookies. These cookies are made from an easy recipe and are just as easy to assemble.
Cook Eat Delicious Rating: These are delicious butter cookies. My chocolate was perfectly balanced with the vanilla cookie but held its own as well. The cookies will have a firm bottom when baked but the insides are soft and almost, just almost, cakey cookie. But not really. I hope that makes sense!
Pinwheel Cookie
Whether you're looking for a unique dessert for a party or just want to treat yourself, this pinwheel cookie recipe is sure to satisfy. In this blog post, we'll guide you through the process of making pinwheel cookies, from gathering the ingredients to storing them. We'll also provide some FAQs about pinwheel cookies and give you some tips for serving them. So grab your apron and let's get baking!
Ingredients
2½

sticks

butter

slightly softened

1¼

cups

sugar

1

egg

1½

tsp

vanilla extract

3

cups

flour

½

tsp

salt

¼

tsp

baking soda

2

tbsp

coffee

strong , cooled

4

tbsp

cocoa powder

unsweetened

4

oz

bittersweet chocolate

melted and still warm
Instructions
In a large bowl cream butter for 2 minutes until smooth with an electric mixer.

Mix in sugar and beat for an additional 2 minutes.

Add in egg and vanilla and mix until well combined.

Sift in flour, salt, and baking soda and mix until just combined.

Remove 2 cups of the dough and set aside.

Add in cooled coffee and cocoa powder to remaing dough.

Mix in melted chocolate until well combined.

Divide each dough into three equal pieces, so as to have 3 chocolate and 3 vanilla.

Shape each piece into a 5×5 square on wax or parchment paper, top with another piece of wax or parchment and refrigerate for 30 minutes.

Roll each square into a 7×7 square and refrigerate for 15 minutes.

Take one vanilla square and one chocolate square and remove one piece of waxed paper from each.

Align the two layers together evenly, one on top of the other, and gently press together to seal both layers together.

Take off top layer of wax paper and slowly start to curl edge of the dough up and over using the bottom waxed paper for help, not rolling it into the cookies.

Roll the dough into a tight spiral roll, pinwheel, avoiding spaces in-between.

Once formed, gently but firmly roll back and forth to compact the roll and make it about 9 inches long, 1.5 inches thick.

Place on a piece of plastic wrap, twisting ends to seal it closed.

Repeat with remaining layers.

Refrigerate for 3 hours before using or freeze for two months.

To bake, preheat oven to 350 F. Line baking sheets with parchment paper and slice cookie log into ¼ inch thick cookie slices.

Bake for 14 minutes and transfer warm cookies to baking rack.

Store for up to two weeks.
Notes
Making pinwheel cookies is a fun and easy process that anyone can do. Whether you are an experienced baker or just getting started, this project is sure to be a hit! With a few simple ingredients and some patience, you can make beautiful and delicious pinwheel cookies that everyone will love. Get creative with your flavors, shapes, and decorations to make truly unique creations! So don't wait any longer - start baking those pinwheels today!
Nutrition
Serving:
1
serving
Calories:
571
kcal
Carbohydrates:
67
g
Protein:
6
g
Fat:
32
g
Saturated Fat:
19
g
Polyunsaturated Fat:
1
g
Monounsaturated Fat:
8
g
Trans Fat:
1
g
Cholesterol:
86
mg
Sodium:
371
mg
Potassium:
167
mg
Fiber:
3
g
Sugar:
33
g
Vitamin A:
817
IU
Calcium:
28
mg
Iron:
3
mg
FAQs About Pinwheel Cookies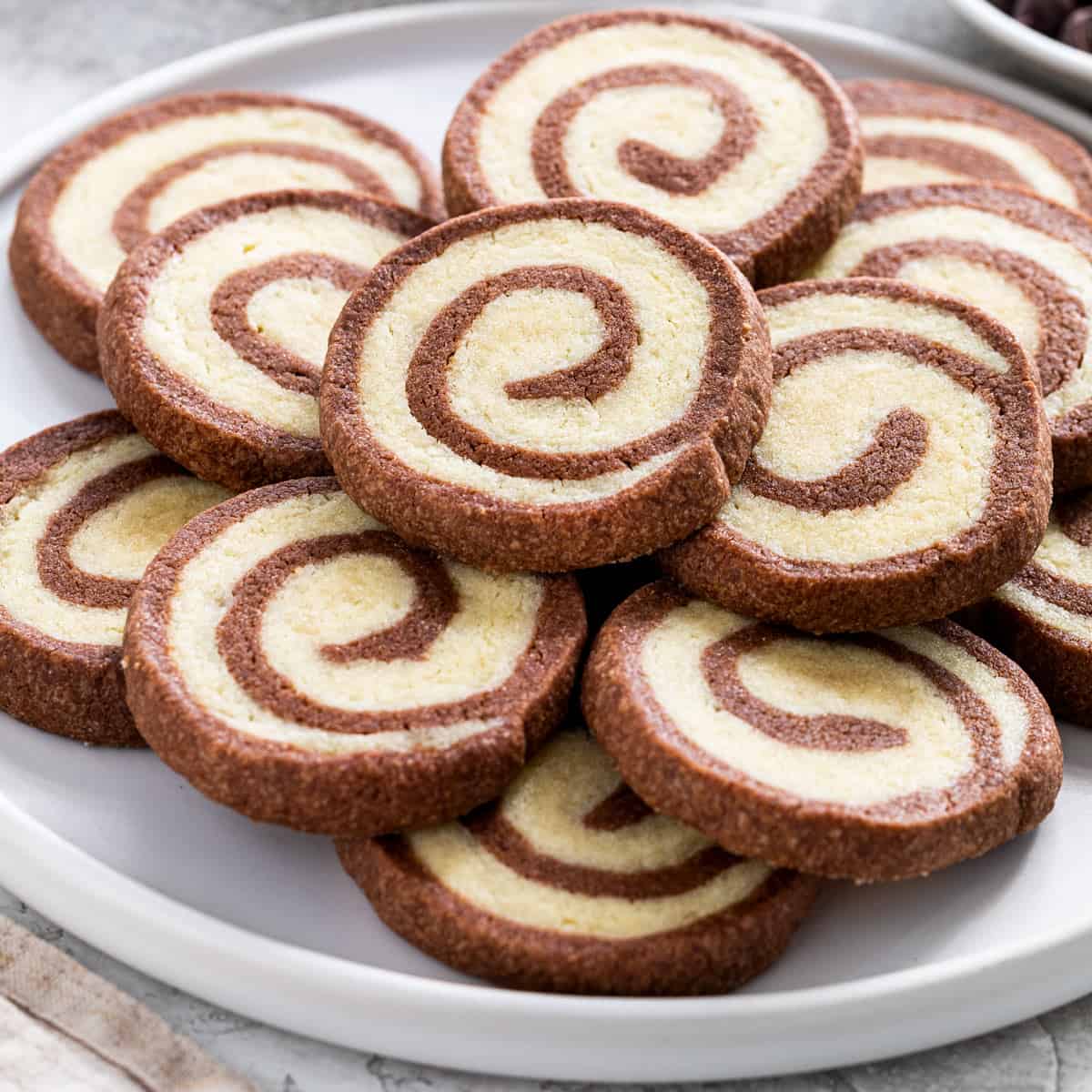 Are you looking for a sweet treat that is different from the norm? Look no further than Pinwheel Cookies. These delicious cookies are made with a dough that is shaped like a pinwheel, and they are sure to be a hit at any party.
What are Pinwheel Cookies?
Pinwheel Cookies are cookies that are made from a dough that is shaped like a pinwheel. The dough is then filled with either sugar or chocolate chips and rolled out into thin circles. Once the circles have been rolled out, they are cut into small pieces and baked on an oven sheet.
What Ingredients Are Needed to Make Pinwheel Cookies?
To make Pinwheel Cookies, you will need flour, sugar, baking powder, salt, butter (room temperature), eggs (room temperature), milk (cold), and vanilla extract. However, some variations of the recipe call for different ingredients such as nuts or chocolate chips instead of sugar or chocolate chips.
What Is The Best Way To Bake Pinwheel Cookies?
There is no one definitive way to bake Pinwheel Cookies; they can be baked in the oven using both conventional baking methods as well as special baking techniques such as microwave baking or cookie sheets that have been treated with non-stick cooking spray. It is best to follow the recipe instructions carefully so you get the best results possible. It's also important to note that cookies will taste better if they are stored in an airtight container in an cool place away from direct sunlight. Finally, it's customary to serve pinwheels warm or at room temperature after they have been baked.
Read more delicious cookies recipe : Easy-to-make Chocolate Chip Oatmeal Cookies
Tips For Serving Pinwheel Cookies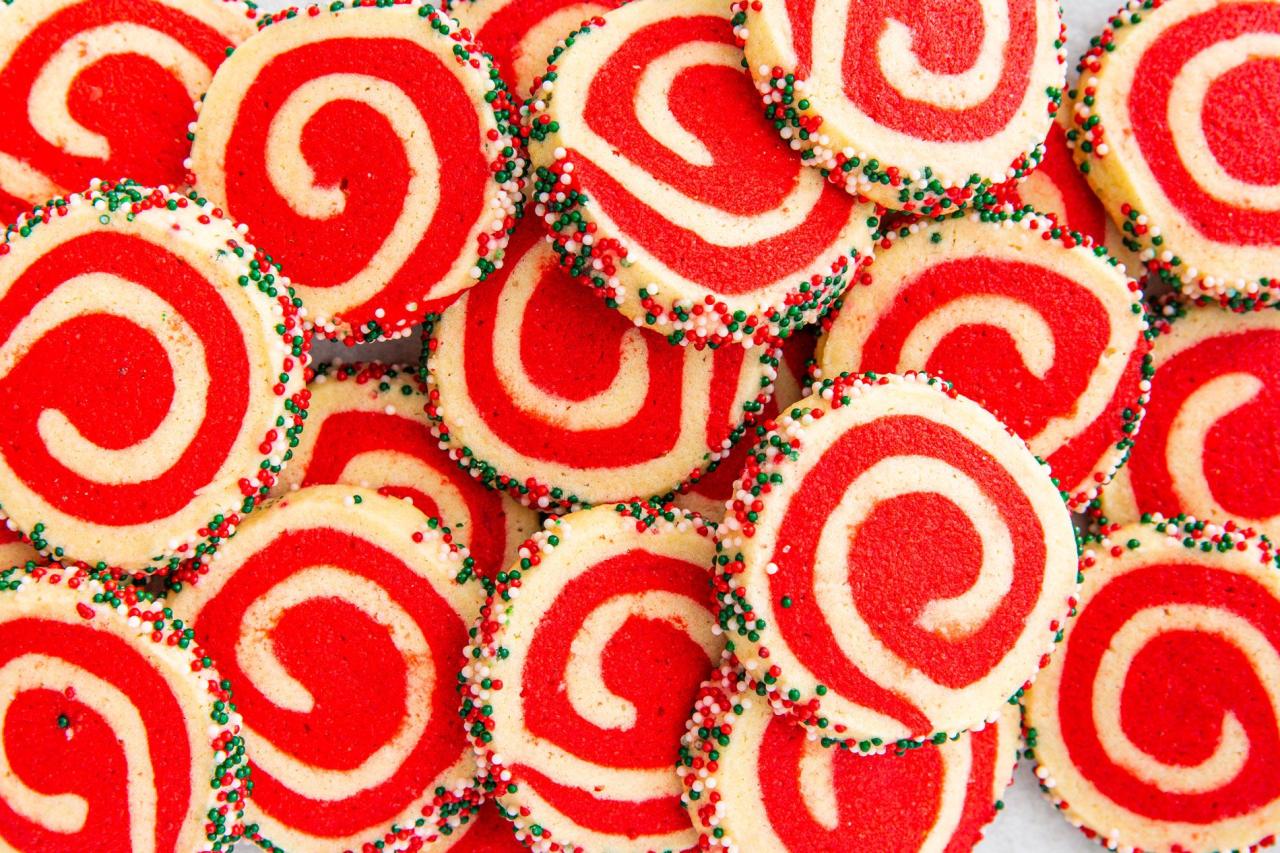 When serving Pinwheel Cookies, there are several tips to ensure they are presented and enjoyed at their best:
Chill Before Slicing: To maintain the shape and ensure clean cuts, it's recommended to refrigerate the pinwheels before slicing them. This step helps the cream cheese filling to firm up, making the cookies hold together better.
Prepare in Advance: You can make pinwheel cookies the day or night before an event. If you're serving them within a day, store them at room temperature and then reheat in the oven if necessary to refresh them.
Quantity Per Guest: When planning for a gathering, aim to have 4-6 pinwheel sandwiches per person. Remember not to count the end slices when calculating the number needed.
Presentation: For a visually appealing display, consider adding a few drops of food coloring to the dough for a festive look, especially if the cookies are for a holiday event. Also, use tiered cookie trays to showcase the pinwheels, allowing guests to admire and choose their preferred flavors.
Flavor Variety: Offer a variety of flavors to cater to different tastes. For instance, you could include tart lime-infused dough with pistachios for a unique flavor combination or pumpkin spice spiral cookies for those who enjoy seasonal flavors.
By following these tips, your Pinwheel Cookies will not only taste great but also make an attractive addition to any party or event.